I remember being at a League match with my Uncle Bartly at Somerset Park in Ayr around about 1970. Billy McNeill – Big Billy to his admirers – was immense for Celtic. At the heart of the hoops defence, he effortlessly swatted away the buzzing of Alex 'Dixie' Ingram and Cutty Young.
Big Billy had just turned thirty, and to a 14 year old on the terracing, that seemed very old indeed. I remember being worried that we wouldn't have him in a green and white jersey much longer: for surely he was going to retire and become the Celtic manager.
"What on earth would we do for a centre-half then?" I thought, I got even deeper into the nightmare.  "… and what will we do with Big Jock?"
Of course time marches ever on; relentlessly so. Big Billy played on for another five years and another five championship badges, so I needn't have worried too much that day at Ayr: but nonetheless my fantasy came to pass.
Big Jock did indeed move after being poorly rewarded by the club he loved; and Billy came after, continuing the success that his mentor had begun. Still time strides forward insistently: and Billy McNeill is now older, still talking about for his great love, Celtic.
I can never remember a time when there was a Celtic without there being a McNeill. There are those who would remark cynically that the Celtic before McNeill hardly qualified as existence anyway.
Billy McNeill personifies Celtic more than any other individual in the history of the club; you just can't have one without the other. When he signed for the club on 20 August 1957, as a raw seventeen-year-old, he set in motion a journey that would converge with that of Jock Stein and his Celtic team-mates toward a destiny the significance of which can never be out-done by any Celtic side to come.
That journey for many years became a rod for the back of the Celtic stars who succeeded the Lisbon side, and in fact the spell has never really been broken.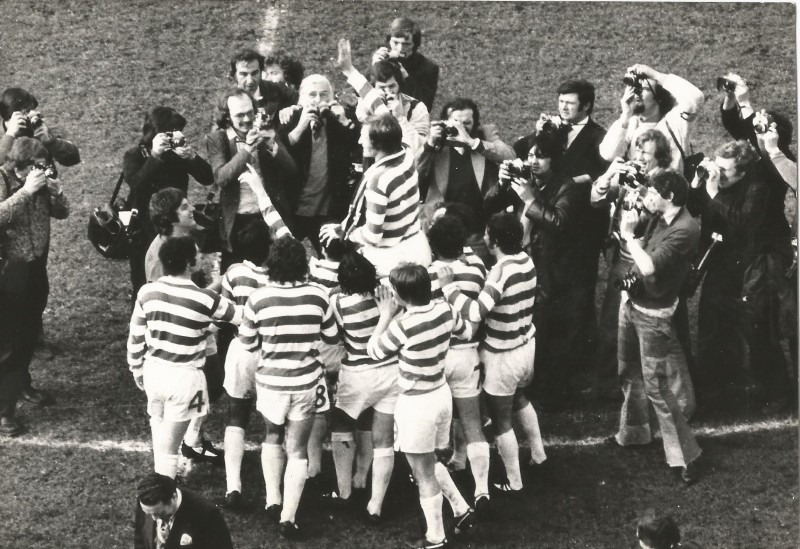 In a career which spanned the next 18 years; culminating in his last action as a Celtic player, the lifting of the Scottish Cup against Airdrie on 3 May 1975; Billy McNeill carved out a unique place for himself in the club's history, and drew more iconic poses than any Celtic player ever. He played a total of 790 times and scored – and not inconsiderable for centre-half – 34 goals.
He dominated the Celtic playing scene for almost the entire time he played for the club, and his qualities as a player and as a leader on the field made him Jock Stein's most valuable asset.
The McNeill image that is tattooed into my psyche more than any other is from the 1965 Scottish Cup final against Dunfermline Athletic; perhaps my greatest Celtic memory, and a game I did not even attend.
I was huddled around a small radio with my mother and brother listening to the last half hour (that's as much as you got in those days) of the match. Even as a Celtic daft nine-year old, I just had a feeling that something significant was about to happen – and the day was to prove to be a rebirth of the club.
At half time, Celtic were down two-one. It seemed as if the old Celtic hard-luck story was to be replayed. It was 1957, the year Big Billy had arrived, since Celtic had last won a trophy, and it was easy to lapse into pessimism. However the unreconstructed genius that is Bertie Auld drew us level (for the second time that day) – and at 2-2, a re-energised Celtic were ready for the last phase of the match.
What followed is embedded in Celtic Iconography.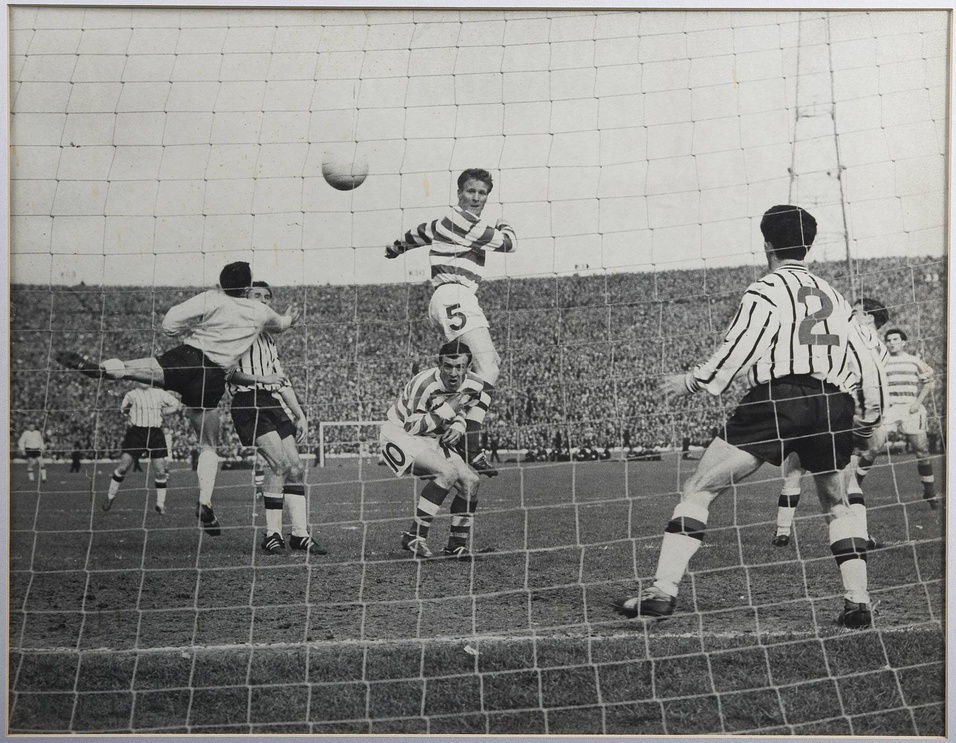 I had a picture of that goal on my bedroom wall for about 10 years afterwards. The story of the winning goal itself is simple enough. Charlie Gallagher took a corner on the left. It was a sweetly flighted ball, which hung over the penalty area. It awaited the arrival of destiny – in the shape of McNeill, who met it on his forehead, sending it into the net behind a despairing Jim Herriot, the Dunfermline goalkeeper.
The picture tells it so much better, and in it, frozen in time forever; Bobby Lennox and Billy McNeill.
McNeill is still in mid-air, although he seems to be sitting on wee Bobby's shoulders. "He was always getting in my way!" says McNeill. His hair is swept back in the draught created by his powerful strike, and his face betrays the determination of a man in possession of the knowledge that he is about to make history.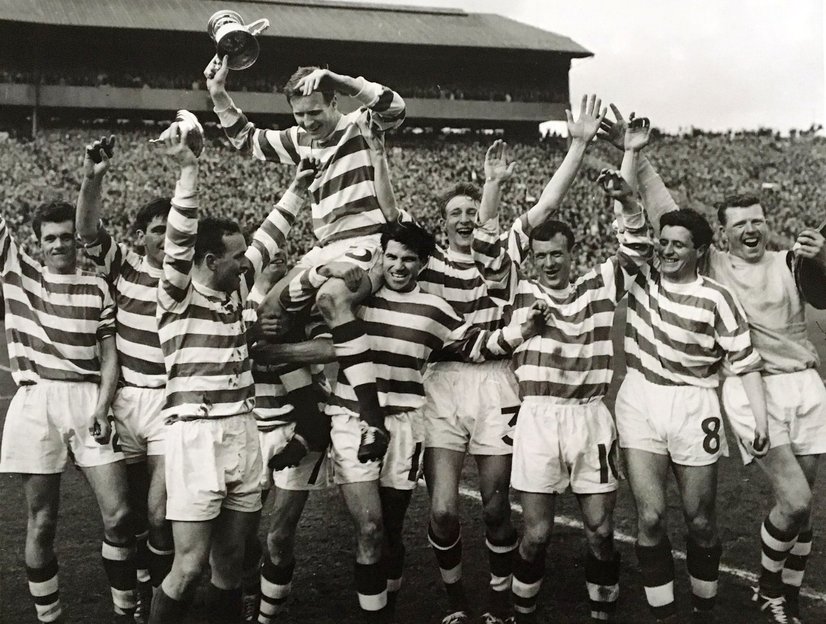 Lennox looks on in utter surprise. Maybe he can't quite believe what is happening. "Oh My Gawd! We've won!" he could be saying as Cesar hovers above.
Jim Herriot dives in McNeill's direction, but he has misjudged Gallagher's cross. In that moment, he knows to his horror that his error has cost his side the Cup.
Willie Callaghan, brother of soon to a be a Celt Tommy, who was also in that Dunfermline side, guards the line but is powerless as the ball speeds past. Players in the background watch anxiously.
And here's the absolutely great bit.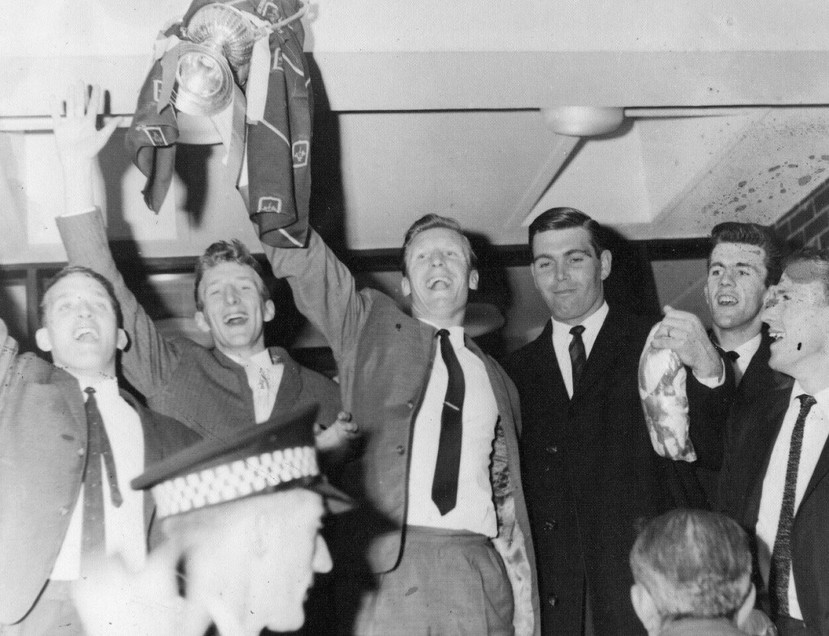 In the distant background, around 60,000 Celtic fans are a fraction of a second away from bedlam. Sixty million thoughts are going through their minds at this very moment, a joyful time-bomb about to explode into Glasgow's summer evening air.
And every eye is on that ball, centre stage, which is about to enter the goal.
And me, and my mother, and my brother; hearing David Francey announce Celtic's goal, are dancing about the house in a 1965 Bailliestonian precursor of the Celtic Huddle; as a million Celtic families the world over will do seconds later when they hear the news of where time's arrow struck today.
As a youngster starved of Celtic success, nothing – not even Lisbon – ever equalled that day. The following year we won the league, but it seemed insignificant by comparison.
Jock Stein had that picture in his office at Celtic Park. I can understand why. In the vast catalogue of iconography available to us Celts, it is the most instantly recognisable. The participants still trip off the tongue as easily now as then;
Fallon; Young, Gemmell; Murdoch McNeill, Clark; Chalmers, Gallagher, Hughes, Lennox, Auld.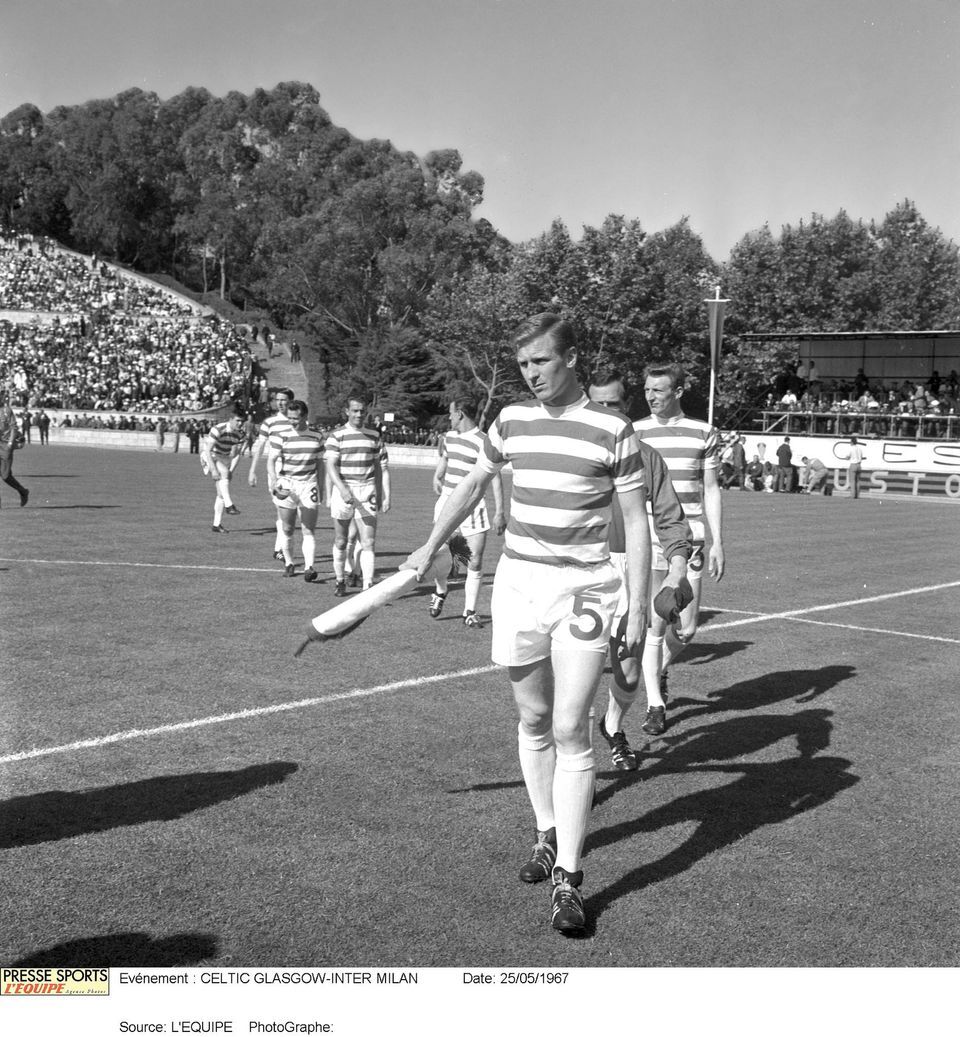 Fast forward in time to Lisbon 1967. Celtic have just won the European Cup by beating Inter Milan 2-1 in one of the most exciting finals in the history of the competition. The entire Celtic Diaspora it seems has embarked on a journey from all four corners of the globe; a journey which appears to have terminated on the playing surface of the Estadio Nacional.
Chunks of turf are being torn up; precious souvenirs of the miraculous event which has just taken place; tucked away in bags and pockets for the return journey and destined for window boxes from Dalmarnock to Dubai: and there is no possible way to have the Celtic players tunnel their way through that mass of green-and-white humanity.
Enter Cesar, imperiously appearing aloft on the high citadel of the presentation platform in the stadium. He has been whisked round there by a police car to avoid being killed by the kindness of congratulatory Celtic fans on the field.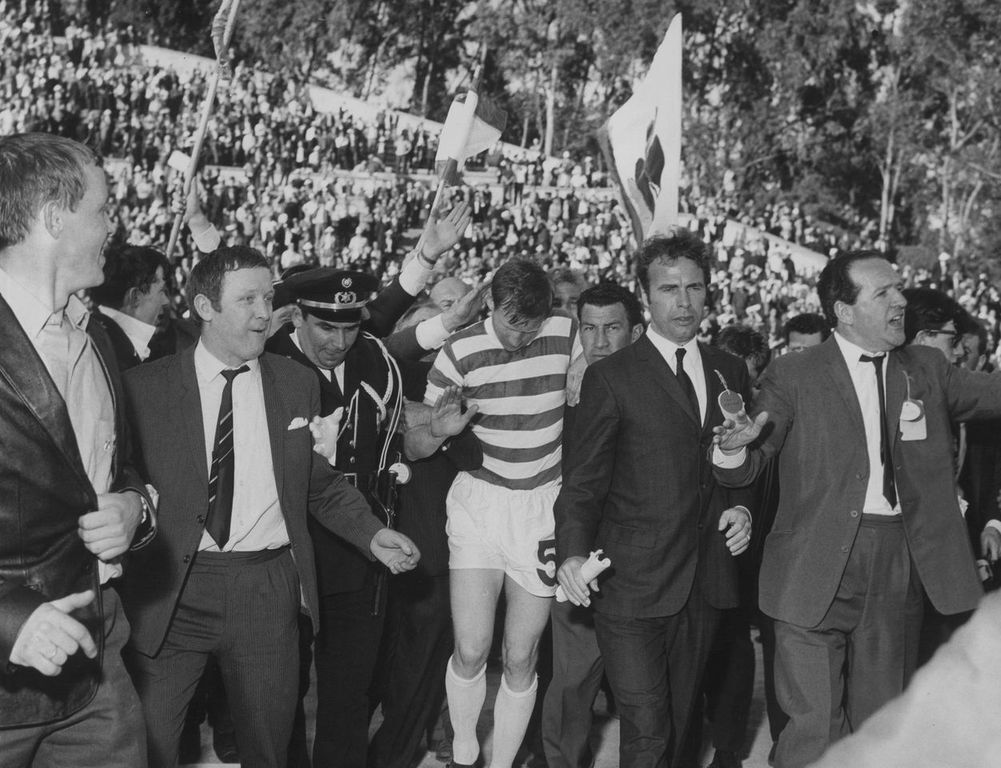 Of course I don't actually KNOW that he got there by car. It just seemed as if he had been assumed there by a higher power. And then the European Cup is grasped and raised aloft. What Celtic fan doesn't know that pose; Big Billy proud fit to burst: as we all were that day.
Later as successor to Jock Stein, Billy became Celtic manager, and gave us the unforgettable night known as "ten men won the league" when Celtic beat Rangers 4-2 to win the championship in a league decider at Celtic Park after John Doyle had been sent off. He came back after a spell in England to meet with his destiny again; this time when he managed Celtic to a Centenary season double.
After a spat with controversial Chief Executive Terry Cassidy, McNeill was sacked in 1992, but whilst those who were the architects of his downfall displayed little dignity, his love of the club ensured that he would leave with his head held high and his impeccable reputation as a Celt intact.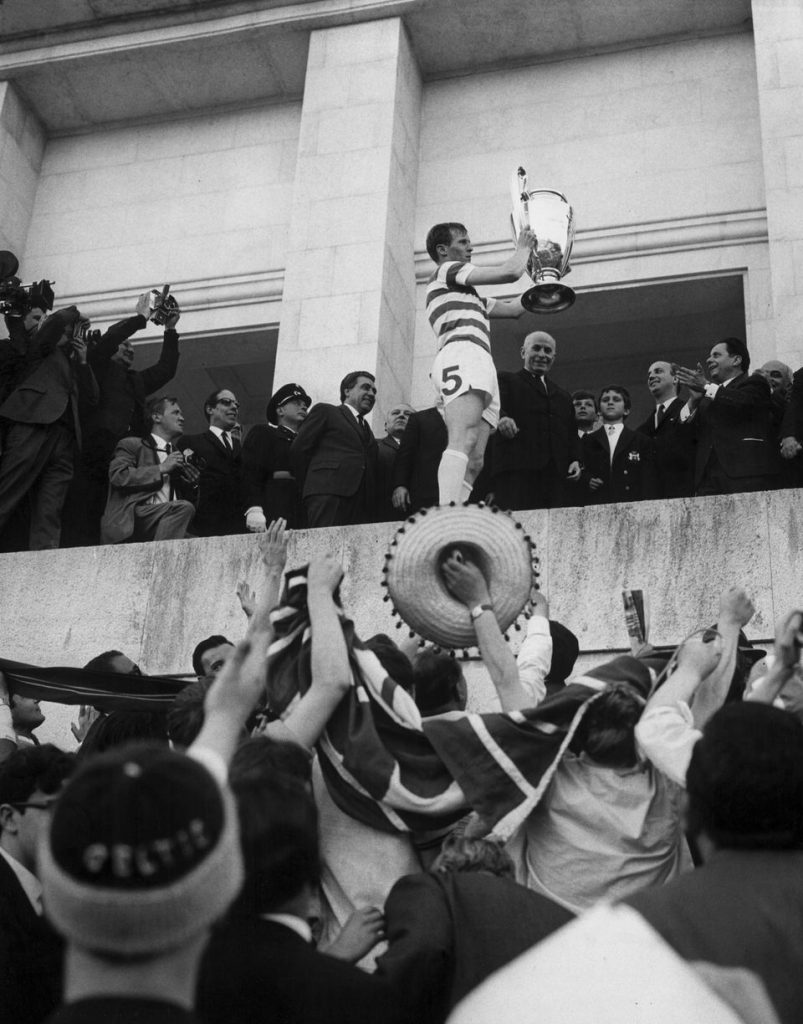 Incredibly, despite being named as Scotland's sporting personality of the Millennium, McNeill was never been invited join the club board, instead being asked to act as a club ambassador – a duty he carried out with pride and humility.
Did we mention his last minute winning goal in the European Cup quarter final against Vojvodina? Or the Scottish Cup final goal against Rangers – the first in a 4-0 win? Or the fact that he stuck by Celtic when things were at their lowest ebb in the club's history; just before arrival of Jock Stein as manager?
Billy McNeill's reward for his efforts on our behalf over the more than five decades is meagre compared to the riches handed out to today's stars, but for McNeill, the undying gratitude for his lifelong devotion to the club we all love is enough.
That's why we get what Big Billy is all about. He is one of us, he loves Celtic unconditionally, and he wears his green and white heart on his sleeve.
One of my most cherished moments is the memory of the first time he called me by my first name. He has that knack for getting people onside, making them feel that they are the most important person in the room.
Startruck perhaps, but Big Billy had just called me John!
On his 65th birthday in 2005, I asked him how he felt being a pensioner. He was reflective as he said; "It is amazing just how quickly the years go by. Doesn't seem all that long ago that I was just starting out.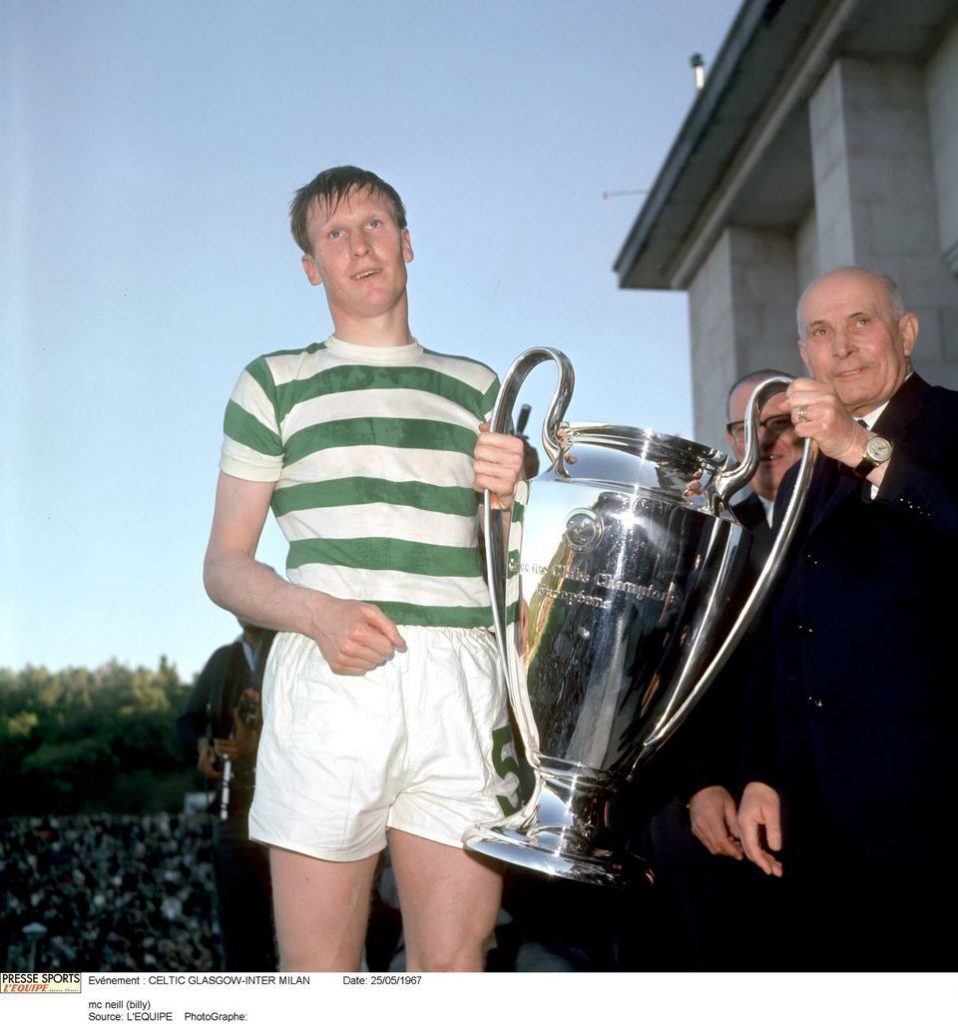 "Pensions are a great thing as well of course – but they would be better if there were a few more digits attached!"
George Bernard Shaw once said that all great truths begin as blasphemies. "Celtic for the cup" was a blasphemy in 1965, and in 1967. Both became  great irrefutable truths.
And we have the pictures of Billy McNeill to prove it.
John Cole