Whether it's the recent instances of Mark Hateley handing out two bottles of hand wash on behalf of club sponsors Molton Brown to care homes, or Club 1872 lobbying the club to allow the use of 'the' Rangers Albion Car Park for NHS workers at Queen Elizabeth Hospital – as long as they didn't mind the hour and half round trip walk to work – The Banter Years are quite simply the gift that keeps on giving.
So whenever you're stuck at home and feeling a bit down in the dumps. Always remember those less fortunate than yourselves and have a right good laugh at their expense.
💙 Mark Hateley visited two local care homes to gift them hand wash, thanks to club partner @MoltonBrownUK. #EveryoneAnyone

➡️ Read more: https://t.co/K9MlEhAZHp pic.twitter.com/GPPOPUScpO

— Rangers Football Club (@RangersFC) March 20, 2020
Mark Hateley might be the latest but you'd be hard pushed to beat this guy dishing out a solo tirade at Ibrox against those historical cheats Alloa Athletic in August 2015. "Same old Alloa always cheating." Just how low can you go? Oh my sides!
Turns out you can go even lower than questioning the honesty of part-time footballers. Much lower in fact.
You know your club's going through a challenging financial time when the AGM is held in a Gazebo and the tent is placed strategically out of throwing distance of your shareholders. Well that's what happened at 'the' Rangers 2014 AGM.
It's high on the banter year's list not just for the Gazebo, though that's enough. No, there's also the walk of shame down the stairs and gauntlet run to the tent – accompanied by a torrent of abuse raining down from the stands – as the three Rangers International Football Club directors – David Somers, Derek Llambias and James Easdale – accompanied by The Rangers Football Club chairman Sandy Easdale make their way to their temporary construction.
Then having repeatedly rejected calls from shareholders to only ask and answer one question at a time, RIFC chariman David Somers resorts to retaliation: "When you're chairman of Rangers, you can do it your way."
How to win friends and influence people right enough.
And when it comes to shame, there's not many who can match ex Ibrox striker Martyn Waghorn, as he proves the old adage, stick and stones may break my bones but names will never harm me, in no way applies to him.
It's one thing taking the hump, it's another confronting a schoolboy resplendent in his uniform outside a fish and chip shop. After apparently taking umbrage at the youngster describing his performances – rather accurately – as sh**e, Martyn heads in pursuit with the smell of revenge in the air. With a fish supper in one hand and righteous indignation in the other, brave bluenose Martyn asks the boy to repeat his slur to his face. And the youngster obliges. Oops. Cue somewhat embarrassing stand down and another contender for the banter years top five.
And one last one for now. Though I fully intend returning to these I must say. There are just to many not to and we all need a bit of cheering up at the moment.
Before 'the' Rangers faced Progres Niederkorn, the Luxembourg side had played 13 European matches, losing all of them, conceding 41 goals and scoring just one. They were the 4th best team in Luxembourg.
Now exiting Europe at the first hurdle to such opposition would probably be enough to warrant an entry in any banter years Top 5 and you'd be right, but when your manager stands in a hedge and argues with the travelling support after the game, well that makes it Banter Years Max, and we have a contender for the number one slot.
Poor Pedro Caixinha, you really had no idea what you were letting yourself in for did you?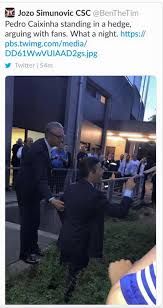 As ever stay safe and look after you and yours folks. And if you do have to go to the shops make sure you keep a gazebo distance from danger. You know it make sense.
Niall J