Earlier today  on The Celtic Star Matt Corr interviewed Brendan O'Hara, the great-great grandson on Celtic's first secretary and Founding Father John O'Hara. It's a exclusive interview that you'll not want to miss and you can catch it up below…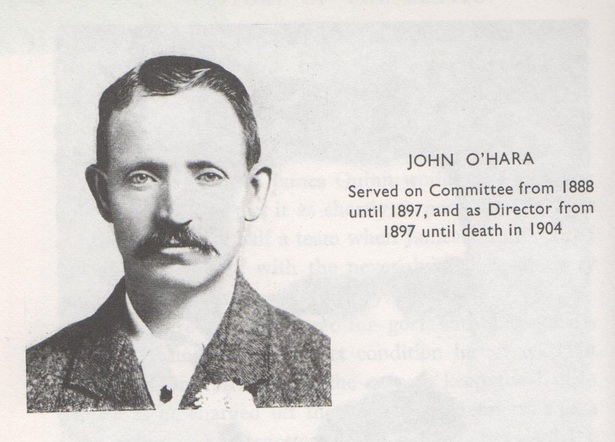 However after we published Matt's article  he was somewhat frantic as he'd forgotten to send over what he regarded as the main photograph that he wanted to use, which was of a Bobby Murdoch Celtic shirt and shorts. You need to read the interview to find out the significance and as I said it is well worth it!
Talking of Celtic shorts, here's a selection from club Historian David Potter who alongside both Matt Corr and Liam Kelly combined to produce the brilliant new book, Walfrid & The Bould Bhoys. Here's David Potter's Celtic shorts as a tribute to the one and only Bobby Murdoch…
CELTIC'S RECORD SCORE
Celtic beat Dundee 11-0 at Parkhead on 26 October 1895 in the Scottish League in what is still a Celtic record score for a competitive match, but one should not really read too much into it.
The pitch was frankly unplayable after heavy overnight snow and Dundee were very critical of referee Mr.J.Baillie's decision to let the game go ahead.
Dundee had three players injured and in the second half took the field with only nine men, but by this time the score was already 6-0 for Celtic, who had to change their strips because the green and white vertical stripes clashed with the blue and white vertical of Dundee.
Accounts of who scored all the goals vary, but the general consensus seems to be that Johnny Madden scored three, Jimmy Blessington two, Barney Battles two, Allan Martin two, James Kelly one and Willie Ferguson one.
RESCUED FROM DROWNING
A brave piece of swimming by a Scottish tourist which saved an Irish girl from drowning one day Lough Gill, County Sligo in summer 1947 had important consequences for Celtic.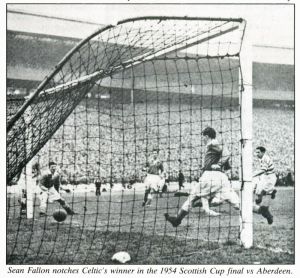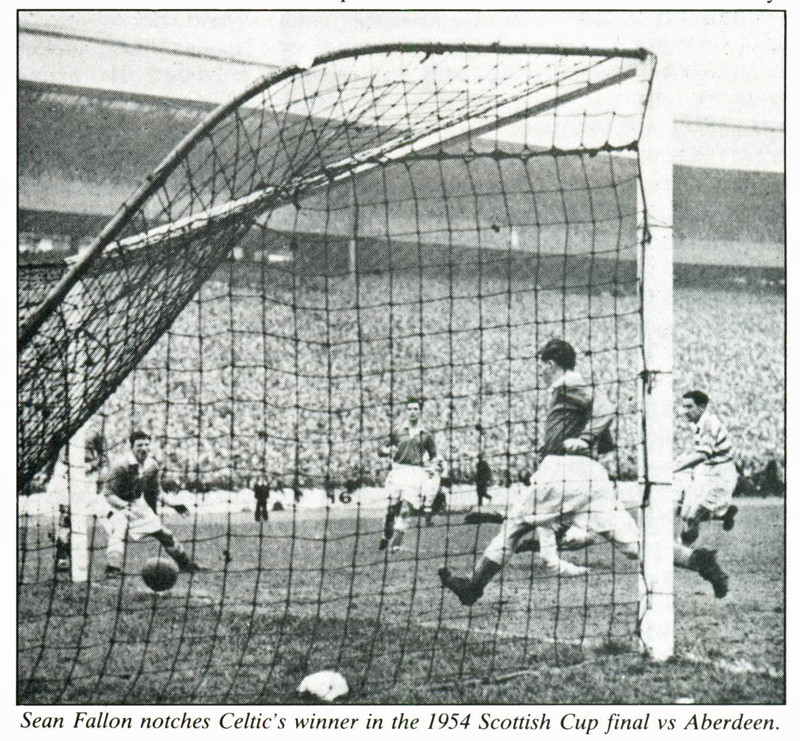 The Scottish holidaymaker was Joseph McMenemy, son of the great Napoleon and the local girl was Lily Fallon.
Naturally the hero was invited back to the Fallon household for tea, and conversation turned of course to Glasgow Celtic to the particular interest of Lily's brother Sean, a talented player for some local teams.
In 1950, Sean Fallon signed for Celtic, and then contributed hugely to the club for the next sixty years.
GEORGE WHITEHEAD
This man does not figure prominently in histories of Celtic, yet he has a 100% record of winning every game he played for, and of scoring against Rangers at Ibrox.
It was autumn 1913. Celtic were struggling with injuries to McMenemy and Quinn, and George Whitehead was struggling to find a place in Hearts first team.
He was therefore borrowed, played a brilliant seven games at centre forward beside Sniper McColl and Patsy Gallacher, but the club them let him return to Hearts –  a decision that was not all that popular with the support!
Hearts then promptly sold him to Motherwell! During the Great War, he served in the Royal Navy, was torpedoed twice and survived both times!
PAYING THE PENALTY
Celtic played in an astonishing game at East Fife on 17 February 1973. East Fife had fought their way back into the old First Division after many years in the Second Division, and their ground at Bayview was packed with 11,000 spectators.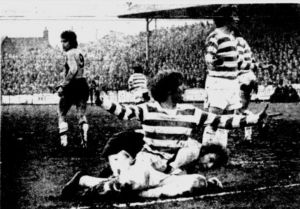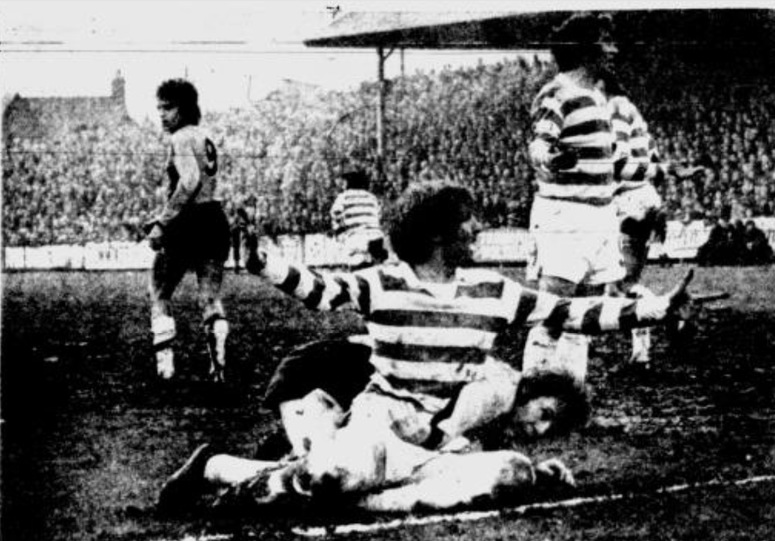 The weather was bad in other parts of Scotland, but this pocket of Fife was all right. The game ended 2-2 with Celtic earning their draw with a late goal from Dixie Deans who had also scored their first – but that was not the whole story.
Celtic had been awarded two penalties (both justified, of course!) and three separate players, Bobby Murdoch, Harry Hood (with the retake of Murdoch's) and Kenny Dalglish had missed them! East Fife were more grateful. When they were awarded a penalty, they took it and scored.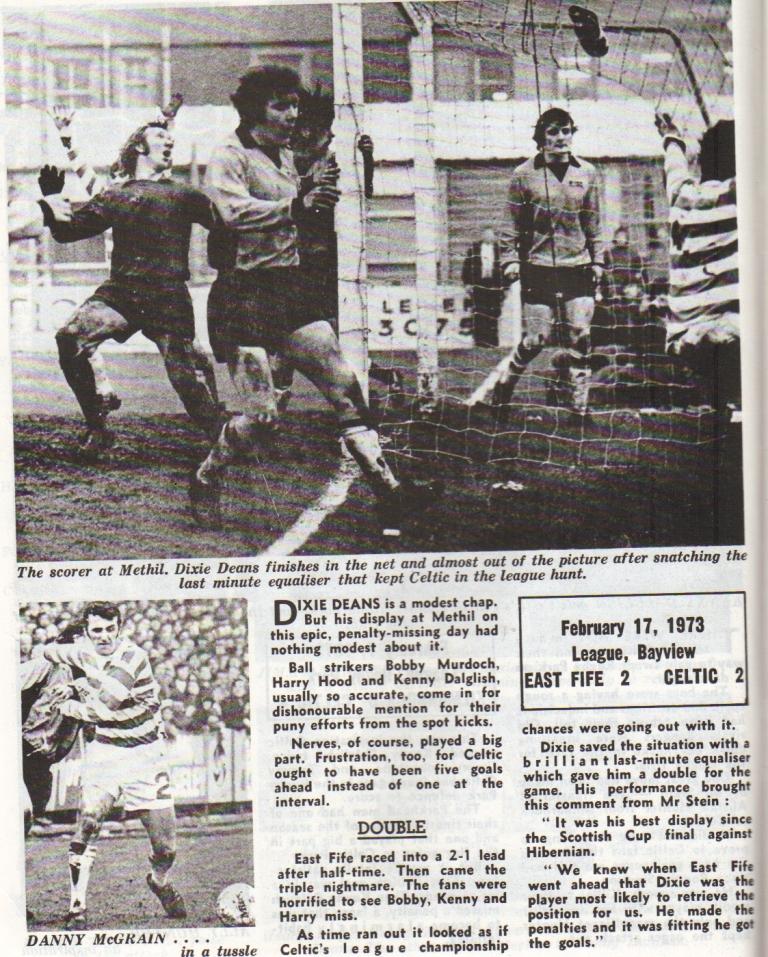 Even after Deans late equaliser in the 88th minute, there was a late appeal for a penalty, but most fans were delighted and relieved.
MARK VIDUKA
Just what was this fellow's problem? Spell his name backwards and we get "Akudiv". (I could have)…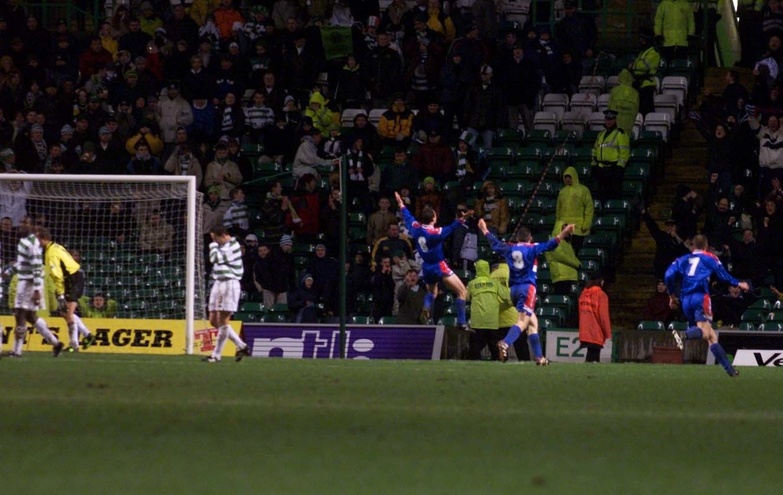 But he didn't! Reluctant to join the club thanks to some ill-defined injury or illness, then when he did come, he under-performed and was held responsible by many for the Inverness fiasco of 2000.
THE TROOPER
Joe Cassidy signed for Celtic in 1913, but the Great War delayed his career until the 1920s. He served in the Black Watch and won a Miltary Medal in the closing days of the war in November 1918. He was back in time to play in the New Year's Day game of 1919, but it was the following season before he was able to resume his career in earnest.
He won his spurs on New Year's Day 1921 at Ibrox when he two goals sent the faithful into raptures and had the fans saying that he was the new Jimmy Quinn. Indeed he was big and strong and had the added advantage of being good looking as well, thus winning the hearts of so many female fans. He was originally an inside left, but Tommy McInally's temporary departure in 1922 opened the door for him as a centre forward.
His "annus mirabilis" was certainly 1923 when he rescued a dreadful season by scoring 11 goals in the triumphant Scottish Cup campaign, scoring in every game except one (and even in that one, he hit the post!).
Before the crowd had settled, he grabbed a goal in the first minute against Motherwell in the semi-final, and the only goal of the game with a header against Hibs in the final, which brought the Scottish Cup to Parkhead for the tenth time overall and for the first time since the War.
He was unfairly scapegoated for the awful 1923/24 season and allowed to go to Bolton Wanderers in summer 1924 but not before he had played his part in grooming the young McGrory to stardom. He never settled in England and returned to Dundee but he was always Joe Cassidy of Celtic.
He later went to Ireland and won an Irish Cup medal with Ballymena in 1929.
He won four caps for Scotland.
A HAMMERING
It was just as well that the Scottish Cup had been won the week before, but Celtic chose the night of Friday 30 April 1937 to play one of their worst ever games as they went down 0-8 to Motherwell at Fir Park.
No excuse was possible, other than that the game was totally meaningless and that they were just about to embark on the overnight sleeper to London to see the English Cup final between Sunderland and Preston North End. Nevertheless it was a distressing experience for the many Celtic fans in the crowd and just as well for the Celtic players that Twitter wasn't around in those days!
David Potter