TWO non footballing items today, both open up new income streams for Celtic, both add to the club's prestige and both are causing considerable angst among the followers of Govania.
What's not to like?
In addition to the partnership, happy to reveal that the world famous Celtic Park will be added to #PES2019 via a Data Pack after launch. ???? pic.twitter.com/ehegtGLpUs

— Pro Evolution Soccer (@officialpes) July 30, 2018
This seems like a big deal for Celtic supporting Gaming fans and is likely to lead to the FIFA game following suit.
It's nice to see the game makers Pro Evolution Soccer describing our ground as "The World Famous Celtic Park".
The second piece of good news relates to rugby. During the Commonwealth Games Ibrox was used as the host venue for the Rugby 7s.
Now it's the turn of Celtic Park to host a major rugby event when on 25 May 2019, the Guinness Pro14 final will be held in the east end of Glasgow.
This will be the first time the game will be played at a non-rugby venue and with a capacity of 60,832, it could be a record breaking attendance for this final.
This year's  final was played at the Aviva Stadium as Leinster beat the Scarlets in front of 51,700 spectators but due to the larger capacity at Celtic Park, that record is set to tumble in Glasgow.
Martin Anayi, CEO of PRO14 Rugby, also described Celtic Park as being "world famous," saying:
"Bringing our Final to a world-famous stadium like Celtic Park is a truly historic step in the evolution of the Guinness PRO14. Since introducing Destination Final venues in 2015 we have seen the event thrive by making it about fans of rugby and not just the supporters of the two teams competing for the trophy.
"The bid put forward by Scottish Rugby, Celtic FC and the City of Glasgow was compelling from the very beginning and we're certain that fans across the Guinness PRO14 will share in our excitement. Glasgow has so much to offer in terms of hospitality, culture and heritage and like our previous Finals in Dublin, Edinburgh and Belfast we can offer fans so much more than just a rugby experience.
"In the past number of seasons we have made many bold decisions which have transformed the Guinness PRO14 for the better and the choice of Celtic Park as the venue for the 2019 Final is yet another signal of our ambition to provide the best club rugby tournament possible for our clubs and our fans."
HOSTING | "I'm delighted we've secured 2019 Guinness PRO14 Final in Glasgow, at Celtic Park. Rugby was a huge success at Glasgow's CWealth Games, while Rugby Park & Pittodrie have hosted Autumn Tests. Today's news is a great example of the sports working together."@dom_mckay1 pic.twitter.com/HbkG2X8BCG

— Scottish Rugby (@Scotlandteam) July 30, 2018
Peter Lawwell, CEO of Celtic FC, said: "We are very proud that the Guinness PRO14 Final is coming to Celtic Park for what we're sure will be a fabulous occasion for the city of Glasgow, rugby supporters and for Celtic.
"Celtic Park is a world-class venue and our success of hosting events in the 2014 Commonwealth games and on Champions League nights where we have welcomed some of the biggest names in world football, proves that the stadium can produce unforgettable experiences time after time.
"We look forward to welcoming rugby fans from far and wide to Paradise on May 25 to share in the atmosphere of Celtic Park, we are sure it is an experience they will enjoy immensely."
This news has not been particularly welcomed in Govania.
But, but but…"The rugby people said after the 7s at the Commonwealth Games they would like to use Ibrox again."
Did they? Aye.
"I would guess the fact the Irish teams are very strong in the PRO14 has something to do with this decision."
"This boils my blood. I don't know why it just does. Seems they have many fingers in many pies."
"Why was it (Celtic Park) considered after Ibrox had already hosted rugby successfully?"
"The rugby 7s at Ibrox was very exciting and all. The one huge draw back was that someone really messed up the catering. They had run out of food so early on it was ridiculous. This left a really bad feeling about the running of the whole event."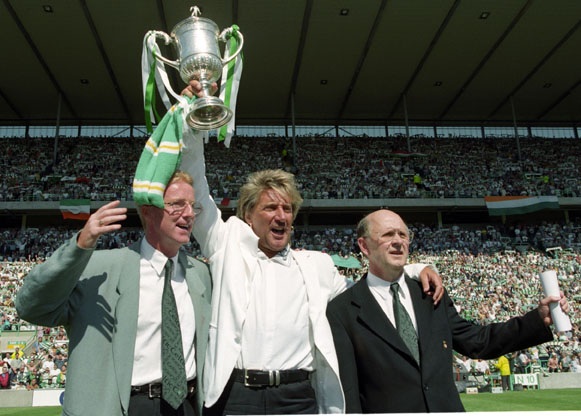 The new Celtic Park has certainly come along way since it was opened by Fergus McCann and Rod Stewart back in 1995.