I am a regular reader of the site.  I am aware that the author of this piece (Brentford Away by Liam Kelly) is of a different generation to me, as I am approaching 'auld yin' status.  However, I don't think this piece reflects well on the author (although he probably won't agree so), on the club or indeed the website.
The article positively celebrates the use of smoke bombs, drinking on what appears an industrial scale, insists that what is clearly anti-social behaviour is merely good natured boisterousness and features photographs of comatose Celtic fans apparently at 10am.
In my younger days I have been to several away days in England and further afield following Celtic. The list is too long to detail. I have enjoyed a drink on such occasions as much as anyone else, but frankly I don't recognise the behaviour being celebrated here as being typical of the wider Celtic support, of being worthy of celebration and frankly it's something Celts of my generation took a pride in confronting in order to protect the good name of the club.
Frankly, in my opinion the article celebrates nothing but 'Green H wordery'.
I think the piece is an embarrassment to your site, which I see as a positive addition to the Celtic cyberspace community. Please accept these comments in the constructive and disappointed spirits they're being offered.
Cheers
Tom C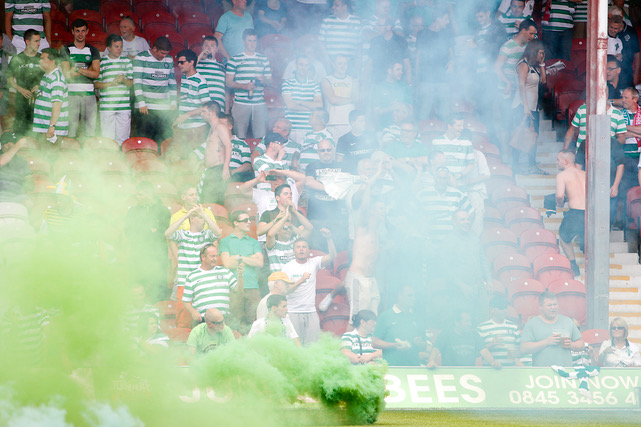 Thank you for talking the trouble to email me with your strongly held views on Liam's article on the Brentford pre-season friendly.  We actually have written about that game previously – from memory Niall J wrote about it last summer.
We have writers from across the generations of Celtic supporters – from veteran David Potter to Liam who is the youngest. David has previously written about the Celtic fans and bad behaviour throughout the decades with one particularly disappointing night in Perth re crowd trouble.
Liam has written about various European trips he's been on and these give an honest and accurate insight while Matt Corr has written European diaries where he talks about the cultural aspects of the cities Celtic have visited.
I will have a word with Liam and point out the concerns you have. Hopefully he'll take it on board.
David – Editor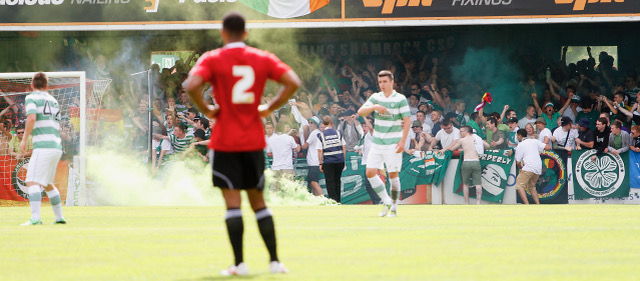 Thanks for the reply, very much appreciated.  I regularly enjoy articles from across your range of contributors to the site, but I just thought that this piece struck a negative chord for the site and doesn't reflect well on the club.
I think the author is being disingenuous in saying he's only writing about his recollections. The piece reads as a celebration and endorsement of a day out featuring what I can only describe as Green H-word-like behaviour.
Again, I'm sorry to have felt the need to raise this.
Best wishes and keep up the good work.
Tom C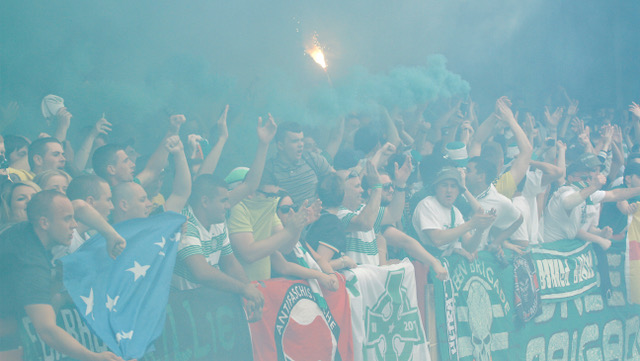 Niall J lived just round the corner from Griffin Park back in 2013 and has written about these events previously on The Celtic Star…
I must say I enjoyed Liam Kelly's look back at one my favourite Celtic away days. That it wasn't a European away tie or a trip to Pittodrie on a title run in, rather a friendly in the heat of a roasting hot southern summer, against a small provincial English league club and with Celtic fielding a youthful reserve team said it all. Often the days you least expect it turn out to be the most fun and Brentford away was one of those.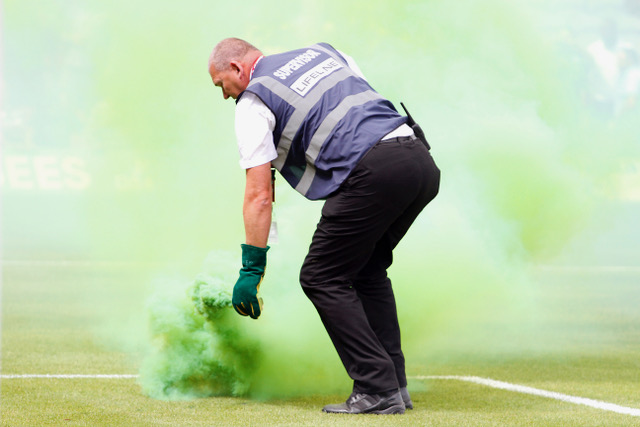 To put a little context around this game, I was living just a few of miles away when the game was announced. Brentford were trying to use a game against Celtic as a way of raising their own profile. Under new ownership Brentford had grand plans, fast forward seven years and they have come a long way as a club.
Brentford fans basically boycotted this game due to the club selling the tickets at too high a cost and the fact it was soon clear the club intended letting the Celtic fans into traditional home sections did not go down well either. They were also disappointed at how much Brentford were willing to pay Celtic for this friendly and didn't believe there would be much money swelling their coffers once such costs were taken into account. In short Brentford fans didn't see the point and were disappointed in their own club.
For Celtic this game was sandwiched between two European qualifiers. Celtic had defeated Cliftonville 3-0 at Solitude on the Wednesday three days prior to this fixture and the following Tuesday finished the job with a 2-0 home win. For a number of those who travelled then the Brentford friendly was a London stop off en route to Glasgow via Ireland.
As such the fans who travelled were already in the midst of a six-day party and those who came from Glasgow had taken overnight buses and had a good few drinks on the way. Add to that a lot of excited southern based Celtic supporters who didn't see Celtic too often were added to the mix and they too were determined to make a day of it.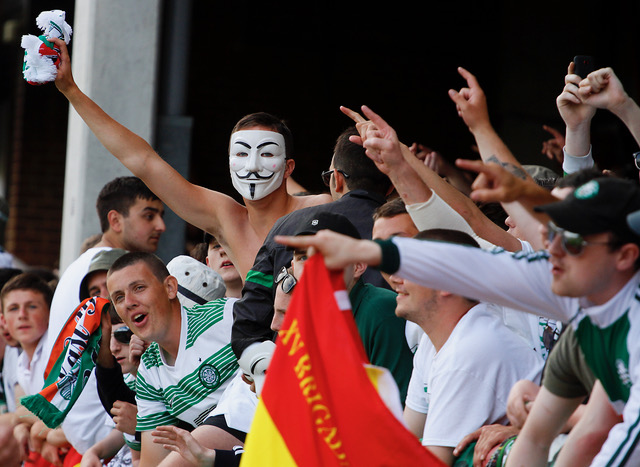 As such the party, pyro, drinking and the songbook all went into action from early on, ahead of a 3 o'clock kick off. It may not be to everyone's taste to see fireworks, hear rebel songs or witness the Celtic support in such a drunken way so early on in a day but as Liam pointed out it was good natured, there was no trouble just a party atmosphere.
That will disappoint some of course. There will be those who believe such behaviour is unbecoming of a Celtic support and they would be entitled to their opinion. For me I was in an atmosphere where everyone was enjoying themselves, the police seemed unconcerned and given it was the Met they don't often need much of an excuse to clamp down, and yet they seemed content that there was no evidence of it boiling over.
There was a disappointment amongst the support when the teams were announced and it wasn't the new signings – like Van Dijk – or the first team playing, indeed as I entered the ground with Paul – who also writes for The Celtic Star we were met by some fans who decided they weren't for watching the game for this reason, they were heading back to one of four pubs in each corner of the old Griffin Park.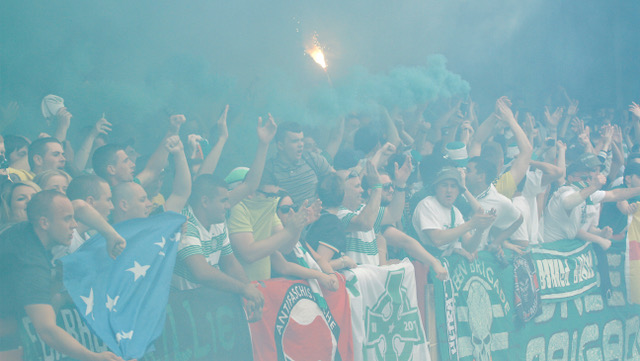 The team line ups probably led to many being a little disinterested in what was going taking place on the field of play and the stands became a party. There were flares thrown on, there was a fan taking a goal kick for Celtic and there was a pitch invasion at the end, and yes, the sprinklers were turned on to encourage a swift exit but at no time did this ever look like turning nasty or violent, everything was done with a smile on the face.
Post-game the pubs and streets around the ground saw a party slowly but surely slowdown from the hectic early start to a sleepy conclusion. Fans missed supporters' buses and tried to get on others. Some decided they were staying and slept where they stopped.
Liam asked was this reminiscent of the old Jungle and the behaviour then, and yes in part it was, but this was an old school away day to a traditional football ground. The stadium creaked and groaned under a Celtic Party and the Brentford stewarding was a little overwhelmed to say the least. It reminded me of visiting old football grounds in Scotland like Brockville or Cappielow with the added bonus of clear blue skies, what appeared an unlimited supply of tickets for the away support and an array of pubs in the vicinity of the ground to quench your thirst.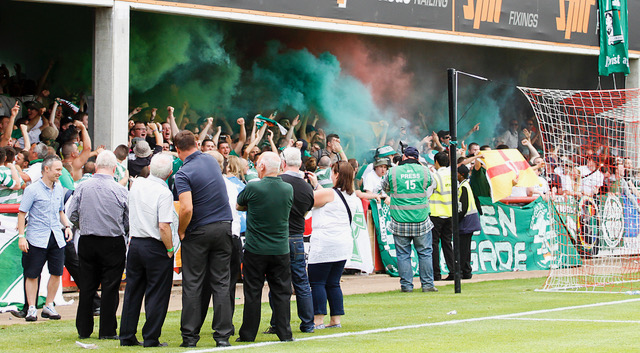 Celtic had previously been to London for friendlies with QPR and Fulham. They travelled in numbers and soaked up the sun, had a few beers cheered on their team and soon made their way home, boisterous they may have been, but there was never any danger of it heading into trouble.
I've stood on the terrace at Griffin Park many, many times over the years, I've seen visiting supports from all corners of England. Celtic supporters brought more atmosphere than any and much less trouble or cause for concern for the local constabulary or pub owners than Millwall, Chelsea or Leeds. It was a brilliant away day and a blast from the past. It did evoke memories of the Old Celtic Park but more so of historical away days before identikit out of town stadiums separated from their communities in the modern sanitised version of football we have now.
It was a wonderful article and one that had myself and many others reminiscing on Saturday of a brilliant Celtic away day in London in 2013. That it was so unexpected probably added to it all. It's a favourite of mine and I thoroughly enjoyed Liam's view of that afternoon in West London. It brought back some super memories. Thanks for that.
Niall J
David Potter on the Harsh Realities in the OLD Jungle 
Hmmm! Don't know much about the Brentford game so I can't really comment there, but the Jungle in the old days (pre 1966 and with the roof that was porous) was by no means the most salubrious spot in the world.
Plenty of drink, bad language and urine!  What I recall vividly were the vicious attacks on players who were having a bad game – Bobby Murdoch (when he played in the forward line), Steve Chalmers and John Hughes I  remember all of them getting dog's abuse when the team were not doing well, but that was pre-Stein, of course.
I actually used to get quite upset at all that, and wondered why some of them came to the game when they were certainly not supporting their team! I'm always a wee bit reluctant to accept statements like "Celtic supporters are the best in the world" etc. Not always!
On the other hand, when things were going well, it was a great place to be.
David Potter
The Last Word on Brentford Away to Liam
I put these paragraphs at the end to avoid a situation like this:
Whether or not people believe that some of the songs that were aired that day should be left in the past is down to the individual. I'm not condoning the pitch invasions or taking alcohol into the stand, or smoking into the ground, or using pyro etc etc etc… basically all the rules that were broken that day. It may not have been morally correct, or one might think it was fine.
This article was just to relive the events that happened. The atmosphere will live with me forever as it was incredibly noisy throughout and we even got to see some youngster called Callum McGregor score the winner. The experience from standing on old school terracing, to the alcohol being consumed in the ground, to pitch invasions and an uncensored 70s songbook, leads me to believe that I got a taste of what the Jungle was like that day.
So I wouldn't say I was celebrating it, I was commenting on what happened and drawing comparisons with the jungle.
As it happens I don't care about drinking or pyro or the pitch invasions in a friendly. And I don't have an issue with Rebel songs because of the history of what happened in the North and the fact the civil rights movement was attacked meant there wasn't much alternative.
My issue would be with violence and there was none of that.
As for the comments about the old generation confronting this drunken anti social behaviour, they didn't do a very good job considering every away game I've ever been at is full of drinking and that type of behaviour. It's just football fans enjoying themselves letting off a bit of steam. Also, I may not have been alive but I have heard all the stories of the Jungle with drink and the type of thing that happened. It should be noted that the generation who he claims tackled this behaviour were the same generation who got alcohol banned by rioting on the pitch at Hampden.
That said, obviously I don't want to upset readers or put them off the site so I'll stay away from anything of this type in case it upsets people. I thought the final couple of paragraphs had covered myself and the site, but obviously Tom didn't think so.
Apologies,
Thanks, Liam