SOME Celtic supporter reactions from the Celtic Noise forum regarding the news that broke last night regarding Mikael Lustig leaving Celtic…
"Just read Mika on leaving Celtic. We got 71/2 years to watch a mad b*****d have a huge amount o fun. He won 16 trophies and a lot of love from the stands and of all Celtic fans the world over.
Thank you son and look forward to seeing ya at the 10iar party. Good luck to you and the Family," JamSam67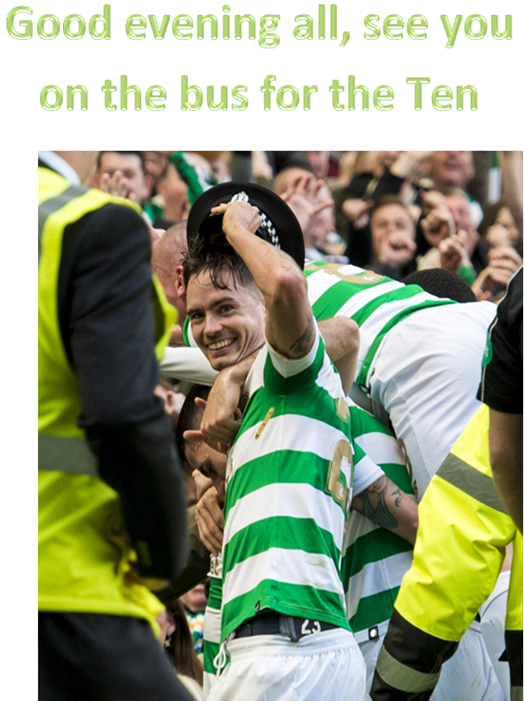 "A move of great beauty," The Shamrock.
"All the best tae the big madman and his family, will always remember that cup final header! Legend, see him back here for the ten in a row party Hail Hail MIKA!!!" Michael Duffy.
"Should have had a chance for a real goodbye," Kelly.
"Still gutted we have allowed him to go. Do we have any RB at the club at the moment?" Lubos left peg.
"Ralston?" The Shamrock.
"And what a great mentor a guy like Lustig would be for Ralston." Lubos left peg.
"Great servant, but personally thought his legs were starting to go. Might be the right decision for player and club. Goes with my best wishes for the future HH," The Galway shawl.
"Aye Kelly spot on there. Thought we'd learned some lessons after Jackie Mac. Clear not. More to football than football," Niall J.
"God Bless and keep you big fella. Forever in our hearts," Maria.
"Thanks for the memories Mika seven and a half season at the one club is rare in modern football you'll always be welcome back at Celtic Park," zicocormac
"Mika has been a great servent for Celtic over the years. Mjalby, Henrik and Mika. Three Swedes who became Celtic through and through. Hail Hail PC Lustig," Richybhoy.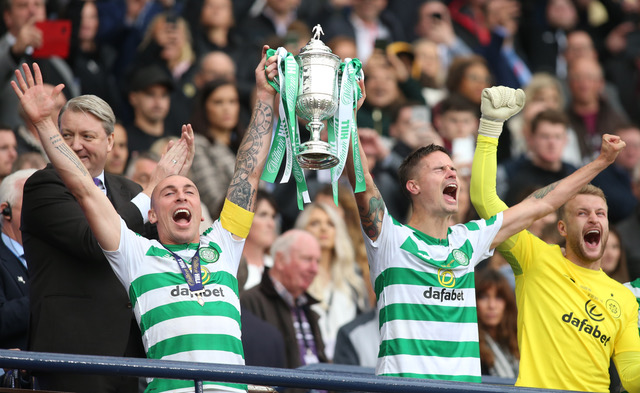 "Crazy strategy. Micka himself, crazy of course, and Celtic for letting a player of that experience and influence go. Right-back or capable centre-half cover, top-level international experience coming out his erse, goal threat, big-game icon, dressing-room favourite, role model, mentor.
"Great missus and family – see some of her youtube match-day vlogs for entertainment.
"If there's been wrangling over wages, then let's hope Celtic have something up the sleeve – how much does it cost to replace a legend of that impact onfield and off-field? How much in transfer fees and wages? More than meeting the Lustig demands/negotiating lower and throwing in a testimonial in a couple of years? Stinks of blinkered obstinance by the CEO.
"Peter, right now you've weakened the squad on the eve of 9 in a row, in ways you may never understand. Or be able to afford to replace. Grim news. Ominous foreshadowing. There had better be an answer to the problem incoming on a plane sometime soon.
"Hail Hail PC Lustig. Bona-fide Hoops legend," Sandman.
"Not only sad, Michael, pretty disrespectful too. It's hard to know if it's a football decision, or a financial decision, but what he might not quite bring to the pitch – he certainly made up for in personality and team morale.
"I hope we don't live to regret this, but in the bleak midwinter when players drop like flies, it's the Mika's of this world that stand up and be counted. Seems a bit odd considering there is no imminent arrival to take his place, but whatever happens – the big fella fully deserves our gratitude for his efforts," Spherical Planet.
"Hope tae phuq our club isnae becoming a business, ah'm no a feckin customer!!!, pretty sad the way mad Mika's leaving, could have used his experience, especially this coming season," Michael Duffy.
"Spherical Planet, you hit the nail on the head. There are a few, or maybe several, intangibles that some athletes bring to a club that are not always relevant on the stat sheet. Despite maybe losing a step (though I think he was pretty brilliant this season), Lustig brought a lot to the club on and off the field and I think he deserved another year or more.
"Hail Hail, Mikael. Forever Celtic," Icafiero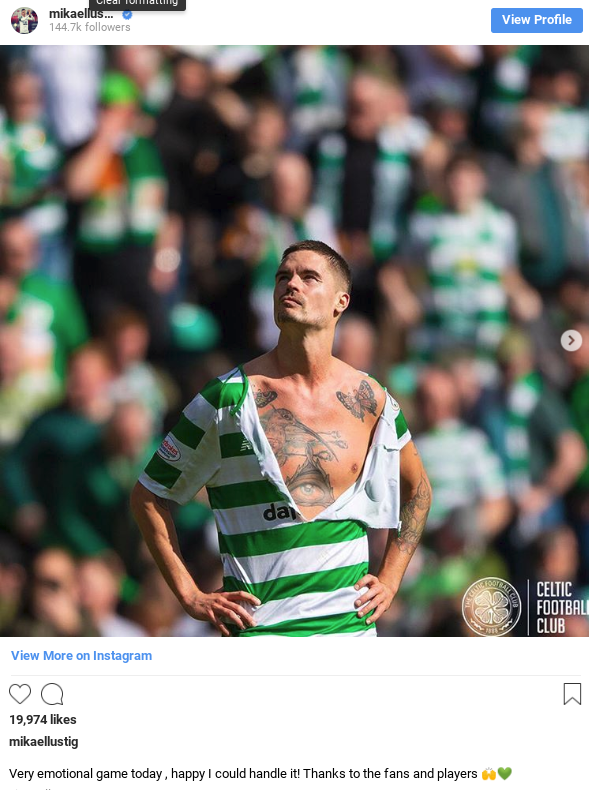 "Love the big man. Celtic, through and through. He goes with the best wishes for him and his family's future, from all the Celtic Family. That header a few months ago, what a belter that was
So many great memories of the big mad b****d. Mikael Lustig – LEGEND. YNWA," DILLIGAF.
"If we haven't signed a starting right back well before the first leg of our first qualifier then I think that might be the most damning indictment of our transfer "strategy" so far. And that's really saying something, to quote Bananarama.
"Sarajevo will be tough enough – after Red Imps we can't take anyone lightly – but we could have been playing the Polish champions had the draw gone against us. Without a starting right back. Terrifying.
"There's still time, let's get our number one target in this week. No more excuses.
"Lustig will go down as a cult hero, a really good player who improved us significantly when he was on the pitch and gave us some great moments. Much respect to him," Ferris Bueller.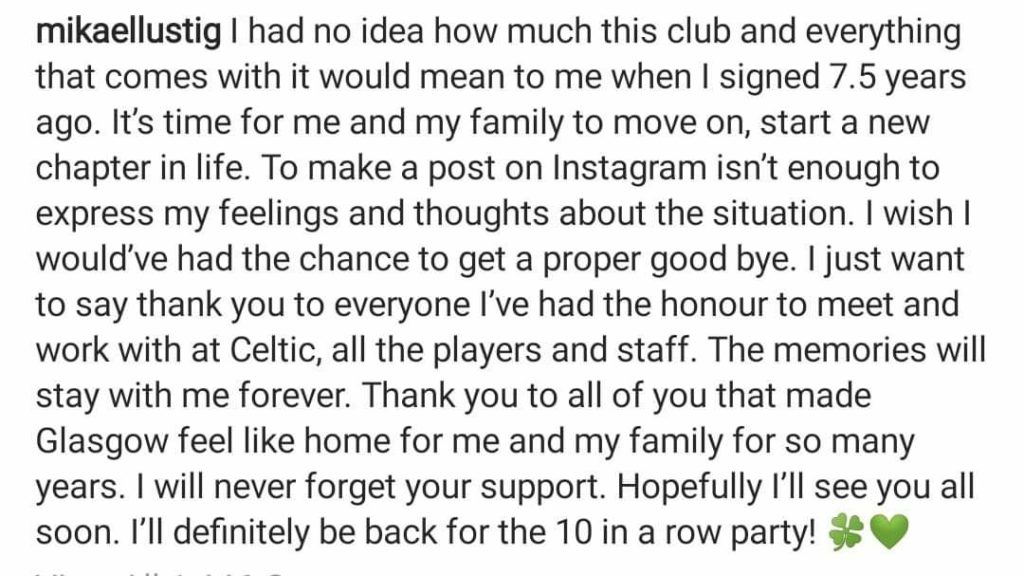 "Hope he knows how much he will be missed by the Celtic support. What a character, apparently off the park as well." Starrynight.
"God bless you Mika, a true Celtic servant, my abiding memory of you will be your mazy run and curling shot past a helpless zombie at poundland.  Me and the wee mhan were right behind the goal that day, magic magic magic.
YNWA – 'Skelper extraordinar," 50 Shades of Green.
Join in the Celtic conversation on Celtic Noise today, the site where the chat is great and ALL Celtic Supporters are welcome! Signing up is quick and easy so why not join in the conversation today?