CELTIC DAFT – THE JOHNNY DOYLE STORY by PAUL McQUADE, SHAMROCK BOOKS…
In any age where we have seen rather too many players who have loads of ability but a lack of professional desire to do well for the club, it is refreshing to read of someone who is the polar opposite. Indeed Johnny was "Celtic Daft", but possibly belongs in the category of Jim Kennedy in the 1960s, Paul Wilson in the 1970s and Peter Grant of the 1990s – a man who loves Celtic to bits, but is perhaps just a little short of the "superstar" quality. But "superstars" are in short supply, and sometimes bring their temperamental problems with them in any case, so Celtic will always need loads of Johnny Doyles.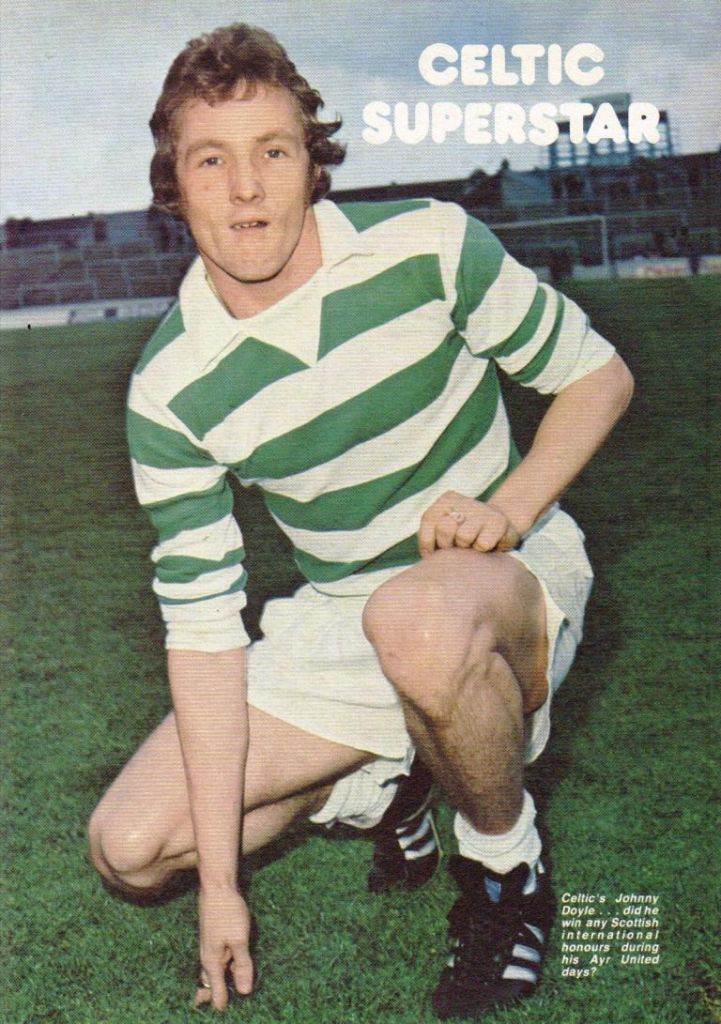 Sometimes his Celtic daftness got the better of him. He was extremely lucky to get off with his irresponsible behaviour (and that is putting it mildly) in the 1979 4-2 game, and he really must be thankful for what the "ten men" did without him – as Billy McNeill said at the time, what would have been said of him, if Celtic had lost? – but there are other things mentioned in the book which do not show him in the best of lights – he took violent exception to his sister going out with a Rangers supporter, for example – and some of the stories about him in the dressing room and behind the scenes show a disturbingly thuggish side to his nature.
Some young players were frightened of him, especially on their birthdays! And there were other things which transcend the "laddish" behaviour of a dressing room as well, for he seems to have had an inordinate desire to put people's heads in an arm lock! Not all of his behavioural quirks can be laughed off and put down to him being "Celtic daft"!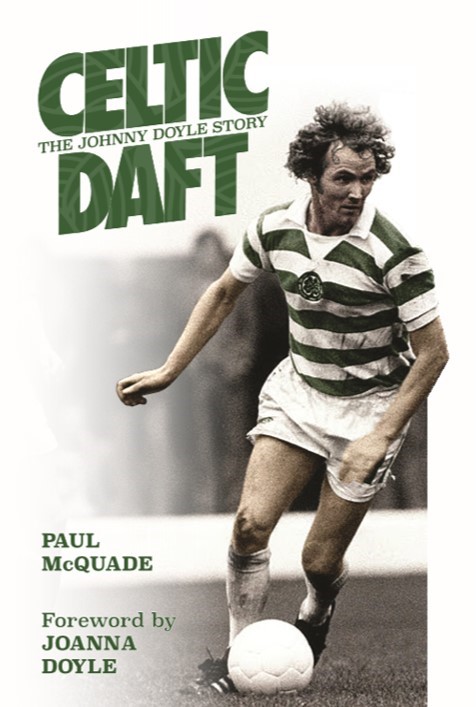 It is probably true to say that his best football was played for Ayr United, even though his career there was not without its trouble either. Johnny retained his liking for Ally MacLeod who had been his Manager at Somerset Park even when the rest of the country turned on Ally because of Argentina, and some Ayr supporters still recall Johnny with affection. His career at Somerset Park is well detailed in the book, and a brief statistical resume of his Ayr United and Celtic career is given at the end.
He had the misfortune to be at Celtic at a low point of football in this country, and 1976 – 1981 was far from the best ever Celtic team, although there were many fine players. The throwing away of the League of 1980 remains a sore point, and indeed a mystery.
Perhaps, quite simply, they were not good enough, but to a certain extent, the Scottish Cup win against Rangers eased the pain. Doyle was involved in all that, but sadly, for Johnny, by the following season he was on the way out. In early 1981, Celtic turned things on with marvellous football, but Johnny was seldom involved in that.
I do remember however the night that we won the League at Tannadice on April 22 1981 when the team were celebrating and Johnny took off his Celtic tracksuit top (he had been a substitute that night) and threw it into the crowd. He was maybe not a player that night, but he was still a Celt.
The high points and low points are well detailed. The awful League Cup final against Aberdeen, his performance against St Mirren in that epic Cup tie at Love Street in 1980, the time he was sent off by a referee who was still stunned after being hit by a fierce Doyle drive, the dreadful 1977/78 season and the departure of Jock – all are well dealt with, as indeed is his tragic death. The author relies heavily on newspaper reports and reminiscences of those who knew Johnny, and it is a bit of a shock to realise that 40 years have now almost gone since he passed away.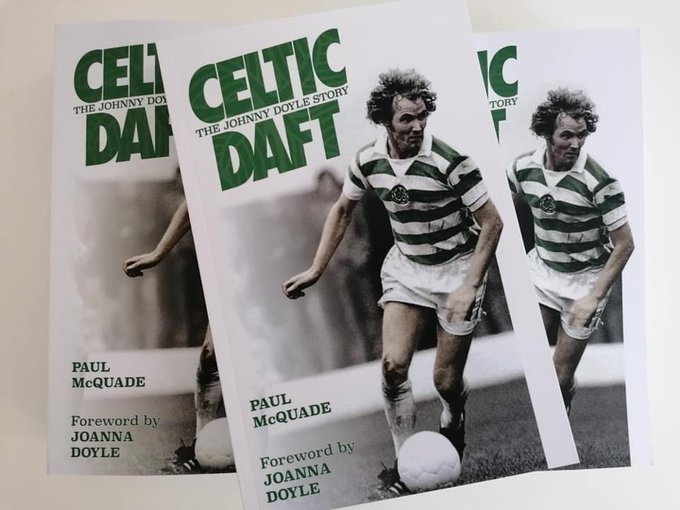 Certainly the book does well to recapture the spirit of Johnny, and a lot to recapture the atmosphere at Celtic Park in these turbulent and not always happy times. We could have done with more photographs, particularly action ones, but the book is a very good read, and a welcome addition to the Celtic library with many stories that I had never heard before. It is a book which I wanted to keep reading, so well done Paul McQuade and Shamrock Books!
My big question though, is what might have happened if Jock Stein had got hold of Johnny when both were at the height of their powers?
David Potter