RYAN CHRISTIE reckons that Kevin Clancy denied him a stonewall penalty at Easter Road yesterday then made a fantastic comparative point about the second stonewaller that the Honest Mistake making whistler overlooked.
Christie, who was booked for simulation for the next piece of play after Celtic were denied a stonewall penalty kick last weekend against Kilmarnock, tried to play the ball yesterday despite being clearly fouled and honesty perhaps cost him the decision.
"I've seen it back and I think it is a stonewall penalty," is Christie's assessment. "It is frustrating because, at that point, we were very much on top in the match.
"I think it is probably because I got a cross away that the referee didn't give it. They seem to just try to play on, but, for me, it is a definite penalty. I think everyone can see that," yesterday's goalscorer stated.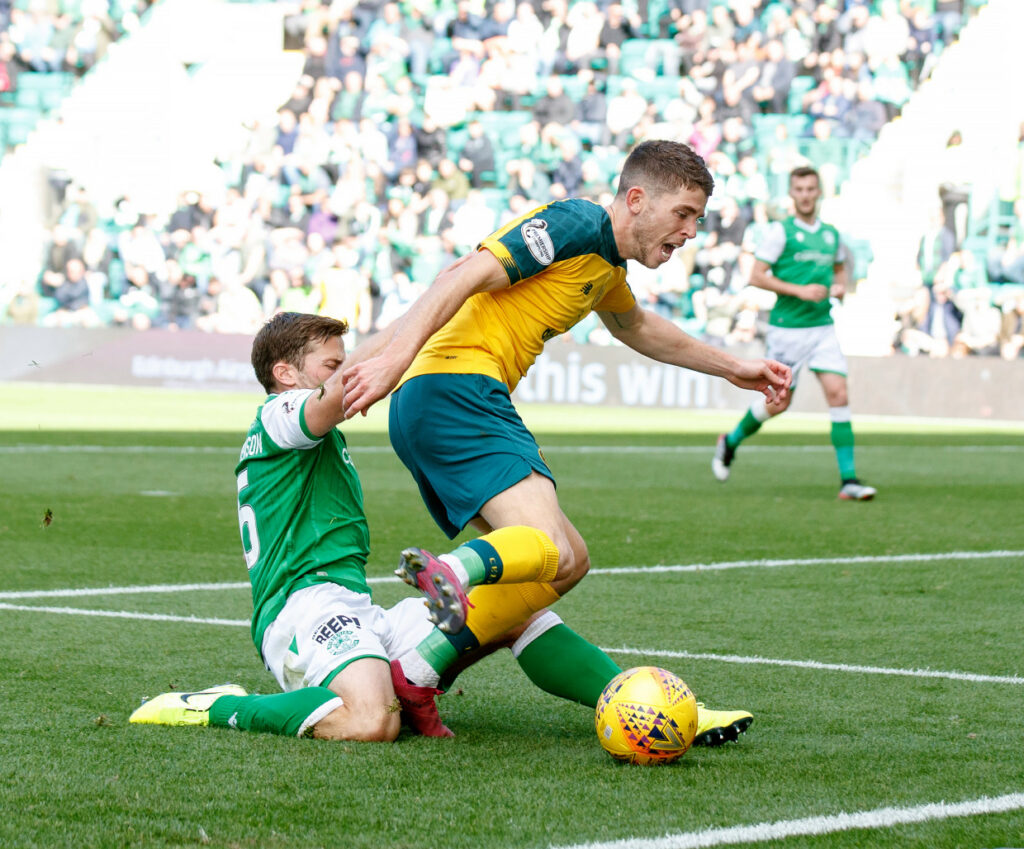 And on the other controversial incident that – surprise, surprise went against Celtic – this is where Christie made a cracking point.
"I thought the later Bauer one was very similar. It reminded me that we got one against us at Pittodrie last season when Emilio Izaguirre slid in on Niall McGinn.
"I can tell you for sure that it would be given as a free-kick if it was outside the box. All it comes down to is that it is a late foul and it is doesn't matter whether it is inside or outside the box.
"What happens afterwards is a penalty. It is frustrating not to get either of them."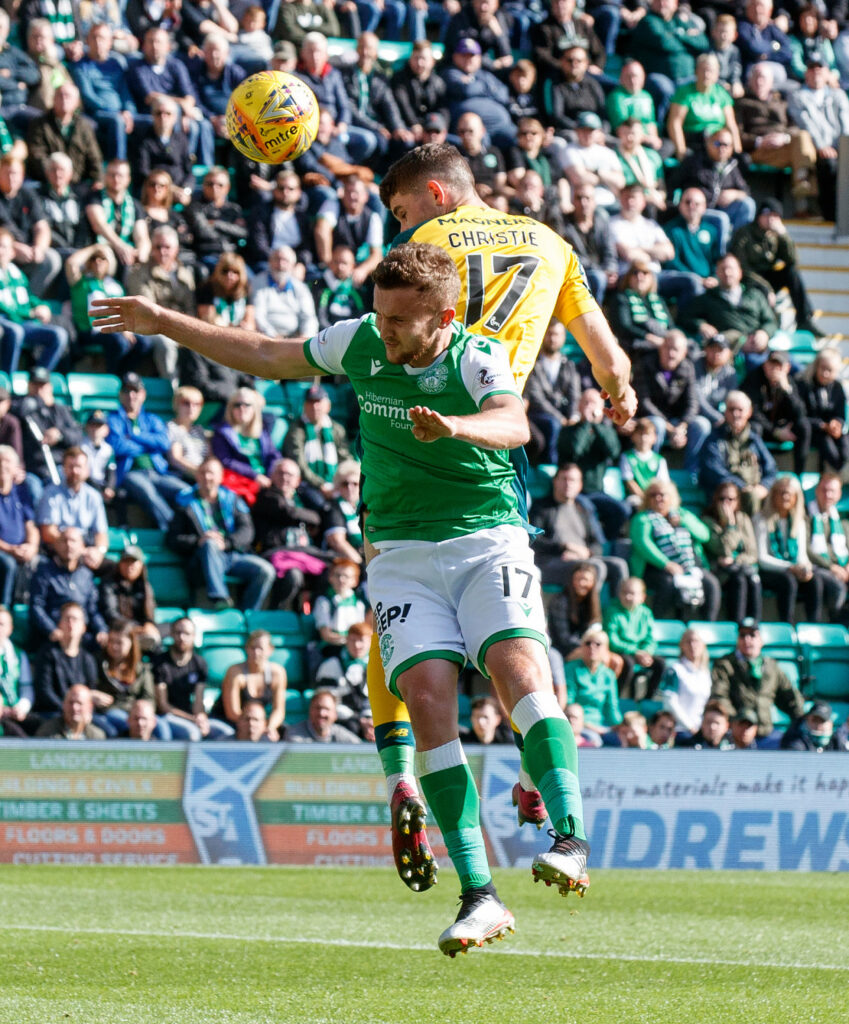 Christie admitted that he shut his eyes and hoped for the best when he jumped to head Bauer's brilliant cross to level the scores. He reckons that now he's proved to himself that he can do it, he might get one or two more goals from headers.
"I hope I get more of them. It was a case of close your eyes, let it hit you and hope it goes in," he joked, but overall he was frustrated with the loss of the two points that effectively reduced Celtic's lead at the top of the table to just one point. The five goals Aberdeen shipped at Ibrox – where stonewall penalty decisions were awarded – also significantly cuts Celtic's goal difference advantage.
"We probably weren't at our best because we didn't win the game but I definitely think we deserved to win," Christie added. "I think we are a better team than Hibs by far — but they got a slice of luck with the first goal.
"I don't think we started well, but, from every minute onwards, we completely dominated them. It was maybe just a lack of composure or conviction in the final third. That is down to me and some of the others."
The game became something of a battle, with former Celt Scott Allan annoyingly spending most of his efforts trying to get any former teammate sent-off. Clancy's booking of Scott Brown incidentally was as bizarre a decision as you'll see at any game this season.
Christie reckoned that when push came to shove, the Celtic players were prepared to stand up to the battle.
"I think we have always had that steel in the team, especially coming to places like Easter Road. You have to stand up to that and earn the right to play.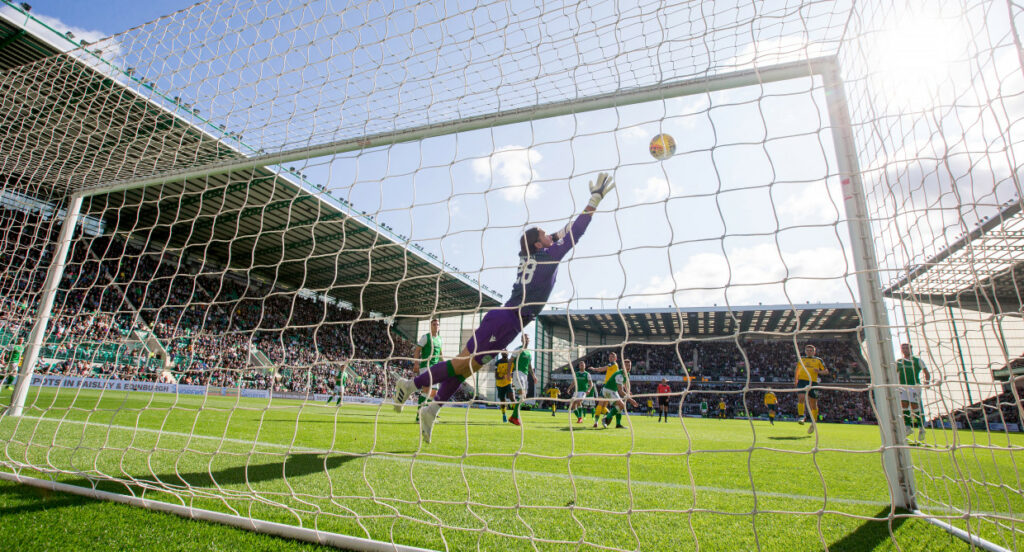 "We were aware of the stat about our record here going into the game and were desperate to put it right, so it is frustrating not to do that.
"We just need to take our chances. We are still unbeaten domestically and it is not like our heads are down."
Christie also looked forward to Thursday's eagerly anticipated game against Cluj. "We want to set the record straight in a way — especially with it being the first home European tie. Everyone is desperate to go out and prove a point."
Meanwhile Moritz Bauer spoke to Celtic TV after the 1-1 draw at Easter Road. Neil Lennon later revealed that the right back picked up an injury in the controversial challenge that was not adjudged to be a penalty by Clancy and is now a major doubt for the Cluj game.
Here's Bauer's thoughts on the game…'he doesn't touch the ball, he's only going for the man'…
ALSO ON THE CELTIC STAR…
'Lawwell's step towards mediocrity – Celtic's European star is descending,' Niall J…see HERE.
Sandman's Definitive Ratings – 'Clancy Moments' on Easter Island…see HERE.
Post Match Reaction – 'Bad day, still top, we move on', 'Blame the poor refereeing, two stonewall penalties'…see HERE.
'Title Winners make their own luck,' David Potter…see HERE.
Hibs 1 Celtic 1 – Bhoys Pay the Penalty for Clancy's Honest Mistakes…see HERE.