NEIL LENNON picked up his second Manager of the Month award of the season and told the Celtic support to forget all about Brendan Rodgers because this Celtic side is now his team.
Rodgers remains a hot-topic among the Celtic support. The current situation at Arsenal has opened the door for The Irishman to get one of the so-called Top 6 clubs in England, although confusingly Arsenal are on their worst run of form since 1977 – the year Kenny Dalglish left Celtic for Liverpool.
The Leicester board, well aware that Rodgers struggles with matters of loyalty, are reported to be looking at doubling his salary in order to prevent him moving. At the weekend Rodgers let it be known that there is a 'get-out' clause in his contract triggered by a figure of around £14.5m in compensation.
Will Arsenal move for Rodgers? After last night's home defeat to Brighton then they need to do something and quickly. And while we're talking about the Gunners, what a difficult first season, indeed what a tough 2019 it has been for Kieran Tierney, who came off the bench last night.
Regardless of whether Arsenal make a move for Rodgers or not, the net result of the speculation is that Rodgers gets to double his huge salary.
"I think there's more of an understanding now why Brendan left," Lenny said yesterday as reported by Scottish Sun.
Yes Neil there is indeed. Brendan putting Brendan first, Brendan chasing big bucks.
"At the time there was a knee-jerk reaction, particularly from supporters. Brendan made a professional decision and you have to respect that.
"Yes, he left a huge void and a lot of agitation with the supporters. But now we're seeing the way the team has adapted to me, and what we wanted from them, that we move on.
"We're in a good place, albeit we haven't achieved anything yet. Winning a tenth successive trophy would be very special.
"We're in a position that we could go on to create something that may never be done again. That's firing everyone up and there is a real relentlessness about them.
"We have a chance of more silverware on Sunday but we know how hard it's going to be. When I took over, the pressure was enormous — it was almost a day-to-day thing.
"We played (the) Rangers in March and I had to win that if I wanted to get the job. Then it was the quarter-final of the Cup, then the semi-final.
"It was game-by-game and week-by-week. I was still getting to know the players and they were getting to know me."
Ahead of Sunday's first ever Cup Final between Celtic and the Rangers here are two pics of each club's biggest ever Cup win…Myth free coverage on https://t.co/nWVFs1rCX5 pic.twitter.com/doEjRgYXDs

— The Celtic Star Editor (@CelticStarMag) December 6, 2019
ALSO ON THE CELTIC STAR…
Nicky Hammond made it clear to Celtic star that he won't be sold in January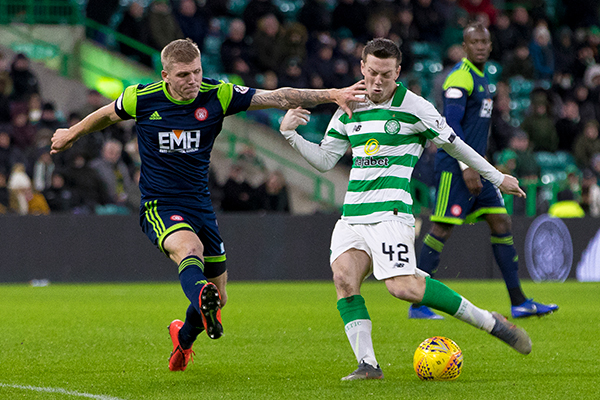 Celtic v Rangers – 'I scored,' Callum McGregor said, 'We ended up winning 3-1 and it was a big moment'
League Cup Final Tactics, Part 1 – Stop Kent and Celtic nullify the Rangers