BRENDAN RODGERS has heaped praise on his successor, Neil Lennon, following Celtic's winning of the 2019/20 Premiership title. The trophy now means Celtic have equalled the 9IAR record set by Jock Stein's side in 1974 and Rodgers has moved to congratulate his former club.
In an interview with the official Celtic website, Rodgers shared his delight in the news that Celtic had clinched 9IAR. The former Celtic boss praised the consistency of Lennon's team for their dominant displays that opened up a 13 point gap before the Coronavirus pandemic forced football to shutdown.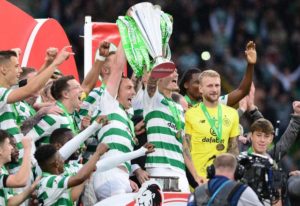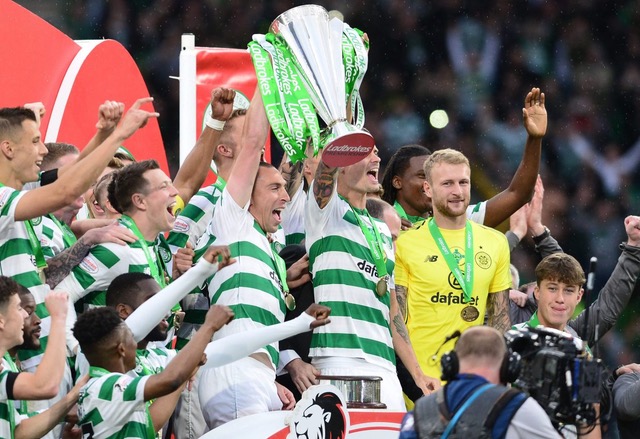 "I'm absolutely delighted for Neil. "He's done absolutely first-class since he's gone back in. He knew what he was coming in to but has still be able to add his own bit to it.
"Then, when the pressure was on this season after the Christmas period, the team have really put their foot to the floor, changed the structure of the team and you can just see the confidence they were playing with right up until the break.
"The consistency of the team has been absolutely brilliant and Neil Lennon has stayed calm and focused, even after the defeat to Rangers over the Christmas period.
"They went away and did the work in Dubai, came back and hit an incredible run of form and just continued with the consistency, so I'm delighted for Neil, the staff and, of course, the players.
"Celtic have been terrific, especially since the turn of the year. They've been the best team, consistently, and all the players, staff and people at the club have got their reward."
Rodgers, who won seven trophies in two and a half years, left the Scottish Champions under a cloud as Lennon came in to win the Treble Treble. Whilst Rodgers' record at Celtic was incredible, his reputation was damaged due to the manner in which he left.
Rodgers looks back fondly on his time in Glasgow, even if the acrimonious split in February 2019 tarnished his name amongst the Celtic supporters.
"It's just a privilege. Of course, circumstances changed for me during my time there, but I was involved in some unforgettable experiences and memories at Celtic, and to be part of this experience now, I'm very proud and privileged to have done so.
"I look back to the time when I came in. Ronny had just left, there was a bit concern about Rangers coming back into the league, and they had beaten Celtic in the Scottish Cup. But I felt from the moment we came together as a club, we were then able to then really push forward and lift a standard of mentality and play that saw us go on and succeed, and hopefully that can continue."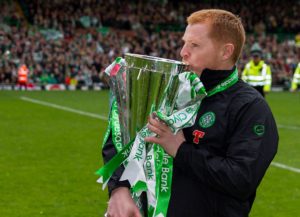 Rodgers believes that Lennon is the man to lead Celtic to 10IAR as the man that started the push back in 2012. Rodgers takes great pride in what he helped achieve during the run and paid tribute to the players – Brown, McGregor and Forrest particularly.
"So to be a part of that process of the nine is obviously a huge honour for me, and I'm pretty sure that Neil will go on and finish the job that he started back then.
"It's what Celtic is about – it's about winning, but it's also about winning in a certain style. The players have got real momentum now and they're not going to let it go easy now.
"There's a core group of players there who've been through it and they're serial winners – guys like Scott and Callum and James. They have all been through it and now the real core of that are winners, they now what it takes, they deal with the pressure and let's hope it can continue for many more years."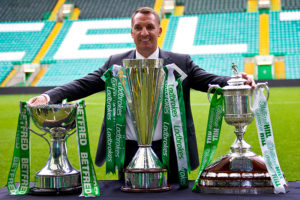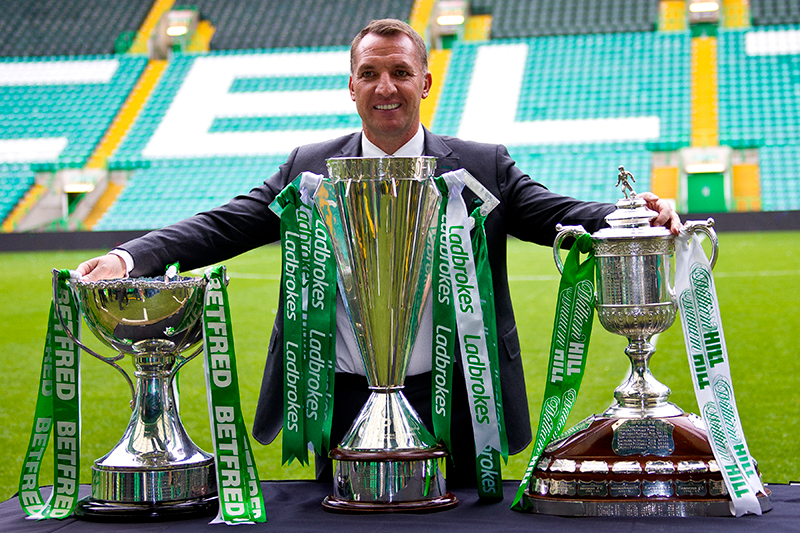 However, there is an argument that given the way that he left and Neil Lennon's arrival Celtic were able to get a shot in the arm to push on and win the league title and Scottish Cup last year. Neil Lennon has done a fantastic job and the extra period of time will have helped him get his feet under the desk in order to work through the mess that he stepped into.
Rodgers left before a crucial trip to Tynecastle, which was won by a late goal from Odsonne Edouard. And like the rest of those in the Roseburn Stand that night, I was cursing Rodgers for leaving before such a vital match. Lennon, Kennedy, Duff and Woods stepped up and delivered – clinching 8IAR as well as a third Treble.
Rodgers will be hoping to get an invite to the 10IAR party should it be achieved and as a part of the 9IAR winning trio of managers, he should be welcomed back even if the way he left was shameful.