UEFA have charged both clubs following Celtic's 2-1 Europa League victory over Lazio at Celtic Park last Thursday night.
The governing body has today opened up disciplinary proceedings against Celtic for an 'illicit banner' and also 'illicit chants' – something that the entire stadium seemed to be singing.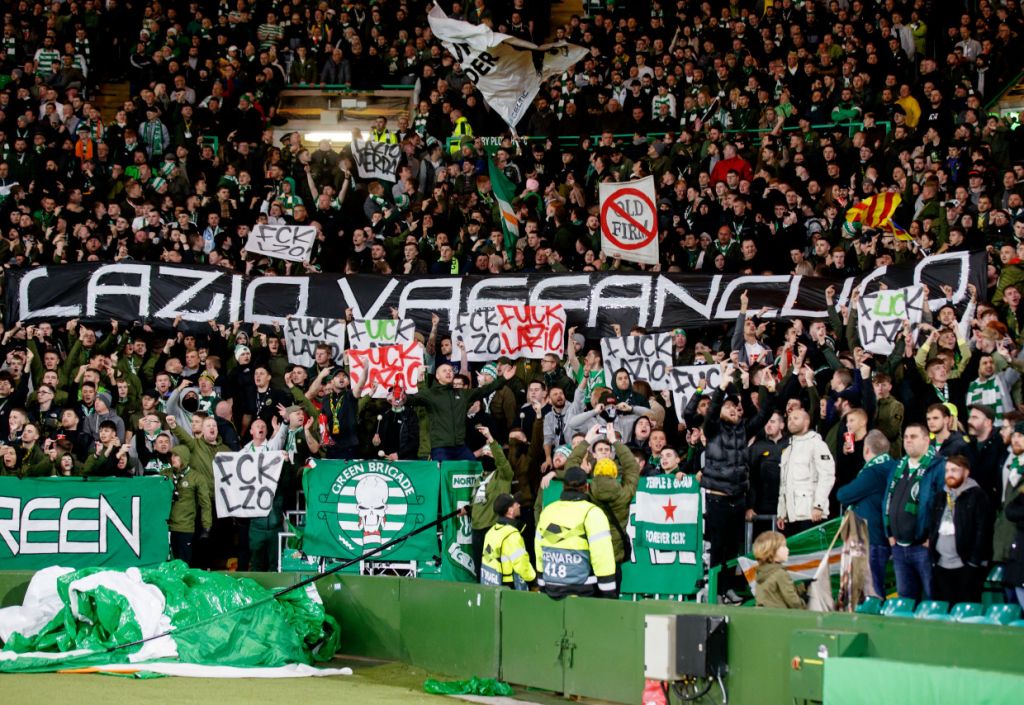 Any suggestion that the wonderful 'Brigate Verte' banner from the 'Green Brigade', which included a Star (you know the star that is above our main entrance and on our shirts and represents the club's European Cup win in Lisbon in May 1967) is somehow actually a reference to 'Brigate Rosse' is a complete media fabrication and should be resisted. You can't simply substitute in a word that suits your own narrative and then condemn others for meaning that they were using your word when they actually used theirs. The are the GREEN BRIGADE, we were playing an Italian side, so helpfully they were given a translation by the 'Brigate Verte' supporters.
The section which hosts the Green Brigade displayed a series of controversial banners throughout the match.
The other flag that depicting the Fascist leader Mussolini's hanging was also unveiled with the words 'follow your leader' as well as a banner which translated to "f*** Lazio".
Lazio have also been charged by Uefa charge for 'illicit chants' during the match but escape punishment as expected for their fans disgraceful fascist antics in Glasgow city centre before and after the match.
Wert the latest Uefa charge, if they do force a partial stadium closure it will play into the hands of Alessandra Musso and her bunch who called for action on these banners.

Wouldn't be a good move for Uefa wrt sponsors and image, so it will just be another fine. pic.twitter.com/hz4aZeYfT6

— JoeBloggsCity (@joebloggscity) October 30, 2019
UEFA will meet to determine the appropriate punishment on 21 November. Any 'anti-facsist fine' will be seen as a Badge of Honour for the Celtic support.
A hearing will take place on November 21 to determine the fate of both clubs.