Celtic's video tribute to Scott Brown at last week's AGM and the subsequent comments made was perhaps the only thing in the entire meeting where the small shareholders in the cheap seats agreed with the Celtic Chairman Ian Bankier when he reckoned that the legendary Celtic captain should never have been allowed to leave the club.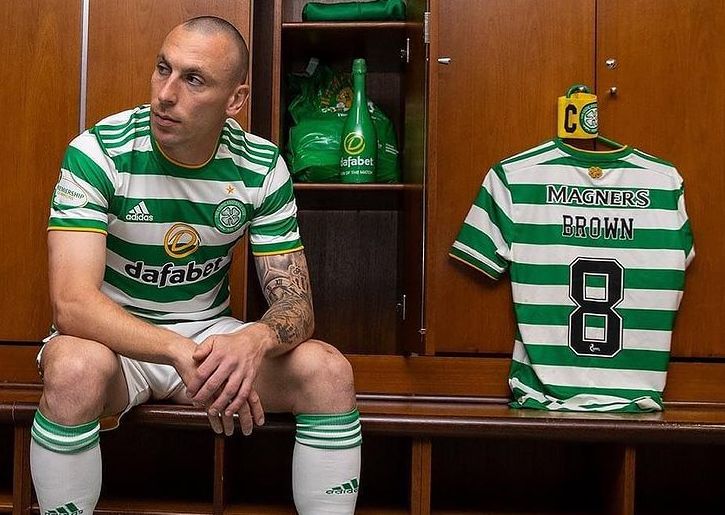 Broony is coming back to Paradise on Sunday and is sure to receive a very warm reception before the match which is probably even more important to Celtic than last night's 3-2 defeat against Bayer Leverkusen in the Europa League – a result that pushes Celtic into the Conference League where incidentally the final will be played in Tirana the capital city of Albania and the date? 25th May…with Mr President the host!
It's probably going to happen, Scott Brown coming back to Celtic at some stage. He's already played against the Hoops for Aberdeen, up at Pittodrie in the 2-1 win for Ange Postecoglou's side back in October and it should be recalled that the late Jota winner came after Broony had been substituted. Until then he'd been Aberdeen's best player.
Broony's role as assistant to Stephen Glass and captain of the Dons hasn't been without its challenges in what has been a difficult first season in charge for the Aberdeen manager. You'd imagine it would have been considerably more difficult if he'd not managed to convince his old pal from their time together at Hibs to join him in the North East.
Glass has been speaking about Scott Brown's first visit back to Celtic Park as an Aberdeen player, and started by discussing the reason why Broony was substituted when the sides met at Pittodrie last month.
"I didn't really choose to take him off as Scott basically said he needed to get off the pitch as he was cramping up and would have cost the team something," Glass stated, as reported by Scotsman. "Which also sums him up. It is easy to soldier through, stay on the pitch and you are going to hurt your team.
"That day is the only day he has had to come off the park for us. It wasn't through tiredness I don't think. His body is cramping up on him through subconscious in a way.
"I don't see that happening this time."
Glass is certain that the legendary Celtic captain will receive a very warm welcome from everyone at Celtic Park on Sunday, although once the referee blows his whistle to start the match be in doubt that the Celtic Support will see him as an opponent, just as happened when the King of Kings returned to play against Celtic for Barcelona. Glass agrees with this assessment too.
"I would expect he will get a very good reception," Glass said. "Everything he did for Celtic and Celtic did for him I would imagine he will get a fitting tribute from their fans.
"However, it's a group of fans who want their team to win so I think during the game it might be a different matter. Certainly before, maybe at times during and after, I'm sure he will feel what the Celtic people feel about him."
Perhaps the North Curve and The Bhoys will have a banner ahead of kick-off. There's likely to be a Broony, Broony chant before the game starts and an ideal scenario (in more ways that one) would be for Celtic to be out of sight in terms of the scoreline and for Glass to substitute Scott Brown in the closely stages to allow the entire 60,000 at a sold out Celtic Park to stand and applaud the Quadruple Winning Celtic Captain…
That would be appropriate would it not?