One of two Marists behind Celtic's formation, Brother Dorotheus was Brother Walfrid's confrere.
Born in Dundee in 1855, Brother Dorotheus' real name was Henry Currie. He trained as a pupil teacher under the Brothers for three years at St. Mary's Forebank in his home city, before heading for pastures new in July 1874, when he joined the Dumfries Novitiate. Making his vow of Obedience two years later, Dorotheus taught at St. Joseph's College in Dumfries for just shy of 12 months.
Having plied his trade in Dundee and Dumfries, Brother Dorotheus was transferred to Glasgow, where he began teaching at St Mungo's. Only in the post a short while, his qualities shone through and Dorotheus was promptly appointed Headmaster of St Mary's Catholic School on Abercromby Street in the Calton.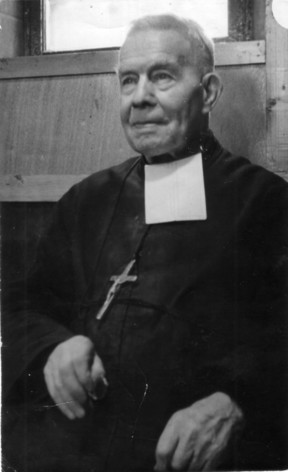 Whilst head of St Mary's, Brother Walfrid was sent to the school as a teacher. Dorotheus, 15 years Walfrid's junior, spotted the talents of the Sligo man and encouraged him in all his external charitable endeavours. The pair became great friends and confreres, particularly when Brother Walfrid was given his own school to manage (Sacred Heart in Bridgeton).
Setting Up The Poor Children's Dinner Tables:
On a balmy mid-May afternoon in 1886, Brother Walfrid held what is believed to be one of his first major footballing initiatives. His hosting of friendly matches at Barrowfield Park, French Street, off Dalmarnock Road, Bridgeton, were the sequel to setting up the 'Penny Dinner Scheme' within the local community.
Brother Walfrid had been the Headmaster of Sacred Heart Catholic School in the Glengarry area of Bridgeton for 12 years at that point. Upon his appointment, he was faced with a trio of issues – the appalling social conditions of Glasgow, a lack of school attendance and Catholic children converting their faith due to proselytism within Protestant ran soup kitchens.
Walfrid identified the school's attendance record as his primary concern, as with greater attendance the government increased the funding that it donated to each educational institution. A rise in government grants would mean that he, as a lead member of the St Vincent De Paul Society, could then seek to tackle wider issues with greater resources.
The 'Penny Dinner Scheme' was one of the projects that Walfrid established in the hope that children would be encouraged to attend school in order to enjoy a substantial meal. The payment of a penny was a suggested token to avoid embarrassment for parents who may feel a loss of pride at being seen to depend on charity, although payment was never compulsory.
To acquire premises for serving these school dinners, Brother Walfrid approached the local St Vincent De Paul Conference for assistance. The Society obliged, renting a shop property behind Sacred Heart School, in Savoy Street. The shop was turned into a makeshift kitchen and was to be the first location used to provide food for The Poor Children's Dinner and Breakfast Tables.
Brother Walfrid worked closely with his confrere, Brother Dorotheus, who still headed St. Mary's Catholic School in the Calton district of the city. Taking over a disused blacksmith in the school yard, Dorotheus also set up the 'Penny Dinner Scheme' for pupils at St. Mary's. As the year progressed, the scheme's success rocketed to such an extent that it became challenging to continue to satisfy the increasing demand, and other initiatives needed to be explored to sustain benefit for the children.
A mark of the problematic overgrowth of the scheme was that Sacred Heart provided 48,500 dinners and 1,150 breakfasts in its debut year. Added to this huge level of service was the fact that the school capacity had quadrupled and was to educate over 1,200 pupils for the school year of 1886. Similarly, St. Mary's started the first six months of 1886 by serving 26,421 meals to students, 17,707 of which were free of charge. Rather than make the suggested donation of a penny compulsory, the decision was made to reach out to other aspects of social assistance.
Moving Into Football:
The Marist Brothers soon branched into football having seen the enjoyment that not only their pupils, but the working-class people of Britain had got from playing the sport. The pair set up youth football leagues for former and current pupils of each school, whilst Walfrid also founded a few teams of his own, which were associated with his other community organisations, including one outfit born from the literary society that he had developed for local Irish linguists.
The rapid growth of football attendances, particularly at Edinburgh Hibernians matches, led Walfrid and Dorotheus to spot a fundraising opportunity. Indeed, Walfrid had already invited Edinburgh Hibernians to travel to the east end of Glasgow on 26th September 1885, where a reserve team fulfilled a charity game against a junior club named Glasgow Hibernian. After that match, the Edinburgh side were fed and entertained by the St Vincent De Paul Society at St. Mary's Church Hall.
The initial match had been disappointing. On the park, Edinburgh Hibernians won 6-0 and off it a small amount of money had been raised. Undeterred, it was on the mid-May afternoon in 1886, mentioned at the top of this piece, that Brother Walfrid managed to get Harp of Dundee, one of approximately 40 Irish teams in Scotland at the time, to accept Clyde's invitation of a charity match at their former home pitch – Barrowfield Park.
Harp of Dundee stole the win with a late goal to make the score line 2-1 in their favour. This time the match's fundraising success was resounding. All proceeds from the event went towards The Poor Children's Dinner and Breakfast Tables, which was the charity within which the 'Penny Dinner Scheme' operated. Therefore, it was fitting that both teams were invited to Sacred Heart School for a post-match meal.
The Marists organised a further match on 18th September 1886, with Walfrid's Eastern Rovers visiting Glengarry Park to face a St Peter's Parish team that he had also become involved with, named Columba. Funds continued to roll in thanks to a crowd of over 1,000 on that occasion.
Interestingly, John Glass (who would later become the founding father who Willie Maley claimed Celtic owe their existence) had formed a club named Eastern Hibernian, who also locked horns with Columba in this period, thus bringing Walfrid, Dorotheus and Glass together within the footballing arena.
Another team of note at this time was Western Hibernians, who played in exhibition matches and were also instituted to The Poor Children's Dinner and Breakfast Tables. The Western Hibernians donned white shirts, black shorts and green and black hooped socks. In an exhibition match in February 1888, they fielded no fewer than seven of the 11 players who would play in Celtic's first match three months later!
Impact:
The very initial seeds of Celtic were sewn with the success of Walfrid and Dorotheus' aforementioned charity match between Harp of Dundee and Clyde. Walfrid was the main organiser, the one with the ideas behind founding the Poor Children's Dinner & Breakfast Tables and the main main in terms of founding football clubs. Yet Dorotheus followed him every step of the way, acting as an assistant and carrying through the ideas with his great friend.
Make no mistake, these charity matches, which supported their Penny Dinner scheme were very important ingredients in the establishment of Celtic Football Club. Hibernian's Scottish Cup triumph and the comments subsequently made at the reception held in celebration at St Mary's Church Hall, which Walfrid and Dorotheus were both present at, also played a big part.
The jigsaw was then complete, when a final charity game was held three months later.
Confirmation To The Idea:
A charity exhibition match was organised at Glengarry Park on 26th May 1887. This time it was evident that Brother Walfrid, Brother Dorotheus and an embryonic committee of men, who would go on to found Celtic, were behind the match. The organisation was much better than previous charity games in Bridgeton. A trophy had been offered up to the winner, which enabled the clash to be labelled 'The East End Catholic Charity Cup'. A major coup was also secured, when the competing teams were announced as Edinburgh Hibernians and Renton. The magnitude of this contest should not be understated, for Hibernian were Scottish Cup holders; whilst Renton held the Glasgow Merchant's Charity Cup (the cup committee invited some teams located on the periphery of Glasgow to compete) and Dunbartonshire Cup trophies.
The improved planning paid off when 12,000 fans paid entry to the fixture, a larger crowd than that which attended the Scottish Cup Final three months earlier. The score finished 1-1, meaning a replay and another pay day beckoned. The replay was pencilled in for the beginning of the new season, on 6th August 1887. A reduced, yet respectable crowd of 4,000 arrived excited at what lay in store. They weren't disappointed as Neil McCallum, who would go on to score Celtic's first ever goal, struck the net five times in a 6-0 win for Renton.
Following the match, the Renton and Hibernian parties were cordially invited to the Sacred Heart Boys Club for a post-match reception. There, it was revealed that the combined crowds of 16,000 over the course of the two games, had raised some £120 (equivalent of £15,000 in today's money) which was primarily donated to The Poor Children's Dinner and Breakfast Tables, but was also dispersed among charities in Edinburgh and West Dunbartonshire.
The Sacred Heart parish had witnessed a revolution of football for good. The football became a leather tool introduced to local school playgrounds as a means of encouraging educational attendance, whilst the charitable fundraising power of the sport had confirmed the convictions of those behind the foundation of Celtic. From this point, nothing could stop the founding of Celtic Football Club in November 1887.
Role In Founding Celtic:
In many ways, Brother Dorotheus is a forgotten man. Undoubtedly he played second fiddle to Brother Walfrid, yet his assistance to the main man deserves greater recognition. He was ever-present at all the key moments in the precursor to the establishment of Celtic.
Brother Dorotheus was present at the meetings to discuss founding a football club for the assistance of three local parishes, with his and Walfrid's charity being the primary beneficiaries. Though he was a non-committee member among the founding fathers of the club, he was appointed as one of two auditors on Celtic's first published accounts in 1889.
Life After Celtic:
Brother Dorotheus went on to be Headmaster at St Alphonsus, after leaving St Mary's, until 1892. Then he was transferred to Ireland, where he became a Headmaster of schools in Sligo, Athlone and Swinford until 1911. The Marist Brother appears to return to Scotland at that point, living in Largs for nine years, before returning to the Emerald Isle again.
Brother Dorotheus passed away on 18 September 1934, a week shy of his 79th birthday. He is buried in a family plot with his father, who went to stay with him prior to his own death, in Athlone. Sadly, the grave does not bear his name.
*Much of this article has been adapted from various chapters found within Take Me To Your Paradise: A History of Celtic-Related Incidents & Events
Click on the links below for articles on other Celtic Founding Fathers:
Patrick Welsh – William McKillop MP – John Glass – Hugh Darroch – Dr John Conway – Michael Cairns – John O'Hara – Daniel Molloy – Joseph Shaughnessy – James Curtis – Joseph Nelis – Francis McErlean – David Meikleham – Joseph McGroary – John Charles MacDonald – James McKay – James Quillan – John H McLaughlin
Support Celtic Youth Development
Help raise money for Celtic Youth Development by joining the £1 weekly lottery and you could win up to £25,000 – just click on any one of the photographs below to join. Lots of our readers have already done so and they're now doing their bit to help fund Celtic Youth Development that can deliver the stars of tomorrow and beyond. And you might even win a few bob too! And a special thank you to all The Celtic Star readers who have already signed up and are now supporting youth development to give us the Celtic Stars of the future…