Former Celtic defender Gary Caldwell has praised the leadership qualities displayed by Scott Brown whilst taking a pop at James Tavernier's mentality in the aftermath of Sunday's League Cup Final.
Speaking to BBC Sportsound, Caldwell, who made 150 appearances for Celtic between 2006 and 2010, suggested that there was a massive gulf in leadership between the two sides.
Caldwell was Wigan manager when the Latics sold Tavernier to Mark Warburton's Rangers in 2015 and despite his qualities, the former Scotland internationalist questioned Tavernier's mentality when discussing why he sanctioned the move to take place.
"Is he captain material? I didn't think so, no.
"Myself and my coaching staff, we all felt that his mentality could have been better."
Tavernier handed the ball to Morelos after the Columbian won a penalty only for an inspired Fraser Forster to beat the ball away, meaning Christopher Jullien's goal would be the match winner. It was a weak decision by the right-back as he has long-since been perceived as the club's penalty taker but bottled the chance to score against the Champions from the spot, showing a lack of leadership.
Caldwell suggested that if you were to look at the side that won the game on Sunday and the man who must have sore arms from all the trophies he has lifted recently, you will see a leader in Scott Brown.
"For me, when you look at Celtic you see a leader.
"Scott Brown leads that team and in moments of crisis, he's the one that galvanises the team with a driving run, with a tackle, with his antics in terms of antagonising the opposition.
"It's all set up to win games of football.
"I wouldn't have said he was a leader when he was 19 but he's grown into a fantastic leader that's won ten trophies in a row for Celtic and he'll go down as a legend."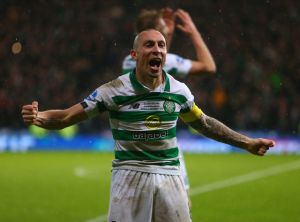 Brown and Caldwell were teammates at Hibs and Celtic, as well as being together through Scotland Internationals. Caldwell praised the work that Brown does on the pitch by driving his team forward and for these qualities, he will be remembered as a Celtic legend.