This was another satisfactory performance by our team, and they are now deservedly six points clear at the top, needing in fact to lose more than two of our 15 remaining League games if we are to lose the League.
I hope you understand that last sentence, by the way, but the truth is that Celtic are in a great position to win the Scottish Premiership. Unless, of course complacency sets in.
Last night proved several things.
One is that Callum McGregor is a class act. He may have had a few indifferent games this season, but last night he was superb, taking his goal with aplomb and deservedly named the Man of the Match.
Indeed he was head and shoulders above anyone else. James Forrest had a slightly off night, but he did try hard and did not always enjoy the best of luck.
Oliver Burke seems as yet to lack a little conviction in front of goal, and would do better if he were more direct, by which I mean that he should shoot oftener.
Ryan Christie was always in the action. Like Jamesie, the ball did not always run for him, but he did take an exquisite goal.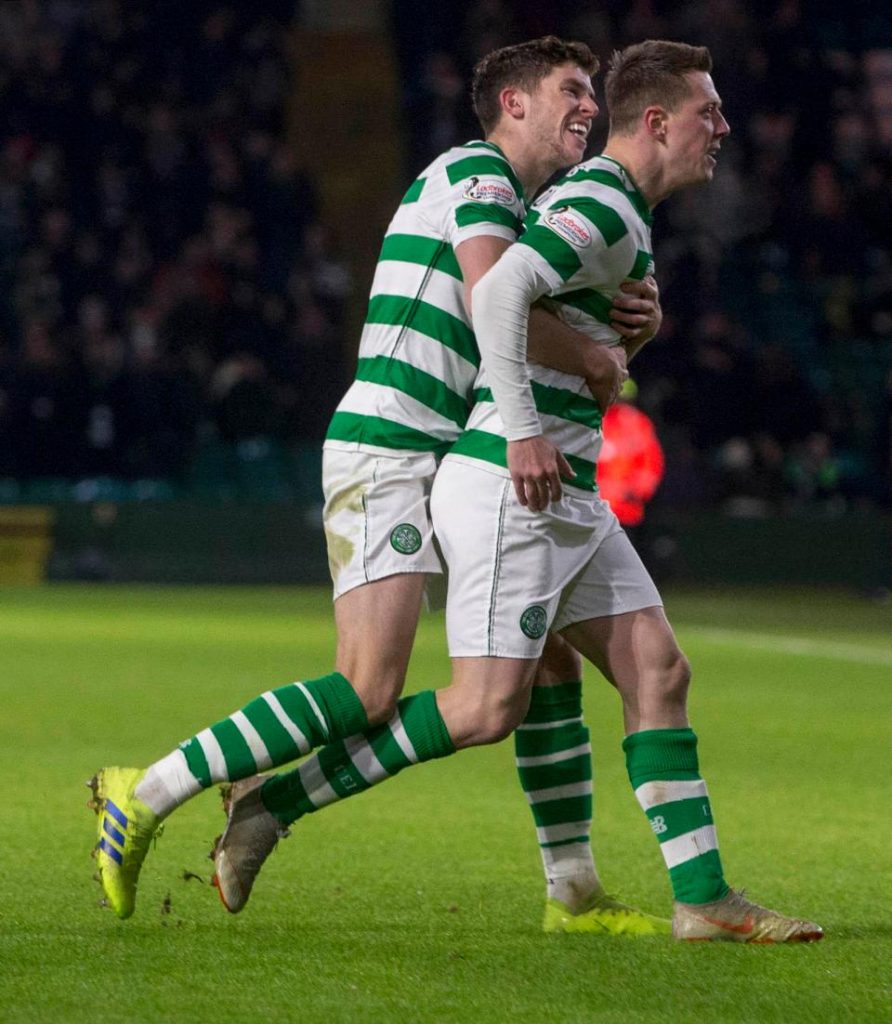 I hope we see a little more of Scott Brown. He has a good few years of football left in him. There is not much lacking in his game, but he is not a great finisher. Twice at least he put the ball over the bar, and several other times he might have tried a shot, I felt.
I feared at half-time that we were in for one of these nights when the "parking the bus" policy of our opponents might play dividends for them, but by the end of the game, (5-0 or 6-0 would not have been an outrageous score), we saw how bankrupt of attacking ideas they were.
Once again we seemed to run into a goalkeeper who had an inspired game, (one save from Scott Sinclair in the first half was very good) but one has to admit that the rest of the St Johnstone defence were compact and assured as well. We have the task of getting through them another twice in the next 10 days!
Our own defence hardly put a foot wrong with Kristoffer Ajer, I thought, particularly impressive. Simunovic was good, and both Lustig nd Izaguirre, who get a fair bit of stick now and again, played their parts well also.
The referee, Mr Aitken, was a new one to me.
Although one is instantly suspicious of a man whose parents feel constrained to call him "Greg", he had not a bad game. He probably did get the two contentious decisions right – I think that was a fairly amateurish dive from Ryan Christie for his yellow card, and the penalty at the end seemed to be too close to the St Johnstone man for him to do anything about it, so there was probably enough doubt there, even though "we have seen them given".
And so battle resumes at McDiarmid Park on Sunday.
It should be a good game to go to, or to watch on TV. It will be different with the Perth men being a little more adventurous, one hopes, thereby giving Celtic more opportunities.
For the moment six points ahead is a comfortable lead, but it can be whittled away.
Don't let it happen, Celtic!
David Potter
Also on The Celtic Star…
Jim Craig – When the final whistle blew, the score was 4-2 to Celtic
Benkovic's out for 4 weeks, one coming in and several going out the door according to Brendan
Celtic 2 St Johnstone 0 – As it happened as Hoops go 6 points clear