DON'T worry it's almost over. The dreaded International break comes to an end this evening when Steve Clarke attempts a Mission Impossible against the World's Number One ranked side at Hampden. You can't really see anything other that a Belgium victory and that will mean that Scotland will have to rely on the safety net of the Play-off place James Forrest won for Scotland with those five goals in four days for Scotland last autumn against Albania and Israel.
Most Celtic Supporters just want our players back safely and without injury. It looks like Forrest and McGregor will sit out the game tonight while Ryan Christie who strangely was on the bench on Friday for the match against Russia, will start this evening. The other Celt, Greg Taylor isn't likely to get any game time.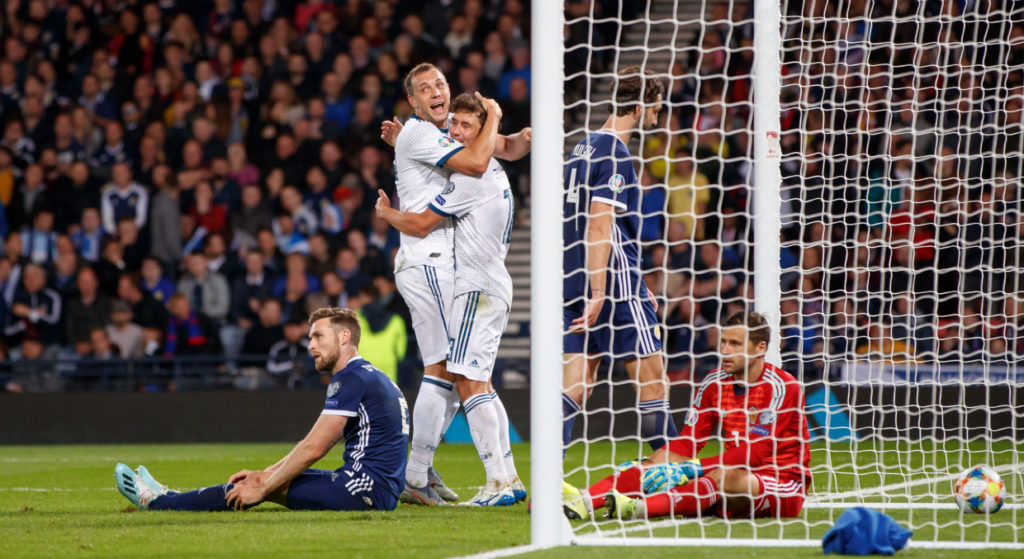 So the way it looks like panning out is that the Celtic boys haven't had too much international football. It could have been worse from a Celtic point of view.
The club signalled the beginning of the end in sight for the international break with this tweet this morning.
"Calm down…" the club tweeted. Only five days until the Bhoys are back in league action!" then concluding with the hashtag Monday Motivation.
Calm down…

Only ????️ days until the Bhoys are back in league action! ????#MondayMotivation pic.twitter.com/Oh5LVSjjBd

— Celtic Football Club (@CelticFC) September 9, 2019
There are a few Celtic stories kicking about today that are worth mentioning.
Sky Sports anchor Jim White has tweeted about the John Hartson Foundation fundraiser in Glasgow last night.
"Outstanding night, fundraising with John Hartson for his cancer Foundation – personal contributions from Lionel Messi and Simple Minds. Wonderful audience in Glasgow."
Outstanding night, fundraising with @JohnHartson10 for his cancer Foundation – personal contributions from Lionel Messi and Simple Minds ⚽️????! Wonderful audience in Glasgow. pic.twitter.com/Y6PPsCPa0K

— Jim White (@JimWhite) September 8, 2019
The Barcelona superstar personally signed his shirt and posed for a picture with it before making the contribution to Big Bad John's charity.
John Hartson was joined by guests Jim White, Hue and Cry, and George Bowie at the event. As well as Messi's jersey, Scottish rockers Simple Minds also donated a signed guitar to be auctioned off on the night.
Yesterday saw the annual wreath laying ceremony take place at John Thomson's grave, with former Celtic goalkeeper John Fallon along with Tosh McKinlay both in attendance.
John Thomson wreath laying ceremony today @CelticFC @CelticGraves #johnthomson #princeofgoalkeepers #arthurmckennalochgellycsc pic.twitter.com/GW6jIKEYNM

— Dham (@hamstersok) September 8, 2019
A glorious day in Bowhill for the 36th John Thomson Memorial Tournament. There are eight teams competing today of boys and girls and a great crowd! I also would like to pay thanks to Alex Burns as it is his 36th year organising. Such a brilliant event for sport! pic.twitter.com/LOffHVubQp

— Alex Rowley (@Alex_RowleyMSP) September 8, 2019
Meanwhile Mark Schwarzer reckons that Daniel Arzani made a mistake by joining Celtic on loan after completing a complex deal that saw him leave Australian football to sign for Manchester City (and their football factory) before being sent North of the border to 'do a Paddy Roberts'.
Arzani made an impact of sorts for Australia at the World Cup in Russia in summer 2018 but since then has played just a few minutes for Celtic up at Dens Park in late October before injuring himself tearing his ACL and ending his season. That isn't really the fault of Manchester City or Celtic but if the player wanted to develop surely he should have gone to a club where we was likely to get plenty of game-time?
The former Chelsea and Leicester City goalkeeper has been speaking about Arzani's career stalling since making the move to Europe.
"Daniel Arzani is one of those players who has been incredibly exciting and particularly leading up to the World Cup in 2018," Schwarzer told Goal.com.
"He had a phenomenal breakthrough season in the A-League. He didn't play enough games over 90 minutes, which is something he needs to build on.
"The Celtic move is one which I am not sure is the best move for him just yet. But it is about playing games and continuing to develop.
"His injury came at the very worst time as he just arrived and got his first opportunity to play from the start.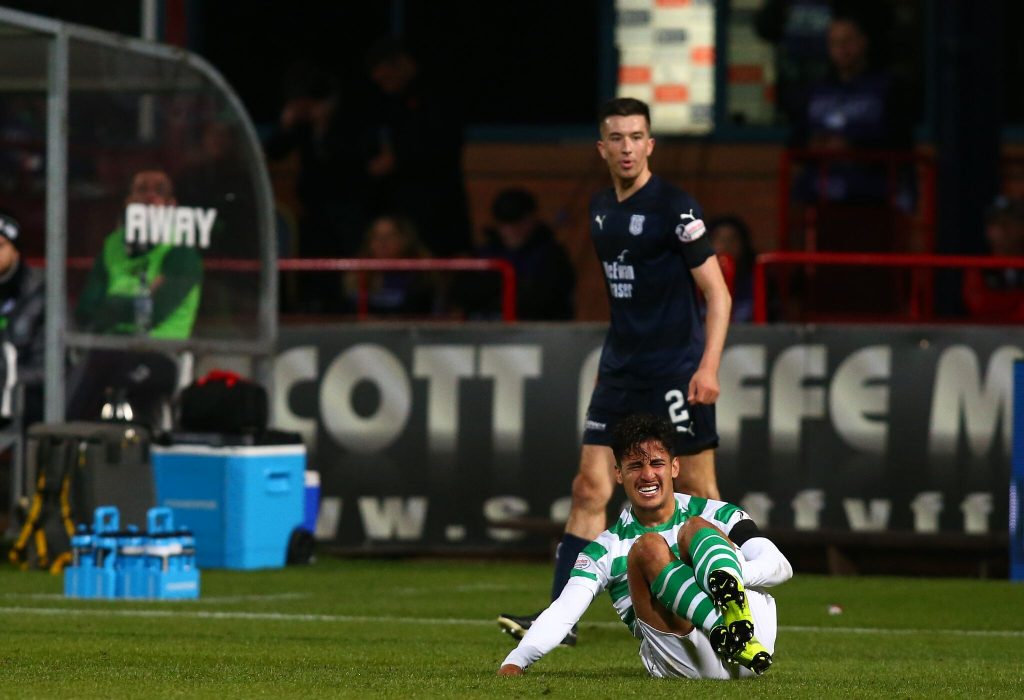 "It was not only unfortunate for his career at Celtic but also for Australia. I just hope that he can get back to the level he was at before his injury.
"He is a huge emerging talent from Australia. That's why Man City signed him. I know he was at their sister club in Melbourne.
"He is a huge talent. He is very unpredictable. We haven't had a player like that for a very long time. He has no fear on the ball. He is prepared to take players on. Drop a shoulder number of times and use a burst of pace.
"He does that effortlessly. He has a low centre of gravity, so it enables him to be nimble and quick.
"I hope his injury doesn't affect that side of his game."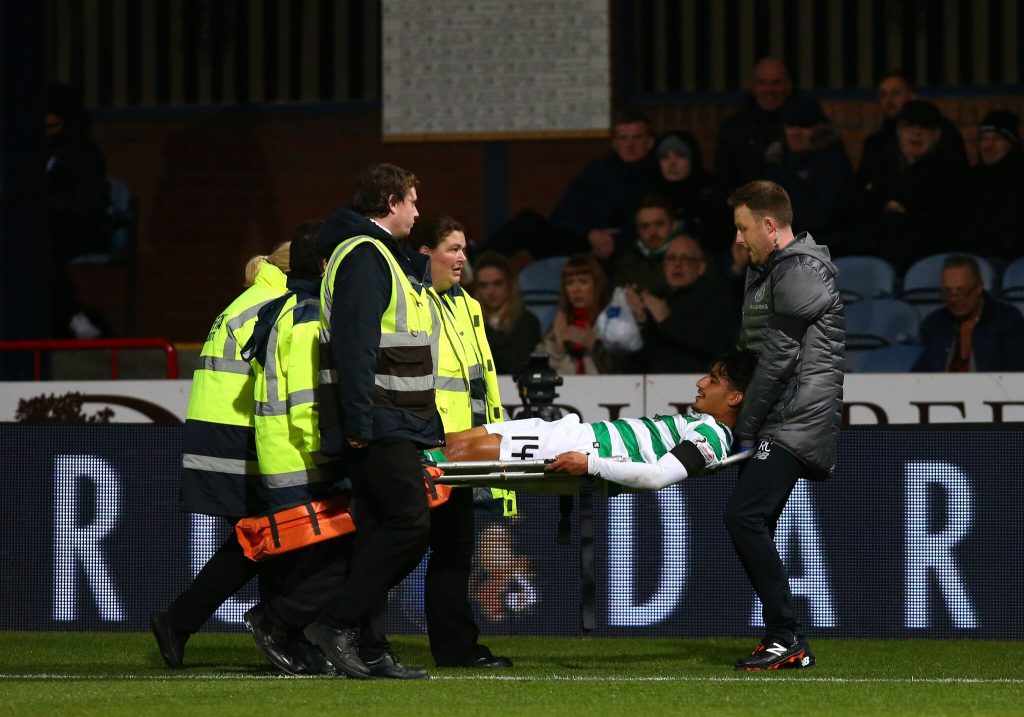 And the former Manchester United defender Nemjani Vidic has been speaking about the unique and very special atmosphere that is created at Celtic Park on big European nights.
Vidic was in the Manchester United side that lost 1-0 to Celtic in 2006 when Shunsuke Nakamura scored THAT free-kick and Artur Boruc made THAT penalty save and the Celtic Noise is still ringing in the 37 year old Serbian's ears.
"They were in Naples, which had a reputation for being loud and intimidating, but when you have played at Red Star you don't really get intimidated.
"Maybe only at Celtic Park for the first 10 minutes of a game when the fans breathe fire towards the players.
"I loved playing at Celtic and felt like it was my mentality that I had grown up with," Vidic told Theathletic.com.
All this has been happening with this as the backdrop…"We're Doomed' as the old bloke on Dad's Army would say, 'we're doomed!"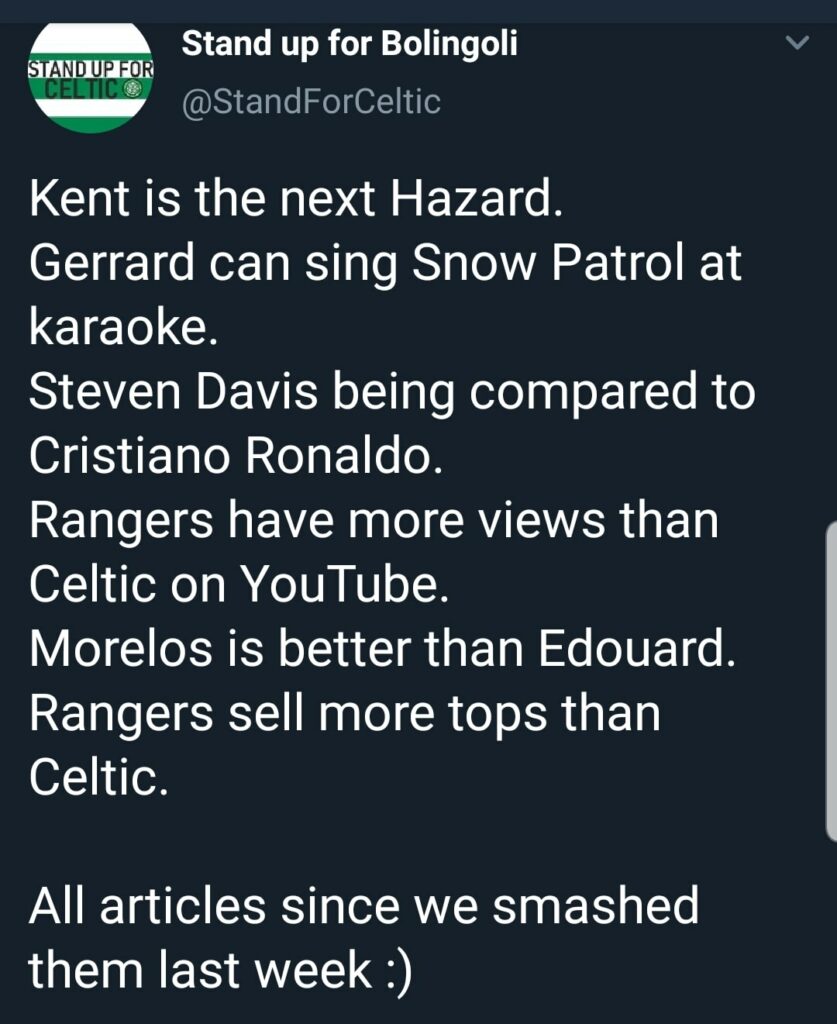 ALSO ON THE CELTIC STAR…
'I will be delighted if I get the opportunity to play,' Christie eager to take on Belgium Superstars…see HERE.
Ex-Celts Rubbing It In – 'Hope ripped away', 'Result shows why Celtic are Champions', 'Pathetic' Rangers performance…see HERE.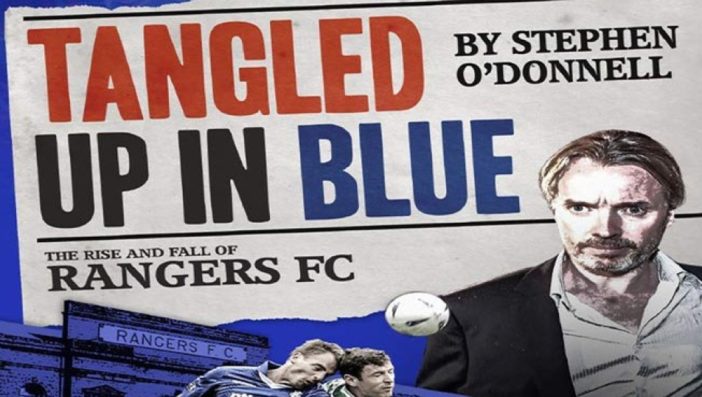 'How the Full Extent of Rangers' Debt Finally Became Public,' Stephen O'Donnell (Tangled Up in Blue)…see HERE.
'Can I hire you to video my son's party?' Jonny Hayes' homer offer to Scotty Sinclair…see HERE.