I remember reading The Glory & the Dream, by Tom Campbell & Pat Woods, as a young lad. I was perhaps ten or eleven years old at the time. The cover photo, from distant memory, was of a jubilant Billy McNeill, our Cesar, celebrating his goal in that unforgettable 4-0 Scottish Cup Final victory of April 1969. Arms raised to the sky. Fists clenched. That is my memory.
That detail may be incorrect, sadly it was one of the books from my childhood that didn't transfer to me or was loaned out at some point, however, what is definite is that my love of reading about Celtic has never dimmed in the near-50 years since I first picked that up.
I grew up on the stories of Tom and Pat, then David Potter and many others, men and women who took the time to put their own thoughts and memories down in print for others to share and for those who came behind them to understand. That is the true gift. Celtic history is for sharing. It is our gift to give and to receive. To pass on.
🙏🏻🙏🏻🍀 https://t.co/irWX7aOqrU

— Erik Sviatchenko (@eriksviat) May 19, 2020
I've always dreamed of writing my own book on our beloved club, to leave my own gift if you like, and it still feels a bit surreal that I have now fulfilled that dream. When David, The Celtic Editor and I first met to discuss the possibility of working together to make this happen early last year, I was thrilled that he brought me a gift that afternoon, a framed print of Bobby Evans, which had been developed, I guess, to promote Tom Campbell's book on the Celtic legend.
It was a lovely gesture, all the more so as Bobby was my dad's hero. David could not possibly have known that. Sometimes these things just happen, a theme I return to frequently in my own book, INVINCIBLE, which was published on Friday 15 May.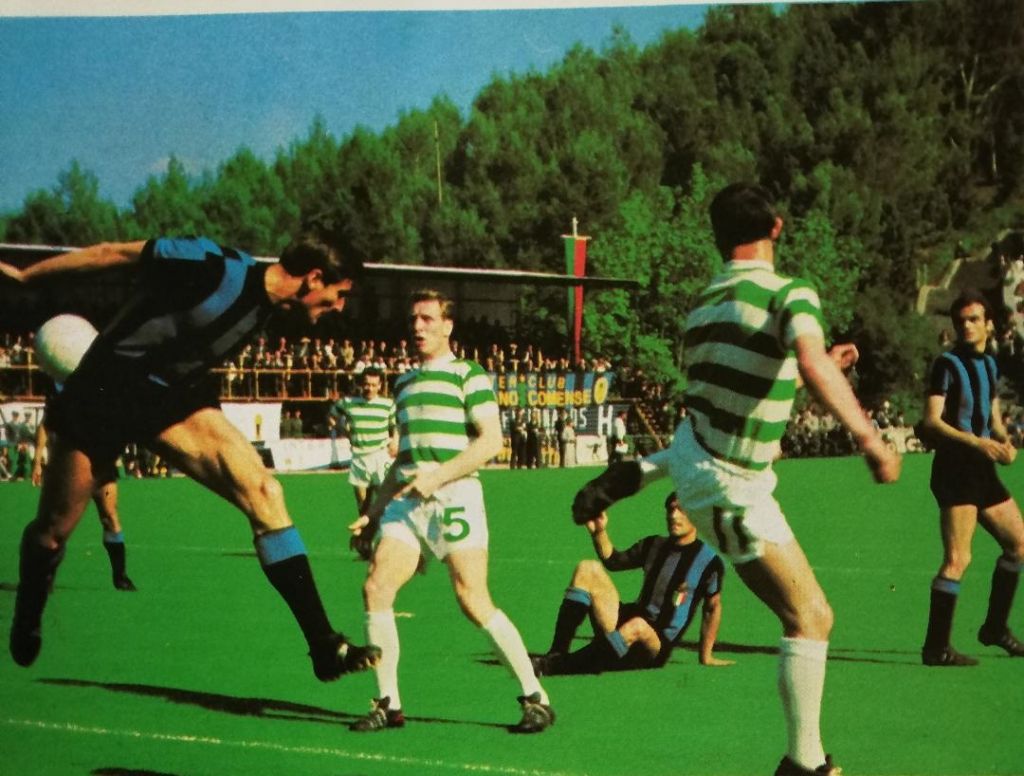 Cesar understood that. He spoke about the 'fairytale club.' And we nodded. Here is Gordon Strachan looking in awe at Cesar's achievements in the game, his fabulous medal collection proudly displayed on the wall of the Celtic boardroom.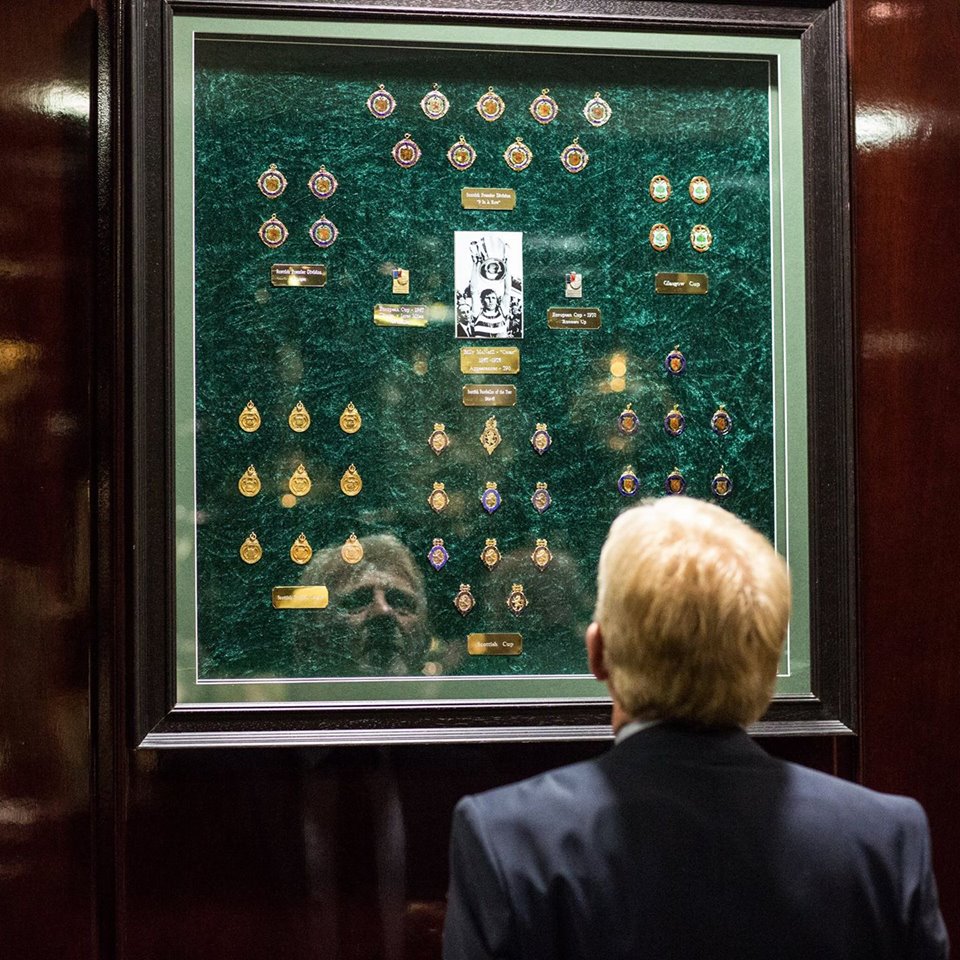 That framed print of Bobby Evans now takes pride of place in my new, ever-developing Celtic Room (How old are you? – you may be asking), hanging side by side with the Lions, and with Henrik and my kids, and Olivier in Rome. Simple but classic, like the best things Celtic, and in life in general. My wife took a photograph of me doing something very similar to the former Celtic manager in that photograph above and when I showed it to The Celtic Star editor he pointed out that this one of WGS admiring Cesar's extensive medal collection was what my own photograph reminded him of – apart from the hair.
I'm delighted to say that The Celtic Star Editor has given me another one of these fabulous Bobby Evans framed prints so that I can send it to a Celtic supporter who has purchased INVINCIBLE from thecelticstarbookstore.co.uk before midday on Monday 25 May.
So if you have already purchased INVINCIBLE – thank you and your signed copy is on its way if it's not arrived already – you will be added to the draw that will take place on 25 May. And up to the 25 May, or at least until stocks last, you will also receive a complimentary copy of That Season in Paradise – as illustrated in the message from Maureen below, where you can read all about Cesar's finest season as the Celtic captain. So if you haven't ordered your copy of INVINCIBLE yet, if you do so before midday on 25 May, your name will go into the draw for the Bobby Evans framed print. It will be a unique piece for you or your favourite Celtic supporter to cherish. As I said…Celtic history is for sharing.
Hail Hail!
Matt Corr
Follow Matt on Twitter @Boola_vogue
You should buy "Invincible" by @Boola_vogue Matt Corr, it's brilliant, just out 🍀💚🍀💚🍀💚 pic.twitter.com/pFxl0HnIwz

— 🏴󠁧󠁢󠁳󠁣󠁴󠁿 Maureen 🏴󠁧󠁢󠁳󠁣󠁴󠁿 (@MaureenQuinn20) May 19, 2020