Since yesterday's European Super League was announced, many Sky Sports pundits and fans of English Premier League clubs have suddenly started calling out the ills of the modern game, the greed of the powers that be, and the disregard for both fans and competitive football. At first, my reaction was 'how hypocritical can these people be?' but then I wondered if this awakening among supporters in the richest leagues can allow us to bring about reforms across the board.
The new European Super League will feature Arsenal, Atletico Madrid, Spurs and Man City. Between them, they have a grand total of zero European Cups. Meanwhile, Benfica, Celtic, Feyenoord, Ajax, Hamburg, Steau Bucharest, Porto, PSV, Red Star Belgrade, Marseille and Dortmund will not take part. They have 16 European Cups between them.
Clubs such as Celtic, Benfica and Ajax have worldwide supports, huge attendances every week, and a big history in European football. However, due to the ridiculous TV deals in the big four leagues (England, Germany, Italy and Spain), these clubs will never be able to dine at Europe's top table again, apart from a one-off season such as Ajax reaching the Semi-Final, before their team was decimated by rich clubs again! Even within the big leagues, such as the EPL, billionaire owners have created a top brass (Chelsea, Liverpool, Manchester United, Manchester City) that others in the division cannot compete with, except a freak title win by Leicester which will likely never happen again.
The likes of Celtic, Ajax, Feyenoord, Benfica etc. bring in much more money than many teams through ticket sales, worldwide support and merchandise. However, we have a situation where some outfits in rich leagues can pay five times the amount that we can pay for players, despite being much smaller clubs. Indeed, big institutions, stuck in poorer leagues, have been left behind by many whose money is not self-made: iconic clubs left with no chance of competing in Europe.
Sky TV pumped money into English football's top tier, beginning the breakaway more than 25 years ago. Since then, the gap has grown bigger and bigger. Yet we have Sky Sports pundits telling us that the Super League is a disgrace because it's all about greed with no thought for fans attending games or for competitive football, due to it being a closed shop that holds regular matches across different countries. The irony meter goes into overdrive here, considering that not only did Sky play a big role in leaving huge clubs outside of England, Germany, Spain and Italy behind; but they also change kick off times to Sundays at 12pm and Friday nights etc. That's hardly conducive to away supporters being able to travel to games, especially when working. In my opinion, they led the way in terms of destroying Europe wide competition and ignoring fans. The Super League is a mere extension of that.
Most Premier League fans didn't care about any of this until yesterday. They enjoyed their success, signing all the best players with their TV money. They derided Scottish football and big clubs as playing in "a farmer's league" and "Pub league". They forgot football wasn't invented in 1992. They failed to realise that in the 80s Dundee Utd, Aberdeen, Celtic and Rangers all competed in the latter stages of Europe. They forgot that in the 60s and 70s, the likes of Celtic, Ajax and Benfica won European Cups, and competed in multiple Finals and Semi-Finals. They paid scant attention to what had changed and how incredible these clubs' worldwide support, history and passion is. That ignorance continued even after Celtic and Rangers reached the UEFA Cup Final in 2003 and 2008, respectively.
What emerged was a soulless league in England's top tier, devoid of atmosphere or passion. Whilst we retained our identity, working class support, and an atmosphere that has been famed as one of the best in world football.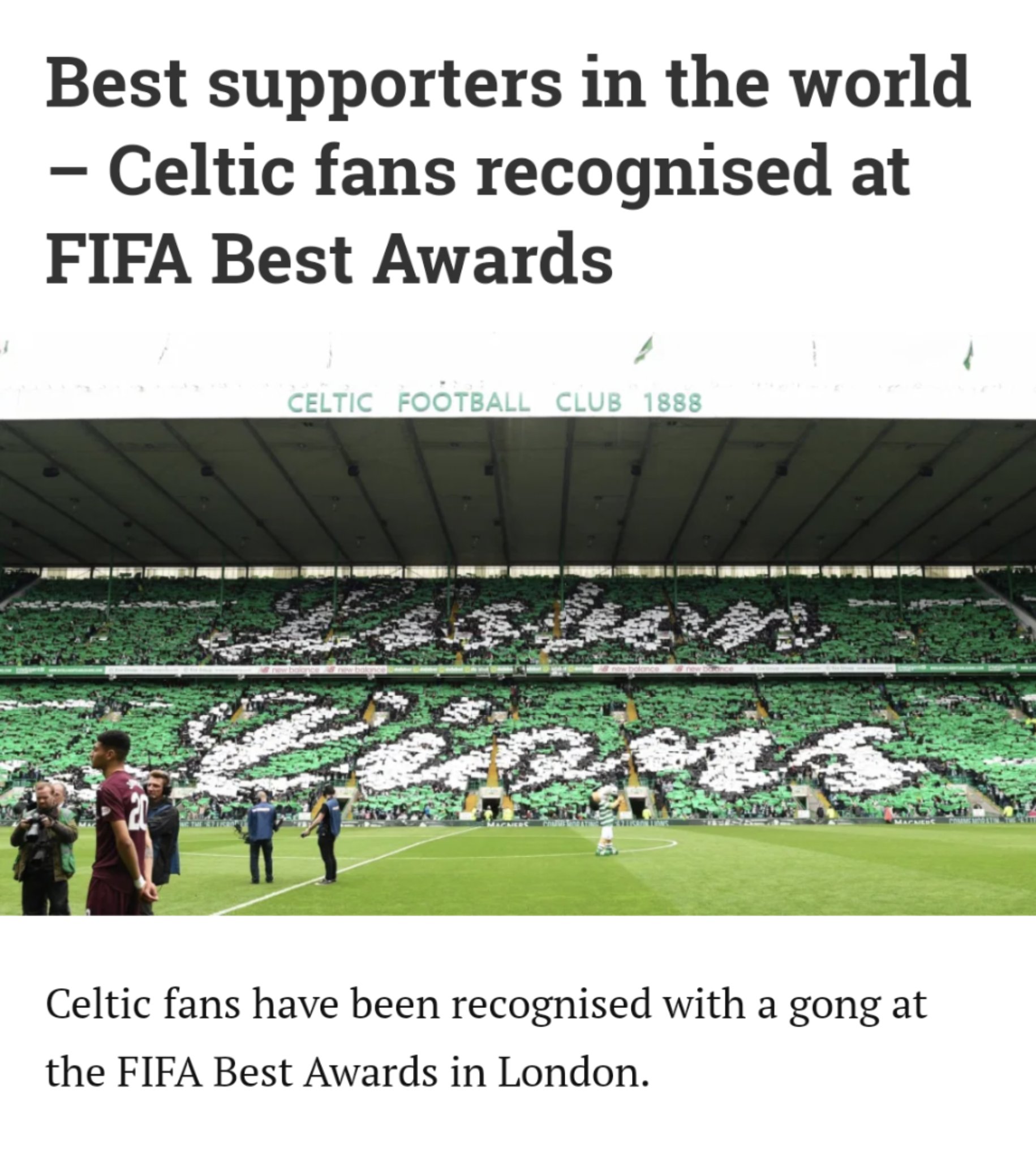 Alongside the TV deals and billionaire owners, the European Cup was revamped and after a few changes the Champions League became a shadow of the competition it once was. Firstly, the richest leagues have four clubs allowed to enter it, whilst champions of smaller nations have to go through up to four qualifying rounds against each other. Then, the groups are seeded so that the richest clubs are guaranteed to go through. I can embrace change, and I am not against a group set up, but it should be an open draw and there should not be qualifying required for champions of nations. The Green Brigade made that point a few years ago and were laughed at by others.
Green Brigade banner against the UEFA boys club. 4th in the money leagues parachuted in while champions of Scotland, Greece, Norway etc compete for entry.

'Champions League? You're having a laugh' pic.twitter.com/iLxRWhJABh

— Liam O'Hare (@Liam_O_Hare) August 8, 2018
I must point out that despite Germany being among the four richest leagues, they have retained their soul, identity and passion because of the 50% +1 rule, which means that clubs are fan owned. Thanks to this, no German club is taking part in the new Super League. German football really is the benchmark for balancing modern football with respect for fans.
With all that said, now that supporters of Premier League clubs have been screwed by those taking part in the Super League, they have began to wake up to the ills of modern football. They have spoken about fans, passion, fair competition and what football should be about. Rather than mock the hypocrisy, we should use this opportunity to point out the further problems, aforementioned, and seek to unite to bring about proper reforms to the game.
I know we are not going to return to some type of football utopia, where matches are only watched on freeview TV by fans who can't attend games, with the European Cup being a knockout tournament for all league champions, and full financial equality being present throughout Europe etc. But perhaps we can look at regulating the game and reforming it to make things fairer than the current system. For example, we could look at the German model of fan ownership, whilst allowing corporate investment. We could explore keeping the Champions League group stages to satisfy sponsors and TV stations, but push to have an open draw in those groups and stop asking champions to qualify. Perhaps those who are not champions of their nations should do the qualifying. This could actually be in the interests of the suits because it diversifies the tournament and means we don't watch annual meetings of the same few teams in the Semi-Final each year.
Maybe we could cap TV deals so that clubs outside of the big four leagues are able to bridge the gap in the way that Celtic did in 2003 when reaching the UEFA Cup Final. There was a financial gap at that time but it wasn't so pronounced and as such, we were able to compete at times, particularly through attracting lower Premier League players.
The fight to avoid the Super League should be embraced, but the war doesn't end there. We must try to unite football fans and work to reform other problems. Only then can we have a truly competitive game, with supporters considered. The Premier League may even restore the atmosphere that it once had in the terracing days, before the working class supporter was increasingly brushed aside.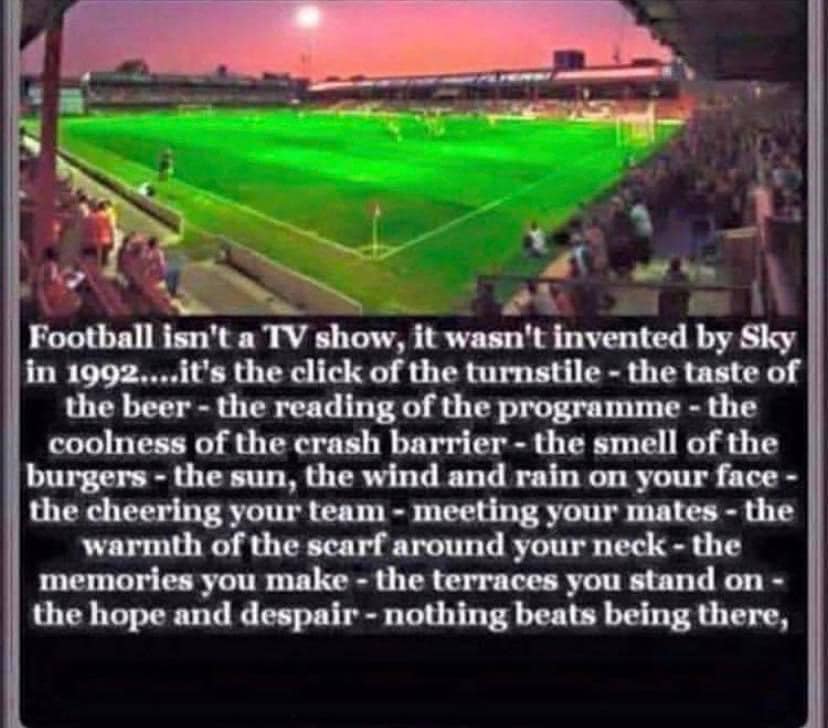 I'd like to consider this as an opportunity to engage all fans and take our game back.
Is this all a pipe dream? Let's hope not.