There are a couple of pundits covering Scottish football who made their mind up early on Carl Starfelt – and remained entrenched in their position, despite the evidence pointing to the to the contrary.
Both Michael Stewart, and BBC's soup sippin' rugby connoisseur Tom English, decided early on that Carl Starfelt's finding his feet at a new club – having been thrust into action as soon as he arrived – was simply a sign of a bad player, whilst had they scratched the surface, they would have seen Celtic's acquisition from Rubin Kazan as being a player, who had up to joining Celtic, never played a high line and certainly never been asked to make anything other than short passes out of defence.
In truth Carl Starfelt actually settled very well at Celtic, and it didn't take him or defensive partner Cameron Cater-Vickers long to build up an understanding that would eventually become the best performing defensive partnership in the Scottish top flight.
To most people Starfelt doesn't have to explain himself, but he has taken the time to do so via the new summer edition of Celtic View, and it's something that should be required reading for the likes of Stewart ( a very decent pundit usually) and English (an Ibrox rear licker).
"Where I played before, it's different because you wanted the players to feel secure on the pitch and you want them to do the things they are good at and feel safe on the pitch.

"Here, you are put on the edge all of the time and you need to have the bravery to still do these things knowing that if you miss a pass or have a bad defensive action you have no one to cover up for you.

"That mentality has changed a lot for me and it's why I think you develop a lot more when you are put on the edge, not only in games but in training as well.

"The manager has been really good and he's the one that wants us to play this type of way and take risks. He's also the one who backs his players if they make a mistake on the pitch and he's been very clear about the fact that we don't have to worry about mistakes and to have a positive mind-set and play our game and follow the match plan.

"I have developed a lot, especially on the ball. You also need another mentality here because there's a need to win every game. It's been a great season and I think all the players really enjoy playing this type of football under a manager who is pushing us to become better versions of ourselves every day.

"It's very special that we have managed to come through everything, push ourselves forward as a team and end the season with the league title. To do it for the fans, who have had our back all year and have been unbelievable in home and away games"
Good football pundits are happy to realign their opinions based on further evidence emerging, and in the case of Carl Starfelt it really is time the 'bombscare' label was attached to someone else.
Because bar some shaky moments in the early part of the season as the player got used to new teammates and the idiosyncrasies of Scottish football, it was clear Carl Starfelt was a very good defender and one who was having to add a few strings to his bow under Postecoglou's system, whilst at the same time learning on the job.
Indeed, after a shaky few moments particularly in Celtic's League Cup final win against Hibs, Starfelt has been as consistent as anyone in a Celtic shirt – that's over six months – and his worth to the team was perhaps recently highlighted by the collective intake of breath the Celtic support took when the defender picked up a hamstring injury whilst on international duty.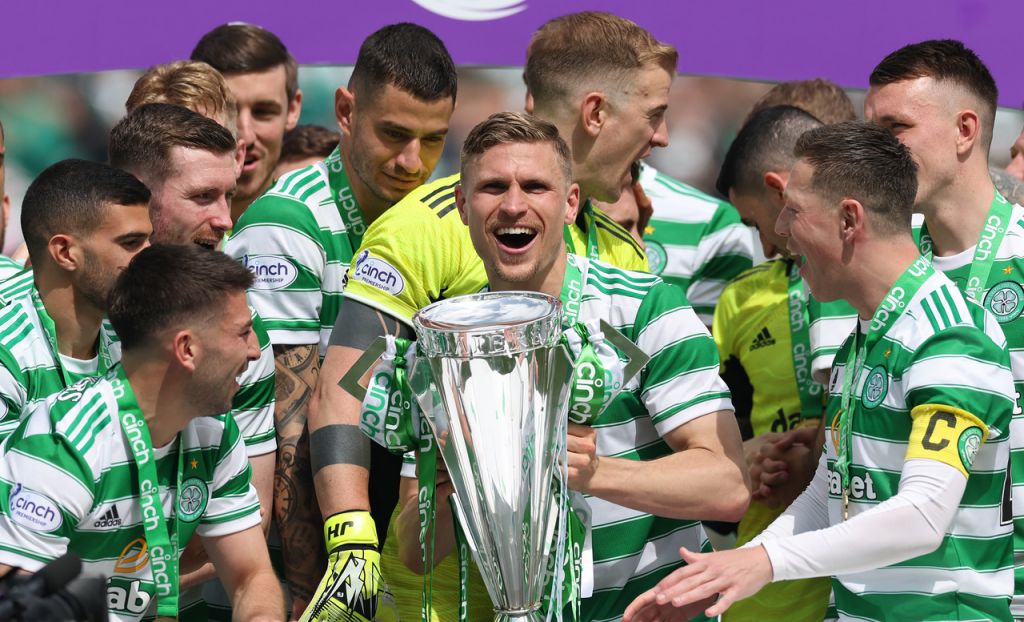 Thankfully it appears Starfelt is recovering well from his injury and should hopefully be ready for pre-season training. That that is welcome news indeed from a Celtic perspective, as with Cameron Carter-Vickers now being signed on a permanent deal, Celtic have a defensive partnership already bedded in as we head into a season that will involve Champions League football as well as a league title defence.
Carl Starfelt has proven many people wrong over the course of last season; however, still certain pundits appear to be willing to stick to their first impressions, rather than accept they may have rushed to judgement when it comes to Carl Starfelt. Yet the more they cling to their stance the more out of touch they look. Sometimes you look less of a fool if you just admit you got it wrong, something Messrs Stewart and English may wish to consider.
Niall J