"Where there is no vision, Celtic perish" – Last night Niall J's the start of headline on his article on The Celtic Star summed up the problem at Celtic perfectly – it's well worth a read…
Well two photographs to share with you this morning which sort of explains where we are now – arguing among ourselves why Neil Lennon and John Kennedy reckon that Jeremie Frimpong is actually a defender and proposing Anthony Ralston as the best right back at the club, or whether Greg Taylor is better than Diego Laxalt at left back – as we don't have a game to worry about this weekend, we'll spare you any mention of Shane Duffy at centre half!
"Where there is no vision, Celtic perish" 
Before considering the two photos it's worth remembering that Brendan Rodgers wanted to sign John McGinn from Hibs and after an entire summer waiting for that to happen the midfielder decided to take the late offer from Aston Villa. Via his compliant outlet in the fans media Lawwell's position in the stand-off with Hibs was clear. Take the low-ball offer or we'll simply get him on a pre-contract deal come the January window.
When was the last time that particular hard-ball tactic worked? Asking this in the week when Alfie Doughty decided to sign for Stoke City (for less money that we bid in the summer) rather than agree to a pre-contract with Celtic .
"Where there is no vision, Celtic perish" 
Here's the first photograph. Remember the ridiculous situation where someone from Lennoxtown leaked the notes from a recruitment meeting, dated 2 April 2019 – when Lee Congerton was still at the club but Brendan Rodgers had left to join Leicester City.
One of the names on that list is James Justin, then at Luton Town and the intention was to "sign up early if possible".  If you go through the targets on that list one at a time you'll notice that most have done really well in the game, including Justin.
One line that stands out in this Actions Update document – "PL TO DISCUSS WITH AGENTS" – PL of course being the Celtic CEO Peter Lawwell.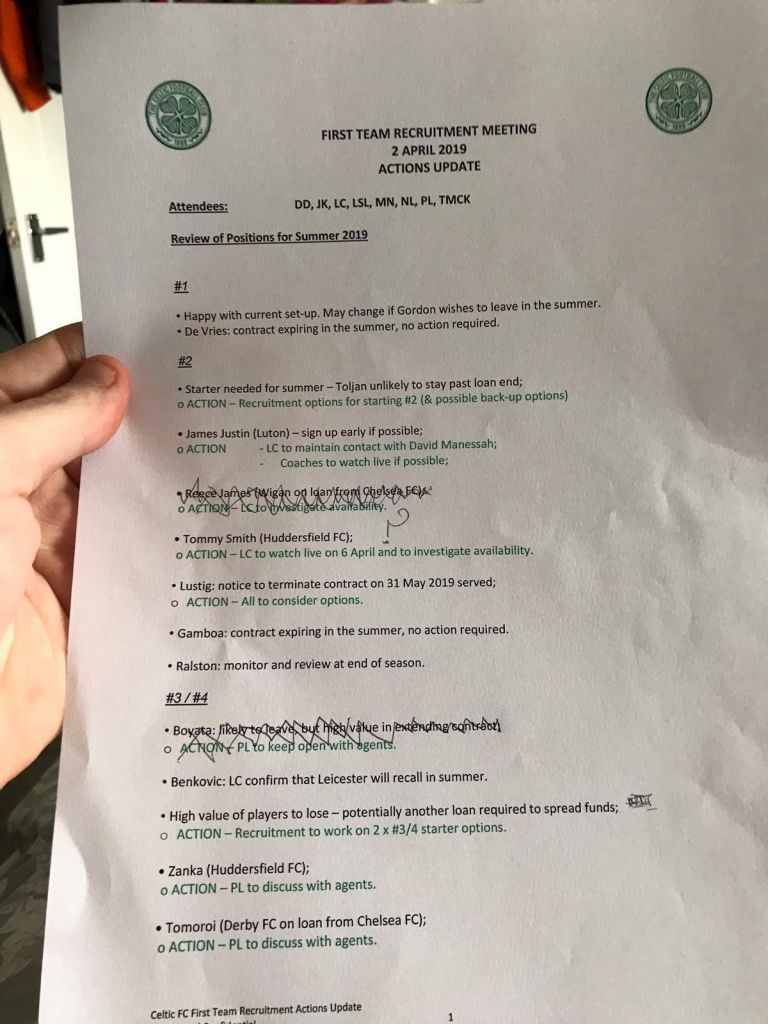 "Where there is no vision, Celtic perish" 
Another player previously identified by Congerton and Rodgers – probably the last one Rodgers tried to sign before he'd had enough was Belgian international right back Timothy Castagne. The deal was there to be done but instead Celtic moved for the Ukrainian winger and You Tube sensation Marian Shved and Rodgers was by that time sure that he was now in the wrong movie – making it clear that the signing was nothing to do with him.
The player has been shipped out to Mechelen on loan where his manager there has been very critical of him as we have previously reported.
"Where there is no vision, Celtic perish" 
This week Leicester City beat Chelsea to briefly go top of the Premier League – Manchester City's win the next night saw them leapfrog Brendan Rodgers' side. Here is the second photograph  from that game against Chelsea where the former Celtic manager – who had things been different would have been prepared to stay at Celtic for Ten-in-a-Row – congratulating two of his players on the win.
Lee Congerton was praised post-match for his recruitment and these two players in the photograph were mentioned as the stand-out buys in an excellent Leicester City side.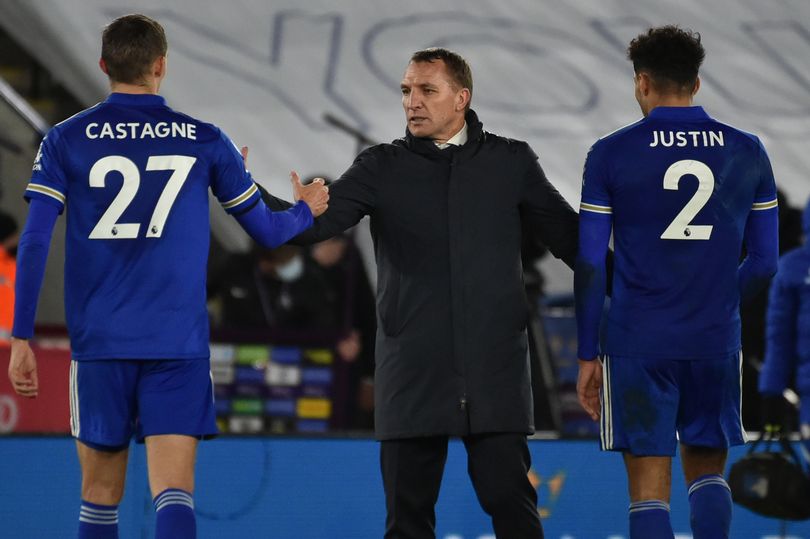 "Where there is no vision, Celtic perish" 
Then there is the story this morning that the Leicester City manager is planning to sign Odsonne Edouard from Celtic this month for a low-ball £20m – roughly half the anticipated transfer fee Celtic were hoping for previously (and would probably have got had Rodgers remained at Celtic).  PSG were paid £10m for Edouard and are due a percentage sell-on clause (some reports claim as much as 40%) so Celtic could end up making profit of just £6m on Odsonne Edouard.
"Where there is no vision, Celtic perish" 
An alternative strategy was outlined by David Low, Chair at The Celtic Trust writing on The Celtic Star earlier this week and it is also well worth a read, see below…