Tomorrow The Celtic Star is three years old. If you appreciate the highest quality Celtic content that we provide you with 365 days of the year – completely free of charge – then perhaps you would like to, if you are in a position to do so, contribute to our efforts over this Birthday weekend to assist the wonderful work of the KANO FOUNDATION.
The Kano Foundation are looking for our help to keep the young supporters rolling into Paradise for their first experience of seeing the Hoops – days each and every one of them will NEVER forget.
In these difficult times  we are mindful that this is a big ask but we would like to ask our readers to chip in this weekend to raise up to £12,000 for the Kano Foundation, adding to the excellent work that has already been done by the likes of Eddie Toner (writing below) and team at the brilliant HOME BHOYS podcast. They have already raised around £8000 of the total of £20,000 that The Kano Foundation need to keep the show on the road next season.

We've built The Celtic Star into one of the biggest audience Celtic websites over the past three years but what is the point in doing that if we cannot ask our readers – and indeed ourselves – to chip in now and again to help such a wonderful Celtic initiative as The Kano Foundation? Please only donate if you can and even the smallest contribution can make a massive difference. Oh and thank you all for reading The Celtic Star and making it into the site that it is today.
Here is  Eddie Toner explaining why the money is needed and where you can donate. Please mention The Celtic Star when contributing.
For those looking to donate you can do so here: https://t.co/8YqtN8PhOW
You can make a one off donation or sign up to a regular subscription. Thanks in advance. https://t.co/wyQpJJKnWX

— Eddie Toner (@eddie_toner) February 6, 2021

KANO FOUNDATION: AN APPEAL 
For anyone who attends Celtic Park on a match day I'm sure you'll agree the site of a couple of hundred Kano kids marching into the stadium, singing their hearts out is a sight to behold. It has become an essential part of our match day experience.

In order to bring these kids to the football, many for their first ever experience of it, the people behind the Kano foundation put in endless hours of work and commitment. To be able to provide the experience, free for all kids, needs a large amount of money.

As well as getting into the game for free, each kid gets a free pre match hot meal and a Celtic souvenir to take home.

In order to pay for this the organisers run a couple of large fundraising ventures every year, their annual dinner dance and a match day bucket collection.

These fundraisers, along with other individual donations usually raise enough to see the Kano Foundation through each season.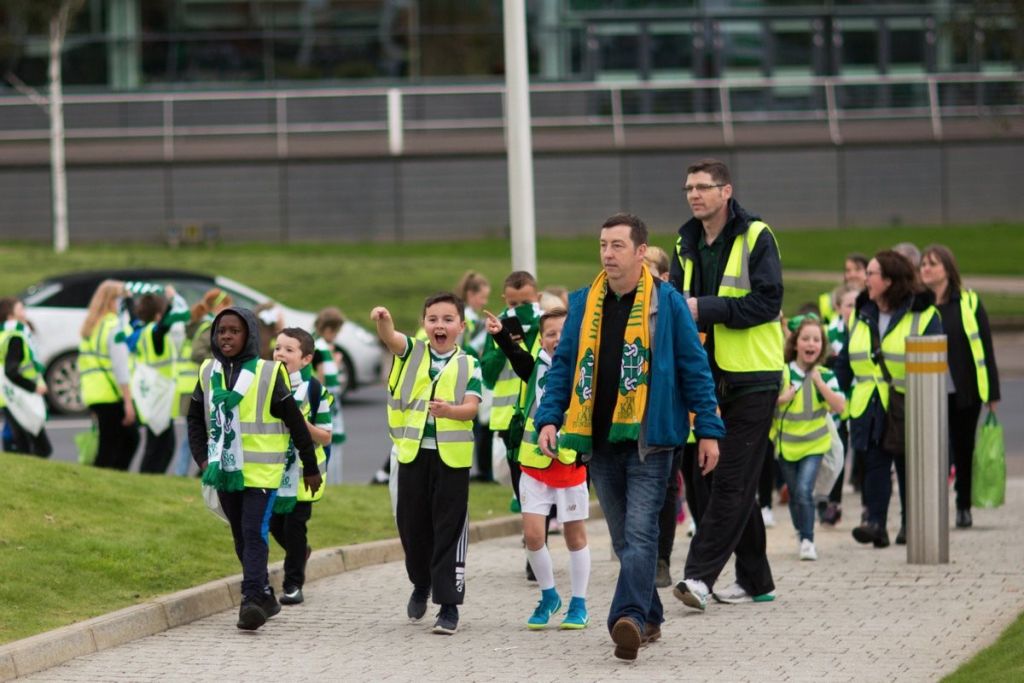 This year they paid £20,000 for season tickets they have been unable to use.

In addition, due to Covid restrictions, they have been unable to raise funds in the normal way.

They now desperately need to find £20,000 to allow them to renew for next season and keep them going till things return to normal.

This is where we need your help.

A few of us have got together and try to raise awareness of the current plight of Kano and try to do something about it.

We have set ourselves the target of raising the £20,000 the Kano Foundation need for the forthcoming season.

To date we have raised over £8000 but clearly have a way to go.

With the help of the @HomeBhoys podcast we are trying to get support to raise the rest.

Donations so far have come from the Celtic Supporters Association, Dennistoun No1 CSC. Naomh Padraig CSC, Ballymena Shamrock CSC, Erin go Bragh CSC, St Margaret's CSC, Millburn CSC and the Dubai Hoops. Can your supporters club add to that list?

You can make individual donations by contacting @KanoFoundationdirectly. They need your help now! For more information contact me, @NaomhPadraigCSCor @HomeBhoys

With your help we can ensure the Kano Foundation have a secure future back at Paradise when time comes. Hail Hail

Eddie Toner
Please read this thread and see if you can help this fantastic organisation and help get the Kano kids back to the stadium. https://t.co/Yl4zAxA629

— David Farrell (@davidfarrellfaz) February 6, 2021
Totally agree Eddie; it's in our DNA to look after our own. It's a sad day though that no one @CelticFC had already refunded them the money for this season. They must know there are 00s of VSTs not being used.
Is there a separate vehicle for donating money? Or thro' KF site?

— John Gerard Collins (@collinsjg57) February 6, 2021
Fantastic organisation & fantastic people, it's made soo many kids happy including my young godson, hope folk can even contribute even a small donation to keep this going 💚🍀

— Kev the tim Ross (@kevcfctim) February 6, 2021
If you can help the Kano Foundation in this difficult time, please do https://t.co/Vc0tdGWB7Q

— Celtic Trust (@TheCelticTrust) February 6, 2021
Folks dig deep a £1 from 12,000 Celtic fans around the world will bridge this funding gap. https://t.co/FffBSf5gmx

— TAL (@TAL_Fanzine) February 6, 2021
The easiest way is for supporters to personally donate to @KanoFoundation via their webpage at https://t.co/7Mm1BRH9hU as I have just done. Or, @TheCelticTrust organises a crowdfund page at https://t.co/oPFrCwrStZ. @FoundationCFC should contribute as that's our money as well.

— David Low (@Heavidor) February 6, 2021