In 1937 Celtic failed to repeat their success of 1936 in the Scottish League, but had more than ample compensation in the famous win in the Scottish Cup final against Aberdeen on the occasion that Hampden held its record crowd – and those who were there insist that there was an awful lot more there than even the official crowd of 146,433! (See David Potter's earlier feature on this Cup Final from earlier today on The Celtic Star – HERE).
In general, there was increasing despair about the world's inability to avoid another war. Already Spain was in the throes of a dreadful cataclysm, and it was not too difficult to work out that Hitler was now a major threat. Yet, there was almost a determination to enjoy ourselves while we could. The Celtic team of this year would certainly entertain.
Season 1937/38 began none too impressively with among other things two defeats from Rangers (one in the Scottish League and one in the Glasgow Cup) and a particular shocker at Gayfield before an incredulous Arbroath crowd. There were extenuations circumstances in the shape of injuries to Willie Lyon and Jimmy Delaney, but the team had not played at all well.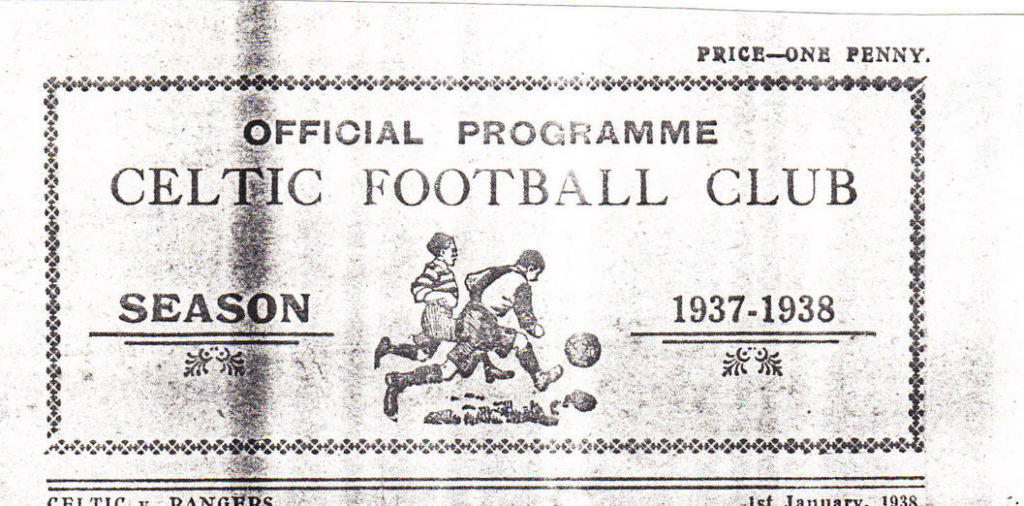 Even as early as 9 October, things did not look any too bright for Celtic, now in sixth place in the League and heading nowhere.
But in that autumn of 1937, there were two departures, one of them inevitable and the other, on the surface a piece of money grubbing, but in fact a very astute piece of business. The inevitable one was the departure of the now ageing Jimmy McGrory who did not play again after the 4-3 win over Queen's Park on 16 October. He scored in that game but The Glasgow Herald is compelled to say with a hint of sadness "although his scheming was full of subtlety, his methods were inclined to hold up the attack".
In December McGrory moved to become manager of Kilmarnock. His departure caused much pain, but it was a nostalgic kind of pain and realistic assessments concurred with the view that although Jimmy was still among the goals, this could not continue for much longer for he was now in his mid-30s, prone to injury and clearly slowing down. The affection for Jimmy McGrory, however, would remain for the rest of his life and beyond.
The other departure was a sudden one and apparently done without the consent of the player himself. Willie Buchan, the inside right suddenly found himself going to Blackpool for £10,000 an astonishing amount of money in 1937. The move did not immediately endear itself to the Celtic support, for Buchan was a good player, but it did at last give an opportunity for Malky MacDonald.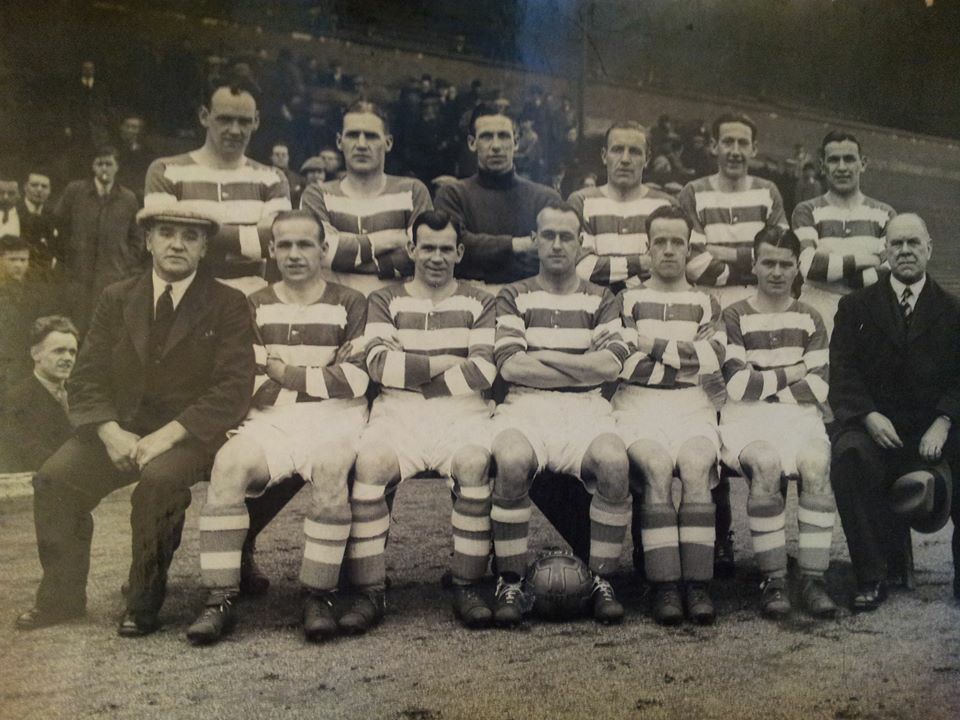 MacDonald had been at Celtic Park for a few years now but had never been able to break into the side. He was a very versatile player, but it was his very versatility that prevented him being used as anything other than a "bits and pieces" player, deployed in the event of an injury. But now he settled into the inside right position of a devastating forward line which read Delaney, MacDonald, Crum, Divers and Murphy.
From 27 November until 19 March, the team never dropped a League point. Even injuries to key men like Jimmy Delaney and Chick Geatons were coped with, for there were adequate replacements in Joe Carruth and Matt Lynch. In December, an excellent 3-0 win at Easter Road over Hibs was followed by an 8-0 thumping of Kilmarnock at Celtic Park on Christmas Day.
This was McGrory's first game as manager of Kilmarnock, and although he was no stranger to goals raining in at Celtic Park, this must have been a horrible start for him, with a certain amount of evidence that Maley enjoyed McGrory's discomfiture, and a hint perhaps that McGrory's departure had not been as amicable as it might have been.
There then followed the famous game on New Year's Day 1938 at Celtic Park. 92,000 is given as the attendance and this is claimed to be the record crowd for the ground. Certainly there are reports of gross overcrowding and gates having to be closed, and the on the field action was impressive as well.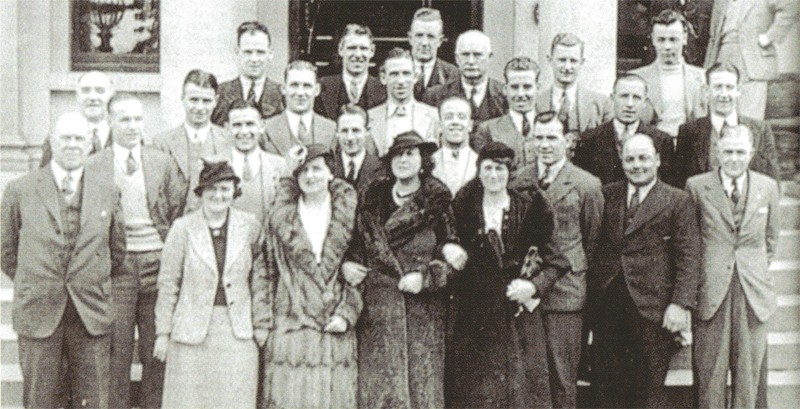 John Divers scored twice and Malky MacDonald once (with a penalty) as Celtic crushed Rangers 3-0, but the man who was singled out by the Press for his contribution was Johnny Crum, now having taken over the mantle of McGrory as centre forward. He didn't score but led the line well, distributing the ball to wingers Carruth and Murphy with ease and a touch of arrogance, and himself roaming about from wing to wing.
Willie Lyon was described as "impassable" in the centre of the defence and in Rangers' only real attempt at goal, Joe Kennaway "brought the house down" with a great save from a McPhail drive.
All this meant that Celtic were now at the top of the League with a surprise challenge this year coming from Hearts. By sheer luck, Hearts were next on the fixture list on 8 January at Tynecastle and Celtic's 4-2 win over them (with Crum and Divers scoring two each) before a 42,000 crowd more or less, even at this early stage, ensured that Celtic were the favourites to win the League.
Hearts were leading 2-1 until late in the game when Johnny Crum "almost impudent in his daring" took control and saw Celtic home in one of the many good games played between Hearts and Celtic at Tynecastle over the years.
Aberdeen were then dispatched 5-2, Clyde 6-1 and Arbroath 4-0 before a tight game at Muirton Park, Perth on 19 February saw Celtic edge home 2-1, then an impressive 5-1 beating of St Mirren at Celtic Park at the end of the month.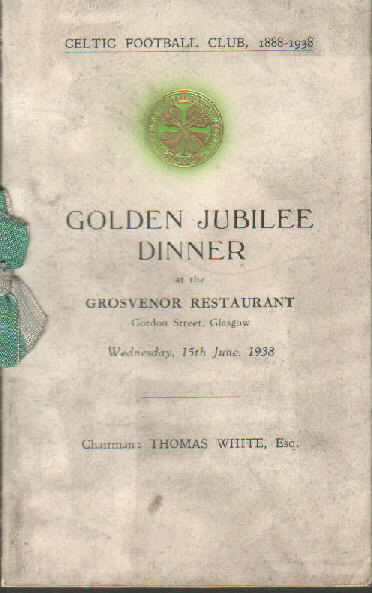 March however saw a stumble. There was the disastrous loss of the Scottish Cup quarter final to Kilmarnock, after which Maley, clearly forgetting his own dictum of "it is our proud boast that we can taste the fruits of victory in the same way as the bitterness of defeat" went out of his way to snub Jimmy McGrory, and then a couple of disappointing home draws were followed by a 3-0 defeat at Brockville on 2 April. This run clearly imperilled Celtic's chances of winning the League, but they were still marginally ahead of Hearts by a point and a game in hand as they approached their final six fixtures.
Celtic beat Motherwell 4-1 at Celtic Park on 9 April, and this was followed by a double header against Dundee over the Holiday Weekend. The Saturday game at Dens Park was a tight 3-2 victory with two goals from John Divers and one from Joe Carruth, and some good defensive work by Willie Lyon after Dundee scored with a penalty late in the second half to make it 3-2, but the game at Parkhead on the Monday was more one-sided. Celtic won this one 3-0. It was a game spoiled to an extent by "over-robust" Dundee defending (clearly there were some vendettas carried over from Saturday) but Willie Lyon scored with two penalties and John Divers scored the other goal.
The Dundee Courier admitted that there were no "angels in paradise" that day, but all this meant that Celtic only needed a point from their two remaining games against St Mirren and Hibs to win the League. On 23 April, they travelled to Love Street and won 3-1. It was actually a fine game of football. Crum scored in the first minute, Delaney added a second, then after St Mirren pulled one back before half-time Crum scored in the second half to delight the travelling fans in the large crowd. It was the same day as the Scottish Cup final between East Fife and Jimmy McGrory's Kilmarnock which ended in a 1-1 draw.
Celtic were worthy champions and their summer of 1938 got even better when they won both the Glasgow Charity Cup, beating Rangers 2-0 in the final, and then of course the all-British Empire Exhibition Trophy (more on that to follow on The Celtic Star this evening). John Divers, in particular, had come good just at the right time, but in truth, it was a great Celtic side, and 1938 was a fine year to celebrate the 50 years of the club's existence.
David Potter
Join us to celebrate the life of the legendary wing wizard Jimmy Delaney this Saturday, 1st June at 12 noon at Cambusnethan cemetery, Wishaw. All welcome. pic.twitter.com/Y6GxOUUahN

— Celtic Graves Society (@CelticGraves) May 29, 2019