No-one could possibly say that Celtic were brilliant last night, but then again, anyone who has watched football for any length of time will tell you that the secret is to win when you are not playing well.
You cannot possibly hope to win 4-0 or 5-0 every game, but you really have to try to win every game, whichever way you can. This Celtic achieved with a great deal of success last night. "A great deal of success" did I say? Yes, we won 2-1, and the three points are in the bag. That is really all that counts. What happened 150 miles away to the north was a bonus, but it was Celtic's victory that really counted.
One does not like to mock one's fellow Celtic supporters, but there was definitely something funny about all those who went away home when the score was 1-0 (Why do Celtic supporters do that, by the way?). What was even funnier was the sheer amount of supporters who departed at 1-1 using words that began with "sh" and "f" do describe the team, and "Lennon doesn't have a clue!". (No kidding, I did hear someone say that!)
But then when the goal went in, everyone comes charging back in again, waving their arms about, hugging and kissing each other and telling everyone about "ten in a row" ! Oh, they of little faith!
SCOTT BROWN WON THE LEAGUE AT CELTIC PARK 😉 pic.twitter.com/ZSDk7UcUid

— Tam sellics son III (@TamsellicsonIII) December 4, 2019
So there is the lesson. Never give up on your team!
But having said that, the night may have ended on an exhilarating note, but the performance lacked a little sparkle. It was one of those nights where the passing did not always come off, and when we hit the post, missed one open goal and several good chances. We were by some distance the better team (and a draw would have been a travesty) but we simply could not get the goal that would have killed off this Hamilton side who deserve a great deal of credit for not parking the bus in the penalty area, as so many other teams have done.
No one man stood out as being desperately bad or good last night.
Fraser Forster had one brilliant reflex save in the first half and several other good ones, Scott Brown (yes, yes, I know he was the hero of the hour at the end) did not have a particularly good game, but he was the saviour, Callum McGregor and James Forrest were OK and Ryan Christie a little better than OK, but no-one was outstanding.
Lewis Morgan and Nir Bitton tried hard but both of them were somewhat out of position, and Greg Taylor had a poor first half but improved in the second.
What I loved about Leigh Griffiths was his attitude when Hamilton scored. He couldn't wait to get started again and was determined to use the three minutes of added on time. The attitude of everyone was good tonight, even if the performance wasn't always.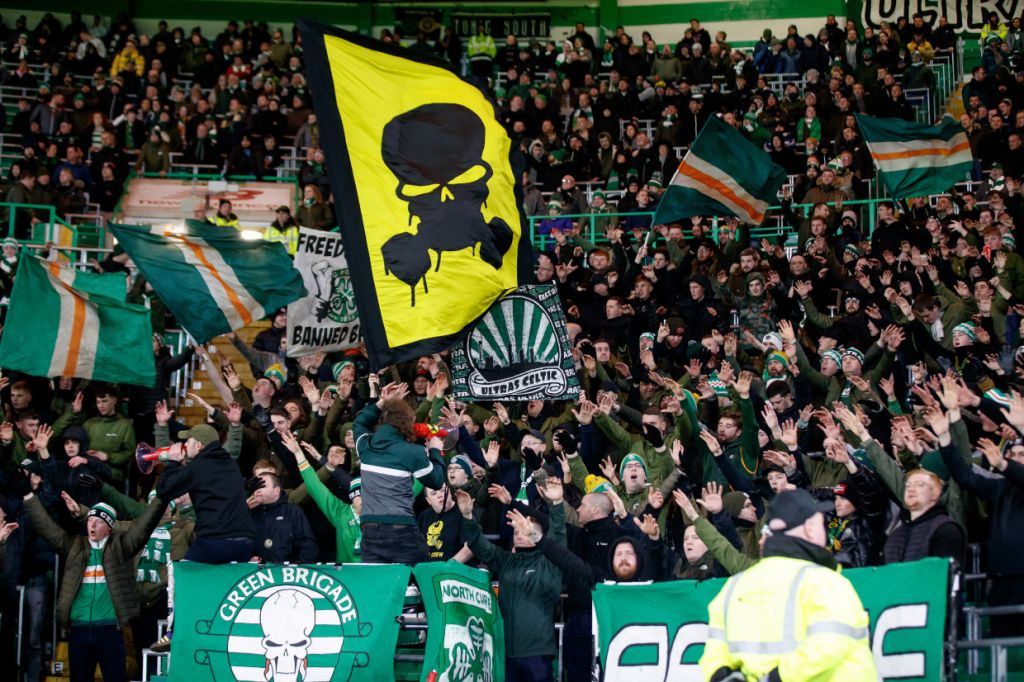 Welcome back, Green Brigade! Nice to hear you again! And equally nice to see that there were no flares. These things are going to kill or injure someone some day. Please, Green Brigade, come to Hampden and support the team in the way that you do, but no flares!
Hamilton will not be relegated if they play like this. But then again they had nothing to lose last night. Their crucial games will be against the other relegation teams like St Mirren, for example. Talking about crucial games, I believe we have one on Sunday. It promises to be quite something!
David Potter
"Congratulations Celtic on the precious victory thanks to a late goal that guarantees us the championship lead. Now it's time for a lonely run toward title. Thumbs up for the wonderful fans who shone as always! Hail Hail!" the President of Albania tweeted.
Congratulations @CelticFC💚 on the precious victory thanks to a late goal that guarantees us the championship lead. Now it's time for a lonely run toward title. Thumbs up for the wonderful fans who shone as always! Hail Hail! 🍀🍀#CelticFC #CELHAM #SPFL pic.twitter.com/L0rwqjBmNf

— Ilir Meta (@ilirmetazyrtar) December 4, 2019