Celtic 2 Hibs 0 – As it Happened
3 Mins – Burke combines with McGregor who cuts back inside rather than shoot from the 18 yard line and his effort is blocked.
4 Mins – Good play from Christie to set Toljan free, the German gets to the byeline but his cross is cut out for a corner, which is cleared.
8 Mins – A Scotty Sinclair shot is blocked at the expense of another corner. As usual it's cleared but the ball finds its way to Izaguirre 35 yards from goal on the left hand side. He throws in a great cross and Boyata, who stayed up from the corner heads down for Burke in the centre of the six yard box but Hibs scramble it to safety.
14 Mins – A wayward pass but Christie chases down a lost cause to win back possession at the edge of the Hibs area. His shot drifts just wide of the left hand post.
15 Mins – McGregor's excellent pass opens up the Hibs defence but Weah tries to go low under Marciano in the visitor's goal but the keeper reads it to save.
20 Mins – Sinclair and Christie combine and the Highlander gets another shot away but it's off target.
22 Mins – Great effort from Sinclair just misses the top corner.
23 Mins – GOAL CELTIC! Good play from Toljan to find Christie and this time he finds the bottom corner of the net to give Celtic a well deserved lead.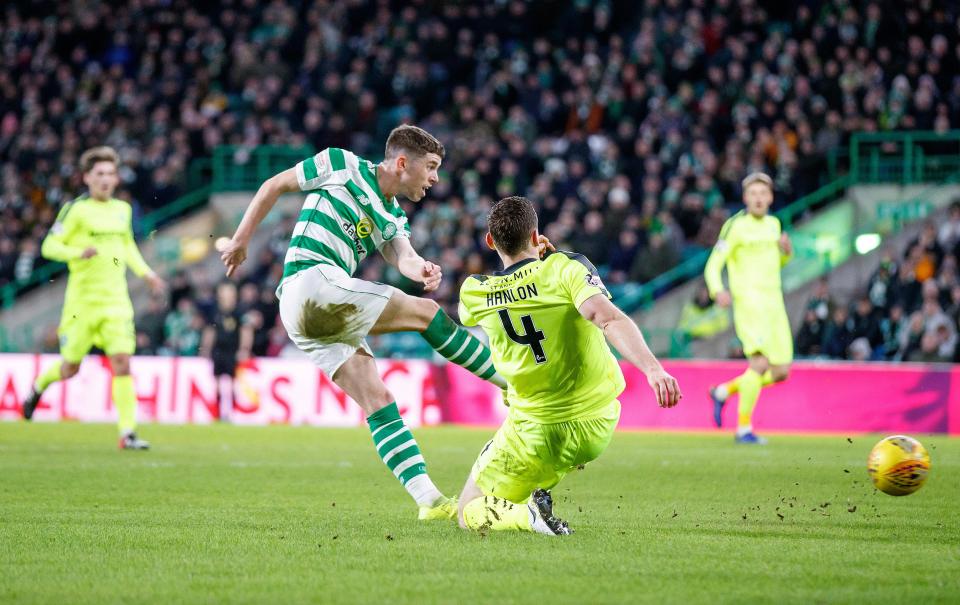 29 Mins – Sensational ball from Christie puts Sinclair in the clear but he hesitates, the ball breaks to Timo Weah who smashes an effort from 25 yards but Marciano saves well.
34 Mins – Great skill and speed from Weah creates a great chance for Burke but the big striker can't get a decent connection on his shot.
35 Mins – First effort at the Celtic goal goes well wide.
36 Mins – Christie taken out from behind and Craig Thomson produces a yellow card at last. Broony is over at the dig-our getting treatment on his ankle after a tackle that went unpunished.
37 Mins – The Celtic captain comes back on.
40 Mins – Great run from Sinclair as he goes past four defenders but his shot inside the 6 yard box is blocked.
43 Mins – Callum McGregor is next to drive at the Hibs defence but his shot is off target.
45 Mins – Toljan and Weah getting to know each other's game as the match continues. The Dortmund man combines with the American teenager and gets to the byeline but the cross is blocked.
45 Mins +1 Half time whistle goes and it is Celtic 1 Hibs 0.
45 Mins – Second half is seconds old when Scott Brown is shown a yellow card for a strong challenge.
49 Mins – Toljan and Weah combine well again and the teenager crosses from Sinclair who shoots wide. A really good chance gone.
50 Mins – Sinclair rides a double challenge to emerge with the ball 18 yards from goal. Incredibly Thomson blows for a foul against the Celtic winger.
55 Mins – It's another fine interchange of play between Toljan and Weah leads to a chance for Christie but his toe-poke is saved.
56 Mins – Burke uses his pace to go the long way around, skinning the Hibs defence for pace but he tries to beat the keeper from a tight angle rather than find a teammate and the chance is gone.
57 Mins – Weah drives at hard-pushed Hibs defence and sets up Burke but his control lets him down and the balk is cleared.
58 Mins – Calmac really is full of running. He combines with the impressive Toljan to get to the byeline but he's tackled and it's yet another Celtic corner.
59 Mins – Weah hacked down cynically from behind and Thomson gets his yellow out for a third time.
60 Mins – Christie takes the resultant free kick and Boyata meets it on the six yard line to head for goal but it's the save of the match from the busy Hibs keeper.
63 Mins – GOAL CELTIC 2-0! Christie finds the hard working Burke and his effort is deflected into the left hand corner of the Hibs net to double Celtic's lead . Burke bit of luck is well deserved.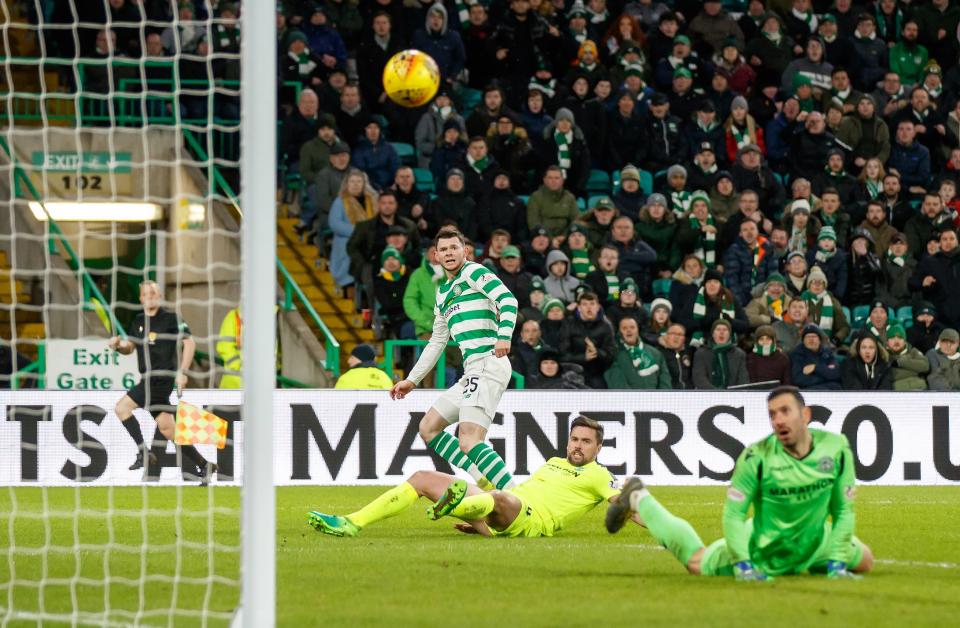 66 Mins – Jozo loses flight of a long ball to give Hibs their first effort of the second half but it is skied. Broony lets the Croatian know that he's not impressed!
72 Mins – Good play from Sinclair, who cut back inside to shoot but it's too high and he's then substituted to be replaced by Mikey Johnston.
74 Mins – Boyata replaced by Nir Bitton who looked great in the last quarter of an hour.
76 Mins – More fine play from McGregor and his cut back to Johnston gives the youngster a chance to score but he drags his effort narrowly wide.
79 Mins – Burke is tripped as he drives into the Hibs box but Thomson turns away not interested.
80 Mins – Izaguirre is hurt in what looks like a bad, bad tackle. Bayo is standing ready to come on but Brendan taps him on the shoulder and asks him to sit down. Jonny Hayes gets ready instead as the hard working stretcher beaters at carry yet another Celtic player off the park. Thomson was happy to go with yellow rather than a straight red.
85 Mins – Terrible pass from Hayes gives Hibs a chance but luckily the shot deflected wide for the visitor's first corner of the game. McGregor blasts a shot well wide from the corner.
87 Mins – Weah hacked from behind, foul but no card. Welcome to Scotland Timo!
89 Mins – Burke drives into the box but is caught in two minds what to do next and the chance is gone.
90 Mins – Broony is the sponsors Man of the Match. Two minutes are added but nothing of note occurred.
92 Mins – Full-time whistle goes and it's Celtic 2 Hibs 0 – job done, well done Celtic.