CELTIC beat Rangers 2-1 in the League Cup Final on this day in 1982. Below both David Potter and Jim Craig discuss this game. I remember it well and anyone who was there in the Celtic end will tell you two things. Firstly we got absolutely soaked – I don't think that it would be possible to get any wetter than that day. It rained cats and dogs for the entire game.
Remarkably, for the younger readers, it has to be explained that there was NO ROOF on Hampden at the Celtic end at least. Makes you wonder how they reached the decision to put a roof on the Mount Florida end only and why the Scottish FA decided to add that facility to their end and not the traditional Celtic end.
Oh and time travelling Green Brigade made an appearance too, setting off some smoke! Can't recall there being any fuss about that at the time though. How times have changed.
As an aside, did you know that today their end – behind the goal at the Mount Florida end is BIGGER than the Celtic end? They have a few more rows than we do, so while you might not notice on Sunday, we will be out-numbered. What looks like 50-50 is actually probably 52-48.
Then there was the score that day. Celtic 2 Rangers 1 suggests a close match, it was nothing of the kind. At half-time Celtic were 2-0 ahead – the same score at the break as the 1957 Final and frankly we should have been further ahead. We were 'singing in the rain' looking forward to adding more in the second half.
Jim Bett scored with a free kick early in the second half and Celtic seemed to settle for the win, it had been a while since we'd won the League Cup after all, as David Potter explains. So it was 2-1, but still a skelping and a soaking – thanks to our friends at the Scottish FA.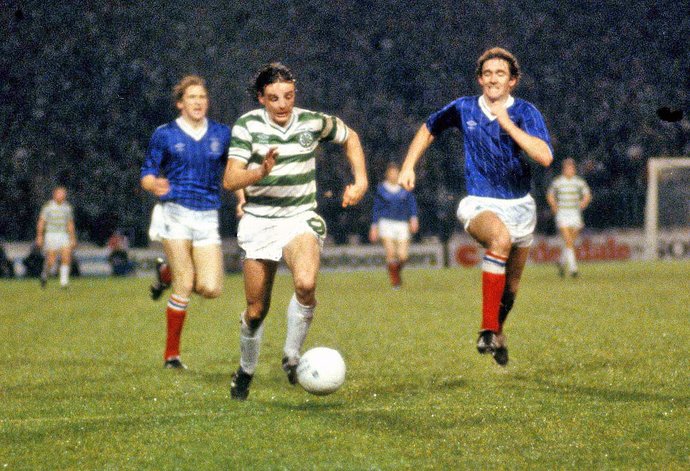 Read Matt Corr's wonderful account of the this season. With the League Cup in the bag in December and Celtic playing attracting, exciting football thoughts turned to a treble. We somehow managed to throw it all away though and won nothing else. Shot ourselves in the Foot.
Here's a little of what the two Celtic historians have had to say on The Celtic Star about the League Cup Final on this day in 1982 which finished Celtic 2 Rangers 1 – and you can watch the highlights too!
SUMMER 1982 had been a good one for football. Celtic had won the League, Scotland had made a respectable show in the World Cup, and as the new season started, Celtic began to fire well with Charlie Nicholas in particular confirming to everyone that he had recovered from his injury and that he did indeed have some special talent.
The Achilles heel, however, as so often was Europe.
The League Cup section of Dunfermline Athletic, Alloa Athletic and Arbroath was hardly a demanding one, and Celtic duly took it in their stride, as indeed they did with Partick Thistle in the quarter final winning 4-0 and then 3-0 in front of poorish crowds, reflecting supporters' opinions about such an uncompetitive set-up.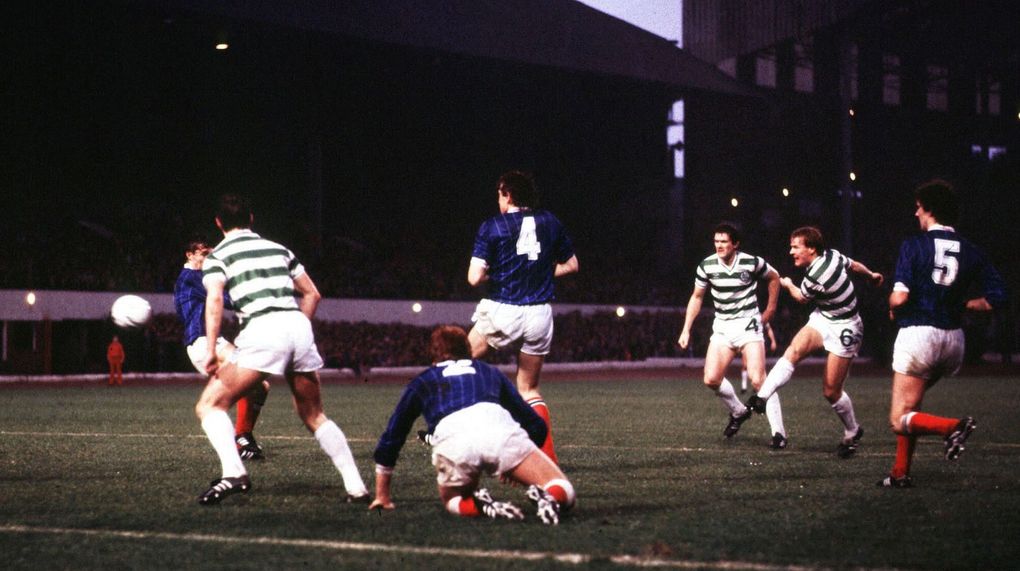 More difficult opposition was forthcoming in the shape of Dundee United in the semi-final played over two legs at this time. It was not so much a cliché, more a basic pre-supposition that Dundee United did well at home but poorly in Glasgow.
So it proved here. Charlie Nicholas (with a penalty) and Frank McGarvey scored the goals which gave Celtic a 2-0 win at Celtic Park in late October, but it was a different story at Tannadice on 10 November when United put the rickety Celtic defence under pressure and pulled back the deficit through Paul Sturrock.
Then United lost a man sent off for two yellow cards (neither offence looking all that bad, to be fair) and that may have proved crucial as, with time running out, Tommy Burns slipped the ball through to Charlie Nicholas to score the winner.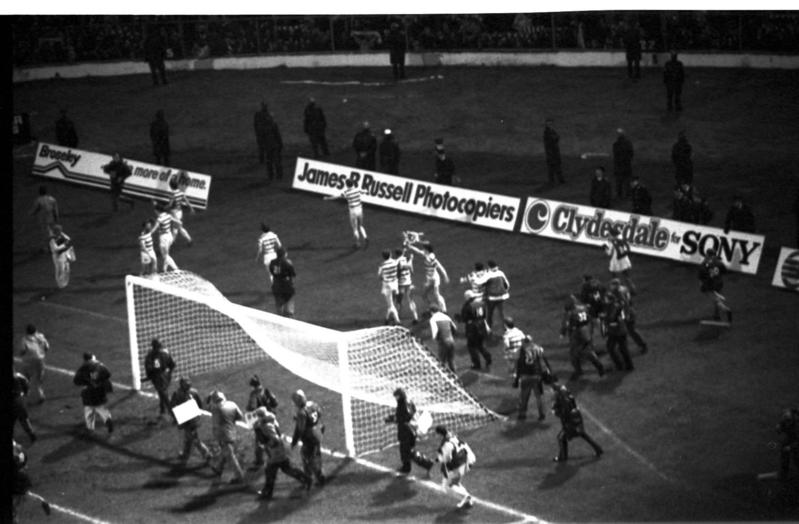 The opponents in the final were Rangers.
It was one of the most un-Cup final like occasions one could imagine. Half the ground was closed for repairs, it was played on 4 December in heavy rain throughout and darkness had descended more or less before the game started at 3.00 pm!
It was the last Scottish League Cup final NOT to be televised live, and if ever there was a case for re-arranging the game in the spring, this was surely it.
Rangers frankly had a poor side in 1982, but they made a fight of it.
Celtic however were too good for them on the day. Charlie Nicholas scored from the edge of the box in the first half, then Murdo MacLeod a few minutes later, and although Rangers pulled one back from a free kick early in the second half, Celtic held out with a degree of comfort, and indeed should have scored more.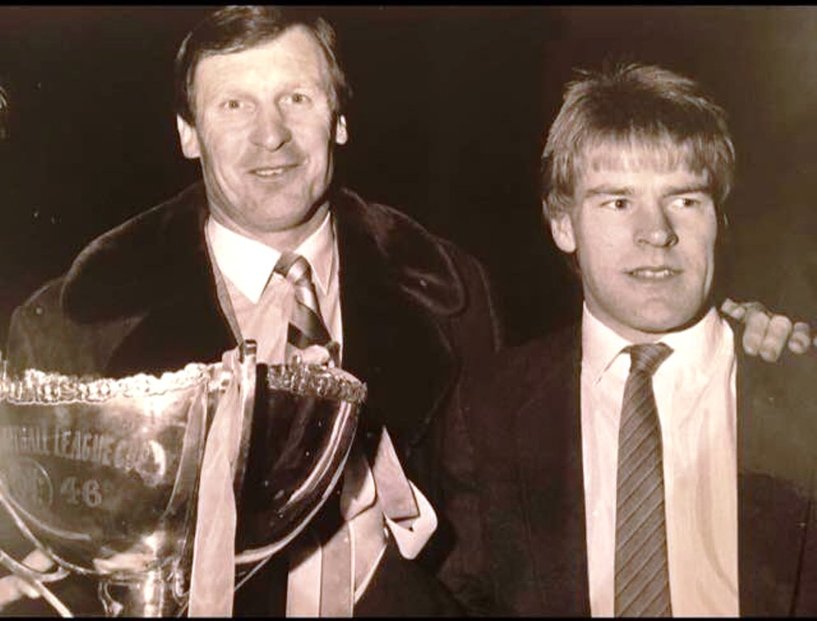 The sight of the League Cup back in green and white hands (for the first time since 1974) was a sight for sore eyes in the middle of that December gloom and rain. It was our 9th win in this competition, but it was going to be a long 15 years before there was to be another one. And it was as well that 1982 finished on a high note, for 1983 was going to bring a particular degree of horror, a lot of it centring on December 1982's hero of the hour, Charlie Nicholas!
David Potter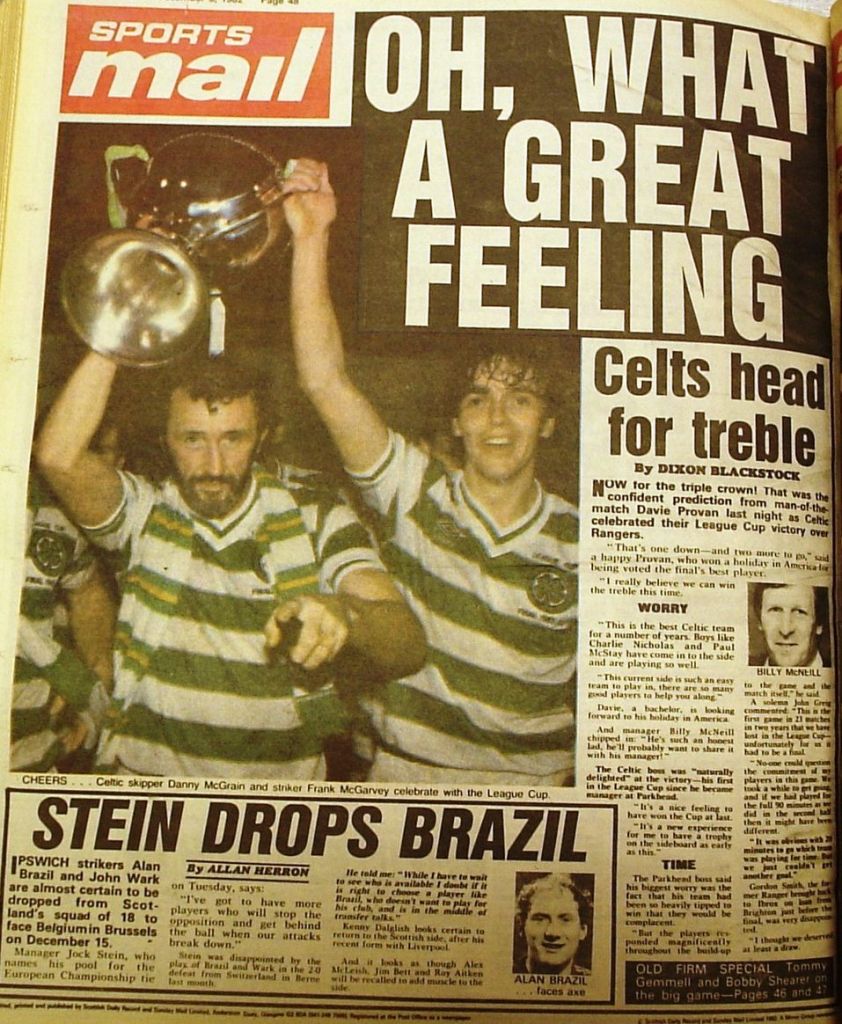 TEAMS
Celtic; Bonner, McGrain, Sinclair, Aitken, McAdam, MacLeod, Provan, McStay, McGarvey, Burns, Nicholas.
Rangers; Stewart, McKinnon, Redford, McClelland, Paterson, Bett, Cooper, Prytz, Johnstone, Russell, Smith.
"Celtic took the lead in 22 minutes through Charlie Nicholas and made it 2-0 in 31 minutes thanks to a thunderbolt from Murdo MacLeod. Just after the interval, Jim Bett pulled one back for Rangers but in spite of both sides giving their all, there was no further scoring and Celtic took the League Cup back to Parkhead for the first time in 8 years and the 9th time in their history," Jim Craig wrote in his diary about this game.
Final whistle, trophy lift and part of Billy interview. pic.twitter.com/r3fU3eIM3J

— Li'l Ze (@LilZe85) December 4, 2019