A competent rather than a spectacular win for Celtic tonight with the bonus of a clean sheet. The news from Perth was depressing but we are still in it, and it is still true that our future lies in out hands. 22 League games remain. Win them all and we will win the League! Celtic teams in the past have won 22 games in a row. Destiny beckons.
But to tonight's game. If there was any fault it was that we did not shoot early enough. Sometimes we manoeuvred the ball around rather too much when a more direct approach might have paid dividends. Mikey Johnstone for example is a marvellous player but sometimes his final ball as a disappointment. It is an aspect of his game on which he can work.
The goals were superb. Jeremie Frimpong was almost like Jimmy Johnstone at times tonight and the first goal was a classic example of how to make and score a goal with David Turnbull (excellent again tonight and well worth his Man of the Match) supplying the finishing touch. I was surprised to hear the Commentators on Celtic TV say that Leigh Griffiths had scored 20 goal with his head. Looking back on it, however, I can recollect quite a few, but tonight's was as good as any. And it was a good cross from Ryan Christie as well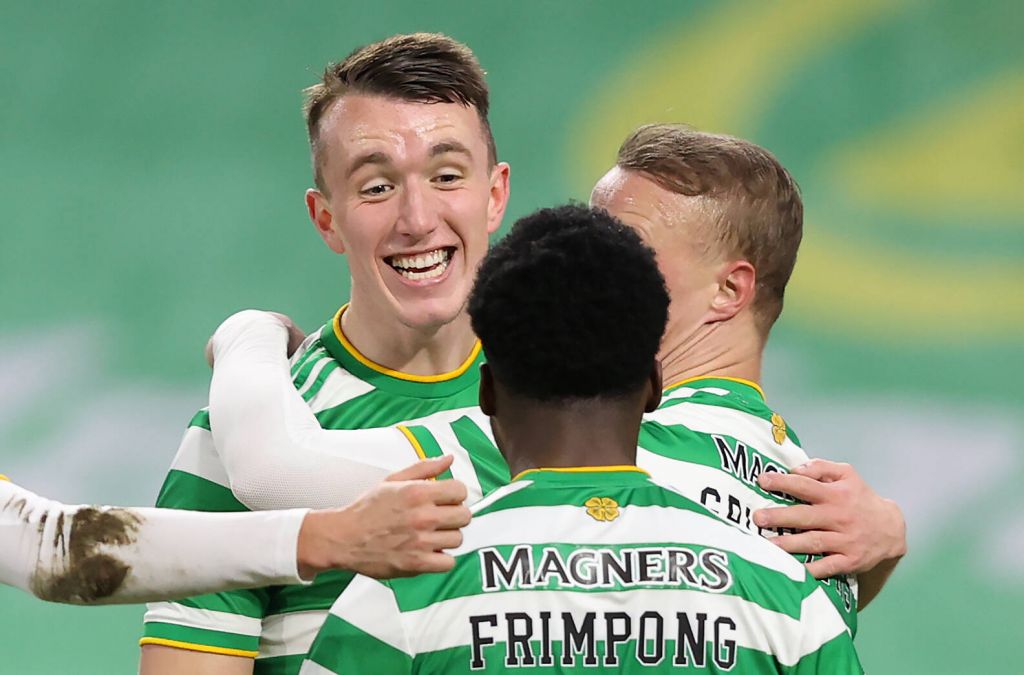 The defence were never really troubled tonight, and didn't put themselves under any pressure by silly mistakes. Jullien and Ajer were totally dominant, but we must qualify that by saying that Ross County were weak. And yet they beat us a month ago and ruined any chance we might have had of a quintuple treble! But tonight they were hardly in it, but I have to ask why Conor Hazard was allowed to wear a strip so similar to that of Ross County. I found myself shouting for a penalty for hand ball once or twice!
Nice to see John Hughes II (as distinct form the John Hughes I who was a reserve in Lisbon) back at Celtic Park. He will have his work cut out there, but we wish him well. Continuing the festive note, I thought the referee Mr Anderson had not a bad game, although there was a fairly obvious tug of Leigh Griffiths' shirt that he missed in the first half. And we had the pantomime moment as well when he, the referee, fouled and injured Odsonne Edouard and poor old Eddy had to go off before being let back on again by Mr Anderson!
So a peaceful night (were there any yellow cards shown?) and time to enjoy Christmas. But Boxing Day sees us at Hamilton, then Dundee United come to town before we have another big fixture on January 2. We mustn't make the mistake of thinking that the first two games are any less interesting or important than the third game! We simply have to win them all!
Merry Christmas!
David Potter
Listening to the media (and some of our fans)anyone would think we'd played the same amount of games as the zombies!

We've 3 games in hand FFS!

We are 1 defeat and 2 draws worse off than them!

They have Hibs, St Mirren(A)& us before 2 Road trips to Aberdeen And Well coming up!

— Celtic Nation(Welcome to the party)🍀 (@CelticNation67) December 23, 2020