Well, Sky Sports 1 Celtic TV 0 was the first score of the day once I realised that the action on my laptop was about a minute later than the TV! Some technical expert perhaps will be able to give me the reason for this, but better to listen to Dave Crocker and Andy Walker earlier than their Celtic TV equivalents! To be fair, Sky Sports also had Martin O'Neill and John Hartson, and they were well worth listening to with Martin O'Neill showing that he had a sense of humour, and John Hartson telling us that he and Scott Brown both lived in Edinburgh!
One small gripe first of all. Did anyone else feel that both goalkeepers were wearing jerseys that were not all that different from Hamilton's blue? Once I found myself shouting for hand ball when Ryan Fulton "handled" in the first half. Or is there something wrong with the colour on my TV? Or my eyesight? Or am I just old fashioned enough to want to see goalkeepers wearing yellow jerseys?
But to the game. Little really to be said other than that it was a more than competent start to the season. The goals were good – I particularly enjoyed Patryk Klimala's goal at the end – and all were recognisably team goals with some fine crossing from Greg Taylor, Jeremie Frimpong and James Forrest.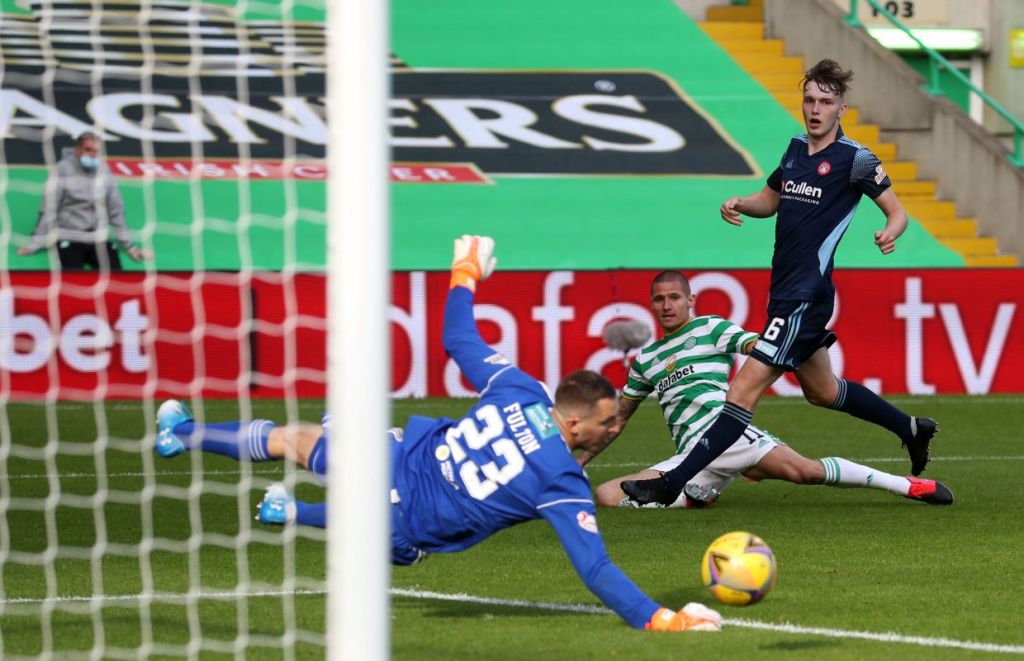 Odsonne Edouard seems to be determined to start the way he means to continue – one cannot argue against a hat-trick! None of his three was exactly a cracker, but they were competently taken and we have had strikers in the past who might have missed them! Hamilton's goal was simply ridiculous. They said it was a double deflection. I would have said three because Scott Bain got a hand to it as well!
No real poor performances. I was particularly pleased with Greg Taylor at left back, so much so that I feel magnanimous enough to congratulate Kieran Tierney (remember him?) on his English Cup medal yesterday to go with his Scottish ones.
The one sour note was that awful foul on Frimpong by Scott Martin of Hamilton in the first half. Had that one not been in the first half of the first game of the season, it might have resulted in the long walk for the Hamilton man, but it did seem to motivate Frimpong to raise his game even more.
So a good start. Far too early to make any pronouncements about what is to happen this season. Early days! Kilmarnock at Rugby Park next week. That might be a more difficult assignment.