Celtic's elite youth prospects appear to be catching the eye of some big clubs of late.
This week we've heard young Celtic winger Barry Hepburn is interesting German giants Bayern Munich and now it's the turn of Manchester City to attempt to lure young midfielder Josh Adam.
Last summer, despite making his first team bow in pre-season, Celtic lost out to Bayern Munich when top defensive prospect Liam Morrison headed for Bavaria.
It's a concerning development recently that Celtic's young talent is being poached, yet is it something we have to be troubled with, or is it just something Celtic have to accept is a possibility as we develop young talent? Is it a backhanded compliment or can we do better when it comes to retaining our own talent?
When Morrison signed on at Bayern Munich he admitted to being impressed with the knowledge Bayern Munich already had of his talents. It was also clear to the player, although a project in the eyes of the German club, that there was a pathway set out for Morrison and a clear route should he be good enough to first team football.
A four year roadmap was set out for the player, broken down into six month appraisals where the player could see where he was going right, where he could improve and what his personal goals should be. In short the Germans with their renowned efficiency had not only sold the club to the player, they had shown an awareness of his talent and evidenced to him they already had a plan set out for his future.
With two other top young talents now possibly following a similar path to the exit door, it leaves some questions unanswered. Do we make our players valued as young professionals at Celtic or have we become complacent, believing as big fish in a small pond that no-one was aware of our young prospects?
In the day and age of digital scouting platforms, clubs far and wide can now see youth level football games and scout players from afar. If we haven't reacted to that threat we need to look at a way of correcting it and soon.
Liam Morrison was not only a prospect at Celtic, he was rated very highly indeed. Hepburn and Adam it would appear are thought of the same way. Given that's the case perhaps Celtic need to be aware and start addressing a flaw in the system.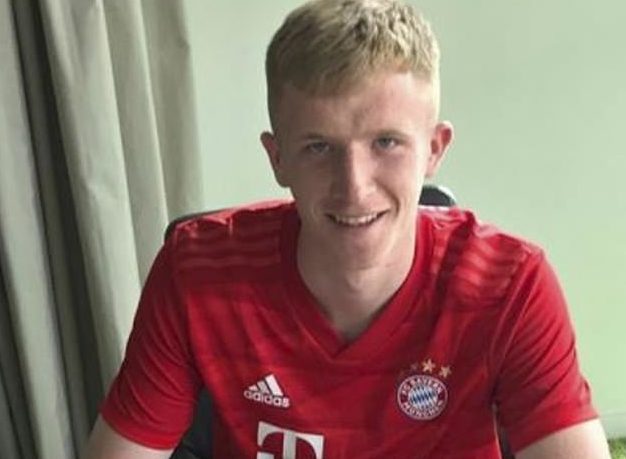 It may be worth returning to the likes of young Liam Morrison and asking him if it was the name of Bayern Munich that attracted the player or did Bayern offer something – other than their stardust – that made him decide the Bundesliga was a better option than the team that had brought him through. What did Bayern do that Celtic didn't? What could have made him stay, if anything?
It's becoming a worrying trend that young players and apparently players we rate as our elite youth prospects are being enticed away. It's time to ask these questions.
When Kieran Tierney broke through at Celtic, did we have a plan or did necessity dictate when he was blooded under Ronny Deila? We certainly landed on two feet when Tierney was introduced to the first team but was it part of an actual career development plan?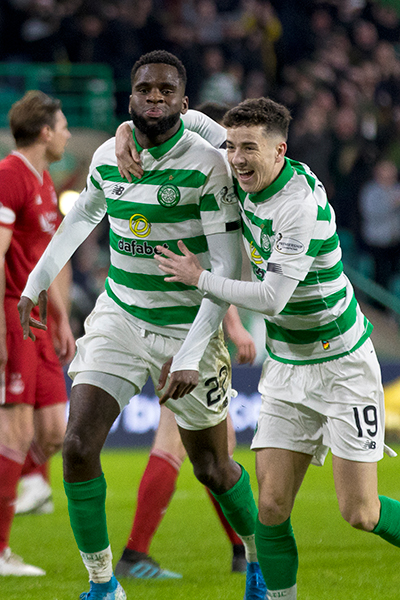 Mikey Johnston certainly seems to be making inroads and had it not been for injury he may well have had more on an impact, but other than those two we see little first team exposure for young talent.
Stephen Welsh returned on loan from Morton and played only once, while Karamoko Dembele appeared against Hearts last year, yet we haven't seen some of the substitute experiences we'd hope to see to aid his development.
Is the limiting of first team exposure encouraging young Celts to consider alternative arrangements at a young age? Or is the Celtic management team hamstrung by the pressure cooker Ten-in- a-row environment that the club are operating under? Do Celtic feel they simply do not feel they cannot risk these players making mistakes in our first team? Would we as fans even bear responsibility in that regard, do we take a deep breath when we see a young player in the first eleven when every game means so much?
Or are the paths of these young prospects being blocked. Is the talent there but stunted by a lack of first team exposure?
No-one is saying Munich or City are doing anything illegal, they are acting perfectly above board. But do they simply have advantages that Celtic cannot compete with? Do Bayern have the finances to simply allow this mapping of careers, multi millions stockpiling players that Celtic simply cannot match.
Germany has a fine reputation in developing young talent. To go to the biggest club therefore makes a lot of sense but what are Man City offering in that regard?
Phil Foden is still struggling to really make an impact despite being one of the highest rated players of his generation. More often than not the default solution for the Manchester club is to get the chequebook out rather than promote from within.
I'm struggling to think of Man City blooding another youngster from their ranks. Indeed it appears they stockpile the talent, cashing in on a series of short term loan deals. It is evident Manchester City's approach is more a case of a fear of missing out rather than a genuine joined up approach to the career development of the young player.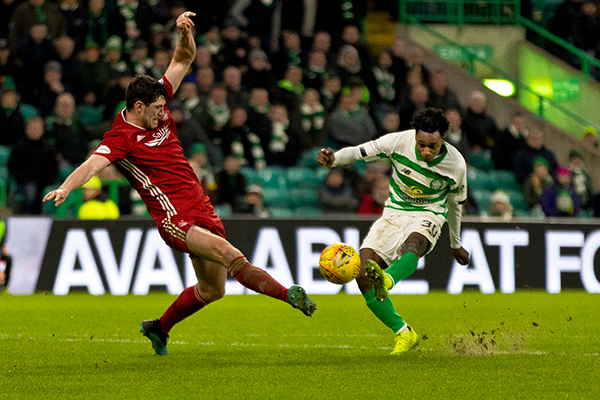 So is it money? Possibly. Yet surely Celtic can still compete financially at youth level. It is already a Celtic model to cherry pick players from Man City such as Jeremie Frimpong or Man Utd in the case of Lee O'Connor. So why with our own players – some four or five years the junior of these signings – can we not retain our own?
Perhaps Celtic need to sit down with the player, parents and agents and spend time working on what they want, what we need and where we can meet the expectations of the player and their representatives in line with our own requirements.
Something is happening when that first professional contract is offered that looks like it needs tweaked. Communication with the parties close to the players and those who have already moved on might supply the answers.
It's one thing to miss out to these clubs when the player is a first team regular and can demand in excess of 60k a week for his services. While they are 16 and 17 years old it seems we should be looking as to where we can offer the player more of what he needs to nurture develop and offer a roadmap for his career.
There are players who have left or are due to leave, where an exit interview might give Celtic some answers to what seems a new problem.
It appears Celtic need to find a way to bolt our stable door before these exits become the norm.
Niall J
INVINCIBLE by Matt Corr
The Celtic Star's very own Matt Corr – who you may also know as a Tour Guide at Celtic Park – publishes his first Celtic book, titled INVINCIBLE – early next month. This beautiful hardback book will be the definitive story of Celtic's magical2016-17 season – it truly is wonderful, a real joy to read, and brilliantly written by Matt.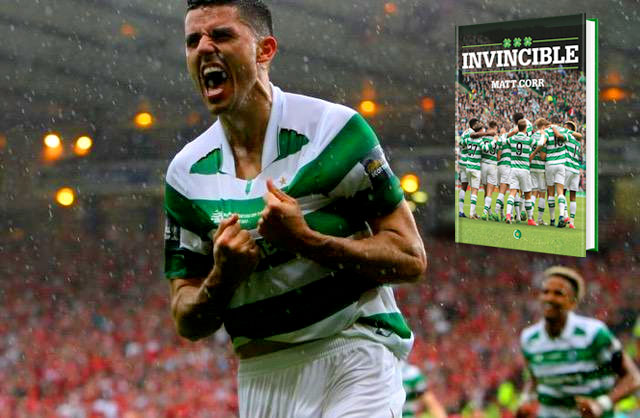 If you have been reading Matt's regular contributions on The Celtic Star or indeed in the Matchday Programme or in the Celtic View you will know just how talented a Celtic writer he is. The book is published by The Celtic Star and you can pre-order below.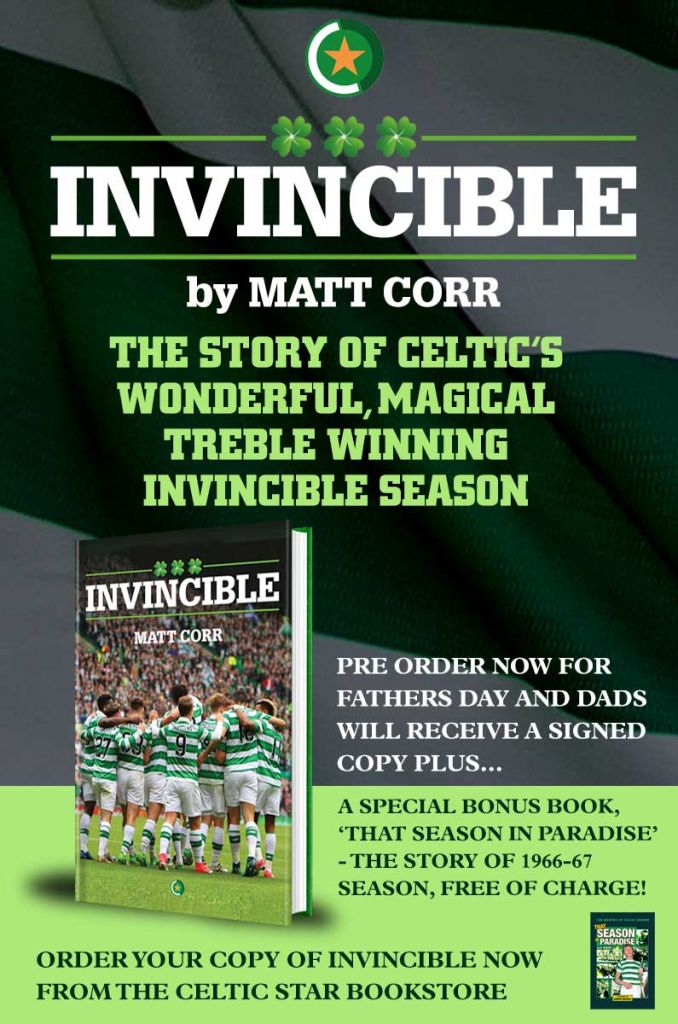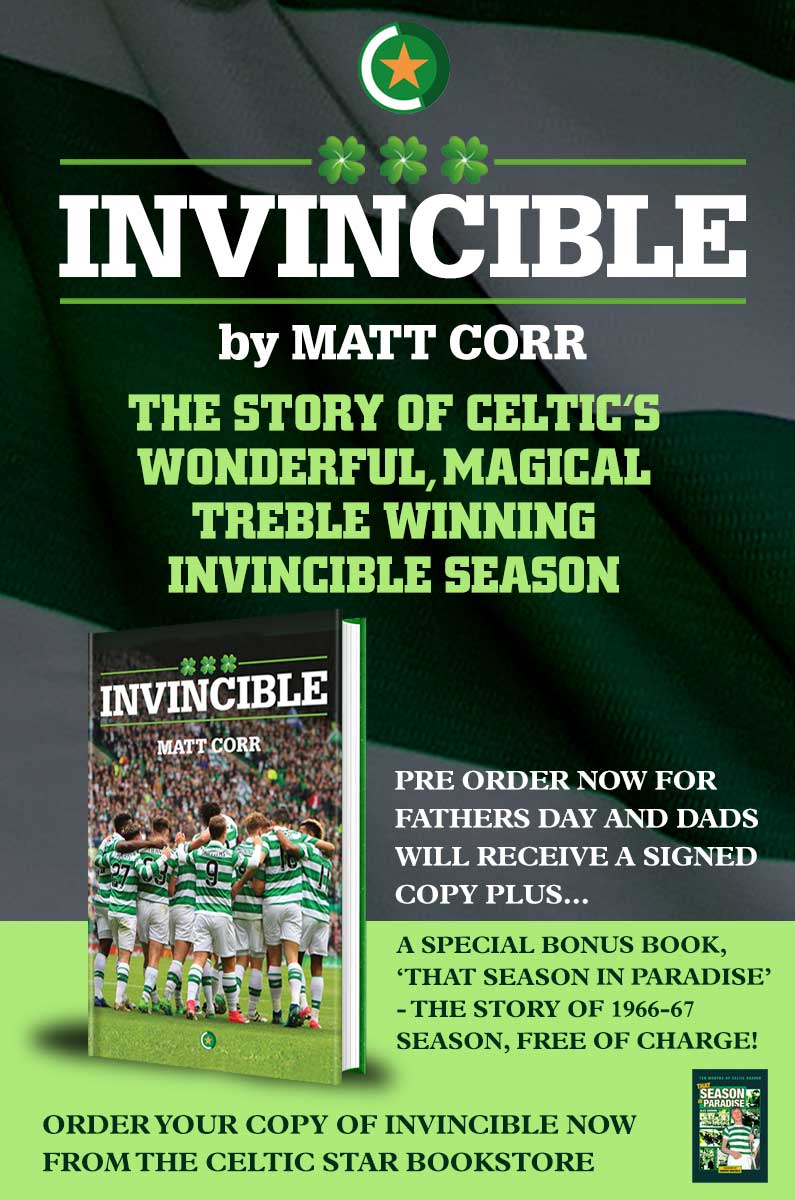 Support Celtic Youth Development
Help raise money for Celtic Youth Development by joining the £1 weekly lottery and you could win up to £25,000 – just click the photograph below to join. Lots of our readers have already done so and they're now doing their bit to help fund Celtic Youth Development that can deliver the stars of tomorrow and beyond. And you might even win a few bob too! And a special thank you to all The Celtic Star readers who have already signed up and are now supporting youth development to give us the Celtic Stars of the future…