With budget being the order of the day, we quickly secure rooms for the equivalent of £1 per night at a hostel across the road from the station. After a much-needed wash, we are 'good to go' and the bars of Turin are our target. This is easier said than done, however, eventually we land in what would be described in Glasgow as a café, but with the subtle addition of beer. When in Turin…
Later, we decide to visit the stadium, the old Stadio Communale, for some photographs. We get lucky, as Juve are actually training there and although we cannot approach the players directly, we receive a wave and a smile from Liam Brady as the team re-board their bus.
Returning 'home', I am struck by how similar the entire city appears, it is literally block after block of identical buildings, darkness is falling and we've had a few beers. Not a great combination. At one point we are stopped by the police, guns and all. In my best 'O' level Italian, I explain where we are trying to get to and somehow we do manage eventually to return to base.
There is a pub across the road which looks lively, so in we go. Things are going well until the place is raided by yet more police. We are like TV viewers detached from the scene, as the usual suspects are lined up against the wall before everything calms back down. We are left alone to head back to our Poundland penthouse. Thankfully, there is a game tomorrow.
The following day, we meet up with some other Celtic fans in the city centre, and the news is not good. Supporters are speaking of attacks and robberies and all-round carnage taking place, with us as the targets. Some of this is put down to trouble in Turin the previous summer, when English fans rioted in the city following a defeat by Italy in the European Championships, Celtic being the first team from these shores to visit the place since then. So it's a cat-and-mouse day for the Cairn reps, low-profile beers and a few more distressing tales to hear, before making our way to the stadium for the big game.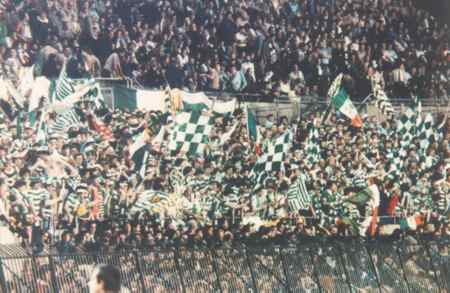 We're inside the ground and this is something else entirely. We seem to be surrounded by Italian fans and all notion of segregation has long since been abandoned. This is exhilarating but genuinely scary. There are fireworks everywhere as the teams emerge into this cauldron, Celtic wearing all-green as we try to make any kind of impact against a 70,000-strong wall of deafening Italian noise. It already feels like we will be up against it big time tonight. As suspected, Danny McGrain hasn't made it, a major blow, young Moyes reinstated but this time at right back and Roy Aitken was the captain for the night.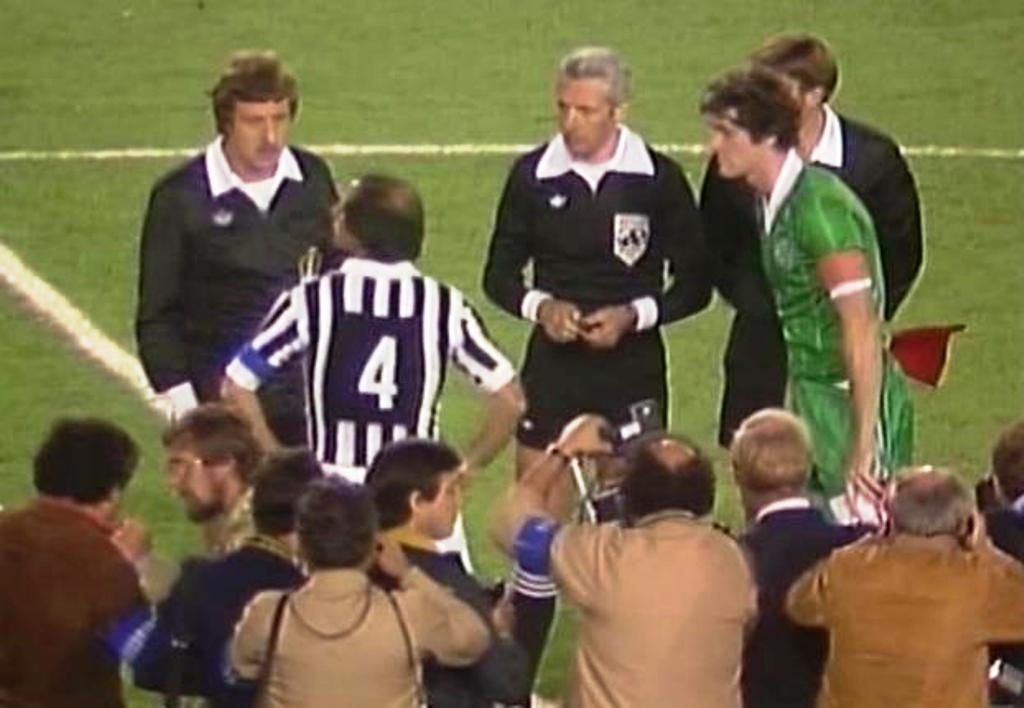 The game kicks off and Juventus are in the mood, Brady pulling the strings as attack after attack bears down on our goal. Despite this, Celtic put up fierce resistance, Brady's young compatriot Paddy Bonner outstanding for the first half-hour before winger Virdis spins in front of us to curl a beauty into the far corner. The tie is level and it's going to be a long, difficult night.
Early in the second-half, Roberto Bettega swivels in the box to beat Bonner with a vicious shot, and the Italians have the overall lead they crave. Although a solitary away goal is all that is required, there will be no way back for Celtic. Juventus are masters at seeing out the game. The ball is passed across and through us and the only surprise is that they don't appear interested in going for a killer third.
We head back to our 'local', deflated and defeated on the evening, a second police raid going almost unnoticed as the inquest begins. Worse is to follow in the morning, as the local newspapers are full of the most horrific photographs of assaulted Celtic supporters. It has been a bloodbath outside the ground where the supporters' buses were parked, one man has been slashed across his back and is in hospital. The result is suddenly irrelevant, as we realise families back home will be worried sick in the pre-mobile days of 1981. Our train is not due to leave Turin until 10.30pm. It will be a long day.
Early in the evening, we head into the main station and base ourselves in a bar there for some final beers. It feels like a safer option than walking the streets. Having witnessed the worst of behaviour, we are then confronted with the decent face of football, as a number of Juventus fans approach us to apologise for the treatment we have received here.
As the only Italian-speaker in the group, I have become interpreter-in-chief and incredibly we end up having a great laugh, sharing a few beers with the Italian fans. There is a surreal moment later on, as one supporter insists I follow him to his car. I cringe to this day at my naivety in doing so, however, someone is looking after me and the Italian then proceeds to empty his glove compartment to provide me with a parting gift, a Supertramp cassette of the time, 'Breakfast in America'. When I decades later heard the Green Brigade belt out the Scotty Sinclair Logical Song, I often have a chuckle at that episode in Turin's main railway station, one of the lighter moments in what was a severe initiation to my European away days.
Soon it was 'arrivederci' for the long journey home, as before, via Paris and London. The tin whistle was somewhat muted from memory, as we contemplated an incredible few days. We arrived back in Glasgow early on the Saturday morning, exhausted and with just enough time for a wash and shave before catching the Cairn bus at 10.30am for the trip to Dens Park, a mere 90 miles or so away!