"CELTIC have issued a statement saying they would be 'astonished' of the Tom Boyd matter was progressed," Sportscene Presenter Jonathan Sutherland has tweeted, adding "If it is, they say they will 'respond robustly' and the BBC man promises "more tonight on BBC Sportsound".
Celtic have issued a statement saying they would be 'astonished' if the Tom Boyd matter was progressed. If it is, they say they will 'respond robustly'. More tonight @BBCSportsound

— Jonathan Sutherland (@MrJonSutherland) August 19, 2019
The Celtic statement says "We have had absolutely no contact from the SFA in relation to this matter and, given the context and circumstances in which the comments were made, would be astonished if the matter were to be progressed. If it is, then we will respond robustly."
Now there is a defamation defence in Scots Law called Veritas. It means you are simply telling the truth, a concept that has obviously been out the window at Hampden since around 2012.
Tom Boyd just pointed out that it was a penalty and also that Beaton drinks in a pub which has strong links to the team he supports and where he headed on the night after he refereed the Rangers v Celtic match on 29 December when he allowed four assaults on three Celtic players to go unpunished.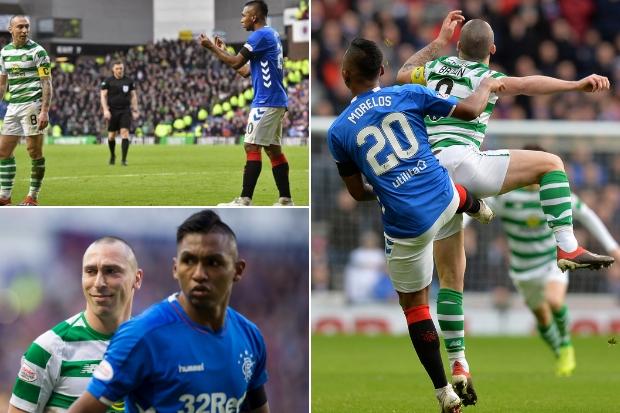 This is from The Celtic Star yesterday…
Celtic were denied a stonewall penalty by referee John Beaton and that's just thinking about the old rules, rather than the new directives, both were ignored by yesterday's referee.
It was good to read that Tom Boyd called him out on Celtic TV, yet the papers find two or three Celtic opinions criticising The Celtic Ambassador and turn the story to criticism of Boyd. Not Beaton, because that would put the spotlight on his as either a dreadful referee, a biased referee (supporter of Rangers etc) or both.
There are plenty of Celtic comments supporting Tom Boyd, they are NOT included or considered in this article. Strange that.
Bobby Madden said the change to the handball rule "will result in more penalties being given" failed to mention

Not in SCOTLAND pic.twitter.com/vhMmKjGFkk

— Derek Crothers (@deaks1ey) August 17, 2019
This is what Tom Boyd said in commentary, as widely reported today. I was at the game so am relying on these reports, including Scottish Sun.
"That's a penalty. It's a penalty kick.
"His arms are up in an unnatural position and it's a stonewall penalty.
"And once again, Celtic denied by decisions by the referee, and the referee has bottled that.
"That's an absolutely scandalous decision by John Beaton. We've seen that before on many occasions.
"It's unquestionably a penalty. It probably should have been a handball but that was a stonewall penalty kick.
"It's clear it's a penalty kick. In the light of day, he's putting his hand towards the ball, heading towards goal.
"What does John Beaton not know about the new rules? If he doesn't know that's a penalty he should not be in the middle of the park refereeing a football game.
"He'll probably be welcome down his pub tonight again."
We all know what the former Celtic captain is referring to with the pub reference.
Well said Tom Boyd.
ENDS.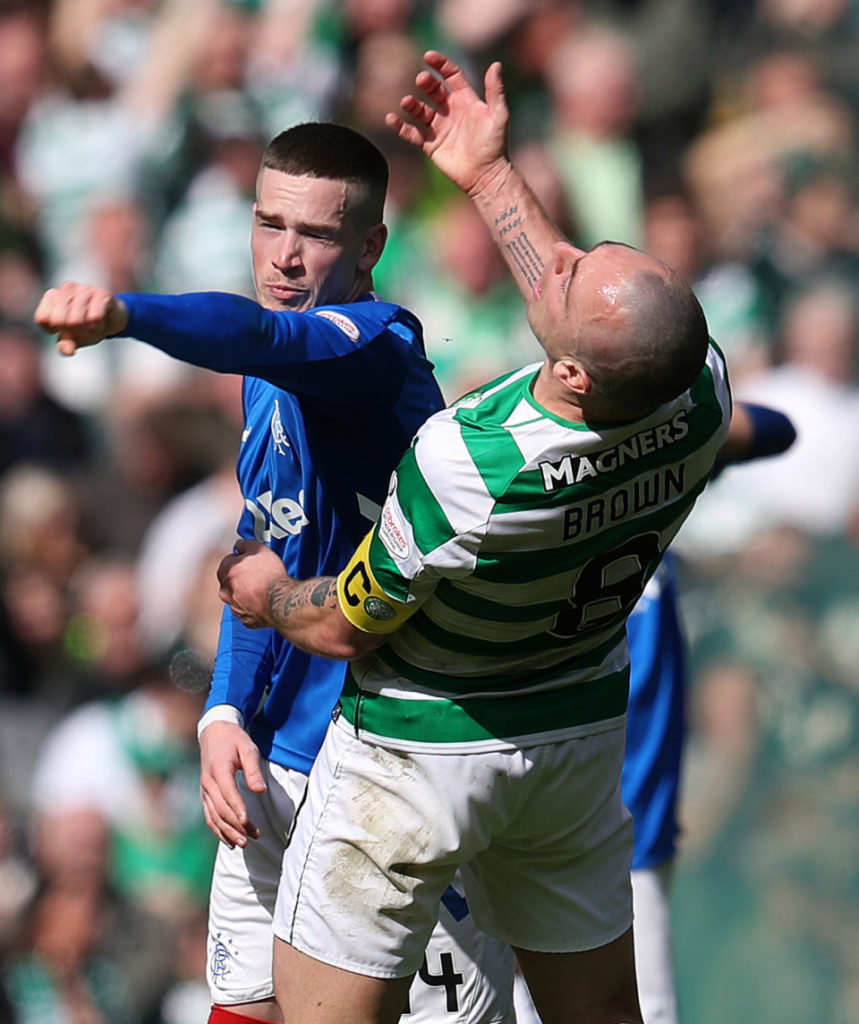 Celtic defended Scott Brown after the SFA invented a charge against him after the 2-1 victory over the Rangers at the end of March. Brown celebrated the win, the Rangers players didn't like it and did all the pushing shoving stuff. One of their players had earlier thrown a punch at the Celtic captain but was not sent off.
Celtic responded by bringing up a top QC from London, who has is a sports law specialist, and the pathetic SFA immediately folded.
Now Kris Boyd, while employed as a player at Kilmarnock, last season got away with saying all sorts of stuff relating to Celtic on Sky Television and in his newspaper column. He could not back any of it up yet he was allowed to continue by the SFA. Where were the Bringing the Game into Disrepute charges levelled at Kris Boyd? We must have missed that news.
It's amazing how many of those in the media having a go at Tom Boyd, defended Campbell Ogilvie throughout his reign as @ScottishFA even though he was an EBT recipient, signatory and administrator before being involved in the sham Nimmo-Smith review.

— RhebelRhebel (@RhebelRhebel) August 19, 2019
Tom Boyd was the subject of a witch-hunt by the Scottish media hacks who all remained silent about the disgusting, disgraceful Ibrox-esque chants from the Dunfermline supporters. They sang the disgraceful Cheer Up song towards Neil Lennon – you know, the same one that had them condemning the section of The Celtic support who aimed that song at Derek McInnes at Hampden. These Dunfermline supporters sang about Jimmy Savile and child abuse right next to families watching the game.
These hacks agree these things collectively, then hunt in packs, they are not brave or stupid enough to go it alone. Uncle Tom English started the lies last night, saying "most Cetic fans I know cringe when Boyd comes out with this stuff…"
Judging by the evidence of the replies to his tweet that was complete nonsense, Tom.
And as a follow-up, most Cetic fans I know cringe when Boyd comes out with this stuff…

— Tom English (@TEnglishSport) August 18, 2019
Cameron at The Herald and Jackson at the Record piled in to condemn the former Celtic captain, now club Ambassador for his comments made on Celtic TV, to an audience outside Britain and Ireland watched by Celtic supporters who subscribe to the service. It is Celtic TV – it is for Celtic supporters, it's going to have a bias towards Celtic!
Did Tom Boyd go too far? No he did not. A mistake was made by Beaton on the day in NOT awarding a clear cut penalty, under either the old rules or the new ones. But the BIGGEST mistake was made by the referee in going to that bar after the game in December. He opened himself up to comments like those made by Tom Boyd on Saturday on Celtic TV and he was perfectly entitled to say what he did. Going to that bar suggests BIAS might be a factor in his decisions. The mistake was Beaton's.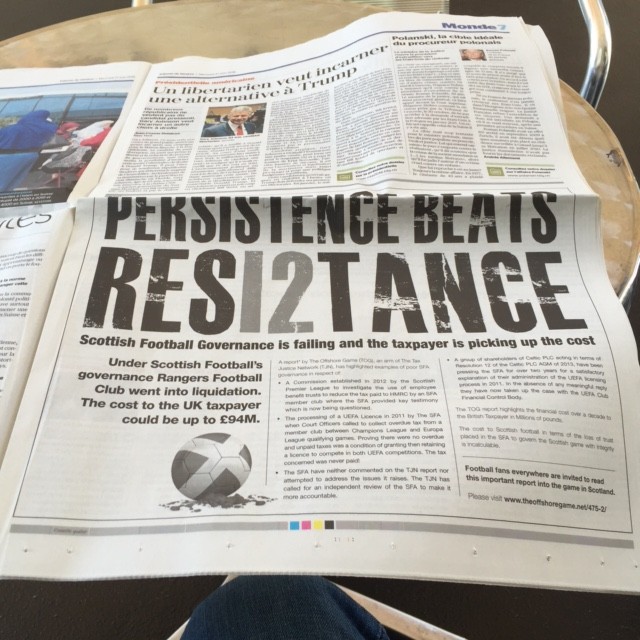 The SFA, with their 5 Way Agreement, their failure to properly investigate the Rangers EBT cheating especially after the Supreme Court decision, their stonewalling of Resolution 12, their bending to the Ibrox will in not allowing Willie Collum to referee Rangers games after the disgraceful comments last December about the referee's background. Callum got no Rangers games until the very last day of the season – yet Beaton was back with the whistle at Celtic matches long before that.
There's actually a new book out today about all of this, see below…
Out today! My book Tangled up in Blue: The Rise and Fall of Rangers Fc tells the story of the origins of the RFC/Celtic rivalry inc how it acquired a religious dimension also the recent financial collapse at Ibrox. Details here https://t.co/s0YUdsKpHP @GrahamSpiers @TEnglishSport

— Stephen O'Donnell (@StephenODauthor) August 19, 2019
Collum isn't biased towards Celtic incidentally, he's just a rubbish referee and all clubs have been on the wrong end of his inconsistencies. Beaton though proved his bias by going th that Rangers bar.
That's the difference.
As for the media? English, Cameron and Jackson. Celtic would delight the support, we suspect, if these three were immediately banned from Celtic Park, say for the rest of this season.
They are not needed. They wish Celtic nothing but harm. They have crossed a line and Celtic supporters would be delighted by this action.
Tom Boyd.
Driving the Scottish media to the edge since captaining Celtic when they stopped the 10 ???? pic.twitter.com/QZ1bMxUVgf

— Highland__Paddy (@Highland__paddy) August 18, 2019
Time to stand up, but does Celtic have a backbone?https://t.co/G2DwpZAAr9

— Joe McHugh (@videocelts) August 19, 2019
Also on The Celtic Star…
£52? Incredible! The Most Expensive Ticket Price in Scottish Football History…see HERE.
'We will not be dazzled by Celtic,' Suspended AIK striker, 'they lost four goals at home to Cluj and the Scottish league is not so good'…see HERE.
Peter Lawwell, frustrated managers and what's really happening at Celtic…see HERE.
Apparently 'Europe is Massive,' says Celtic Star – Meling, Afolabi and Dembele…see HERE.
'If we want good men rather than yes men then Lawwell has to make way,' Niall J…see HERE.