Thursday night's defeat to Sparta Prague saw a defence overrun, a midfield chase shadows and until Leigh Griffiths entry to the fray, an attack bereft of ideas as to how to put a Sparta defence to the sword. One who had conceded seven goals in two previous Europa League encounters.
We've already had a look at both the defence and the midfield ahead of Sunday's game with Motherwell, we'll now have a look at the attacking options and the possibility of a minor change in formation that could have a big impact.
In a previous article The Celtic Star Editor put forward the case for playing a diamond in midfield. It would negate the need for wingers – of which we have a real shortage at present – allow the full backs to supply the width while permitting a holding midfielder to drop in and create a three at the back out of possession. It would also allow the holy grail of playing two strikers supported by a number 10.
Is it too soon to start this on Sunday? I don't see why it would be. It would also allow Celtic to genuinely incorporate the best of their players into a system that should suit their strengths.
We've already looked at the defence and the midfield ahead of this weekend's fixture with Motherwell. So, what of the attack?
Odsonne Edouard
Last season Odsonne Edouard picked up the most coveted of football's prizes, The Celtic Star player of the year award. This season French Eddy started the season with an opening day hat-trick at home to Hamilton but since then, even prior to picking up Covid-19 on international duty, the striker has looked a little out of sorts.
There could of course be a multitude of reasons for this. Be it his head being turned by interest from down south or back home in France, a corporate decision to retain players ahead of our Ten-in-arow campaign, or as some have said a disappointment at the lack of stimulation when it comes to the level of coaching, he receives. It matters not. What is evident is that there has been little sign, since he linked up with Leigh Griffiths in a front two, that Odsonne Edoaurd is capable of reaching the heights he did last season. With so much at stake for Celtic that is a concern.
So, is he working his ticket perhaps ensuring his value drops? Who knows? All we do know is how we get the best out of him and we haven't tried it yet. Come Sunday however we could.
Leigh Griffiths
And talking of bringing French Eddy back up to speed, we move on to the strike partnership that struck fear into Scottish football last season.
Following time spent on the sidelines for more than half of last season Griffiths, Celtic's bona-fide maverick (sorry that's not you Olivier) returned to the fray overweight and out of shape. Yet it seems whenever he gets on the park, he's got a goal in him.
Understandable when you consider there is no other Scottish born striker playing anywhere with the God given talent Leigh Griffith has. He's as natural a goalscorer as we have on our books and I've been convinced of late that Griffiths can only get up to the standard we need from him, if he's played up to match sharpness.
Last season his linkup play with eddy was a joy to behold. This season both players have been avoiding each other like the Christmas office party 'couple' who made a public show of themselves. Griffiths owes Neil Lennon a favour or two. He could have done with him through rocky times. He could be the man who could now save his job.
Albian Ajeti
Ajeti seemed to be a deal dead in the water this season. Neil Lennon's own intervention ensured a collapsed deal was given the kiss of life, and a yearlong loan deal became an immediate and expensive acquisition by Celtic standards.
Ajeti is a goalscorer but his ability to hold the ball up is something that the other strikers don't quite have. He's a tireless worker and at times, especially prior to his hamstring injury against Hibs, had shown flashes of Viduka and Cadette. If we play the 4-2-3-1 formation tomorrow, for me he's the most natural in the role as he evidenced in Lille, where he was superb, and against Milan where he appeared to get a bad press but worked a tireless frontline shift for his teammates. Gordon Strachan would love Albian Ajeti! He's also our player, has committed to the club and has eyes only on that. He has that advantage over others.
Patryk Klimala
They say God loves a trier. Well, the big fella will be keeping a close eye on Polish Paddy this season.
I love this guy's attitude. He came to the UK barely speaking a word of the language and within a couple of months was hit by the lockdown. With little chance to impress yet already written off in some quarters, he returned the fittest man to post Covid training, had bulked up considerably and set about being the best of the strikers in pre-season, even nicking a a goal off Leigh Griffiths in a pre-season friendly. Indeed, the partnership in that match against Hibs, when Griffiths was introduced to the fold, had me convinced there is a striker of note in Patryck Klimala.
He's got a long way to go before he could lead a frontline like Ajeti by himself, but put him in a two-pronged attack and there is a striker not only worth persevering with but one that will back himself. That goal agains St Johnstone, pole-axed (pardon the pun) to predator in the time it took you to shout 'Ref for **** sake' says it all. There is a a steely determination in Klimala, one that will see him come good.
When it comes to playing against Motherwell Neil Lennon is likely to go with the 4-3-2-1 formation but perming two from these four strikers in a front two should be something that suits them and complements our current and available personnel.
If Lennon goes with one striker it may be time to consider pulling Edouard out and allowing Ajeti to start as the one most suited to playing up from on his own, possibly bringing Griffiths off the bench. There is certainly an argument in playing Griffiths or Ajeti as both certainly look hungry, well OK they both look well fed, but what better way to shed the side-line induced puppy fat than play them up to match sharpness.
If we went with a two-striker approach then let's get that Edouard – Griffiths partnership back on the grass. Neither has been able to rekindle their bromance in any run of games since March. With 3-5-2 now redundant, while we wait on defensive reinforcements to arrive, a 4-4-2 diamond may well be passé but so was 3-5-2 until the turn of the year, now it's à la mode. Let's be ahead of the curve.
If the return of his partner in crime isn't enough to spark any further interest from Edouard then Ajeti and Klimala both seem committed to the cause and both have thrived in forward partnerships.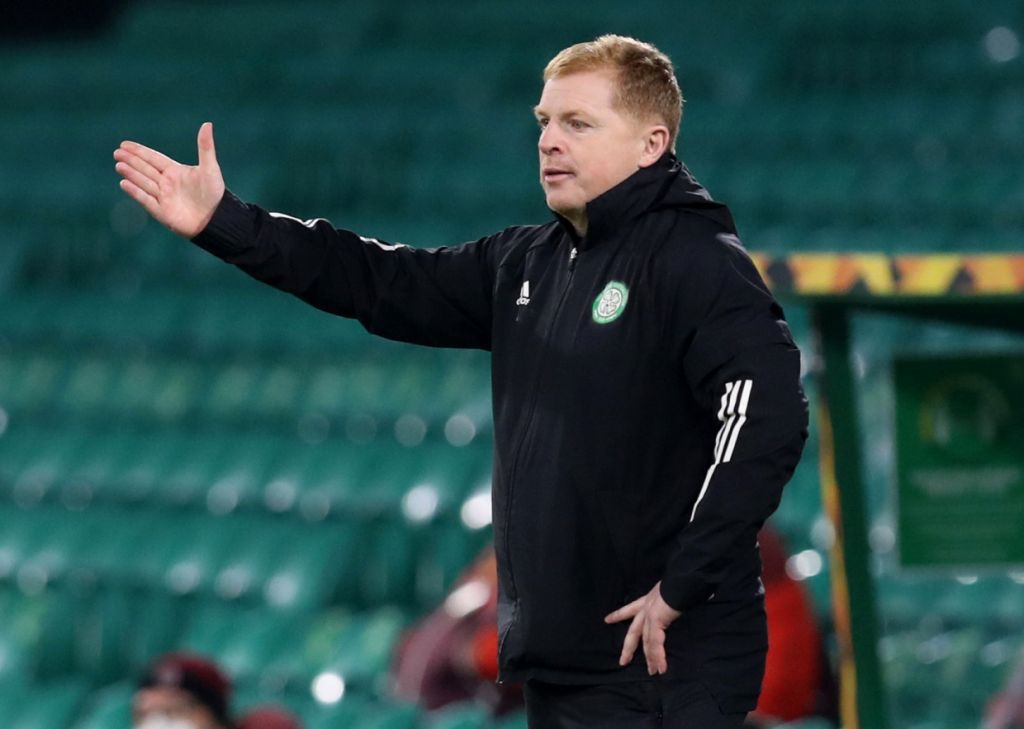 Assuming Neil Lennon will continue with a 4-2-3-1 formation I'd like to see Celtic line-up with Barkas in goal, behind Elhamed, Duffy, Bitton and Laxalt. With a midfield of Brown (or Soro) McGregor, behind Elyounoussi, Turnbull and Christie with Ajeti up top leading the line.
If we adopted the 4-4-2 Diamond formation, then the same goalkeeper and settled back four could support Callum McGregor at defensive midfield, Christie beside Turnbull, Rogic in the number 10 role and Edouard and Griffiths up front. This, for now seems the best way to utilise the players at our disposal.
Would Sunday be too soon to try it? Possibly. But sometimes a gamble pays off, and at the moment Neil Lennon is looking for a strong hand to play. A Diamon https://gty.im/1283018850 d could come up trumps.
Niall J