Tommy McIntyre says that his Celtic B team will learn from mistakes made in their Lowland League defeat to East Stirlingshire last night. It was their first defeat in the league since losing their opening match 2-1 against current league leaders Bonnyrigg Rose. It was also the first time in the league where they have failed to score.
The Hoops lost 1-0 in what was their first competitive match in nearly a month, and while there was understandable disappointment in losing the game, McIntyre believes it will be an experience his players will learn from.
According to the Celtic FC Website, the Celtic B team manager said: "Credit to East Stirlingshire, they were well-organised, and they were a team full of former pros as well.
"But for us there are no excuses, I thought we didn't quite reach the heights that we have done in previous games. We created enough chances and, to be fair, their goalkeeper made some good saves as well. In saying, that we also kind of carried our luck a bit and they had a couple chances as well.'
"And obviously we got a penalty kick and then missed it, that might have been a turning point in the game."
The penalty in question was won in the 56th minute by future star Owen Moffat who has been garnering rave reviews with his performances for Celtic B so far, with some Celtic fans even calling for him to be promoted in to the first team. Unfortunately for the young man he blasted his spot kick over the bar just when I felt like his team were in the ascendency.
The Celtic B team will have to shake off this defeat and move on as they have a busy week coming up, starting with a home match against Spartans on Wednesday night and then Gretna 2008 next Saturday, with both fixtures at the Penny Cars Stadium, Airdrie.
🟢 It was a frustrating night for the #CelticFCB team as they lost 1-0 to East Stirlingshire at the Penny Cars Stadium tonight.

🗞️ Match Report ⬇️https://t.co/q2BavsTnJx

— Celtic FC B (@CelticFCB) October 1, 2021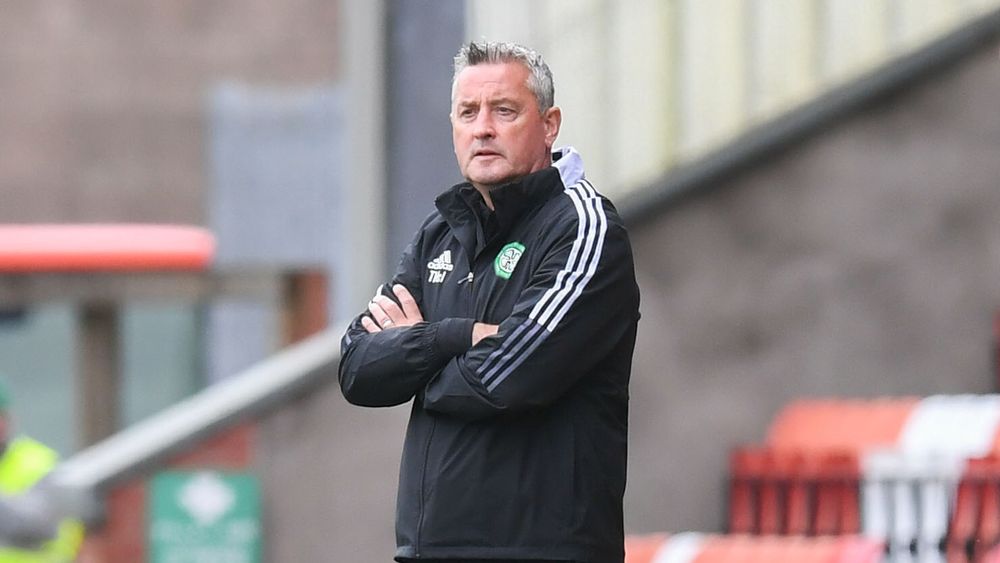 Looking ahead to the next two games, Tommy McIntyre said: "We'll lose a few players, seven or eight from Friday night's game, as they will be on international duty, so it's a chance to bring in a few of the younger lads – the 16-year-olds and 17-year-olds.
"That's no surprise and I don't have a problem with that at all and it'll be good to get the games next week."
Celtic B currently sit 7th in the league, 14 points off the top but with having only played 10 times this season they have quite a few games in hand compared to the teams above them so there is plenty of time to close the gap.
Conall McGinty
🎙️ Tommy McIntyre On the Match.#CelticFCB | #CELEAS 🍀 pic.twitter.com/Esj416G4ZS

— Celtic FC B (@CelticFCB) October 1, 2021