In recent years players like James McCarthy, James McArthur, John McGinn and Ryan Fraser all showcased their talents in front of Celtic before heading south.
All names where opportunity knocked yet Celtic decided for whatever reason not to answer the door. It's fair to say most of those were expensive oversights.
As John F. Kennedy said:
"The Chinese use two brush strokes to write the word 'crisis.' One brush stroke stands for danger; the other for opportunity. In a crisis, be aware of the danger–but recognize the opportunity."
Yet with financial uncertainty, rescue packages and league reconstruction on the table, it's fair to assume a capitalist opportunistic approach adopted by Celtic may take advantage of the next batch of Scottish talent now available to the highest bidder.
Common sense dictates many teams may well be keeping their powder dry before thinking about the transfer market. Yet a few moves from Celtic of late possibly point to a counter tactical approach.
This week's appointment of Gary Penrice – formerly with Everton, Leicester, Stoke, QPR and Wigan – as Celtic's new head of recruitment, alongside former analyst Jay Lefevre from Arsenal as head of scouting operations, backed up by Mick Doherty – formerly of Everton and Chelsea – as senior international and UK scout, may point to the fact Nick Hammond's recruitment team could be positioning themselves for an opportunistic assault, as others look to consider selling the family silver just to ride out the Covid 19 storm.
The appointments themselves certainly smack of a more insular rather than international approach to scouting. The appointments look – on paper at least – to an English centric approach to the football markets, as we touched on earlier this week.
Yet as clubs in Scotland look for financial advances from the SPFL, it may well mean that clubs closer to home will not only consider selling their assets but could also indicate they could be considering a slightly lesser bid, should that money come quickly and be paid up front.
If Peter Lawwell is willing to furlough staff it's unlikely he'll miss the opportunity to asset strip local rivals when the opportunity arises.
As a man who is more than aware of his responsibility to shareholders, you'd assume he's already put the word out to pounce on those who need cash injections to stay afloat. Opposition assets therefore may mean a low outlay with the possibility of a high return to the English market at a later date.
Paddy Roberts and Celtic are a Perfect Fit, £3m is a Fair Price – Get it Done | The Celtic Star https://t.co/85iX76Qzp9

— The Celtic Star Editor (@CelticStarMag) April 18, 2020
Celtic have already been linked to Patrick Roberts and Rennes right back Brandon Soppy in the last couple of days, and although the French and English markets have been fruitful in seasons gone by, it's safe to assume that there may be a few targets closer to home that Neil Lennon would not be averse to adding to his squad.
Eurosport France Reporting on Celtic's bid for Rennes star Brandon Soppy | The Celtic Star https://t.co/UJPF4O63yJ

— The Celtic Star Editor (@CelticStarMag) April 19, 2020
So who may be the current Scottish top flight equivalents to the likes of Ryan Fraser and John McGinn sitting under the noses of the newly expanded Celtic scouting system?
The obvious one would be David Turnbull at Motherwell. The Fir Park midfielder was almost a £3million signing just last summer until a Celtic medical showed up an underlying knee injury that the player is now thankfully recovered from. His teammate Liam Donnelly's defensive midfield stats match up to our very own Scott Brown and is another we could look to consider.
Lewis Ferguson's Ibrox family tree may put some fans off signing the Aberdeen player, yet his combative nature shouldn't be overlooked as Celtic look to replace Scott Brown in the next 12 months. In fact it should be remembered all those years ago Scott Brown himself wasn't a player many Celtic fans wished to take on board given his own perceived 'Rangers' connections. That worked out okay didn't it?
Ann Budge might choke on her espresso at the thought of young Aaron Hickey returning to Celtic, yet given Hearts could be playing in the Championship next season, the young Hearts utility man will be top of the list as sellable assets for the Tynecastle club. The player himself is unlikely to develop his own skill set playing against the likes of Dundee or Inverness. I'm fairly sure both player and club would look to consciously uncouple, if so where better than Celtic? Moritz Bauer at £3million or Aaron Hickey at 500k, it doesn't seem like a tough old choice for player or club.
Elsewhere St Johnstone's Ali McCann would be a player looking at young player of the year awards alongside Jeremie Frimpong. Put out on loan at Stranraer last year he's made 32 starts this year for the Perth side and looks every inch a future international player, though sadly that looks like it will be for Northern Ireland rather than Scotland. Another of the Hutchison Vale conveyor belt of young talent, if Celtic haven't been paying attention to this lad then someone isn't doing their job.
⚽️ GOAL! Hamilton 1-1 Rangers

Lewis Smith gets Accies back on level terms

📻 Sportsound on BBC Radio Scotland digital & 810MW
📱 https://t.co/o1wja0790q pic.twitter.com/GYm2aLuyJV

— BBC Sportsound (@BBCSportsound) February 8, 2020
Lewis Smith at Hamilton Accies is another who could well be worth considering. A left footed central midfielder, his class and composure on the ball has stood out a country mile in a somewhat industrious Hamilton side. While more experienced players like St Mirren's Václav Hladký could be a cheaper alternative as a goalkeeping rival to Scott Bain and Fraser Forster than Craig Gordon, as his contract and that of Hladky's both expire in the summer.
As Einstein said, "In the midst of every crisis, lies great opportunity."
In Scottish football that opportunity could well be right under our nose. I doubt Peter Lawwell needs me to point out that the occasion for speculating to accumulate in the Scottish market has never been more open to grabbing low hanging fruit than it is right now.
Memories of McCarthy, McCarthur, Fraser and McGinn may just be the gentle shove our CEO needs.
Niall J
ALSO ON THE CELTIC STAR…
That Beautiful, Magical, Wonderful Day at Tynecastle – An extract from Invincible, by Matt Corr…https://t.co/2CHSF6vtQ4 @BroganRoganTrev @Auldheid @Boola_vogue

— The Celtic Star Editor (@CelticStarMag) April 18, 2020
INVINCIBLE by Matt Corr
The Celtic Star's very own Matt Corr – who you may also know as a Tour Guide at Celtic Park – publishes his first Celtic book, titled INVINCIBLE – early next month. This beautiful hardback book will be the definitive story of Celtic's magical2016-17 season – it truly is wonderful, a real joy to read, and brilliantly written by Matt.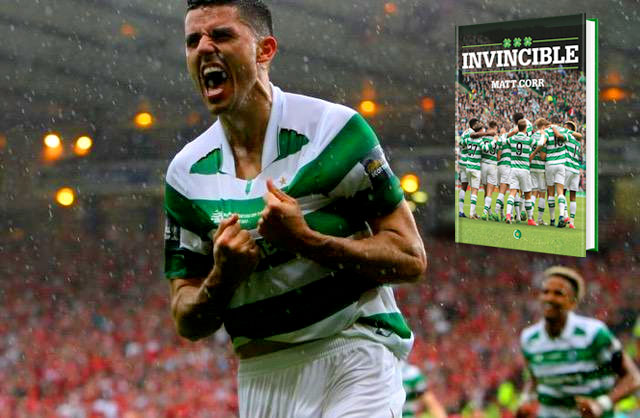 If you have been reading Matt's regular contributions on The Celtic Star or indeed in the Matchday Programme or in the Celtic View you will know just how talented a Celtic writer he is. The book is published by The Celtic Star and you can pre-order below.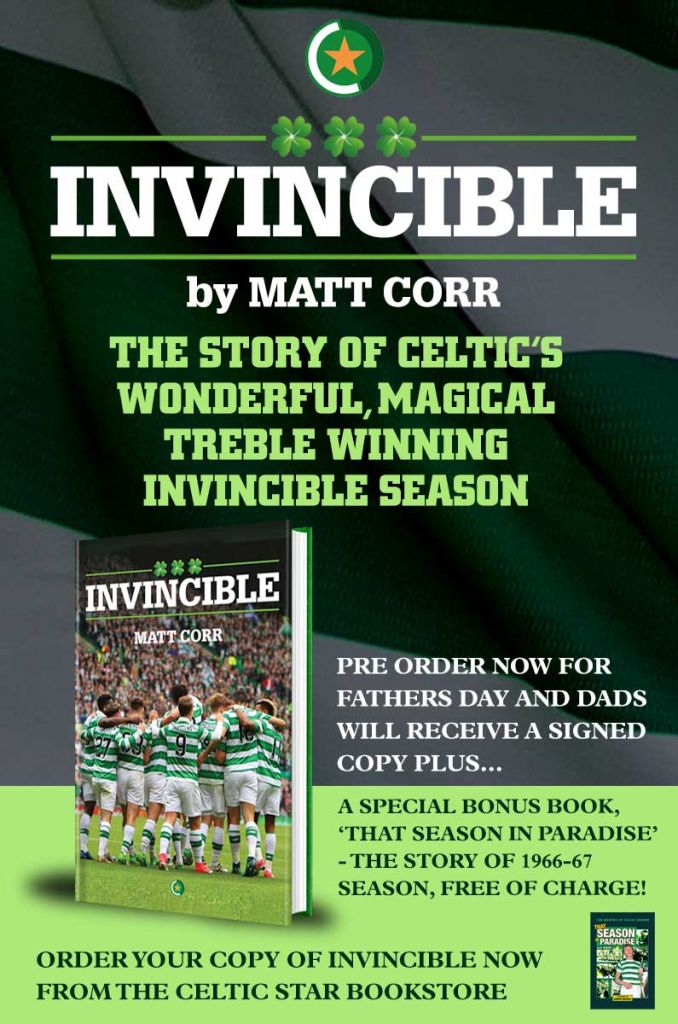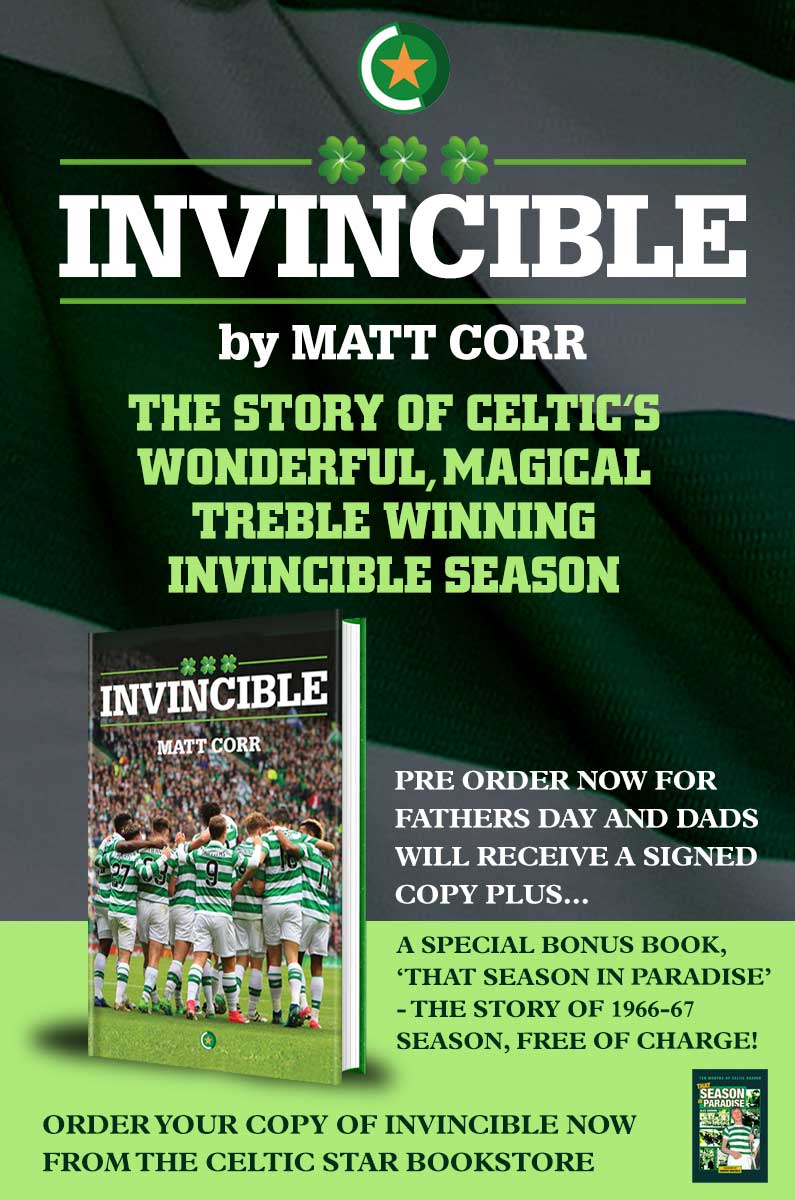 Support Celtic Youth Development
Help raise money for Celtic Youth Development by joining the £1 weekly lottery and you could win up to £25,000 – just click the photograph below to join. Lots of our readers have already done so and they're now doing their bit to help fund Celtic Youth Development that can deliver the stars of tomorrow and beyond. And you might even win a few bob too! And a special thank you to all The Celtic Star readers who have already signed up and are now supporting youth development to give us the Celtic Stars of the future…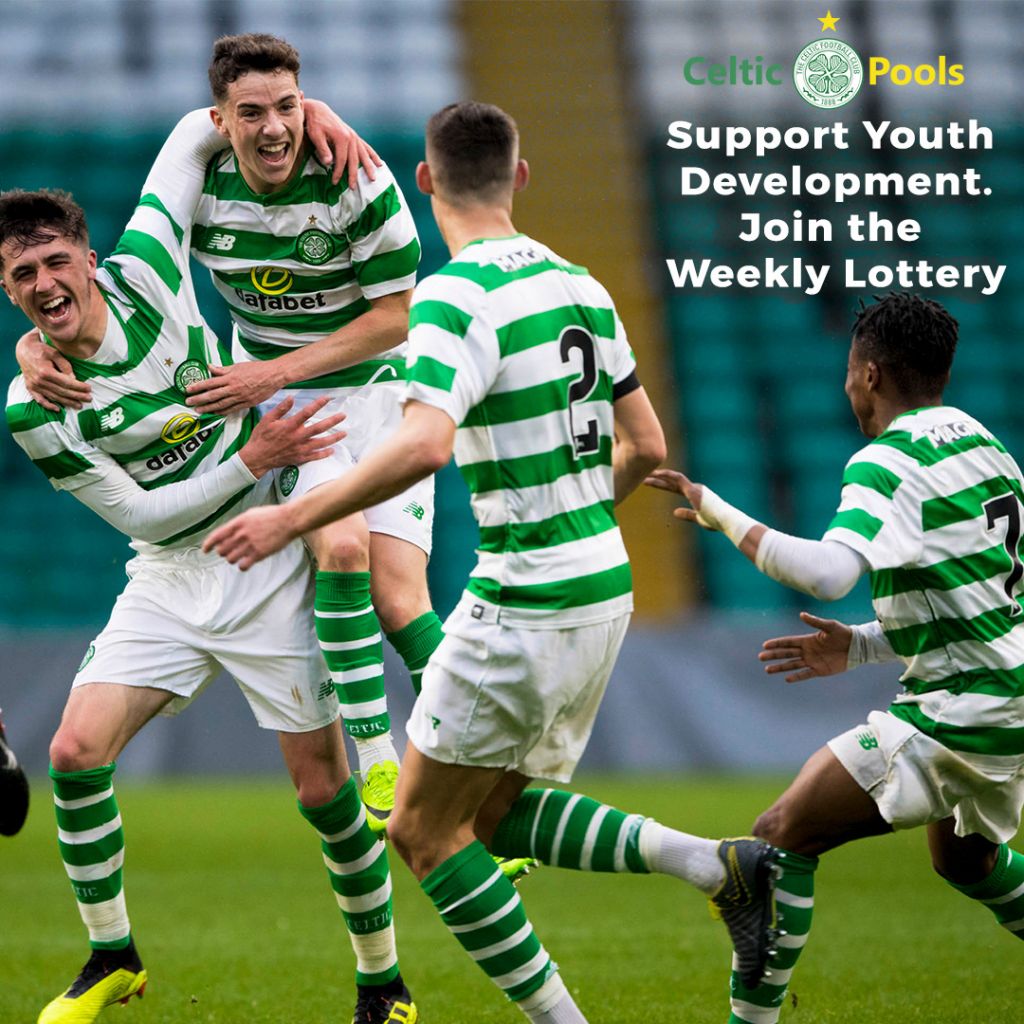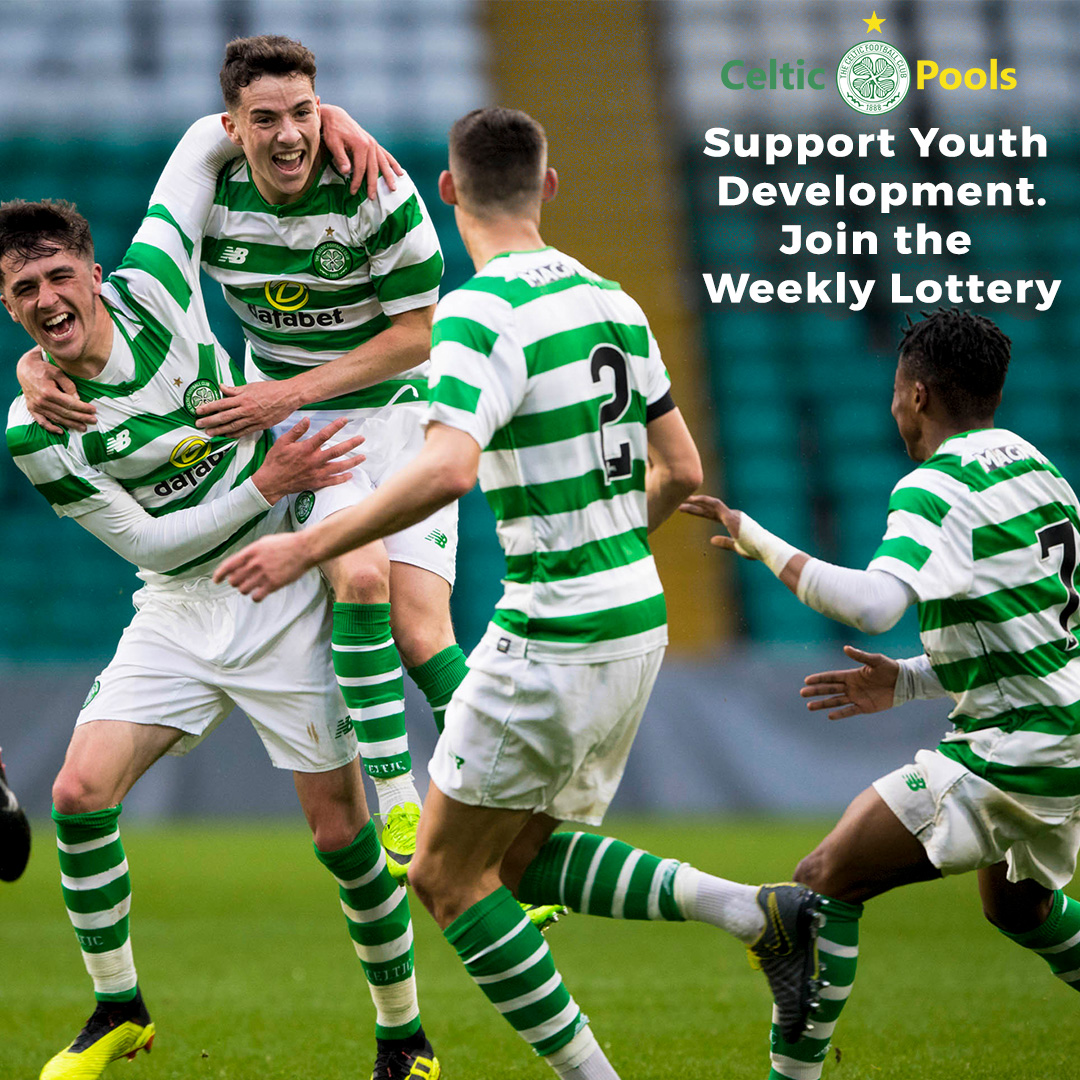 WANT TO WRITE FOR THE CELTIC STAR?
If you fancy writing for The Celtic Star, on any Celtic related subject of your choice?  If you do please email your contribution to editor@thecelticstar.co.uk and we'll get it on the site…this is how it feels!