One player who has really progressed under new manager Ange Postecoglou this season is Anthony Ralston, with his outstanding scoring performance for Scotland on his full debut against Armenia the icing on the cake.  When the Australian arrived at Celtic Park last summer, many assumed the right backs future would lie somewhere else, especially when the manager started clearing the decks of anyone he didn't think had a future at the club.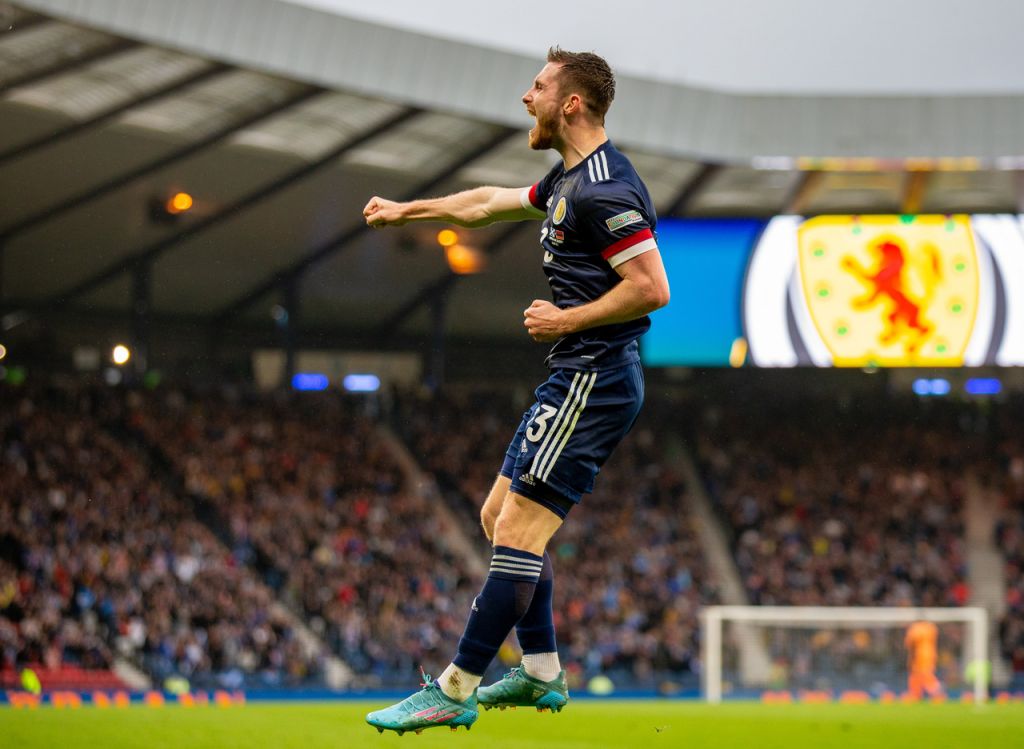 It's now well known that out manager likes to live by the mantra that if you don't want to be at Celtic then you are more than welcome to pack your bags and move on. Only wanting players who are willing to give everything to the club may be the thing that initially saved Ralston's Celtic career, because no matter how anyone rated Ralston's ability, the one thing we could all agree on was his passion for Celtic.
The previous season initially under Neil Lennon and then John Kennedy, saw Ralston make the grand total of one singular appearance. Initially he was in the pecking order behind both Jeremie Frimpong and Hatem Abd Elhamed. Frimpong was a very good player but by this stage was maybe starting to have his head turned by tales of clubs from bigger leagues showing interest in him. Abd Elhamed on the other hand admitted it was a struggle living in Scotland during the Covid pandemic and was getting home sick.
Frimpong departed during the winter transfer window to Bayer Leverkusen netting Celtic a decent fee while Abd Elhamed headed back to Israel after exclaiming that he missed his family too much and really struggled during the lockdowns. Ralston must have hoped he would start to get more game time but Celtic brought in Jonjoe Kenny from Everton on loan to plug the gap. Personally I thought Kenny was hugely disappointing which didn't look good for Ralston. If he can't get on the team ahead of Kenny then it doesn't look good for his future at the club.
With Celtic thankfully choosing not to pursue the permanent signing of Kenny, when Ange Postecoglou took over he didn't have much options at right back. This gave Ralston one final opportunity to try and do enough to save his Celtic career and Bhoy did he grasp it. We all knew Postecoglou would be bringing in a new right back so Ralston had to use the little time he had before then to try and make his mark. He quickly got to grips with the style Postecoglou wanted his full backs to play and started to look more than capable of doing a job at right back.
Celtic then signed Croatian international Josip Juranovic and many thought that would be the last we would see of Ralston but a situation soon arrived which would see Ange Postecoglou having to utilise both players due to a bad shoulder injury picked up by Greg Taylor. Juranovic was shifted to left back to cover the Scottish international and Ralston remained in the right back berth.
As Juranovic impressed at left back, Ralston wasn't to be outdone and was showing some fantastic form on the opposite side. Truth be told I think the majority of Celtic fans were shocked about his transformation under the new manager, very little of us could have predicted such an improvement. Ralston looked like a totally different player than we had saw previously. Not only was he more than competent defensively, he looked fantastic going forward and was getting more and more involved in our attacking play.
During the first half of the season Ralston was pretty much ever present. Once Taylor returned from injury the battle was on once again between who would be the first pick at right back. The manager seemed happy with both and was giving the pair of them opportunities but it did seem like Juranovic was maybe the first choice in the managers mind. The Croatian got injured however and Ralston ended the season once again as Celtic's number one choice in the position.
During the season Ralston managed a total of 5 goals and 9 assistants from right back which was an incredible input. I have previously done season reviews on both Taylor and Juranovic and their totals were nowhere near what Anthony achieved in this regard. I actually mentioned in both their reviews that they could be providing a lot more in an attacking sense and when you see these figures from Ralston you can understand why I think that.
Not only are his figures good but also the importance of those goals and assists. No one who looks back on last season will forgot that last second goal up in Dingwall that secured Celtic an absolutely crucial 3 points against Ross County. It really was one of them situations that you can point to and say 'this is one of the main moments that won us the title'.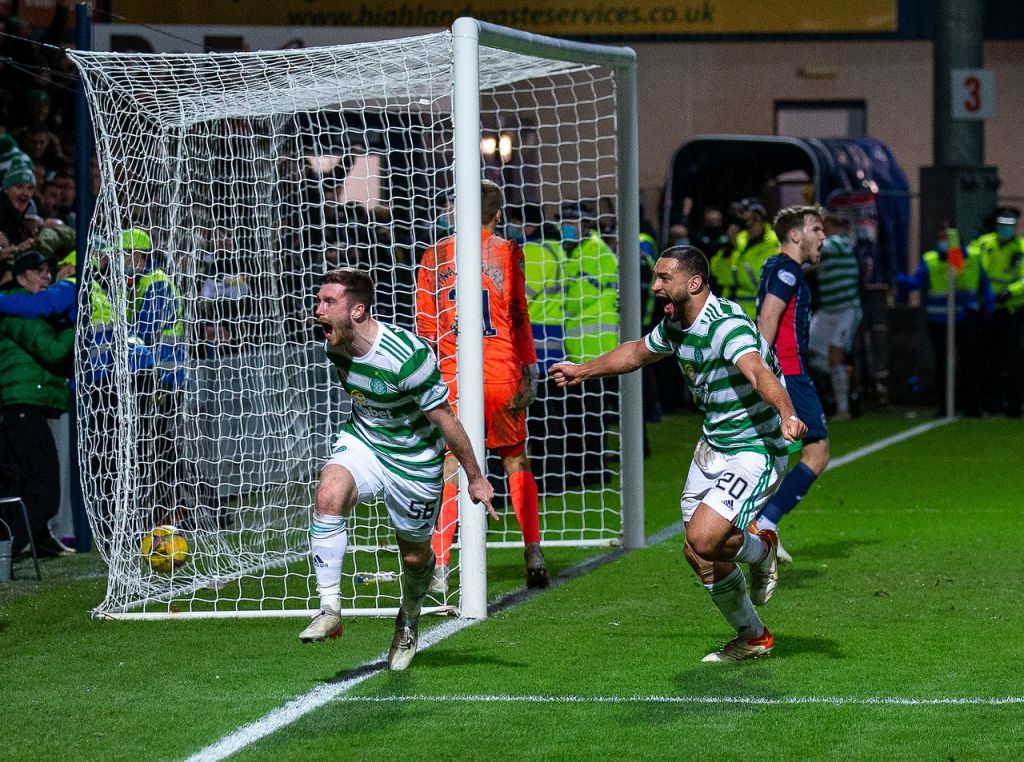 Ralston of course is not a finished product, at 23 years old he still has improvement in him. Last season was his first real full season were he was involved regularly so I expect him to improve from that experience and progress even further next season. It is fantastic having two very good right backs battling for the one spot, Ralston has even admitted in the past that the competition is driving both players on yet they are fully supportive of each other and enjoy the battle.
For all Ralston's positives it would be wrong for me not to point out that he does still retain some deficiencies. Although I think he is more than capable defensively, the one thing that does worry me is his pace. It's not really an issue going forward, but I have noticed that when a pacy winger runs at him he is often slow on the turn and can be left on his heels. Not a big problem playing in Scotland I imagine but it is something I could see teams at European level taking advantage of, perhaps even targeting. Being up against the likes of Jota, Maeda, Abada etc in training each day will hopefully help him in this regard.
It really has been a fairytale season for Anthony Ralston. He isn't the type to get big headed however and always maintains its a team effort rather than an individual one. It is a fantastic personal story of redemption that must be inspiring to so many of the youth players at the club, showing that it's important to never give up your dream of making it at Celtic and that with hard work and belief in yourself you will get an opportunity if you really want it.
At the end of the season Ralston had this to say, as reported by Daily Record:
"From a personal level, it's been an amazing season. I'm proud of some of the things I've achieved. But I never really look at myself, it's always from a team perspective.

"If, though, I ever take time to myself, it's obviously from where I was last season, not being involved as much, to where I am just now. I've worked so hard to get myself in this position, so I'm delighted. Even when things weren't in my favour last season, I always kept my head down and worked just as hard.

"I was always focused on working hard in training, so when the chance came I was ready to take it. That was always my mindset. So I made sure that happened".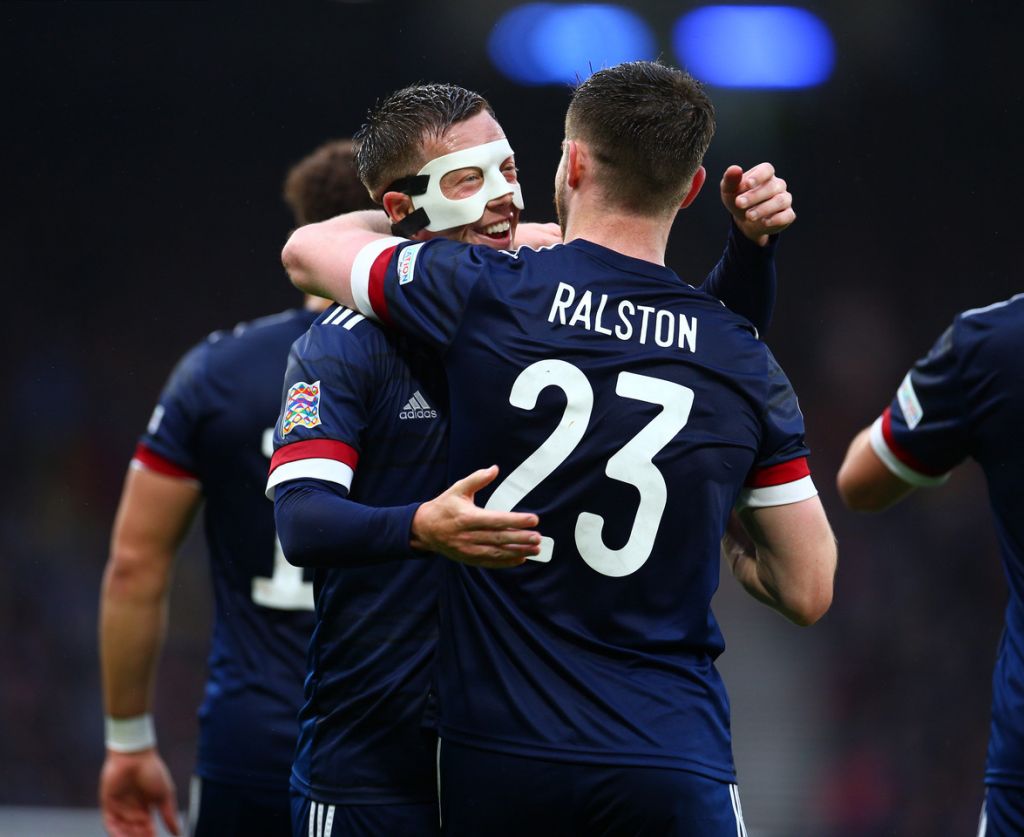 Ralston's fairytale season wrote yet another chapter last night when he got his first international start for Scotland and managed to not only score but to win the man of the match award against Armenia in the Nation's League. Many Celtic fans have been imploring Steve Clarke to show faith in the right back but up until now he has ignored him. He may be regretting that now. What a way to make your mark Anthony.
Finally I have to give my rating for Anthony Ralston this season and I will be giving him an 8/10. His progress has been incredible and it's a story that so many Celtic fans have enjoyed being part of. We absolutely love seeing one of our own make it in the first team and with a new contract under his belt I can only see things getting better for Anthony. He certainly deserves it.
Conall McGinty
GET YOUR INVINCIBLE AND TWICE AS GOOD T-SHIRTS NOW FREE WITH MATT CORR'S BRILLIANT CELTIC BOOKS
You want one of these? It's completely FREE when you purchase INVINCIBLE or TWICE AS GOOD* from Celtic Star Books website, just click on the relevant link below to order your copy and when you do select the BOOK you want then add the T-SHIRT SIZE you require from Small, large, XL or XXL, adding that after your name so we'll know which size to send you…(please note that all medium Invincible t-shirts are now sold out).
*£1 from every copy of Twice as Good will be donated to Marie Curie in memory of Harry Hood and in line with the wishes of the Hood family.
Order Invincible here…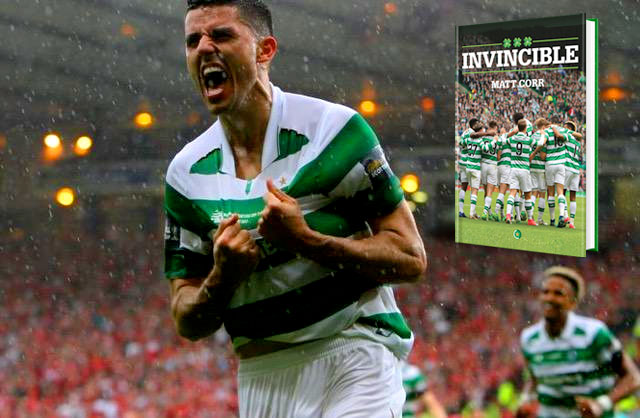 And order Harry Hood – Twice as Good here…