With Celtic uninterested in signing on-loan defender Jonjoe Kenny from Everton permanently at the end of last season after an underwhelming spell in Glasgow, a crucial area that needed cover was the right back position. With Celtic only really having Anthony Ralston to call upon in that position, and with many at the time seeing him as nothing more than an able understudy (not many will think that now), it was imperative that Ange brought someone in capable of hitting the ground running.
Juranovic made his Celtic debut at Ibrox in the Glasgow Derby, showing his versatility with the manager choosing to play the Croatian at left back to cover Greg Taylor who had injured his shoulder in the previous match against AZ Alkmaar in the Europa League qualifiers. He put in a fine performance but unfortunately couldn't prevent his team going down to a 1-0 defeat, even though they were probably the better team on the day.
Juranovic has played a total of 35 times for Celtic, in a season that has been interrupted by injury. In that time he has scored 5 goals (all penalties) and had 2 assists. Juranovic has became the most reliable penalty taker the club has had in a long time. Missing penalties had became a bugbear of mine over the past few seasons, with Celtic seeming to go through an endless amount of takers who were inconsistent to say the least. It's a relief to finally have someone you can fully rely upon in that department.
I have to say that as an attacking full back I'm surprised Juranovic hasn't added more assists to his game. In a lot of games domestically, Celtic's full backs are almost exclusively positioned in attacking areas so you would expect them to be providing a lot more than 2 assists throughout the campaign, especially one in which we scored 92 goals in the league.
The only slight criticism I have, well it's less a criticism more something I think he could improve on, is his final ball. Juranovic gets himself into some excellent positions going forward, using both speed and skill to beat opposing players, then let's himself down with a poor cross into the area. Often we have a few attackers in the box at the time and it does feel like a wasted opportunity.
As for his overall input during the season however, I have been more than impressed by the contribution made by the Croatian. His work rate is excellent and he is the type who always gives his all and isn't scared of a battle. Defensively I think he always looks solid, good in the tackle without giving fouls away he also seems to possess good positional sense and doesn't get caught out often in that regard.
He stepped up when Greg Taylor was injured and never complained about being played out of position during the two months in which he was utilised at left back, even though it was clearly difficult for the player, especially in an attacking sense with him having to constantly try to get the ball onto his stronger right foot before sending crosses into the box.
He was also hampered by injury this season and missed the conclusion of the league, which must have been hard for him having put so much effort in during the campaign. I expect Juranovic to progress further next season as I still don't think we have saw the best of the Croatian international in a Celtic top.
He of course will once again be in a battle for his position with Anthony Ralston next season and that can only be beneficial to both players, knowing there is someone pushing you all the way each day in training. With both Juranovic and Ralston tied down on long term contracts I think this is one area Ange will feel is covered and I doubt Celtic will be looking to bring anyone else in to challenge the pair this summer.
Overall I think Juranovic more than played his part this season. Him being able to cover Greg Taylor so efficiently over a two month period was vital as the other options such as Bolingoli, Scales and Montgomery weren't at the standard required to cover the position for such a long period. It was good to see him return to his more natural position at right back once Taylor was free from injury and I think we saw the best of him over the next few months. Even though Anthony Ralston performed so credibly in the early part of the season, not many of us complained that Postecoglou clearly saw Juranovic as his number one pick in that position.
I would say Josip Juranovic earned a 7.5/10 throughout the season. As I mentioned earlier I have high hopes that there will be more to come from him next season, but as for last season he can look back and know he played a big part in what Celtic achieved.
Conall McGinty
GET YOUR INVINCIBLE AND TWICE AS GOOD T-SHIRTS NOW FREE WITH MATT CORR'S BRILLIANT CELTIC BOOKS
You want one of these? It's completely FREE when you purchase INVINCIBLE or TWICE AS GOOD* from Celtic Star Books website, just click on the relevant link below to order your copy and when you do select the BOOK you want then add the T-SHIRT SIZE you require from Small, large, XL or XXL, adding that after your name so we'll know which size to send you…(please note that all medium Invincible t-shirts are now sold out).
*£1 from every copy of Twice as Good will be donated to Marie Curie in memory of Harry Hood and in line with the wishes of the Hood family.
Order Invincible here…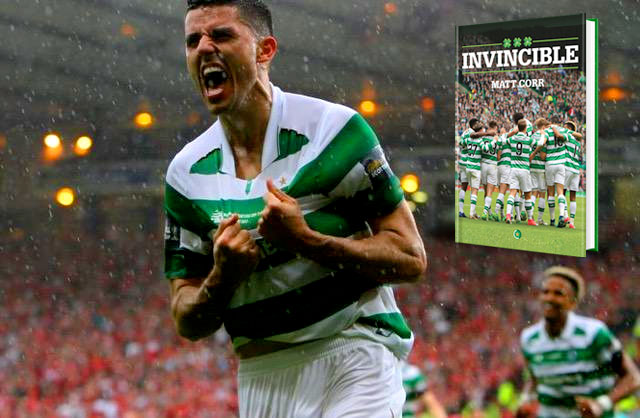 And order Harry Hood – Twice as Good here…