FOLLOWING the anniversary of Celtic's UEFA Cup final appearance in Seville, The Celtic Star asked for your memories of the pilgrimage of 80,000 supporters to the South of Spain back in 2003.
Here is Steve's experience from Seville involving renting a car and meeting the Mayor of Seville.
My Seville story starts in London. This is where I live, having done the flit as a young boy in 1972. (apparently I'm the only person who has been the prestigious Celtic Boy twice. So I was told way back in the early 70s,.that's another story to tell at some point).
So after the semi final. My Mum said are you going Son, I wasn't able to sit at a computer for hours trying to source a ticket. My elderly Uncle who had been a great friend to all the Lisbon Lions and could probably get me a ticket with his vast network of contacts. However at this time he was not in good health and I didn't want to trouble him or the family.
I thought this is on me to get there with or without a ticket.. Just had to be with the Greatest fans (family) and experience the occasion following my Team.
So I flew out from Heathrow on the Monday, heading to Malaga, and as we all know now, everything direct was booked up.. I had to go via Zurich, then connect flight to Malaga.
Terminal 2 at Heathrow is the European Business travel terminal. But at 6am all I saw was a Green and White carpet of flags, Scarfs, Celtic Shirts of all era s. It was a lasting memory, especially as the high powered suited businessman and women, also were in dis belief in what was in front of them. Truly Spectacular.
So once on the plane, which was a mad mixture of Gucci suits and sweating Scots, all singing the Celtic songs, I'm sat with a guy from Dundee, who had bravely told his missus, he'd been lucky to buy a ticket on line from a guy in Seville, and was arranging the meet on arrival, ticket cost £795.00 as I recall. She bid him a good luck message, "We're divorcing when you get back" Some women just don't get it!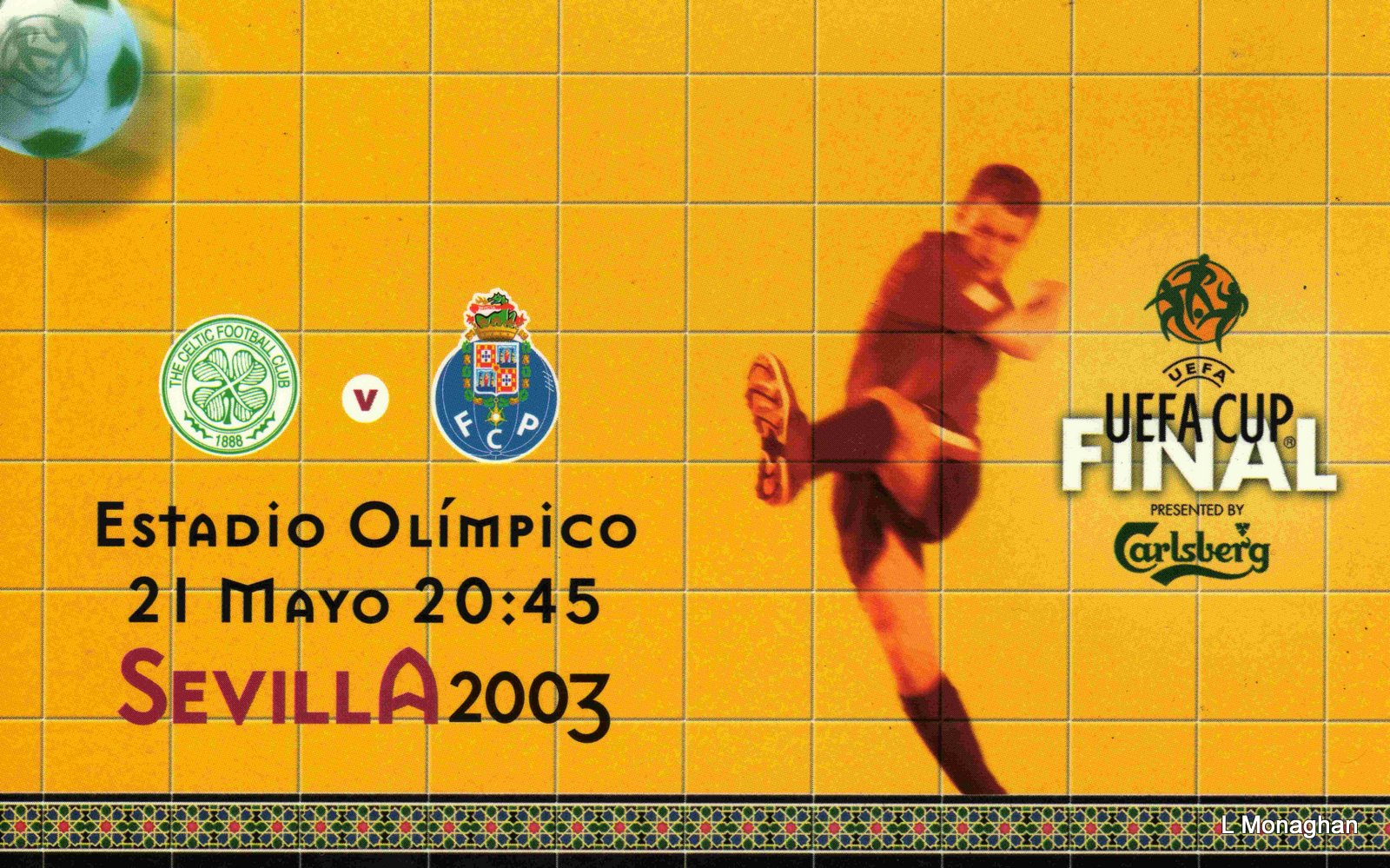 I eventually get to Benelmadena, where I'm to kip on the floor with my great pal Chas Paterson and his wee boy David. That'll do for me.
Chas had promised in earlier conversations that he was getting seats on the bus to Seville. That was the plan. Chas forget to tell me he could only get the two, but I was on board if there was going to a drop out… As if..
So with less than 24hrs before kick-off I'm trying to arrange travel to Seville, three hours away. No chance Every bus overbooked up.
Now for some reason I had taken my driving licence with me, Thought maybe needed as extra identification document. I certainly wasn't planning on driving, had only driven abroad once before, and it did go well.
So I'm in the hotel reception, and a new party of bhoys arrive, checking in, asking where they can book the bus to Seville. I'm hearing this, and being in the know, tell them all seats taken, And kind of dawning on me. The tele in the hotel is the nearest to Seville any of us are getting..
When they hear this, their faces drop and a sense of panic and the blame game, who should have done this or he could have done that.. They all had tickets but it was getting a bit fruity. They needed a chill out beer or two..
So I see them in the bar, calmer now, I go over and ask there 5 of them, Why don't they hire a car between them. The hotel had the facilities on site..
'Cheers pal, but the only one whose got a licence is the young boy here.. And he's only just passed his test. So it's a no.. And the thing is we've all got tickets… And can't get there.'
A light bulb switched on.. 'I'LL DO THE DRIVE! You hire the car, I've got my licence, let's do it.' I didn't have a ticket but I wasn't bothered, I was doing it the "Celtic Way" helping them get to the game, and me to Seville for the biggest Green and White party I'd ever seen.
So it's the morning of the game. Car getting sorted, guys are buzzing, the hotel empties and coaches are filling up.. The hotel (can't remember the name) had a wee hairdresser from Manchester in her salon had come up with a novel hair colour style of Green and White hoops. I'm having that I said.. The bhoys see my new hairdo. Love it, and pile back off the bus.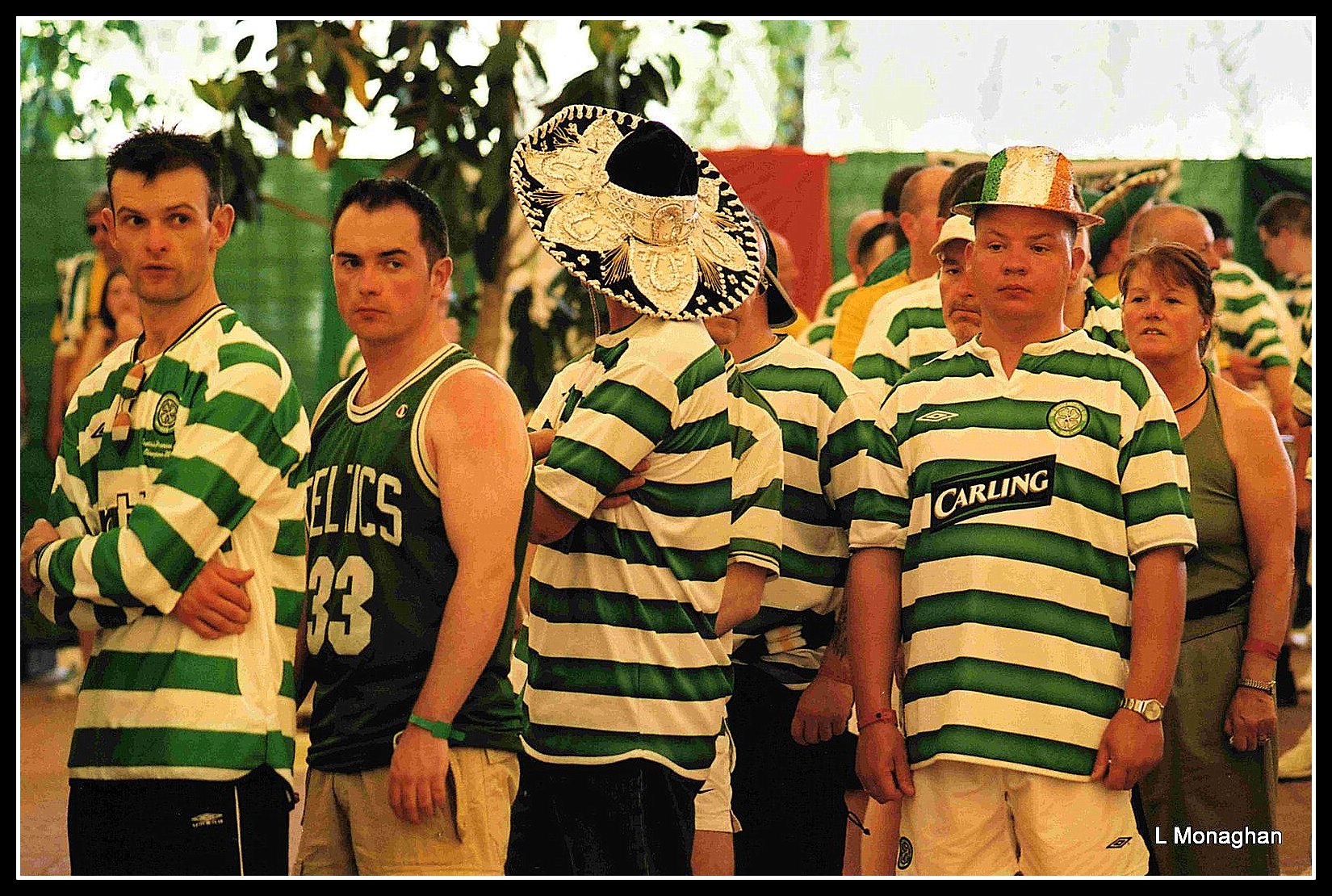 So she's now got a queue of fellas wanting green and white spray paint on their heads… I said you need an assistant.. Yeh and she's not due in for another hour… Give me a can, and a strip of cardboard, I'll do it.
So for Ten quid we had set up a conveyor belt of Green and White Hair styles. She made a wee fortune that hour..
So all in place. New hairdo, guys all loaded into the Focus Estate.. Seville bound.
The journey was for me quite an ordeal. Here I am driving a brand new car. No real experience of driving abroad, concentration levels right off the scale, already soaking in sweat cause it 90degrees at 11am full of hyper adults.
Now normally I'd be right up there with the best of them on all levels but I was in hero mode. Had to get my new found crew to Seville in one piece. The amount of coaches on the road, all from Malaga and basically the whole of Spain was again a lasting memory of the trip..
So we get to Seville, all sober. And park the car in an underground car park, arrange to all meet up in the morning, whatever time that means..
So we walk into the Centre and into the wall of Green and White. Amazing…
The lads had arranged a meet for a drink before with other s they knew were in town. I had tracked Chas and wee David to a bar in the old part.. So wee wished each other the best luck, have a ball and we'll meet up in the morning…
I've sat down enjoy the whole atmosphere, then see some lads out of London I know, Pull up a chair bhoys.. Drinks, stories on how we got here, and so much singing.