So it's time to get to the game for the lucky ones with tickets, I like thousands others was going to be at the video park. As we are making our way, we're hearing some things not going well on the massive screen, whether it was broken or the sun was hitting the screen. It wasn't happening there.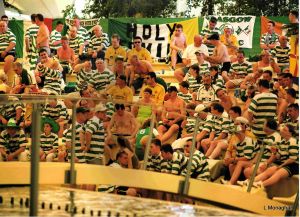 I'm still with the Bhoys I knew from London. Oh forgot to mention one had broken his leg on the Monday in Spain and was in a cast. So walking with him in toe wasn't ideal. So we're looking out for him, trying to find somewhere decent to see the game..This guy from down a wee side street.. Boys please come here, free jugs of beer. Watch the game in my bar.. NO BRAINER.
The free beer was just the first jug, but he had laid out around six on other arrivals, who soon filled the wee bar. But at least we were in the shade. Chilled beer and no problems with the tele.. Wasn't the big 55inch HD TVs that we're all used to now, more 24inch Sony Trinitron! That's one for the more senior of us..
Anyway our host George could not have been more friendly and was always asking me about Celtic. Our amazing fans etc.. I not realising, cause I was first in probably, became the fountain of Celtic knowledge to our newest fan…
OK the game. Well we all know Mourinho's chosen tactics were not sporting of any final. Shocking and embarrassing to say the least. At the final whistle after the team had given everything, the whole bar broke into Celtic Celtic.. A tear did trickle… So proud of our team. Our club and the supporters who never stopped singing.. We had lost the game, but it didn't matter cause we were all in it together… Memories again..
Sorry, but this story still has a little bit more to give. The bar empties, hugs, kisses are all given out, regardless of gender. We were all feeling a bite of a loss, as if a family member or dear friend had passed. It was that much of a body blow at the time.
I wasn't going anywhere in a hurry. Still in the nearly empty side street bar. George trying his best to lift my spirits. His wife as well. They asked if I was going anywhere.. I told them meeting up in the morning, with the other guys I'd brought to Seville.. Stay and have dinner with us.. Please they said… Dinner its about 11.00 I'm thinking.. So I obliged, we had I think, tapas or Similar. I was just thinking it's usually a manky kebab about now… Sample the local culture and quisine.. I needed to eat. Too much lager, hardly any food. Beautiful food, great hospitality.