CELTIC play Rosenborg later tonight and this morning we are looking back with a tear or two in our eyes, on a great Q&A interview from 2013 with the late, great Tommy Gemmell – The Celtic Star who scored in TWO European Cup Finals for Celtic. Hopefully you have been enjoying the first three instalments, here's part 4…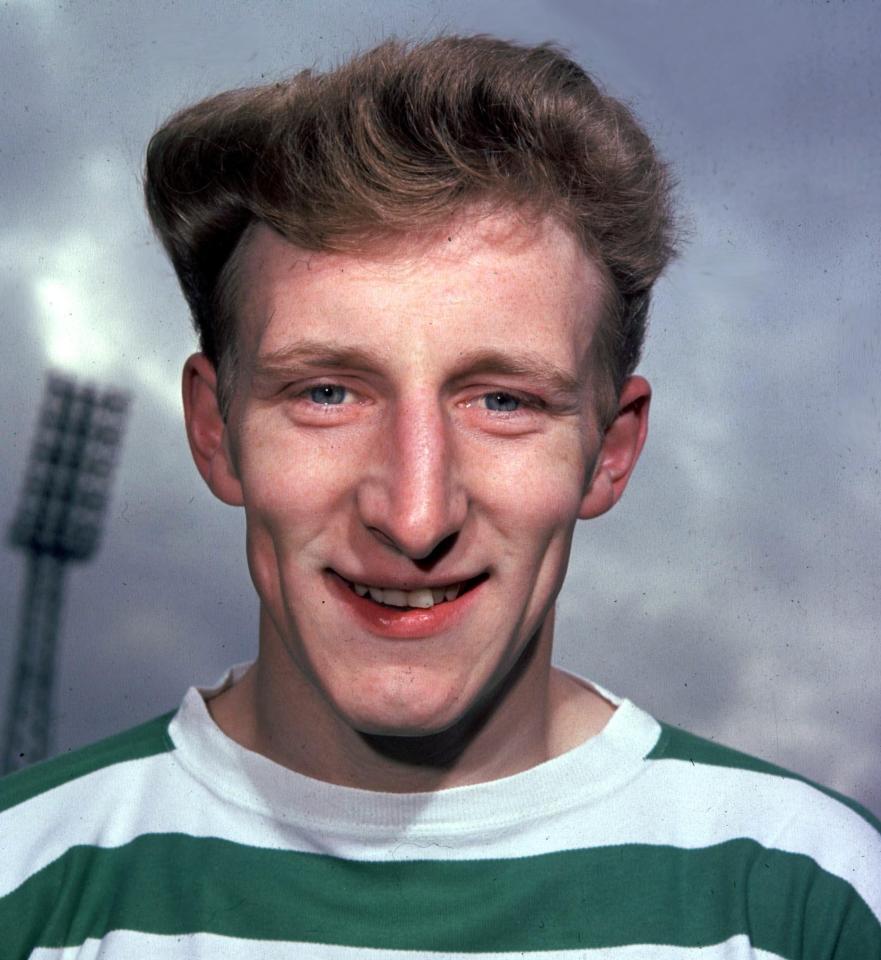 Obviously, in hindsight, Big Jock cannot be criticised for his team selection on that day in 1967, but on the day prior to kick-off when the team was announced, was there a player who's exclusion from the line-up raised eyebrows in the dressing room amongst his fellow team-mates and you?
The outcome of the European Cup Final tells you Big Jock got his team selection spot on. Remember, this was the same line-up that had earned the goalless draw against Dukla Prague in Czecholsovakia to get us to Lisbon. Also, it was the same selection that had beaten Aberdeen 2-0 in the Scottish Cup Final only a few days after Prague. So, it was a fairly settled formation. Players such as John Hughes, in particular, Willie O'Neill, Charlie Gallagher and Joe McBride made solid contributions earlier in the competition, but the team that beat Inter Milan was obviously the right one for the occasion.
Henrik Larsson at his peak, would he have got into the starting line-up for Lisbon 1967?
You only need to read this book to discover how highly I rated Henrik. But, no, I wouldn't have had dropped anyone to get him into the Lisbon team. Here's a good wee story, though. Jim Craig was working for Celtic TV at the time and he was interviewing Wee Bertie. He asked Bertie the same question. He thought for a moment and said, 'Let's see now. I think I would have chosen Simpson, Larsson and Gemmell.' Not sure if Cairney saw the funny side!
Tommy, who were the biggest cheats that you played against? Also, how good was that Benfica side which we demolished 3-0?
Easy answer to the first question – Racing Club of Buenos Aires by a mile. I talk about these poor excuses for sportsmen elsewhere, but all I would add is Sir Alf Ramsey got it right after England had played Argentina in the World Cup quarter-final in 1966. Alf didn't hold back when he was asked about the performances of his country's opponents that day. He branded them 'animals'. Which is a bit of an insult to the wild life out there.
On the second question, that Benfica team was one of the best we had ever played. Any line-up with Eusebio in it is bound to be handy. We were brilliant the night we beat them 3-0 and my goal, as you will undoubtedly know by now, is still one of my all-time favourites. They gave us a bit of a doing in Lisbon, though. They really went at us and it was 2-0 with only a minute to go when they tied the game 3-3 on aggregate. We managed to get through a fairly hectic thirty minutes in extra-time before Cesar called it right when it came to the toss of the coin. Thank goodness!
Question for Tommy, straight from the hip. A relative of mine travelled on the team plane to the Feynoord Final. He told me all was not well on the flight over and that he thought you and Jinky at one stage threatened not to play until a bonus dispute was resolved. Is that true? And, if so, could it have affected performances in the Final?
Absolutely not true! Someone's definitely got their wires crossed. Does your relative enjoy Duty Free before flights! There's no truth in that whatsoever. Jinky and I refusing to play in Milan? Are you kidding? If that had been the case, Big Jock would have booted us off the plane while we were a few thousand feet up in the air.
Yes, I've heard so many stories about a bonuses row before the game, but if it happened I wasn't aware of it. We never knew what sort of extra payment we would get from the club. That was left with the directors. For instance, if we won the Scottish Cup we would probably find an extra £250 in our wage packet the following week. Pay advice would tell you what the extra money was for.
We were beaten by a very good Feyenoord side in that Final. Give them credit for the performance of a lifetime. They caught us totally unawares and were a far superior team than we expected. End of story.
Tommy, how did the team prepare for the Final in Milan and how did this compare to the preparation for Lisbon? In particular, how did both the players and manager's approach differ regarding the build-up to these two Finals?
Sadly, I have to say it was night and day. We were well primed for the 1967 game against Inter Milan. Big Jock left absolutely nothing to chance. Three years later it was a different story. Possibly, we thought we were as good as European champions after our home-and-away wins against the seemingly 'invincible' Leeds United in the semi-final.
I wouldn't say we were complacent against Feyenoord, but we might just have been a bit over-confident. The pre-match planning just wasn't the same and it was most unlike Big Jock to under-rate opponents. On this occasion, alas, that's exactly what he did. And that got through to the players.
Don't forget the calibre of the Dutch side on the night. Don't take anything away from them and a lot of people wouldn't have realised this, but they actually won the Intercontinental Cup – aka World Club Championship – when they beat Argentina's Estudiantes 3-2 on aggregate later that year. They won 1-0 in Rotterdam and drew 2-2 in La Plata.
Actually, they came from two goals down in that game to force the draw, so that surely underlines how good they were. Take my word for it, though, we would still have beaten them in a replay.
Do you think that the Lisbon achievement helped the wider Scottish public accept Celtic and its supporters more than was previously the case?
Definitely. I knew Rangers supporters who applauded our European victory. Privately, of course. Their players, too, talked about our achievement. Scottish football benfited greatly from Celtic's presence. We showed the world we could play in a sporting and praiseworthy manner. We were good for Scotland and, of course, our supporters are now, rightly, recognised as among the best in the world – if not THE best.
Enjoying the chat with Tommy? Part 5 will follow shortly…