We have been looking back this morning at a great Q&A with the late, great Tommy Gemmell. We're now onto Part 5 – if you have missed the early conversation with the Celtic legend please look back on The Celtic Star to enjoy.
Here's Part 5…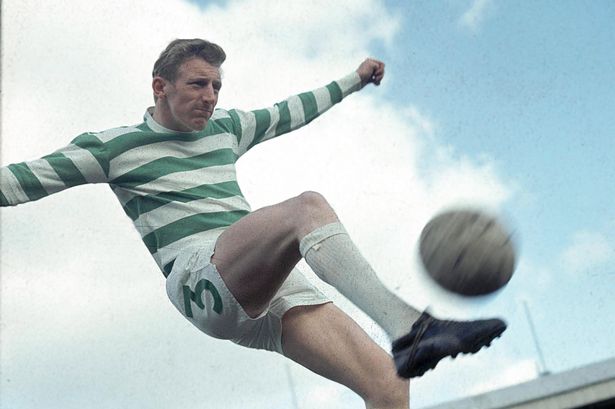 Immediately after the European Cup Final, I took to the streets with my pals to play football. I was doing one of those commentating while I played routines. 'And Gemmell shoots' I shouted as I didn't quite connect with the ball, kicked the ground and ripped the sole off my school shoes. My mother blames you to this day. My question is, do you think 47 years is long enough to hold a grudge?
I think 47 years is long enough to take your shoes to the cobblers. And, by the way, did you just say, 'And Gemmell shoots'? Shouldn't it have been,'Gemmell shoots…and Gemmell scores'?.
A question for Tommy, my favourite Lisbon Lion! Do you still think the incident with Haller was the beginning of the end as far as your Celtic playing career?
No, not all. Celtic frowned on one of their players being sent off while on international duty, of course, and I was punished by being dropped for the League Cup Final against St.Johnstone. Remember, I was still good enough to be selected for the European Cup Final against Feyenoord in 1970. It was December 1971 when I finally left the club I loved, so there was a lot of football played with Celtic between the Haller incident on October 1969 and when I moved to Nottingham Forest.
Tommy, I'm too young to have seen you play in the flesh, but when I hear your name the first thing that comes to mind (as well as that goal in Lisbon) is thundering long-range shots. Is that something you could always do or was it a case of mastering the technique? Also, is there anyone else in your day or the modern game who you think could strike the ball harder?
It was a question of practice, hopefully, making perfect. I spent around 25 to 30 minutes after the usual training sessions at Barrowfield bombarding Ronnie Simpson or John Fallon with long-range drives. I worked on the technique throughout my career. I don't know about anyone being able to strike the ball harder. It's a lighter ball, for a start.
Which player in your professional career was the toughest opponent to play against?
Jinky in training! Seriously, Bestie was always a handful. I played against him in internationals and in friendless and he was always a real threat. Like Jinky, he had the heart of a lion. There's no way the Manchester United legend was ever intimidated. A smashing wee guy on and off the pitch. And I can't forget Wee Willie Henderson. The Rangers winger was one of the top players in his heyday.
I wasn't lucky enough to have seen the Lions in the flesh (just a few short years ahead of my time), but it annoys me when I hear talk of Rinus Michels and Ajax being the founders of Total Football. I can only speak of the games I've seen on TV, but from the Final in Lisbon alone, I'd have to say Big Jock and you and your team-mates were the originators of Total Football. In the big scheme of things it's not a massive headache, but have you any thoughts on this and outside of Scotland do you think that performance in Lisbon has not been given the weight in history that it should have done?
The Dutch got the credit for Total Football, but, you're right, we were doing something similar at Celtic from the early days of Big Jock. He wanted players to play to their strengths and be comfortable when they were on the ball.
I could have been an outside-left if you look at the way we played. Bobby Murdoch was a genuine two-footed player who could easily have adapted to life on the left. John Hughes could perform on either flank as well as centre-forward. Willie Wallace, Stevie Chalmers and Bobby Lennox could also operate in wide areas.
And Wee Bertie kicked off his career as a left-winger before moving inside as a midfielder. So, yes, there was a lot of versatility in the team. Jim Craig didn't score a lot of goals, but he did an awful lot of unselfish running up and down the right wing. And what can I say about Wee Jinky? He could roam all over the place and look the part anywhere.
He might have struggled at centre-half, though! I think Celtic got a lot of deserved praise throughout Europe for the way we performed in Lisbon. The name of the club may not have had the glamour of Real Madrid or Barcelona, but I think we proved once and for all on that unforgettable day that we were not a collection of country bumpkins from Scotland. We were a team of class and substance.
Question to Mr Gemmell in my best Jim White voice, 'How come you're so good?' Thank you, Tommy, for nearly a full lifetime of pointing to the Big Cup and saying to Them, 'Look what we won!' Thank you, thank you and thank you again!
Thank you, too! Why was I so good? Very kind of you to say so. Personal accolades are all well and good, but I never lost sight of what I had to do in the Celtic team. I was part of a unit. I may have hit the headlines with the odd howitzer, but John Clark could have played as big a part in any victory in his quiet manner in the heart of our defence. He rarely got the headlines, but all the players knew what he provided on an exceptional and consistent basis.
Tommy, in his autobiography, Bertie Auld said he loved playing with you. Was he any good?
No, I believe he was well over-rated! No-one would have ever heard of him if it wasn't for me doing all his work on the left-hand side of the pitch. Only joking, Bertie! What a player and what a left peg. He and Bobby Murdoch were the best midfielders I ever played with. Wee Bertie was the finished article – he could tackle, pass and shoot. Not bad for a guy with only one foot!
I was at the 3-0 Benfica game as an 11 year old when you scored that belter. My question is, 'What was the feeling after that game, was it that we were comfortably through or did you expect a tough return leg?'
We knew it would be difficult in the Stadium of Light. Okay, we were three goals ahead, but Benfica were an attacking team who scored goals for fun in their national league. And no team with a player such as the great Eusebio could ever be written off. That was a hard night in Lsbon, but, thankfully I've got better memories of the Portuguese capital.
Tommy! Will chance my arm and ask two questions! You are one of the most successful Celts of all time, but, of course, the start of your career was a time of failure for Celtic. Even as late as 1964 Celtic seemed destined for continued mediocrity. As a professional in the early, early part of your career, what were your thoughts AT THE TIME about the club, the management and your own and Celtic's future? Also, you often played behind John Hughes in your career. Big Yogi was another of my all-time favourites, but he struggled for consistency. At his best, one of the most exciting players I've ever seen, when off form, though…Anyway, can you recall any specific occasion when John made you go WOW? (In a good way lol).
First up, I was chuffed when Celtic signed me. I always dreamed of playing for Motherwell, but thank goodness that never happened. Celtic may have been in a bit of turmoil at the time, but they were still a massive club. People kept referring to them as 'a sleeping giant' and I just wanted to play my part in helping to bring them out of their slumber!
I always saw my future at Celtic.
I never hankered after a move and was only too willing to do what was necessary to get the club back to its rightful place at the top. Big Jock gave the place a real shake when he arrived and deserves great credit for that. There was no longer any interfering from above in team matters. It's was Jock's way or no way.
Yogi could be exciting and exasperating, but what a player when he was on form. To be fair, he was more often brilliant than not. He caused defences no end of hassle when he was on song. At times he was unstoppable. I recall his one-man show against Rangers in January 1966 when we were trailing 1-0 at the interval. Yogi ran amok in the second-half, shredded the right side of their rearguard and they fell apart. Stevie Chalmers, with a hat-trick, Charlie Gallagher and Bobby Murdoch scored in a fabulous 5-1 win.
Inconsistent? Name me a player who was 100 per cent consistent.
That's Part 5 concluded – we'll be back in an hour with the next instalment.