On a personal level, I don't like international football. Not only does it mean that Celtic aren't playing, but it runs the risk of injury to our players, let alone Covid-19 being a new threat. However, another reason for my growing dislike of the international game is the sad and pathetic arguments that emerge between Celtic fans over whether they should be supporting Scotland or Ireland.
I put out a tweet addressing the matter in as few words as possible:
Some Scottish born people feel more affinity with Ireland because of their cultural upbringing.Others identify with their birthplace. Nobody can tell you how to feel.Sad to see Celtic fans arguing about this to be honest

"An Irish club, but a Scottish institution" Billy McNeill

— Liam Kelly (@cfcliamk96) November 12, 2020
At the heart of the issue, it really is that simple and the fact that some Celtic fans take issue with cultural identity being different from place of birth is pretty pathetic. We should know better given our history. It's the sort of argument I'd expect to see on Follow Follow. On the flip side, the fact that some fans dislike people identifying with their birthplace rather than their background is also nonsensical.
Let me first explain the relevance of Irish identity to Celtic Football Club and then match that with the Irish and Scottish identity of different supporters. Both are absolutely legitimate. Billy McNeill once described Celtic as "An Irish club, but a Scottish institution."
Firstly, at the core, everything about Celtic Football Club's culture and history is Irish. Before slamming the laptop shut, allow me to explain using facts.
The club was founded by a number of Irishmen and descendants who identified as Irish (except David Meikleham). Celtic was formed to feed the needy children in St Mary's, St Michael's and Sacred Heart Parishes – Catholic children, almost entirely from Glasgow's Irish community. Our first fans were Irish, or of Irish descent, and their children needed fed, along with their pride needing restored, because they were rejected by Scottish society due to having a different faith and culture, as well as being seen as a threat to the native population's employment.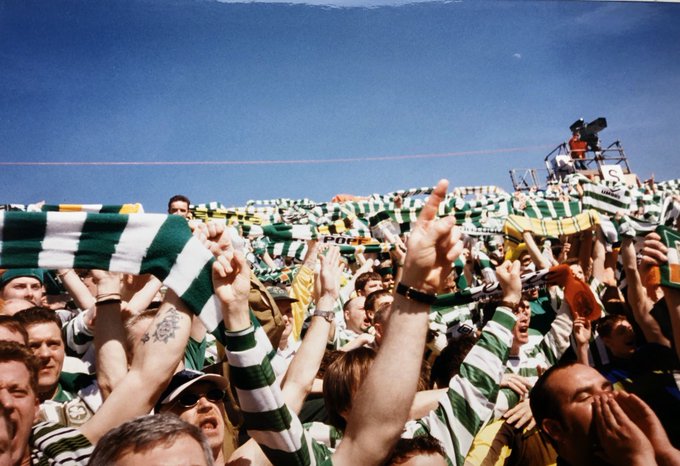 Most Scottish born fans are descendants of these people. In many cases, it is their Irish background which is the reason that they were born into Celtic, even if they don't realise it, or care about their ancestry. They may have to go back a couple of generations to trace the beginning of the family's Celtic support, but invariably being brought up in a Catholic or Celtic tradition, will often link back to Irish immigration somewhere along the line. Perhaps a great grandfather followed the club because of how it resonated with him, and it was then passed down.
The club very openly and publicly supported Irish Nationalism in the early days and had revolutionary Irish patriots on the early committees, including an IRB man on the run, who brought Willie Maley to Celtic. The founding fathers sang patriotic Irish ballads and rebel songs such as God Save Ireland at the reception held for Hibernian and promoted those Irish ballads at post-match receptions, as well as inviting TD Sullivan to sing God Save Ireland on the pitch at the grand opening of the new Celtic Park. A convicted Irish patriot, Michael Davitt, laid the first sod of turf, imported from Donegal, at that same opening ceremony. He was also the club's Patron.
The political identity has been expressed in each generation and is why Celtic enjoys huge support in Ulster. The fans have always sang songs of Ireland and the culture of the country has always been kept alive, being passed from one generation to the next. It is also the reason many people around the world identify with Celtic, because of their Irish heritage.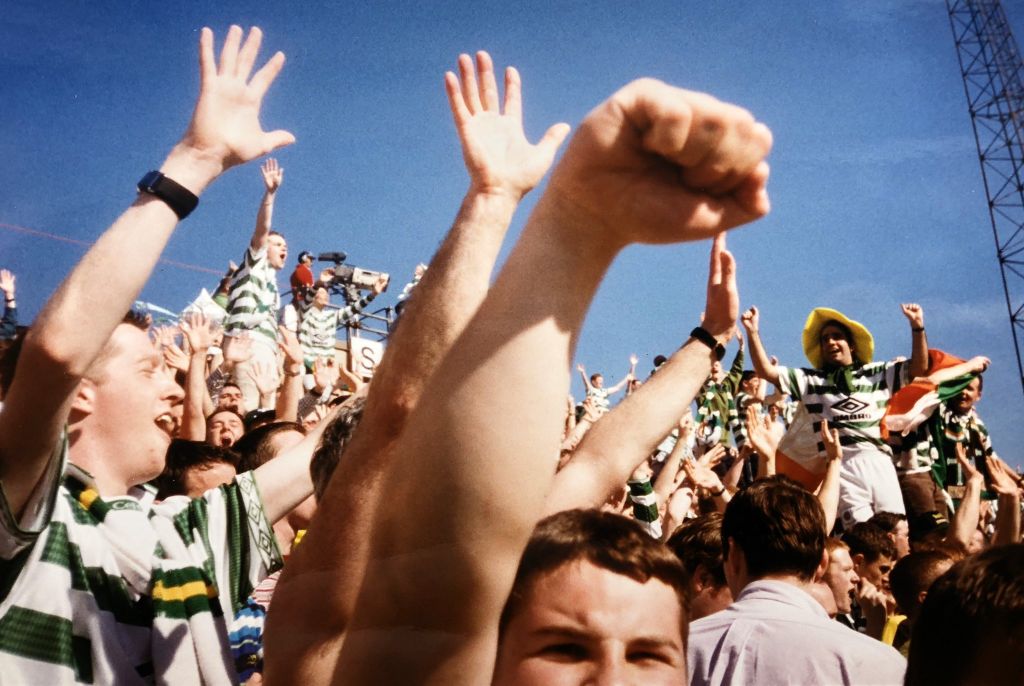 Dr John Conway, founding father and the first man to ever kick a ball at Celtic Park, once famously said: "Glasgow Irishmen, we can emulate the Hibernians example not only in social but in political matters as well, so that the goal of every Irishman's ambition – legislative independence of his country – will soon be attained." Meanwhile, Celtic was always referred to as "The Irish club," even 50 years after formation. John McLaughlin (another Celtic founding father and former Chairman), when the club moved location due to the original landlord's demands, once said: "Being an Irish club, it is but natural that we should have a greedy landlord."
Given the above, Celtic was clearly founded as an Irish club, primarily for Irish people, but it was open to all and never exclusive (as shown by the signing of an Orangeman in the club's second season). Irish culture remains relevant because it is part of many fans' background, the songs being passed down to them at games, and the Irish community is the group for which, and from which, the club was born. For this reason, Celtic has a big support in Ireland and among the Irish diaspora around the world.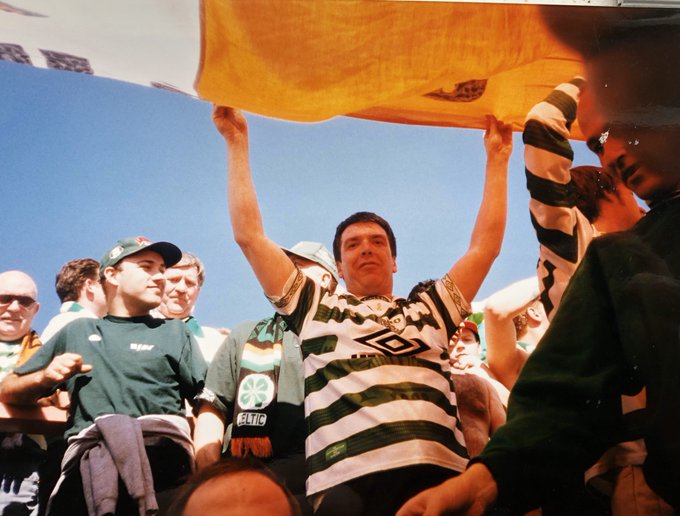 It could be compared to a Chinese takeaway in Glasgow. If such an establishment is formed by a man from China, which serves Chinese food, and then he passes the business and his Chinese culture onto his Scottish born children, does the establishment become a Scottish takeaway? Or does it remain a Chinese takeaway in Scotland?
That doesn't mean all Celtic supporters have to feel Irish or Scottish though. Celtic is a football club, not a person. Your own identity doesn't need to be altered by a football club.
There will be people born in Scotland from an Irish background, who identify as Scottish. This is natural and will only increase as the generations get further down the line. If one has been born, lived their whole life in Scotland and been accustomed to the culture, then they will likely feel Scottish. That is absolutely fine. Some of these people will also take an interest in their Irish roots, whilst feeling Scottish first and foremost. Others will not be interested. Again, this is fine as long as it doesn't take issue with people in the same situation feeling differently.
There are also many Celtic fans in Scotland from outside of the Irish tradition. They may support the club for any number of reasons. The fact that Celtic has an Irish history and identity, doesn't mean that they will or should feel that way themselves.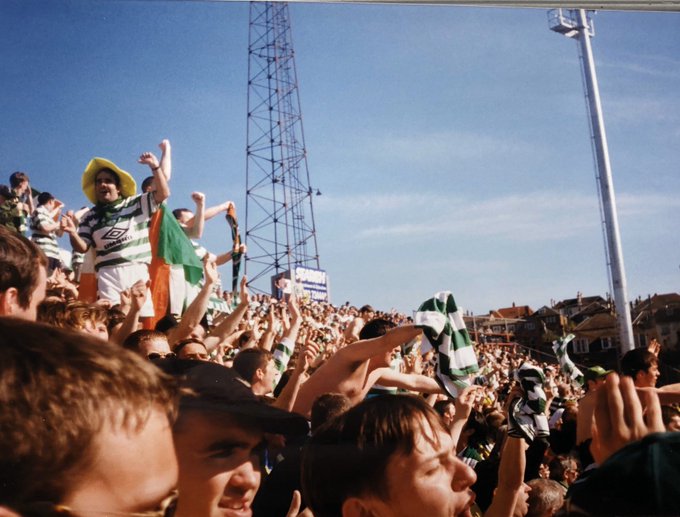 On the other hand, in terms of people born in Scotland identifying with Ireland, the reasons are quite understandable. If your forefathers were Irish immigrants and handed down their music, sport and history, then it may give you a different sense of identity. In my case, I am born in England. My grandparents are Irish. However, I feel more affinity with Ireland because I grew up listening to Irish music and watching Gaelic games. I visited family in Ireland and I learned the history of the country, whereby I came to believe that Ireland should be united as it is an injustice that Britain (my birthplace) stole six counties and still occupies them. I still listen to Irish songs, I enjoy playing Gaelic football over here and I support Celtic because of the club's Irish roots. It doesn't mean I hate England, English people or my home, it just means that in a political and cultural sense, I feel more connection with Ireland. I can't help how I feel and I make no apology for that.
Frankly, people can celebrate which ever culture or nationality that they feel drawn to. Immigrant communities and diasporas have always had descendants valuing their roots, and others moving on from them. Often there is a combination of both identities. In Scotland, most Celtic fans will probably feel Scottish nowadays and have a pride in their own or the club's Irish heritage.
Whatever you feel, it is your choice. How others feel is up to them. Can we stop the pathetic arguments and forcing identities on to people?
Enjoy the games for those of you who enjoy international football. Let's hope that Scotland and Ireland get a victory and you can all argue again before the next round of games!
Liam Kelly
One of the best nights of my life 🍻⚽️ it was all for everyone back home ❤️💙🏴󠁧󠁢󠁳󠁣󠁴󠁿🏴󠁧󠁢󠁳󠁣󠁴󠁿🏴󠁧󠁢󠁳󠁣󠁴󠁿🏴󠁧󠁢󠁳󠁣󠁴󠁿
🎶 David Marshall 🎶 pic.twitter.com/qMWqzLwGyC

— Ryan Christie (@RyanChristieO) November 13, 2020