Three Celtic supporters have failed in their bid to have convictions overturned in relation to banners that were unfurled during a 2017 Champions League Qualifier at Celtic Park. That match was between Celtic and Linfield, and was held against the backdrop of a tempestuous first leg. Indeed, in the lead up to the first leg, racist banners about Scott Sinclair had been put on bonfires in Belfast and Leigh Griffiths had a bottle thrown at him during the match.
Linfield draw support from traditionally Loyalist backgrounds, particularly in East Belfast. Meanwhile, it goes without saying that Celtic have proud Irish roots and a section of the support have carried forth the club's early support for Irish Home Rule with sympathy towards a United Ireland.
Matters came to a head in Glasgow and banners were unfurled in the North Curve area of the stadium. One depicted Brendan Rodgers on a road sign, which read "Rodgers at work". The other showed a figure dressed in a beret, sunglasses, a mask and khaki jacket. A captain was unfurled stating "Brendan's undefeated army."
Three Celtic fans were arrested for wearing t-shirts emblazoned with the same images. A court heard how the banners "provoked an immediate and hostile reaction from some of the Linfield supporters." The trio went on trial at Glasgow Sheriff Court in February, where they denied committing a breach of the peace at the game in July 2017.
Prosecutors claimed that the men conducted themselves in a disorderly manner by attending the match wearing a shirt which displayed an image of a figure related to and in support of a "prescribed terrorist organisation namely The Irish Republican Army."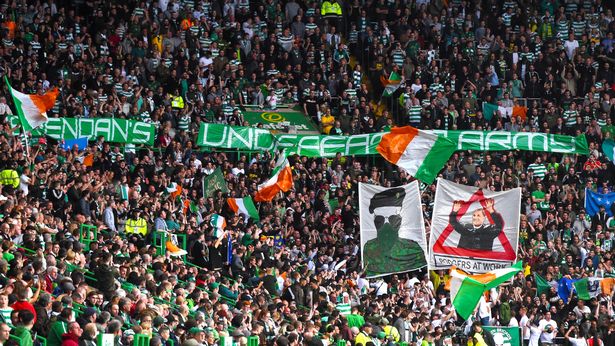 The three were convicted. However, they won a bid to have their convictions quashed following proceedings at the Sheriff Appeal Court in Edinburgh. The appeal sheriffs ruled that the that prosecutors needed to corroborate why the image on the T-shirts supported the paramilitary group in question.
This prompted prosecution lawyers to go to the Court of Criminal Appeal in Edinburgh. Advocate depute Ashley Edwards QC told the court that the images on the t-shirts were so obviously representative of the proscribed organisation that the Crown didn't need to corroborate it.
In a judgment issued today, judges Lord Carloway, Lord Woolman and Lord Matthews agreed with Crown submissions and ordered the reinstatement of the convictions.
Lord Matthews wrote: "The image in this case, which the appellants were proved to have been displaying, consists of the Irish tricolour upon which is superimposed a representation of a man in military garb, wearing a beret and sunglasses.
"All well informed persons know that this is a depiction of a member of a proscribed Irish republican terrorist group. There is no need to prove this by 'expert' evidence. Any attempt either to confirm or contradict that fact was at best superfluous."