Celtic FC Women yesterday retained their Scottish Cup Winners status and in doing so became not only the last club to win the old trophy but also the first to win the new trophy which now looks much more like it's historic big brother which Callum McGregor will be looking to collect this Saturday.
Please note that we've included a brilliant photo gallery from Hampden at the bottom of this article for you to enjoy. There are hundreds of great photos from the Scottish Cup Final win over theRangers from The Celtic Stars TWO of the THREE photographers we had at Hampden yesterday. We'll post another gallery later today.
That will conclude a Celtic campaign which has seen success against theRangers for Under 19s (Scottish Youth Cup winners), the Celtic B Team (Glasgow Cup Winners), the Celtic first team – Champions, League Cup Winners and of course knocking theRangers out of the Scottish Cup at the semi-final stage and now Fran Alonso's side with the most dominant Celtic display at Hampden this season, to win the Women's Scottish Cup.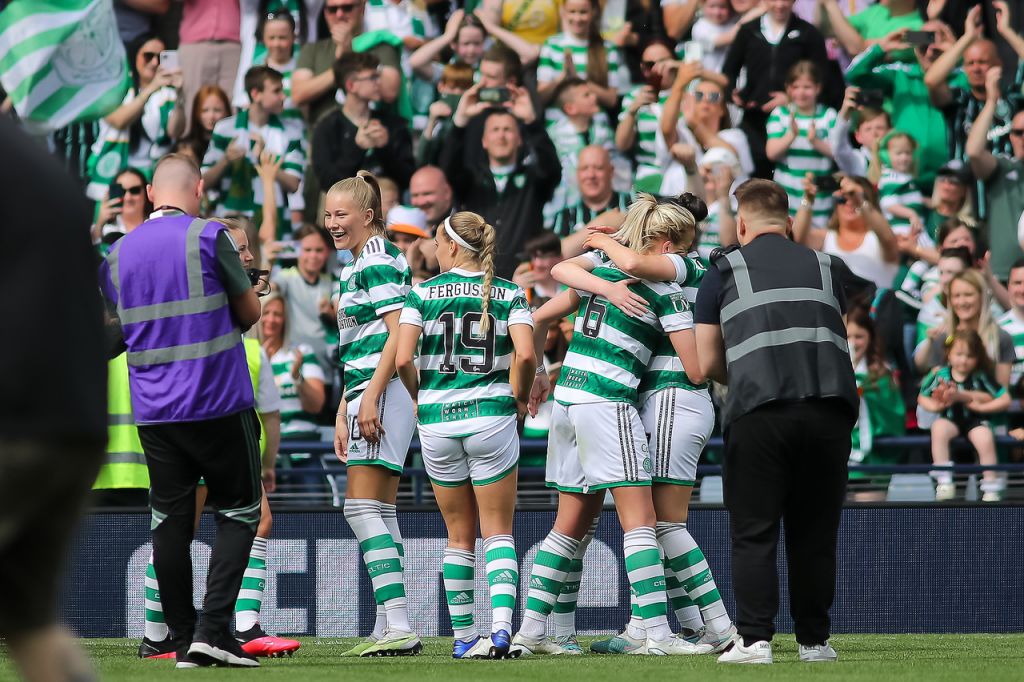 Yesterday's Glasgow Derby attracted a record breaking crowd for a Scottish Cup Final of 10,446 with Celtic fans having the lion's share as they enjoyed Fran Alonso's team assured performance against a team that never really looked like being on the same level as the Hoops.
Fran Alonso was forced into a late team change just before the teem sheets were submitted but the last minute change of plan certainly didn't impact on the Celtic performance, from a threadbare Celtic squad with so many top stars out injured and a bench packed with teenagers from the Celtic Academy.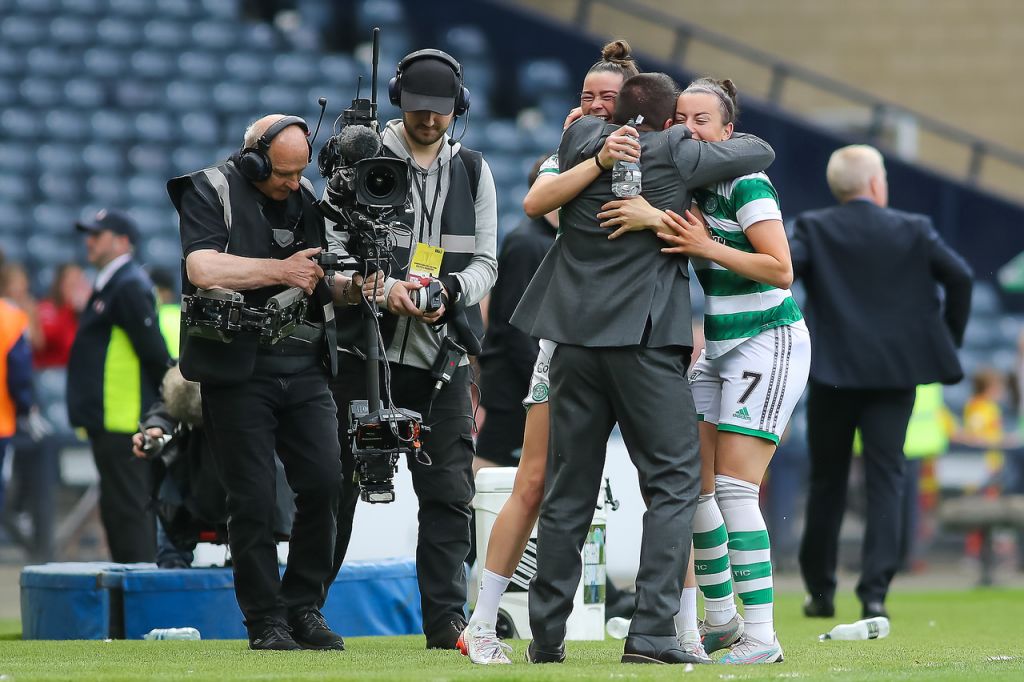 It was goalless at the interval with Shen having the best opportunity to give Celtic the lead just before the break but she dragged her shot wide of the target, much to the relief of the Ibrox defender who'd had her pocket picked by the Celtic midfielder.
Fran Alonso asked his players for more in the second half inside the Celtic-branded dressing room at Hampden and the Ghirls certainly delivered. First it was the goal machine Tash Flint, and if the ball is going to fall to her in the six yard box then there's only ever going to be one outcome. Celtic's arial threat seemed to terrify theRangers all afternoon but they kept providing plenty of opportunities for Celtic to launch the ball into their box due to the relentless Celtic attacking while Pam Tajorar was probably thinking that the Scottish FA might have to add her presence at Hampden to the official spectator tally.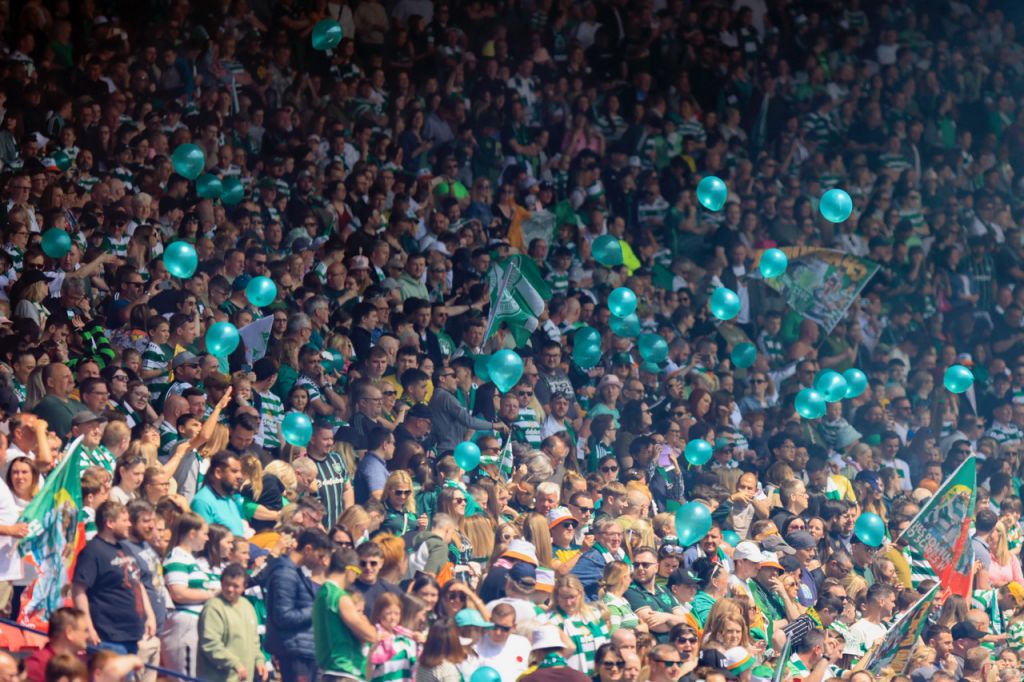 A few minutes after Flint smashed the ball into the back of theRangers net, another set piece this time found the head of Irish defender Claire O'Riordan and her looping header from the front post was perfectly directed into the far corner of theRangers goals to double Celtic's lead. The trouble with concentrating on trying to stop Caitlin Hayes is that you forget about the Ireland international who has been scoring for fun recently for Celtic FC Women.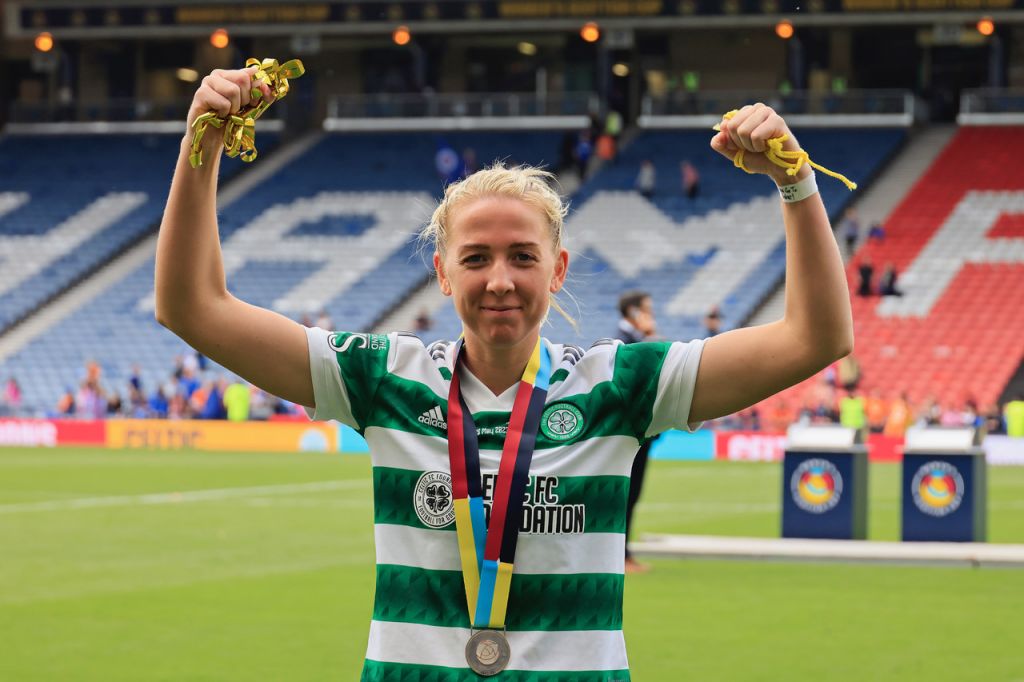 In a case of too little to late theRangers, who have never won the Scottish Cup, attempted a late rally and had the ball in the back of the net before a VAR check, try as they may, could not find any line to give the clearly offside goal, and that led to a outstanding wee moment from Celtic substitute Liv Fergusson which was captured on the BBC cameras.
That was that as far as theRangers feeble fightback was concerned and Celtic could have exploited the pace of Kit Loferski to rub their noses in it, but Liv Fergusson had already added the icing to the Celtic cake, much to the delight of the Celtic support commenting on twitter.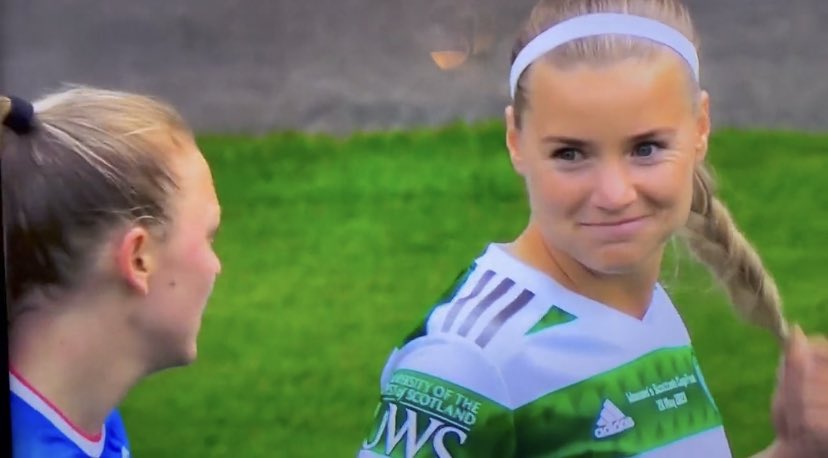 🤣💚🍀🏆 pic.twitter.com/37Pe20ErmF

— GeoKOart (@geokoart) May 28, 2023
There's some perspective that's worth mentioning here. Fran Alonso's Celtic FC Women side operates with a budget of around a third of yesterday's opponents and with the sponsorship and other commercial arrangements in place it's pretty much as self-funding operation with Celtic underwriting the enterprise.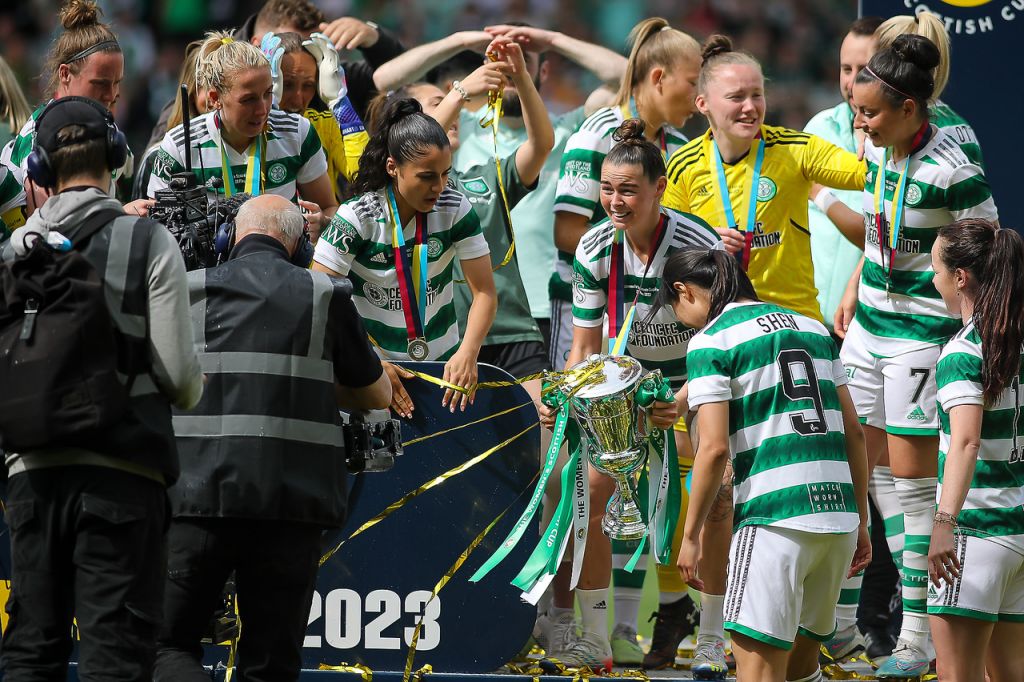 Meanwhile theRangers Board have invested heavily in women's football with reports of around £1.5m being spent to establish their women's team as the dominant force in Scottish football. They won the League Cup beating Hibs in the Final before Christmas, finished third in the league, missed out on Champions League football and were effectively a no-show in the Scottish Cup final, failing to land a punch on Celtic throughout the match – surprising really given their thuggish assistant manager who is prone to violent actions, was back on the bench yesterday.  And yesterday was the end of the road for Malky Thomson as manager of theRangers Women team as he now returns to coaching at Academy level for the latest Ibrox club.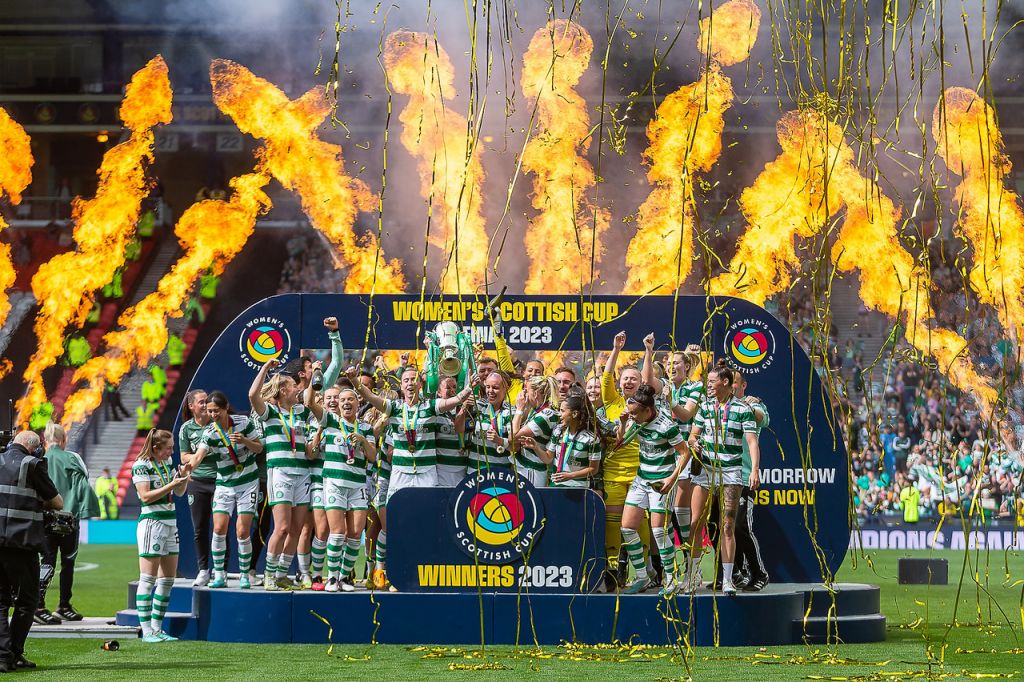 And with Celtic having the third biggest budget in the league (Glasgow City have large levels of corporate backing from a merchant bank) Fran Alonso yesterday was without top performers Lucy Ashworth-Clifford, Hana Kerner, Lisa Robertson, Liv Chance and Natalie Ross and at the start of the year had to allow Clarissa Larisey (up to that point the best player in the league) to leave to accommodate her World Cup ambitions with Canada this summer. Larisey's transfer to Swedish Damallsvenskan club BK Häcken brought in a record transfer fee to the club.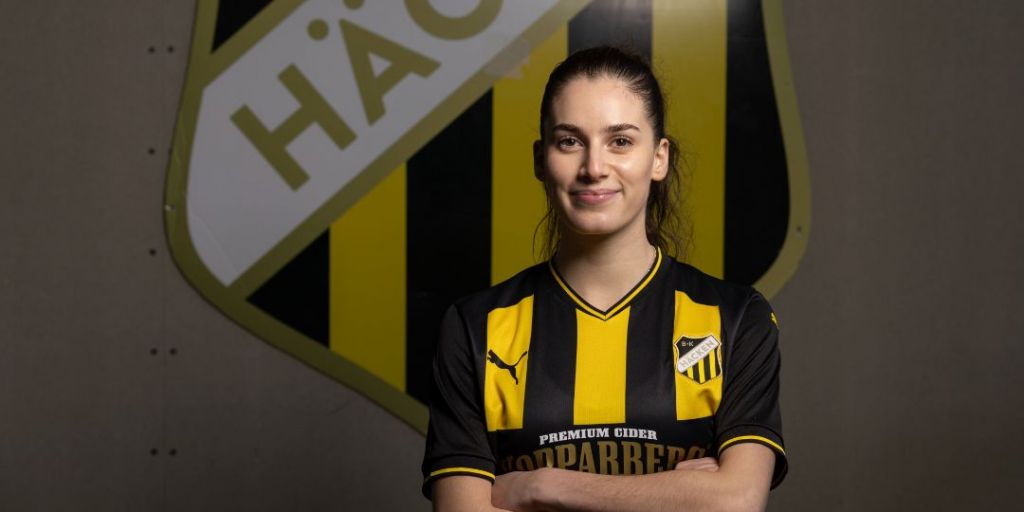 And it's also worth noting that in each of his three seasons in charge of the team, Fran Alonso has been forced to sell his top goalscorer every time.  A more modest fee was achieved last summer as Charlie Wellings decided to go back to English football after scoring an incredible number of goals for Celtic in her one season at the club.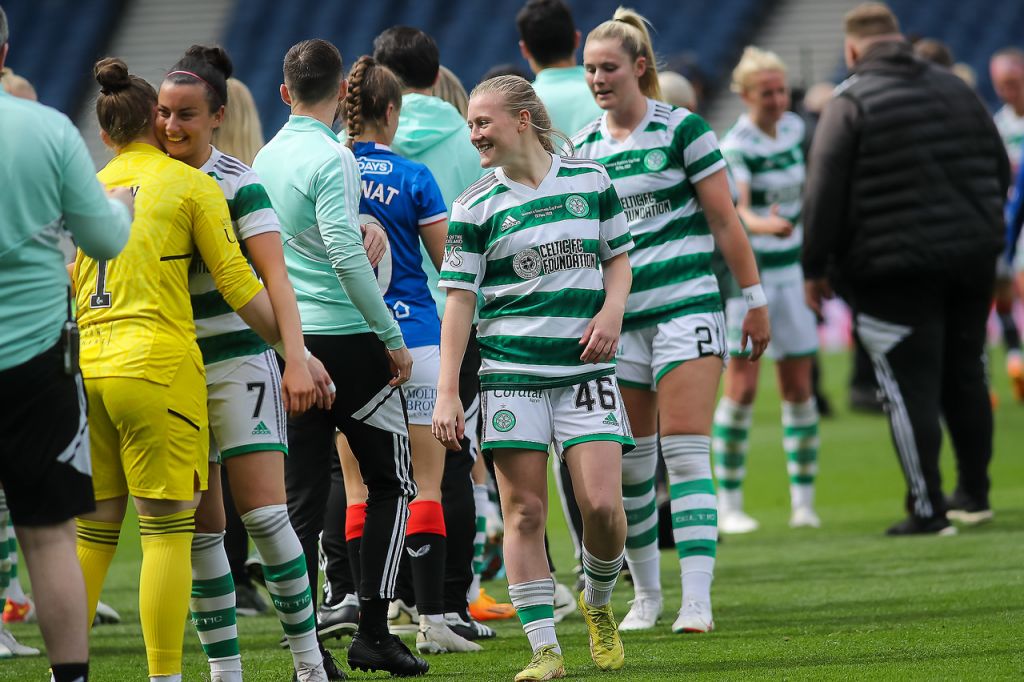 The Celtic CEO Michael Nicholson was at Tynecastle last May to watch Celtic win the Women's Scottish Cup for the first time. Yesterday he was at Hampden alongside the Celtic Chairman Peter Lawwell and both men were also at the recent SWPL matches at Celtic Park against Glasgow City and Hearts, both of which achieved record breaking crowds.
When the Celtic songs were heard yesterday, sadly with no Green Wall at Hampden, the voices were pitched a little higher than before. There were plenty of young Celtic fans and lots of women, many fans who will be getting their first real chance to experience a Cup Final win at Hampden.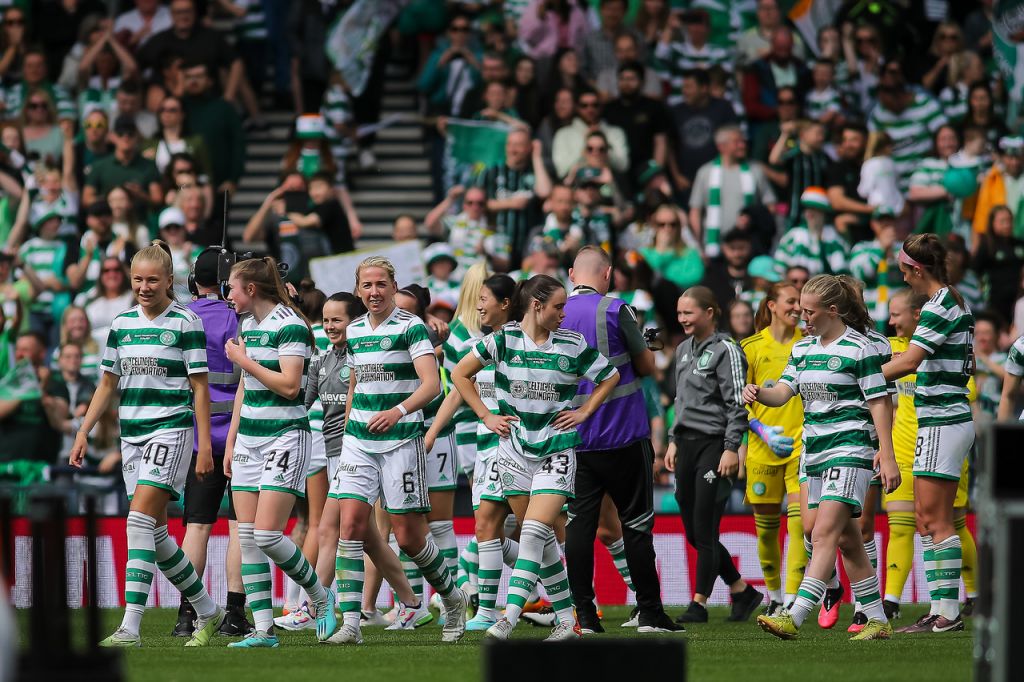 The Celtic season ticket renewal period is about to end and undoubtedly renewals will be at optimum levels. If you are waiting to get one and are on that waiting list then your confidence won't be too high. Yet to bring young fans through by creating additional match day experiences at Celtic Park is surely got to be considered?
Fran Alonso explained to The Celtic Star earlier in the season while standing pitch side at Celtic Park that a women's game causes less stress to the pitch than a men's game, whether first team or B Team, due to the size, weight and strength of the players, so any complaints from grounds-staff would be easier to argue against for introducing a plan to play a number of Women's games at Celtic Park next season.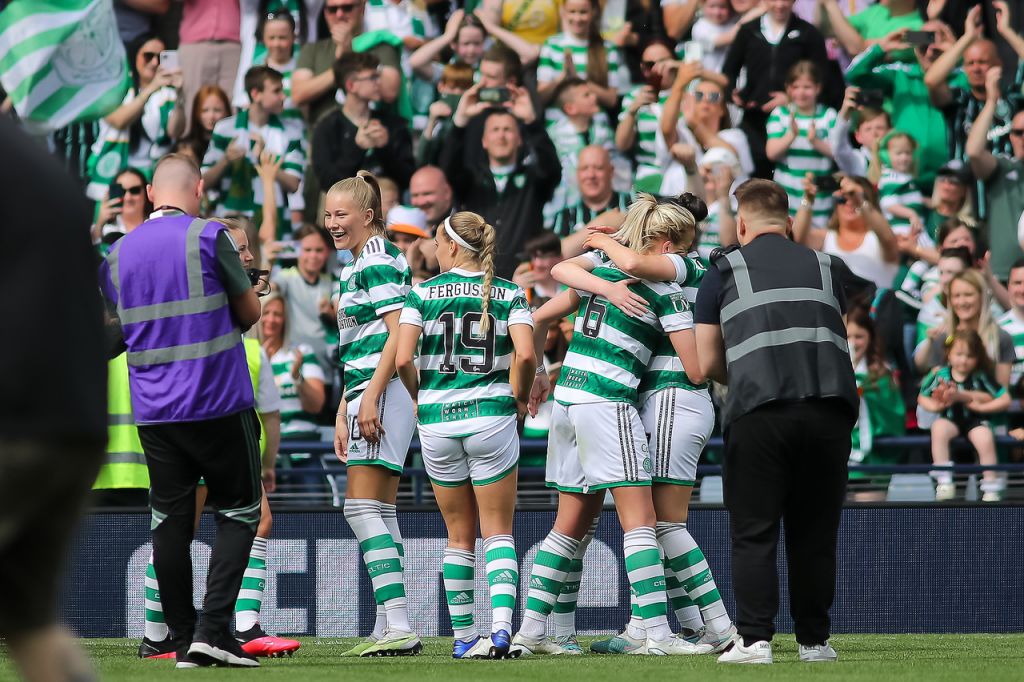 The new SWPL split has been a huge success in its first year where the top six played each other home and away. Celtic played Glasgow City and Hearts at Celtic Park and won both matches but played theRangers at Airdrie before a much smaller crowd and lost (their win was aided by a disgraceful decision to disallow a Caitlin Hayes goal). The game in retrospect should have been played at Celtic Park for every logical reason – footballing, commercial, sponsorship benefits, bigger crowd and so on.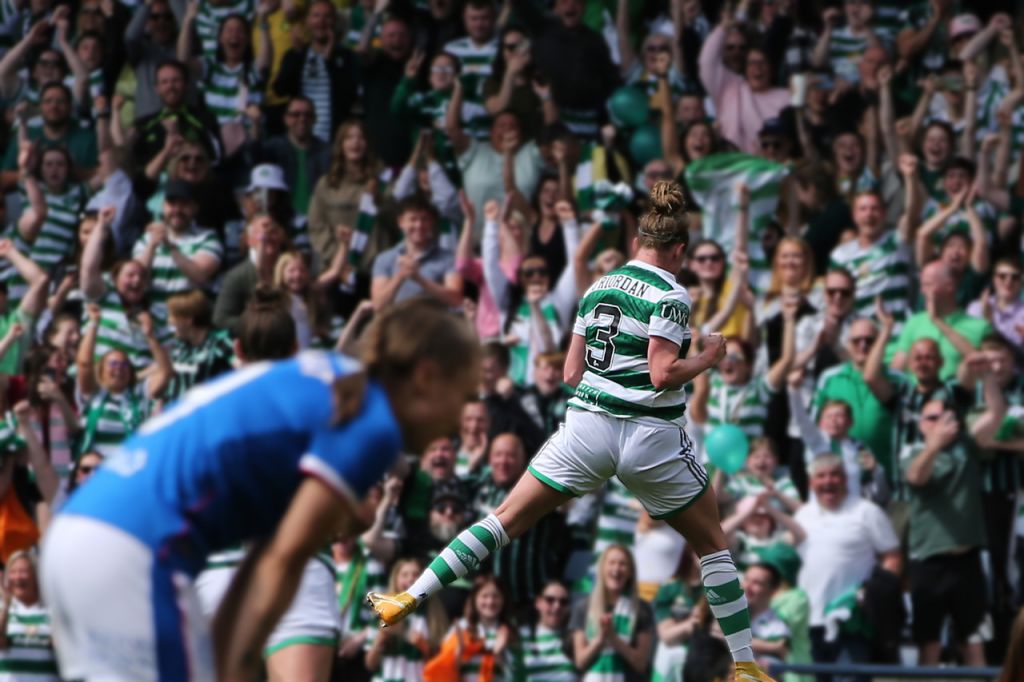 Michael Nicholson will understand this.
Celtic's profound disappointment in the league shootout last weekend was tempered by the qualification for the Champions League – and it's a UEFA requirement to have a women's team incidentally. Play these games at Celtic Park. Play the home matches against Glasgow City and theRangers at Paradise and all the post split home fixtures at Celtic's home ground.
The club last week launched a season ticket for the women's team at £100 for next season which is great value but where are the games going to be played? Outline the plan and after the dust settles on the season ticket renewals this week, turn the club's attention to selling women's season tickets.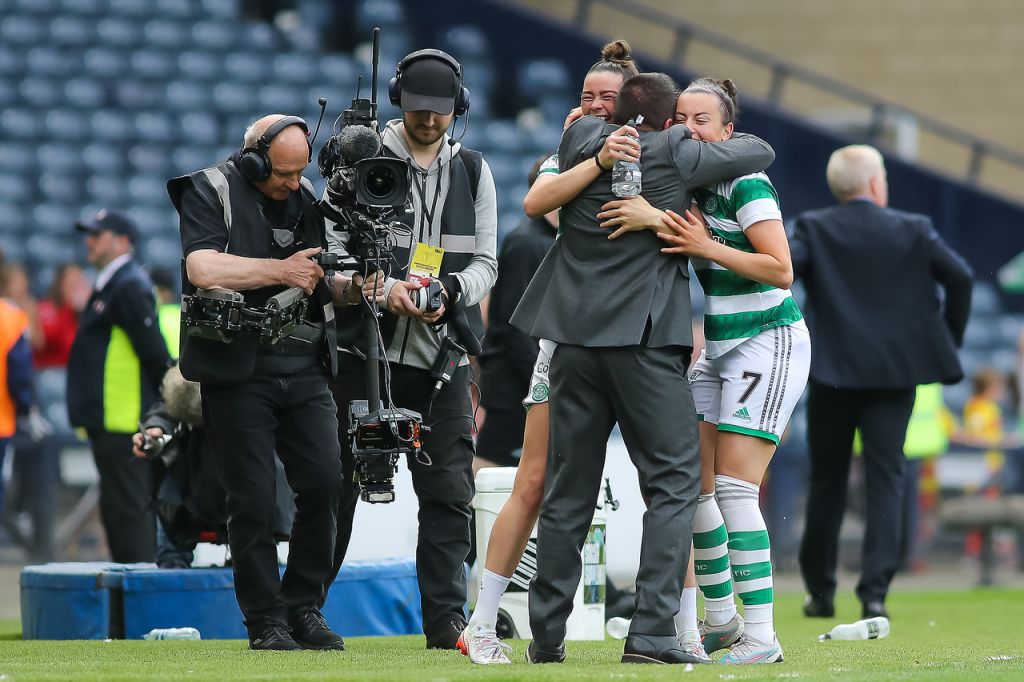 Indeed the club can even look at an option for the existing 55,000 season ticket holders of including women's games going forward. Many would take that option up, even if it's just to help the team develop, if there is a reasonable expectation of a sufficient number of games being played at Paradise.
Fran Alonso has been an unbelievable operator in the transfer market and the Celtic Board must be well aware that this is particularly impressive given the small budget he has had to work with, always without complaint. "Lucky Man" Ange Postecoglou was backed by the Board and his signing have worked out just fine and will certainly have added to the net-worth of the football club.
Fran Alonso brings players in and makes them better. Clarissa Larisey arrived from playing in Iceland and had ability and pace but looked like a work-in-progress development player early doors. Alonso transformed her game and we'll be watching her at the World Cup playing with Canada this summer, a team tipped to do very well.
Players will want to come to Celtic after watching what's happened over the past month or so. Celtic should build on it by fully resourcing the Celtic FC Women set-up, and communicating the plan with the Celtic support, who have now taken this side to their hearts.
The Green Wall at the Women's Game was an eye opener. I sit next to my son at Celtic Park and we've talked about the plan to create a Celtic End in the Jock Stein stand. He was all for it, saying it will add to the atmosphere while I was concerned about the rights of existing season ticket holders who have had their seats for many years in the Jock Stein stand having to move to accommodate this Green Wall.
But when you see it in action it's incredible. Put it this way, there was a better atmosphere at the women's game last Sunday with just under 16k supporters in the stadium compared to 55,000 or so there the day before against St Mirren – and that was down to the Green Wall.
Celtic could agree with the Green Brigade and the Bhoys to run a season long trial at women's games then have their plan seriously considered after that. That would give everyone time to look at the benefits and solve the obvious problems.
The Celtic Star has covered the Celtic FC Women team for three years now, alongside the Cynic whose support for the team never goes unrecognised on here. The Celtic Star has tried to provide equal billing with the Celtic first team and this has clearly been to the detriment of coverage of Celtic B team – that has simply been down to limited resources on a site that has always been free to view for Celtic supporters.
🗣️ @CelticFCWomen and Women's Scottish Cup winning head coach, @FranAlonsoFA, spoke on pitch after his team lifted the trophy today.#ScottishCupFinal pic.twitter.com/yR3ntIzyHv

— Scottish Cup (@ScottishCup) May 28, 2023
Yesterday we had two photographers at Hampden and we've included their photographs throughout this article. And it's worth noting that having covered the Celtic FC Women team all season when it came to the Scottish Cup semi-final and Final we were blanked by the small minded, Scottish FA, meaning our pre-match coverage leading up to both Hampden games was reduced .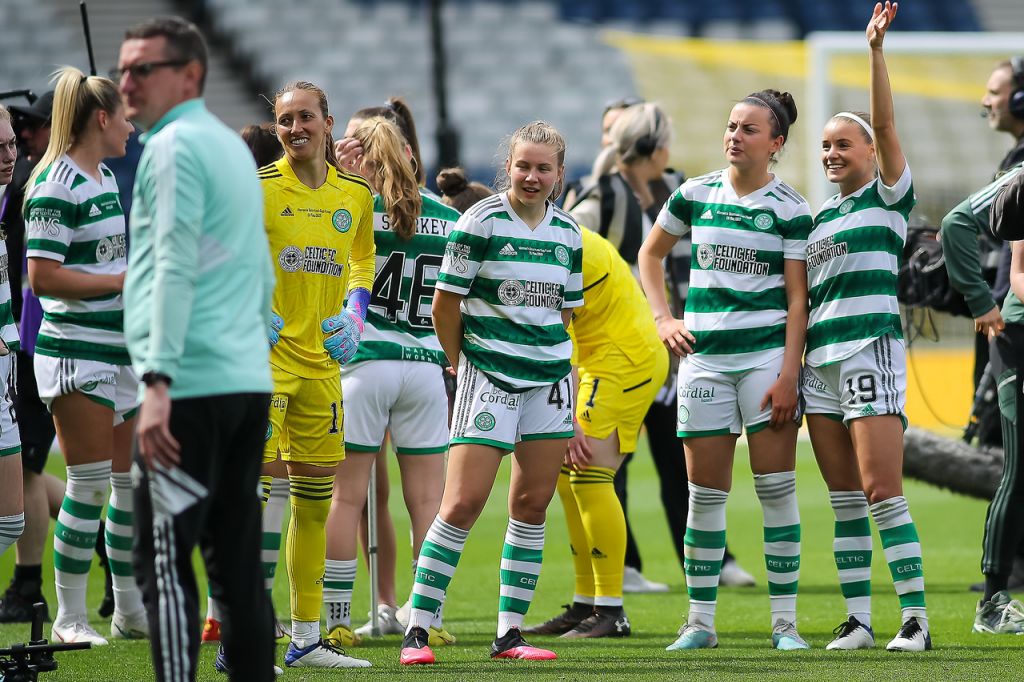 Celtic FC in the longer term needs to establish a viable women's team which can compete at European level because in not doing this we would effectively be closing down another opportunity to compete and to develop as a football club operating in one of the smaller football territories in the European game. Arsenal Women recently announced a turnover of £7m for their operation and that is only going to grow.
This season there's been a major breakthrough and the Celtic support has taken Fran Alonso and his side to their hearts. Ange Postecoglou can deliver a Treble on Saturday and there's no reason why Fran Alonso can't do the same this time next year. And his wee rendition of 'Celtic Glasgow' in his post match interview was outstanding – maybe Ange will do the same on Saturday evening at Hampden?
Well done to Fran Alonso and his coaching staff and all his players on what has been a brilliant season.
☀️ Good morning @CelticFCWomen fans!

Start your day with the full highlights from yesterday's Women's Scottish Cup win 🏆#ScottishCupFinal pic.twitter.com/AzganyBci7

— Scottish Cup (@ScottishCup) May 29, 2023
What a weekend! 🤩

🏆 #cinchPrem
🏆 Women's #ScottishCup

Both trophies safely back home at Paradise 💚#CelticFC🍀@CelticFCWomen pic.twitter.com/FzHLp4WSDR

— Celtic Football Club (@CelticFC) May 29, 2023
Here's The Celtic Star's unrivalled Scottish Cup Final photo gallery…
Starts on the next page…