Winning the Scottish League A Hundred Years Ago…Glory at Greenock 1921/22…
The early 1920s were difficult for all sorts of reasons. The general climate of economic and political uncertainty as Europe attempted to raise itself from its collective suicide attempt (now called the Great War) was bad enough; for the Celtic community, there were the additional effects of the struggle across the sea to establish a new country called Ireland. The times were tough.
On the other hand, it was also a time of social changes and advancement. More and more supporters now used motorised transport rather than the horse-driven "brake clubs" to go to away games, and were thus able to travel faster and further. The game was discussed in factories and written about in newspapers even more than before, as people used football (and the ever thriving cinema) more and more to escape from the grim realities of 1920s life.
The Scottish League First Division now contained 22 clubs (generally reckoned to be too many) which necessitated 42 games. Celtic had lost out to Rangers in 1920 and 1921, and in what was reckoned as a welcome sign, the Scottish Cup in the first three years after the war was won by Kilmarnock, Partick Thistle (containing the old Celtic veteran Jimmy McMenemy) and Morton, three clubs who had never won the trophy before.
Celtic had disappointed their supporters in the last two years, but they had their great players. Patsy Gallacher was still there, now generally regarded to be the greatest of them all, and his skills up front had been supplemented by another, potentially even more talented, player called Tommy McInally who had now replaced the great Jimmy McMenemy.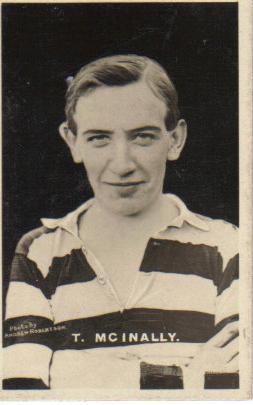 "The boy wonder" however lacked the common sense that is so necessary if you want to be a footballer, and manager Maley would have his hands full with the Barrhead boy. The legendary defence of Shaw, McNair and Dodds were still there, (Dodds having returned from an all-advised sojourn with Cowdenbeath), there was a strong half back line of Gilchrist, Cringan and McMaster, and Andy McAtee and Adam McLean were still there on the wing, while there was a new centre forward hero called Joe Cassidy, a man who had developed since the war.
The season started with a 4-0 defeat of Raith Rovers at Celtic Park, but there was a disturbing tendency to draw games which they really should have won, something that was particularly true away from home. The away trip to Kirkcaldy was one such example, as indeed was a game at Pittodrie, and then on the Edinburgh Holiday Monday, they sustained their first defeat of the season to Hibs at Easter Road. That was in spite of a wonderful goal by Patsy Gallacher who received the ball from the centre after Hibs had scored a goal and dribbled his way through the defence to tap the ball past goalkeeper Harper.
The loss of the Glasgow Cup final to Rangers was a blow, but it did not seem to do much to deter the astonishing amount of Celtic fanatics who would do anything to see their favourites. When they went to Dundee, for example, in October a dull 0-0 draw eventuated, but The Dundee Courier talks of men who walked all the way from Glasgow and back, and is surprised that those who arrived by the more conventional means of train or charabanc contained a "surprising amount of women and several small boy mascots dressed in the full Celtic outfit". They all departed Dundee "waving banners and emblems" to "accompaniment of weird noises from melodeons and bugles", some of them having stayed until the Sunday.
McInally scored a fine goal to earn a deserved point when Celtic visited Ibrox on October 22, but away form continued to be disappointing. They were unlucky to lose 3-4 to Kilmarnock at Rugby Park but the draws at Motherwell and Ayr were miserable affairs. They did win an away game (for the first time since September) on Hogmanay at Hamilton but the effect was somewhat spoiled by the draws at the two New Year fixtures 0-0 at Celtic Park v Rangers in a game that Celtic might have won, and a 1-1 draw against Clyde at Shawfield. Rangers were dropping points as well, but the League table after the New Year games showed Celtic still three points behind Rangers.
But Celtic now won three games in January, and another two in February, the only poor result being a disappointing goalless draw at Firhill. By the end of February Celtic were three points ahead of Rangers in the League (Rangers had a game in hand) even though some of the performances continued to be disappointing. A devastating Scottish Cup exit to Hamilton Accies clearly led to some tough talking from Mr Maley, and the following midweek in the League the result was reversed with Celtic winning 4-0 at Douglas Park. Ten games remained for both teams now, and Celtic had a two point advantage.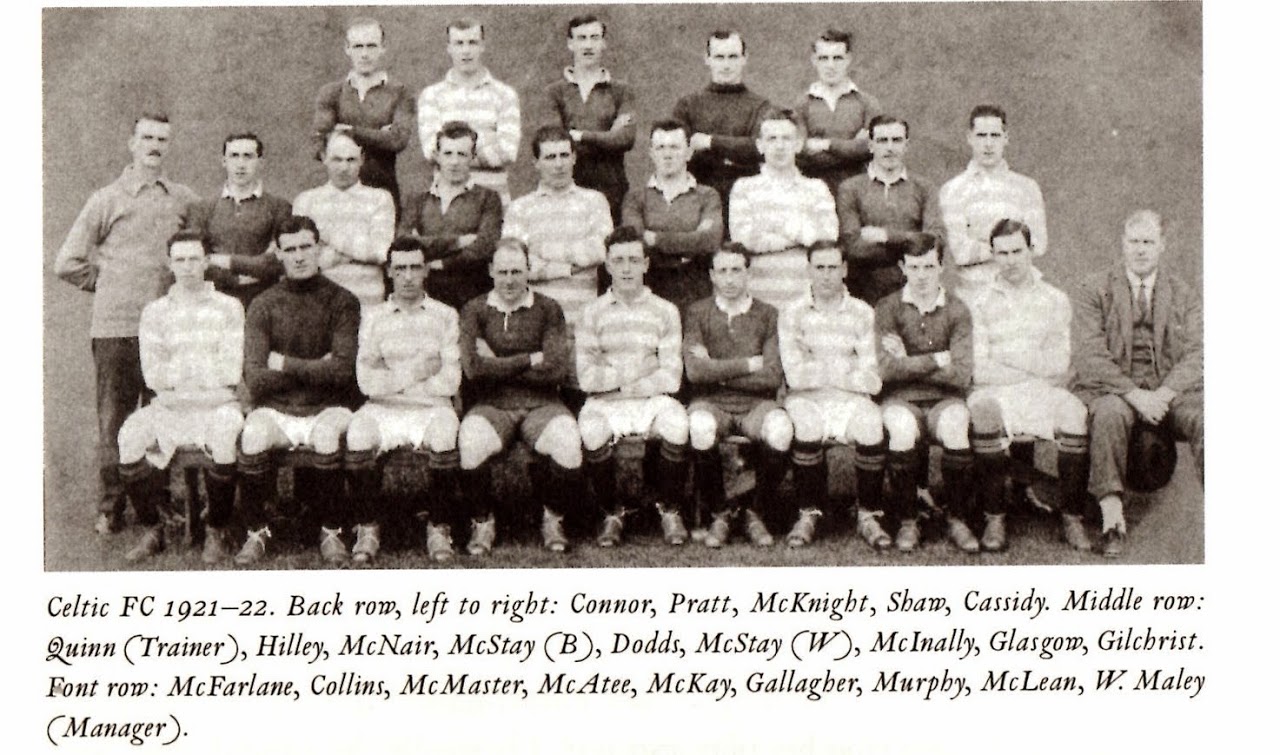 It was round about now that Tommy McInally disappeared from the team. He may have been injured, but the fact that he was offloaded to Third Lanark at the end of the season makes one think that he was either simply dropped or had taken the huff with Maley. For whatever reason, the team never lost again that season, although there were two draws, again away from home at Third Lanark and Falkirk. It may have been the case that there was no room in the team for both McInally and Gallacher at the same time – certainly rumours circulated in the support that they did not get on – but there seemed little doubt that the team now prospered with Joe Cassidy in particular striking a rich seam of goals.
The absence of McInally also created an opportunity for a young man from Fife called John McFarlane. Called "Jean", presumably from the French Jean but maybe because of two cartoon characters in The Weekly News called "Jock and Jean", he would become a great left half in years to come, but now he did not look at all out of place in a forward line of McAtee, Gallacher, Cassidy, McFarlane and McLean which at last began to function and score the goals – 4 against Dundee, 3 against Partick Thistle and 2 against Hearts in a significant away win at Tynecastle.
The end was exciting. On April 15 when Morton were beating Rangers in the "roughest ever Scottish Cup final", Celtic consolidated their position with a 2-0 win over Albion Rovers at Coatbridge, and then on the Holiday Monday, Patsy Gallacher scored twice and Joe Cassidy once to beat Partick Thistle. This mean that Celtic with one game to play were five points ahead of Rangers who still had three to play. Rangers duly won their two games in hand, which meant that it all came down to the last day of the season, April 29. Celtic were at Morton, and Rangers were at Clyde, and Celtic were a point ahead. Celtic had the better goal average, although there was some doubt in the minds of supporters about whether that would be the method used.
A bizarre incident happened on the Tuesday. Andy Cunningham of Rangers had been awarded a benefit, but was injured and could not play. While Andy walked out with the team, who took his place? None other than Patsy Gallacher! He was cheered by the Ibrox crowd for doing so, and it is maybe an indication that the rivalry in the 1920s was not quite so cut throat as it is often portrayed.
It was tense at Greenock, though. The Morton crowd, still on a high after their Scottish Cup triumph, were not above "playing the orange card" to antagonise the Celtic crowd, and on several occasions play had to be stopped for reasons of overcrowding at certain parts of the ground and sometimes sheer hooliganism. At half time it looked possible that the game might have to be abandoned, but players of both sides helped usher the fans back onto the terracing. Morton were 1-0 up at half time, and rumours were spreading that Rangers were hammering Clyde. The problem with "news" in the 1920s, however, was that it was often "made up" in the absence of modern accurate communications, and no-one really knew. What they did know however was that Celtic had to grab at least a point, and preferably two.
They got one. Late in the game after some desperate attacking, Edwards the Morton goalkeeper could only palm a McFarlane drive out to the head of Andy McAtee. Five minutes remained, and everyone knew that a draw would not be enough, if indeed the score was 6-0 for Rangers at Shawfield, as the rumours said it was. The game at Morton finished 1-1, and as the sorely overstretched Greenock police ushered the Celtic fans to the train, no-one knew for certain who the League champions were, although a wee boy claimed to have heard a newspaper reporter, who had phoned his office, say that it was 0-0 at Shawfield, and enough to give Celtic the title. Perhaps!
It was only when the trains pulled into Glasgow Central Station, and evening newspapers were on sale that it was confirmed that Celtic had won their 16th League title. Rangers had pressed and pressed but the brave Clyde defence had held out. Many Celtic supporters bought a drink for their Clyde supporting friends that night, as the joy knew no bounds.
David Potter