In this series I am going to do a review of each player who made a contribution towards a highly successful season which concluded with Ange Postecoglou's men picking up not only the Cinch Premiership but also the Premier Sports league cup back in December. In all honesty, apart from an out of character performance against theRangers in the Scottish Cup semi final, we really could have been treble winners once again.
Celtic fans won't dwell on that missed opportunity however, as many of us assumed it would be a season of transition due to the mass upheaval at all levels that went on at Celtic Park over the summer. Many of us were apprehensive regarding the amount of changes to the playing squad that took place, and I'm certain I was not the only one who looked at some of our signings and wondered would they cut the mustard at Celtic.
I have to be honest, one of the signings I was most worried about was Joe Hart. The previous season saw Celtic have an absolute nightmare in the goalkeeping department. Neil Lennon had hoped fan favourite Fraser Forster would return on yet another loan from Southampton but the English stopper decided to stay in the EPL and fight to become the club's number one.
Celtic brought in Vasilis Barkas from AEK Athens, which quickly proved a huge waste of money as the Greek international failed to impress, and the gloves swapped between Barkas, Scott Bain and Conor Hazard with none of the trio ever showing they had what it takes to be the Celtic number one.
When I heard we had signed Joe Hart I feared we were yet again taking a wild punt instead of going out and getting a top class goalkeeper. Everyone knew that since his glory days when he was both Manchester City and England number one, things had been going in a downwards trajectory for Hart. He spent time in Italy with Torino, then came back to England where he was out of favour at West Ham, Burnley and Tottenham Hotspur, failing to secure the number one spot anywhere.
I wasn't fully sold on the signing but as always I was full of hope that Celtic could somehow inspire the player to regain the form that made him one of the best keepers in the world not so long ago. To say that Joe Hart has gone on to prove the doubters like myself wrong is a huge understatement. He has been one of the best signings under Ange Postecoglou, which is saying something when you look at some of the hero's that have emerged this season.
Hart has played a total of 54 times this season for Celtic. In total he has conceded 47 goals which may surprise some people as it has been clear that Celtic have massively improved defensively from the previous season. 18 of those goals however were conceded during Celtic's time in the Europa League group stages and during the two encounters against Bodø-Glimt in the Europa Conference League.
At home however he has only conceded 25 goals in a total of 44 games, a tremendous record. In the whole season, Europe included, Hart has kept a total of 26 clean sheets, another stat he must be extremely proud of.
The biggest praise I can give to Joe Hart is that I am honestly struggling to think of anytime that he individually cost us a goal. I know some Celtic fans, including this site's own legendary historian David Potter, can get stressed when he continues to play with the ball at his feet instead of clearing it up the field, even when under extreme pressure.
Personally it impresses me how calm he is in these situations, and it's that composure that encourages others around him to keep their heads and continue to play football the way the manager wants it played, although like David I'm not going to deny that my heart has been in my mouth a few times!
It shows the confidence that Ange Postecoglou has in his number one, that unlike other managers who like to rotate their goalkeepers, Ange has stuck with the Englishman in pretty much all competitions this season. He even handed Hart the captain's armband back in September in the league cup tie with Raith Rovers, when the player had only been at the club a matter of months. With Nir Bitton now departed for pastures new, I wouldn't surprise me in the slightest if Joe was to assume the vice captain role in the future.
It's clear that Joe Hart has become a leader in this current Celtic side and it's noticeable that his confidence and composure has rubbed off on the Celtic defence. To me Joe Hart is like an upgrade on Craig Gordon, who was excellent for Celtic during their 9 in a row run. He has a lot of the same attributes as Gordon, such as leadership qualities, a calming demeanor and the ability to pull out top saves when required. I think Hart is a lot less error prone than the Scottish keeper however. He is definitely better with the ball at his feet.
I think it's pretty much guaranteed that Joe Hart will be our number one next season. Many think Celtic may sign another keeper during the summer, I don't see it however. I feel like the fact Ange himself handed Scott Bain a new contract last season shows that he may be happy continuing with him as Hart's backup. He may well be, but god forbid Hart suffers an injury next season, would we be confident with Bain covering him over a lengthy period? I'm not so sure.
If I was to give Hart a rating this season it would have to be 8.5/10.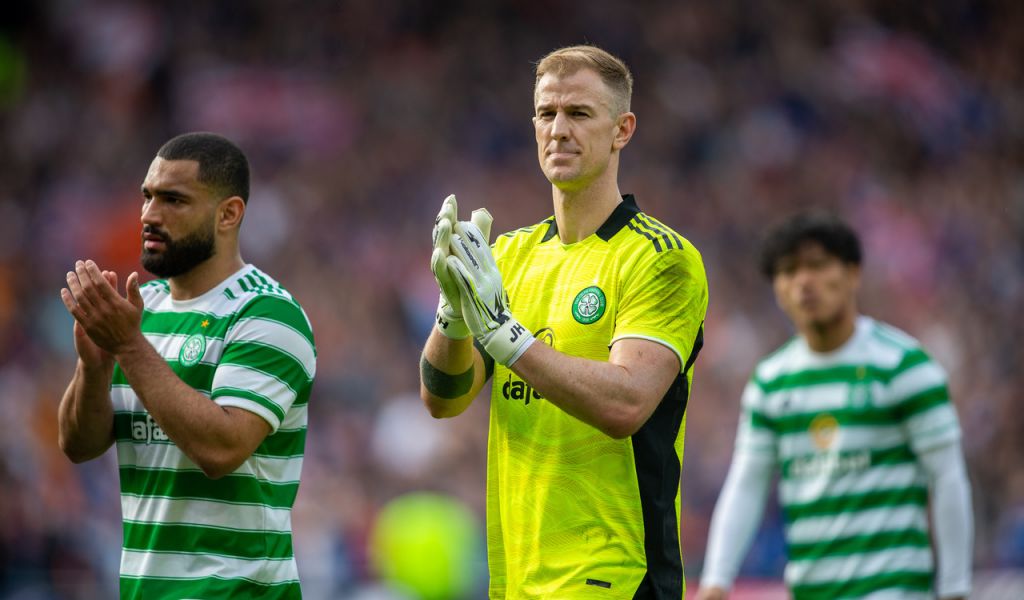 Domestically his stats are incredible, in Europe however we conceded far too many goals although I have to say that is probably down more to the style of play the team implemented rather than any individual blame on Hart's part. He has been without doubt one of the seasons top performer and it's an incredible personal story for Hart himself after years knocking around clubs in England feeling underappreciated.
Hart has certainly found a home at Parkhead and the Celtic fan base will be hoping for more of the same from the big Englishman next season.
Conall McGinty
GET YOUR INVINCIBLE AND TWICE AS GOOD T-SHIRTS NOW FREE WITH MATT CORR'S BRILLIANT CELTIC BOOKS
You want one of these? It's completely FREE when you purchase INVINCIBLE or TWICE AS GOOD* from Celtic Star Books website, just click on the relevant link below to order your copy and when you do select the BOOK you want then add the T-SHIRT SIZE you require from small, medium, large, XL or XXL, adding that after your name so we'll know which size to send you…
*£1 from every copy of Twice as Good will be donated to Marie Curie in memory of Harry Hood and in line with the wishes of the Hood family.
Order Invincible here…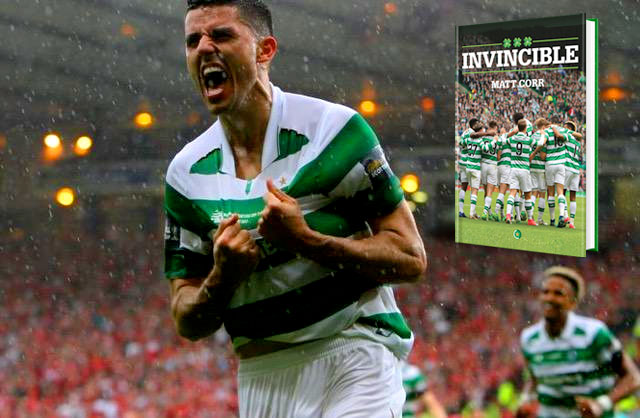 And order Harry Hood – Twice as Good here…