There will be very few of us, I fancy, who will shed a lot of tears at midnight on Friday night when 2021 eventually leaves us. It has had its moments, and it probably leaves us with a fair amount of hope and optimism for the future, but it has not been a great time in our history, nor will it be looked upon with any great affection.
In the first place, we were denied access to our beloved Celtic Park for at least the first six months of the year, and then it opened again only to be reduced to 500 fans per game at the end of the year – something that is clearly unacceptable. Whatever one feels about the various strategies for killing the evil plague, it is difficult to believe that this is the correct one. Players and fans must be allowed to live!
But that affects everyone, and not just Celtic. Celtic started 2021 seeming to have been handed a great boost with the winning of the Scottish Cup in late December 2020 giving us an unprecedented quadruple treble (which will probably never be repeated as long as football in played in Scotland, either by Celtic or anyone else) but the euphoria did not see out the 12 days of Christmas.
A defeat at Ibrox was followed by a breathtakingly awful decision to take the players away on a midwinter break to Dubai, at a time when the rest of the country was in lockdown. Even Celtic apologists could not defend this absolute arrogance, and of course it got what it deserved in the shape of a few Covid absences when they came back.
There was a major struggle to get a team on the field for the game against Hibs on 11 January, and we had the unlikely figure of Gavin Strachan in charge of the team as Neil Lennon and John Kennedy were both self-isolating. The game against Hibs and the two which followed against Livingston were all miserable draws, something which guaranteed that Neil Lennon would not last the season out, let alone retain his job on any long term basis.
Neil departed in disgrace on 24 February, leaving John Kennedy in charge. The parting was sad, for Neil was still very much in credit, in the eyes of many supporters, for what he had done for Celtic as a player and a manager. His personal problems were brought to the fore by the eager media, but many of us supporters still look upon Neil with a residue of affection for his achievements. He was not the only one to blame for the awful events of 2020/21, but as they say, "the buck stops here".
The moderates reasoned that "it had to happen some time" and "all good things come to an end", but the less moderate wanted blood. Nine years of constant success now counted for nothing, and the trouble was that so many of the Celtic players themselves did not seem to be bothered about it. It was possibly just as well that fans were compelled to watch this on Celtic TV rather than at the ground, for there might have been more demonstrations. But then again, with fans in the stadium, things might have been forced to change at an earlier stage.
A veil can, to advantage, be drawn over most of the rest of the League season – a reasonable run in February and an honourable draw against Rangers in March at Parkhead, but then an appallingly dismal collapse at Ibrox, and the good people of Glasgow had to put up with the sight of George Square being vandalised and places of worship being desecrated as the League was celebrated by the intellectually challenged. The finger really has to be pointed at Celtic's guilty men for all that.
The Scottish Cup, so often looked upon as Celtic's saviour, was played in April this year. It started off with a defeat of Falkirk, but then there was a visit to Ibrox. The real horror of defeat often lies in the chances of saving defeat being squandered. This was a collector's item of horror in the shape of a missed penalty, and several other chances which the commentators described as "gilt edged", as Celtic whimpered out of the Scottish Cup, apparently believing once again that they were not allowed to beat Rangers! There was a little recompense in the next round when Zander Clark of St Johnstone with a penalty save at Ibrox restored a little happiness.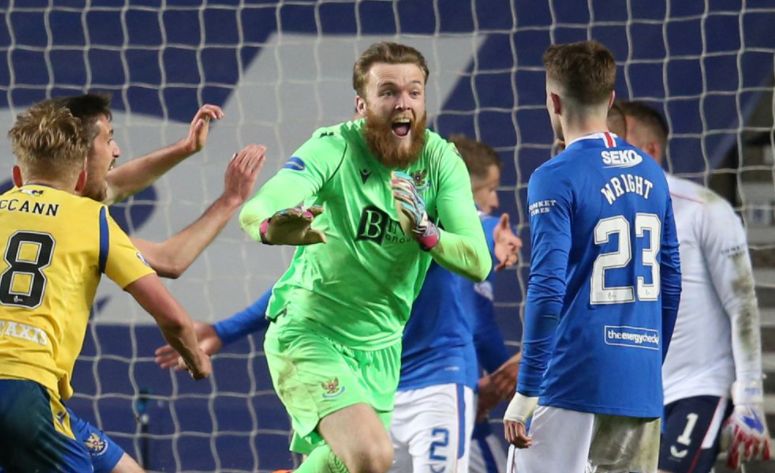 Full marks incidentally to the Perth Saints for winning two Cups this year. Whether they would have done so in more normal circumstances with fans in stadiums, is up for doubt, but no-one can erase their name from the record books in 2021, as they beat Livingston in the League Cup final and those perpetual Cup final losers, Hibs, in the Scottish Cup final.
We then had a summer of limbo without a Manager and without very much else. Roy Keane, Eddie Howe and a few others were trotted out yet again with all sorts of pundits prepared to make a full of themselves by confidently predicting that Eddie or Roy would be there "by the end of the week", but in fact on 10 June, it was Ange Postecoglou who appeared. It was difficult to find a Celtic supported who had ever heard of him or could even spell or pronounce his name, but the general feeling was that he was worth a go.
Players came and went. Odsonne Edouard had clearly reached the end of the road with Celtic, and his heart was not in the job, but Ryan Christie's departure was regretted. He had a touch of class but also the disturbing tendency to kick a ball over the bar. Diego Laxalt with the strange hairstyle, Jonjoe Kenny and Shane Duffy were possibly not Celtic class, and Elyounoussi could do it sometimes, but not often enough. Things might have been different in more normal times for them.
One player who graduated with honours was Scott Brown. He was much missed and his departure much lamented by the fans, even though most people agreed that the time had come. His Celtic career was almost unparalleled in its length and consistency since 2007, and Celtic Park without "Broonie" was a strange place. A Chief Executive replaced Peter Lawwell (who had his house attacked by some boneheads) but then he himself suddenly departed. It was kinda like that old Beatles song from the post-Lisbon Christmas "Hello Goodbye".
The players who arrived were basically just names to most supporters. Some have come good – Jota, Kyogu, Carter-Vickers – others have taken longer to win the love of the Parkhead support, but it is clear that there is a certain amount of progress. We are behind in the League race – not yet fatally so – and the major problem seems to be scoring goals against packed defences. Two games spring to mind – Livingston at Parkhead and St Mirren in Paisley – where the build up was perfect, but the goals would not come. It is a fault that must be remedied, otherwise there can be no League in 2022. And it is why we really need "flair" players to break down defences with accurate shooting and accurate passing. The hopeful punt into the penalty area simply will not do.
But there was one major triumph towards the end of the year. The 20th Scottish League Cup was won with a couple of "flair" goals from our oriental wizard. Hibs were the opponents, and although the Edinburgh men had their moments, Celtic were clearly the better team. Happy days are here again. Once again, there are green and white ribbons on silverware, and Ange Postecoglou has won his first trophy. The culture of Hampden appearances and success has returned. It must now be developed.
Player of the Year – Callum McGregor

Most Improved Player of the Year – Tom Rogic

Other Players who deserve a mention – Stephen Welsh, Anthony Ralston, Kyogu, Jota, Joe Hart

Players to whom we look to develop in 2022 – David Turnbull, Greg Taylor, Liel Abada.

Disappointments – too many to mention!
So although 2021 was and will remain a disaster, it did finish well. It is now up to Ange to build on the League Cup success. At the moment, he has the support of the fans, but this cannot be guaranteed with Celtic supporters!
David Potter