Being in the army meant that my dad travelled around a fair bit in the sixties and seventies, and I was born in Oswestry as a result of that. My father was brought up as a Celtic supporter, and that passion for the club was inevitably passed down to me. I remember that he was stationed in Glasgow when I was a little older, and he took me to a few games at Celtic Park, which I loved. We also used to go to Lesser Hampden to watch players training, so I think we were living somewhere around Queen's Park at that time.
My mother was from Berwick, and we settled there once my dad retired from the army. My old man ran some of the local teams, and I played for youth sides throughout my teens until I signed for Berwick Rangers. The manager at that time was Frank Connor, who had played for Celtic way back in the early sixties.
Frank didn't want me playing in the Scottish Second Division at such a young age because of the roughness of it, and he farmed me out to a few youth teams in the Edinburgh area. I played with Elphinstone Primrose and Tynecastle Boys' Club against lads of a similar age, and it was what I needed at that time. I still had to go into Berwick to clean the boots and terraces, but, looking back, that did me the world of good as well. Frank Connor was a very positive influence on my early career, and I feel that I had a definite bond with him.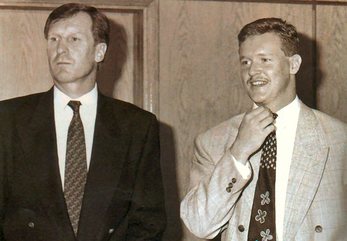 I was finally taken on professionally when I was 18, but it was Mansfield Town who offered me my first pro contract. I went down there in 1983, and my whole career really turned around in the space of six years. I moved to Halifax in 1985, Hearts in 1987, and then Celtic in 1989. I managed to get to Celtic Park in a few two-yearly steps.
I was playing in the old English Fourth Division when I got my move to Hearts, and I couldn't believe it when they came in for me. Before I knew it, I was playing against my beloved Celtic in the Scottish Premier League. When I arrived in Edinburgh, I was asked by a journalist early on if I knew much about the Scottish game, and I told them I had been a Celtic supporter my whole life. I never made any secret of that fact.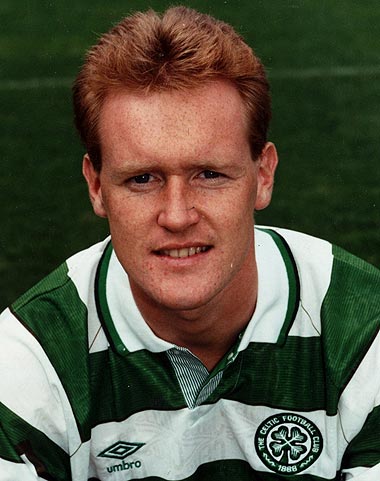 During my time at Hearts, I managed to score a few goals against Celtic, and was prolific during their great UEFA Cup run, which was ended by Bayern Munich at the quarter-final stage. I think that got me some attention from Celtic Park.
I'm the first to admit that I wasn't the most gifted footballer in the world, but I always got stuck in, and this appealed to managers and to the supporters. I always gave my all, and that was always clear to see.
I remember being at Tynecastle one day after training, and Tosh McKinlay told me that he'd heard Celtic were interested in buying me. I thought Tosh was on the wind-up. As much as I wanted to, I just couldn't believe him.
Not long after that, I took my missus up to Pitlochry for a few days. We were meant to be having a break, but I received a phone-call from Hearts out of the blue. They told me to get back down the road as soon as I could. Our short break was cancelled, and I drove back to Edinburgh. When I got there I was astonished to find out that Celtic wanted to buy me for £500,000.
I had two good years at Hearts, and I got on really well with the supporters during my time there, but it really was a dream come true to sign for Celtic. As luck would have it, the first league game of the season was at Tynecastle. By the time I came off at half-time, my Celtic jersey was soaking with spit from the Hearts supporters. I expected to get the usual abuse, but that really disgusted me.
(Celtic won the game 3-1).