North Curve Celtic have been forced to leave supporters disappointed by breaking the news that the club have told them there will be no tifos for the UEFA Champions League matches. Ahead of yesterday's game against Dundee, the group circulated a statement confirming that they were not permitted to create tifos for the home fixtures against Lazio, Atletico Madrid and Feyenoord.
The statement accuses the club of of obstructing tifos for the second year in a row and that this is a result of ongoing issues relating to harassment from Police Scotland.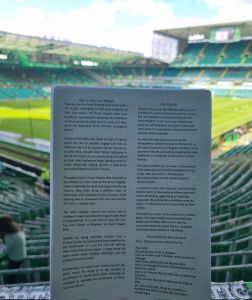 "There is a lack of interest within the club to properly engage with fans on initiatives like this to improve the fan experience at Celtic Park.
"Despite Celtic being trailblazers in the UK fan-scene, we are quickly being left behind as other clubs implement larger standing sections, create designated singing sections in goal ends and install infrastructure for 3D tifos.
"Throughout their 17-year history tifos have been a key addition to Celtic Park by the Green Brigade.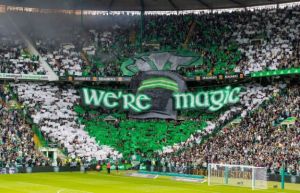 "Used to motivate the team and support for big fixtures, they often bring a different layer of excitement and anticipation to the occasion while allowing fans to showcase their love and passion for Celtic in creative ways.
"The Green Brigade opened the season with a dusting of magic by pulling the league trophy from a magician's hat. In a cruel twist of irony, the club has since chosen to disappear all Green Brigade tifos.

"It is particularly frustrating that for a second year in a row the club will obstruct tifos in the Champions League – a stage where the team needs every possible advantage and full support from the crowd.
"Furthermore, it is even more concerning that the club's reason for doing so on this occasion is punishment for North Curve Celtic defending its members by exposing the harassment of Police Scotland officers."
Celtic's opener against Real Madrid last year was met by a stunning tifo as Carlo Ancelotti's then-European Champions arrived in Glasgow's East End. The club have likely made a decision to limit the group's activity as a result of fines and threats of partial closures.
The club need to work with North Curve Celtic and help enhance the atmosphere at the ground and not hinder it. The Scottish Champions will be looking to make an impact in Europe and a potential factor that could help get positive results in Europe's elite competition.
Celtic kick off their UCL journey on the road against Feyenoord in Rotterdam before facing Lazio at home. Following this, we have the back-to-back games against Atletico Madrid before a trip to Rome and then finally, facing the Dutch Champions in Glasgow.