Celtic Historian David Potter each morning on The Celtic Star looks back at key Celtic events and matches on this day starting on 12th May 1894. David's latest bestseller The Celtic Rising ~ 1965: The Year Jock Stein Changed Everything is available now in print on Celtic Star Books, and also on Amazon kindle, links below…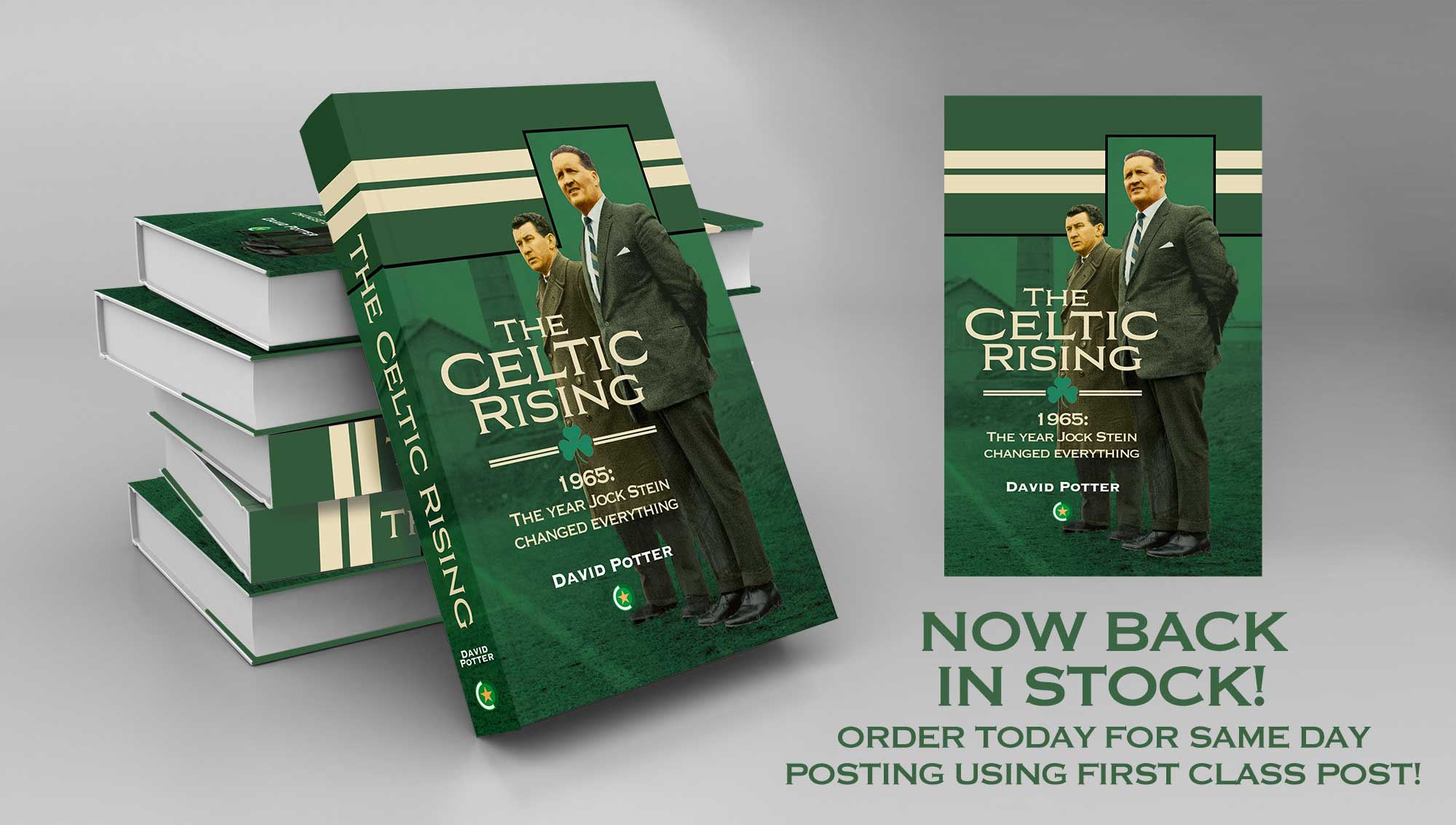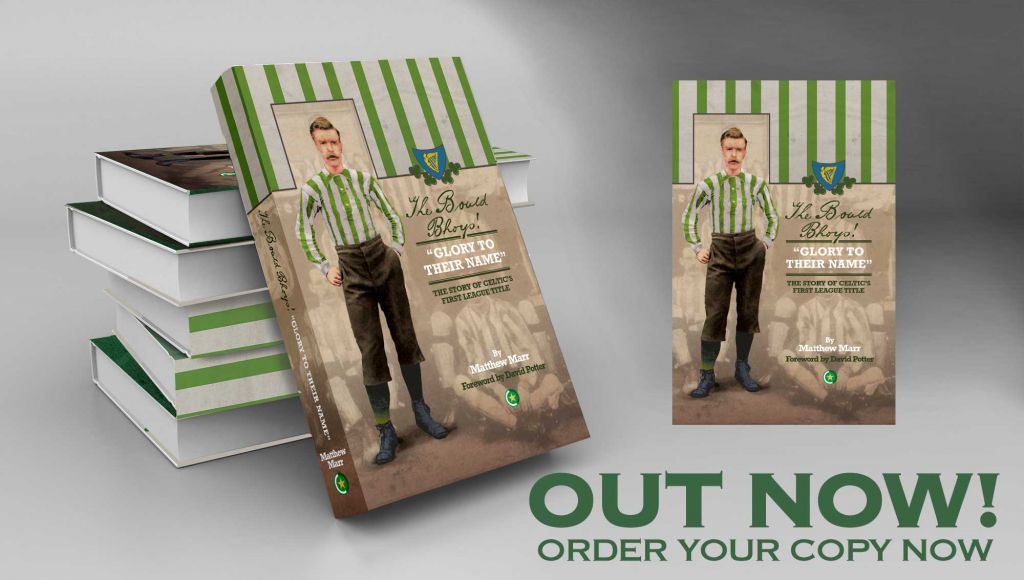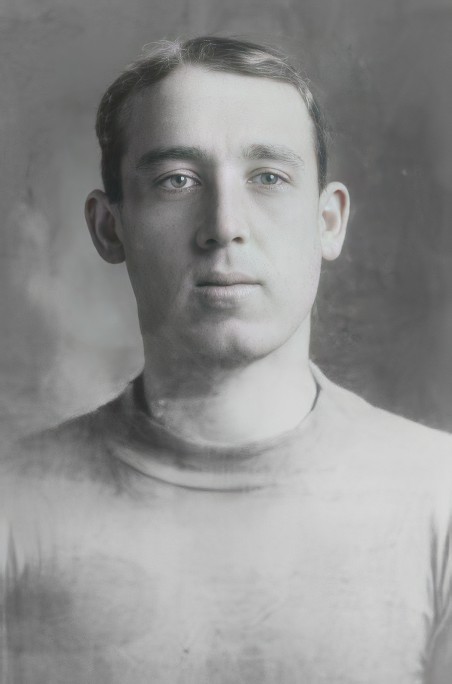 SATURDAY 12th MAY 1894 – Celtic win the Glasgow Charity Cup for the third season in a row by beating Queen's Park 2-1 at Ibrox before a crowd of 12,000. Sandy McMahon is out ill but Jimmy Blessington scores both goals
to add the Charity Cup to the Scottish League for the season.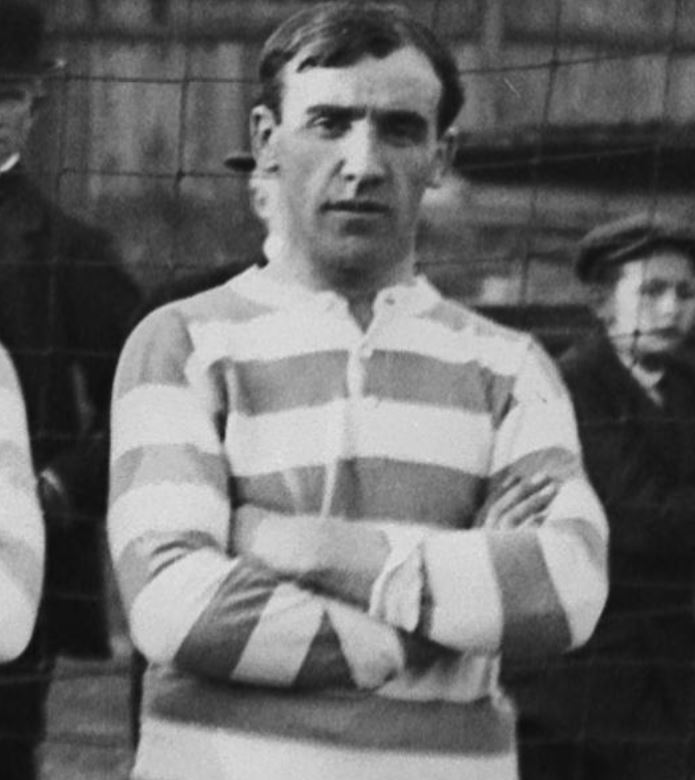 TUESDAY 12th MAY 1914 – Celtic make it three trophies out of four for 1914 when they beat Third Lanark 6-0 at Hampden in the Glasgow Charity Cup with two goals from Jimmy McMenemy and one each from Johnny McMaster, Joe Dodds, Jimmy McColl and Peter Johnstone. The team is about to depart on a tour of central Europe including Budapest, Vienna and Berlin. Life looks good for Celtic,who are probably the best team in the world at the moment.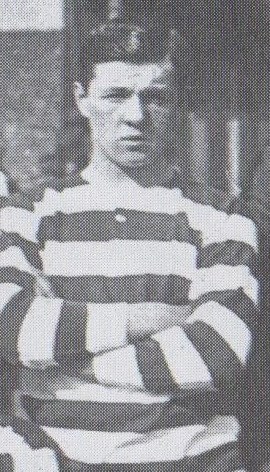 SATURDAY 12th MAY 1917 – Two excellent first half goals from Jimmy McColl were enough to beat Rangers at Ibrox in the Glasgow Charity Cup semi-final before an excellent crowd of 35,000. Meanwhile in France the British are reported to be making gains in their spring offensive – but then again, they always seem to be making gains, according to the Press.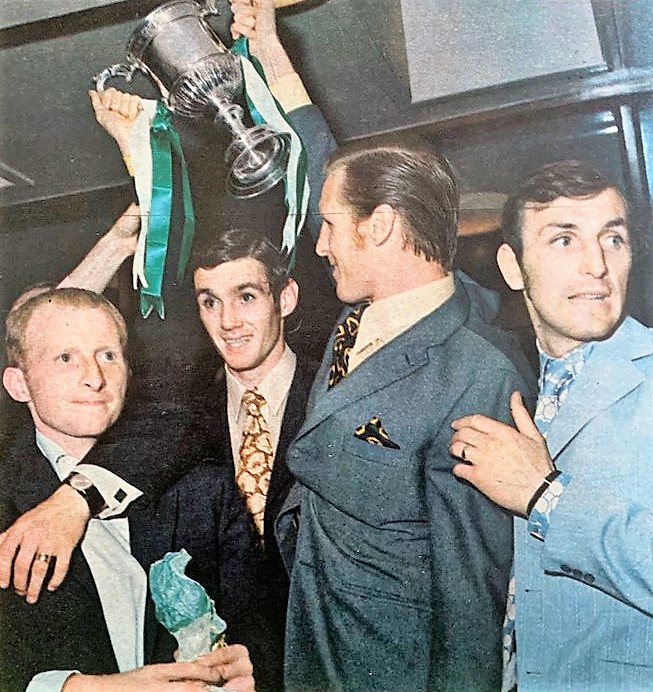 WEDNESDAY 12th MAY 1971 – Celtic, disappointed by a late Rangers equaliser on Saturday, make no mistake this time as they win the Scottish Cup for the 21st time in the replay before 103,332 fans at Hampden. Lou Macari scores first, then Harry Hood scores a penalty before half time. Rangers pull one back through an own goal early in the second half but Celtic, their midfield of Connelly and Callaghan immense, finish the game well on top.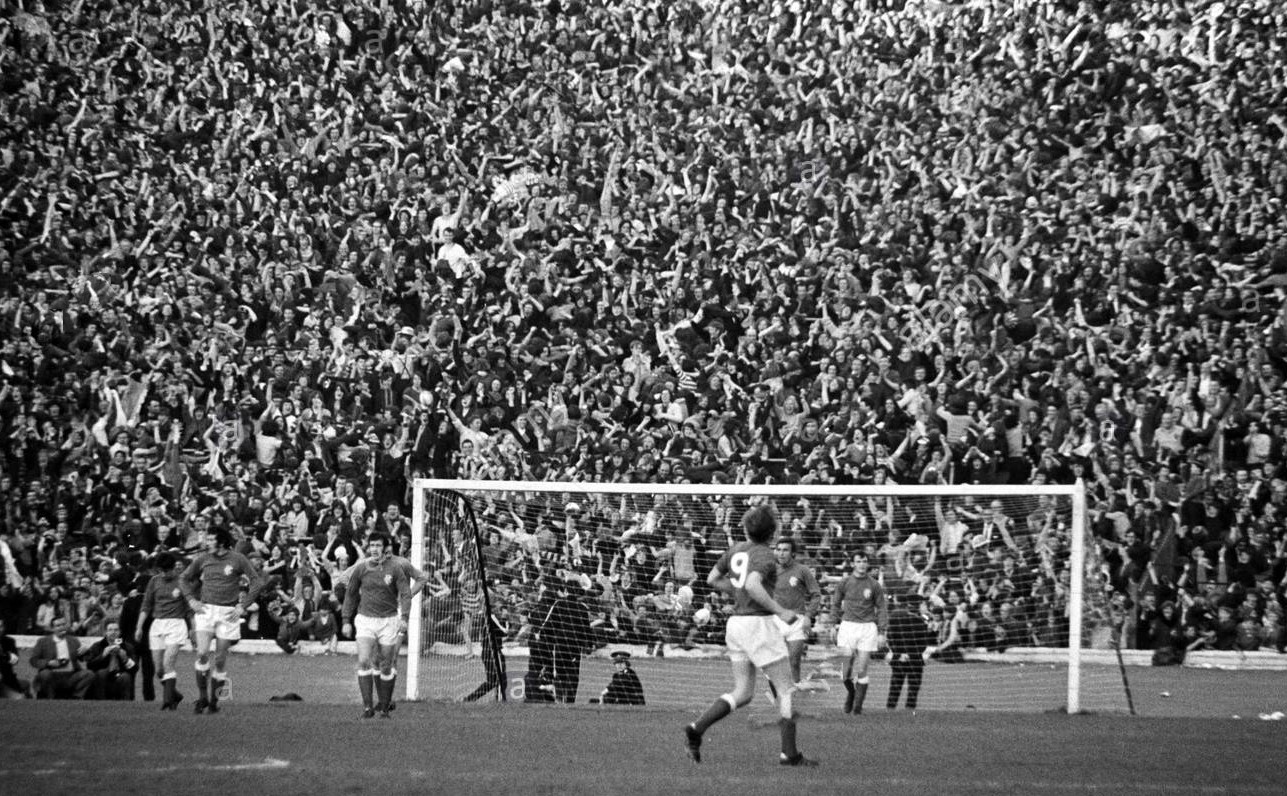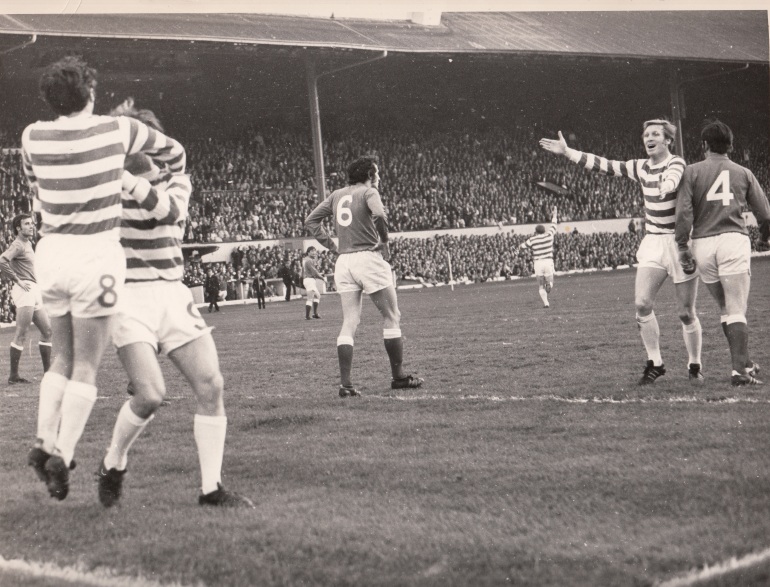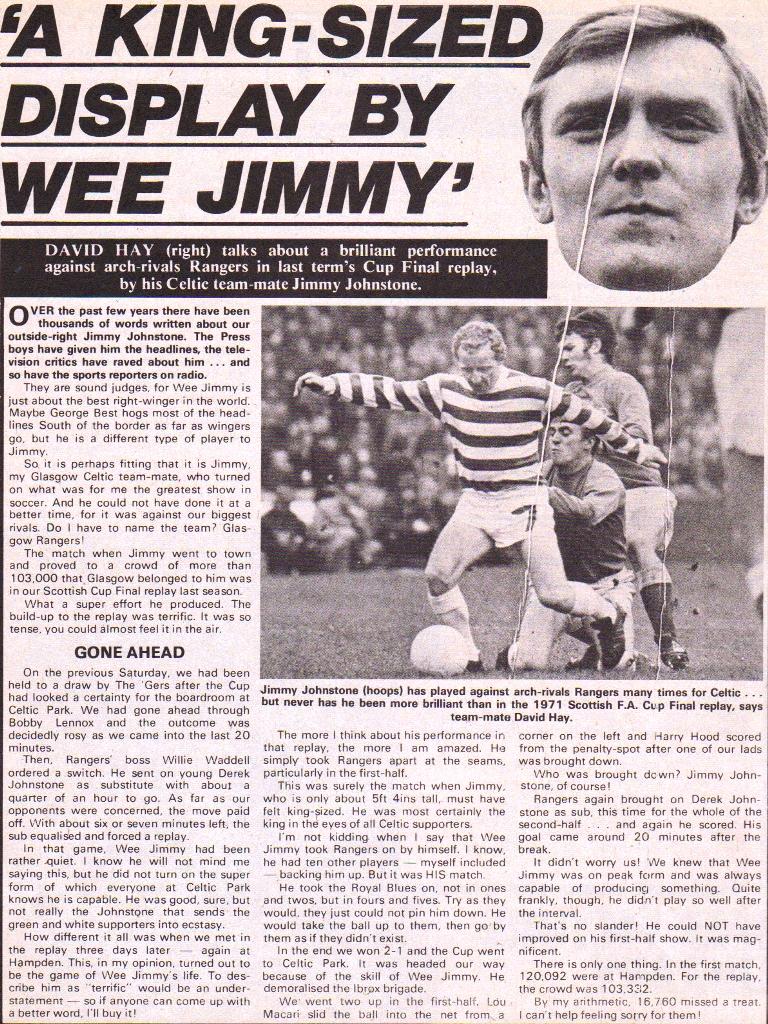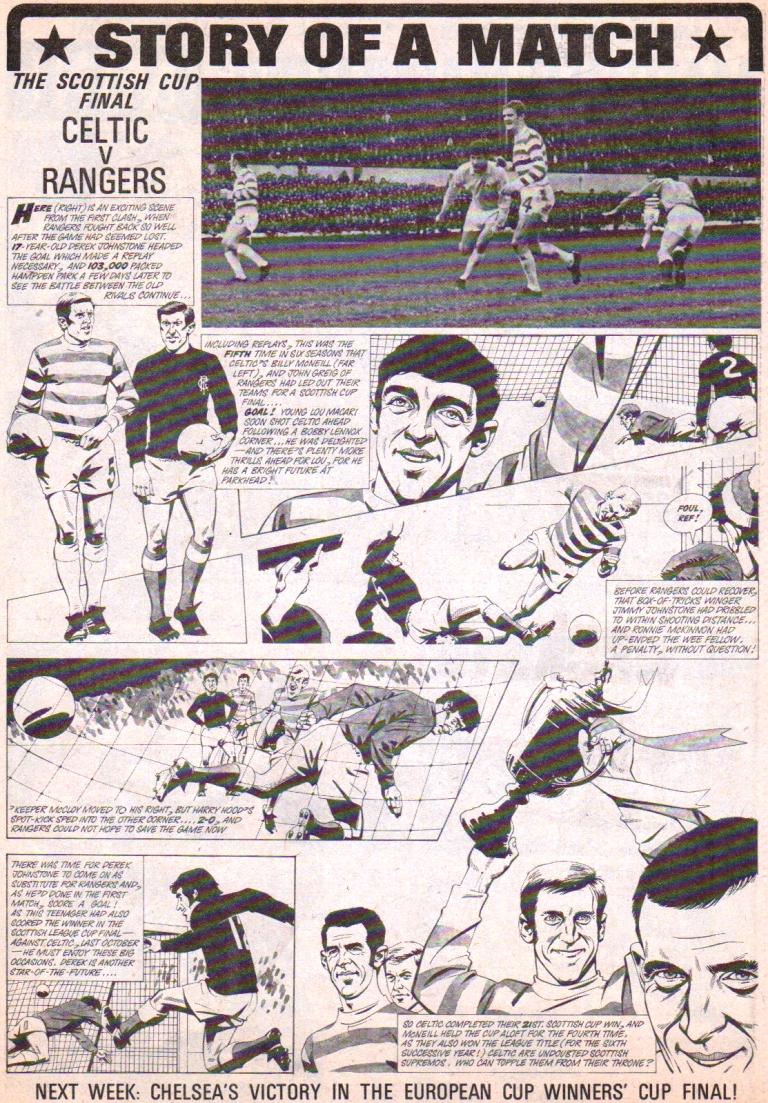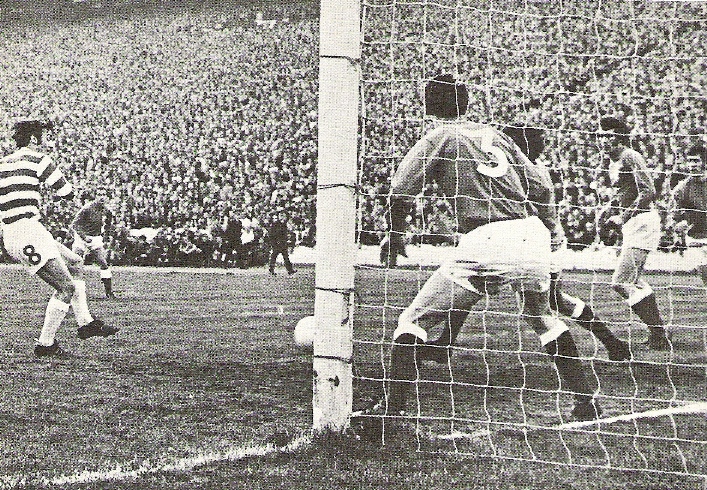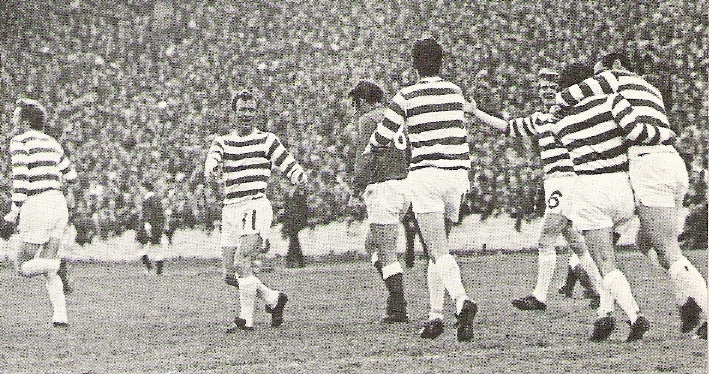 12th May 1971, Celtic beat Rangers 2:1 to win the Scottish Cup and complete the double.

Lou Macari and Harry Hood. @LouMacari10 pic.twitter.com/owEjzlpvD3

— Li'l Ze (@LilZe_7) May 11, 2023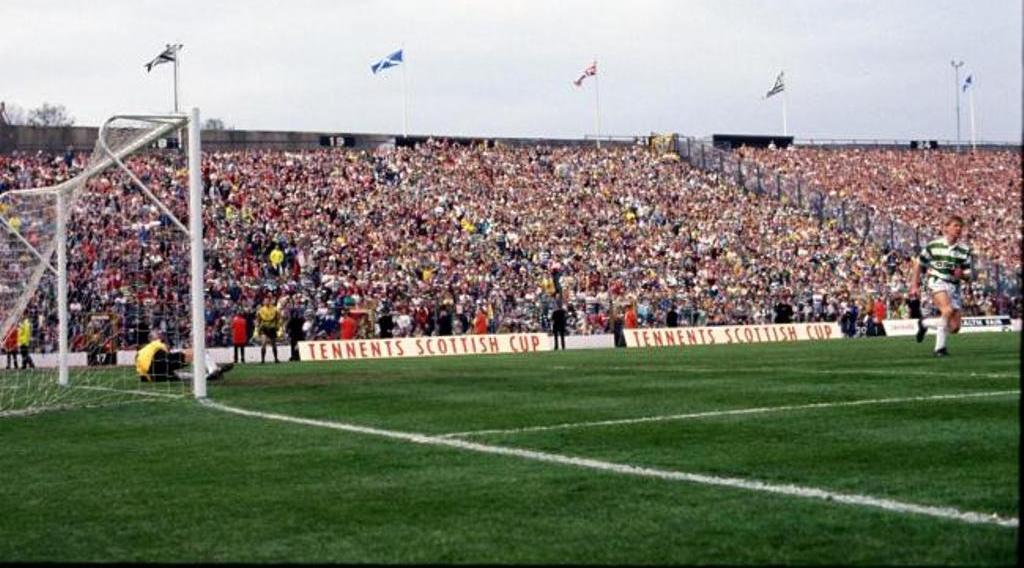 SATURDAY 12th MAY 1990 – One of the most heart breaking days of supporting Celtic even in the lean years, as Celtic lose the Scottish Cup final to Aberdeen in a penalty shoot-out. Celtic were far from favourites in this game, because they had not had a good season, but today they held their own against a good Aberdeen side for 120 minutes and went down 8-9 on a penalty shoot-out. The Aberdeen player who scored the final penalty made a remark to the effect that God was on his side. This comment was rightly resented by Celtic fans.
David Potter
On this day in 1916 Irish-Scottish socialist James Connolly was shot in Kilmainham Jail, Dublin for his part in the Easter Rising. Connolly fought all his life for ordinary people and should be remembered for that. Nora, his daughter remembers him… #SuchABeautifulLife pic.twitter.com/o0yMeX206o

— Lisbon Lion (@tirnaog_09) May 12, 2023
12th May 1966, Celtic face Bermuda on their American tour.https://t.co/YbKqu38qG5 pic.twitter.com/VVtL2pz7qB

— Li'l Ze (@LilZe_7) May 11, 2023
12th May 1984, Celtic 1:1 Dundee Utd.

Cracking freekick from Murdo. @murdomacleod06 pic.twitter.com/9jSB74QdJg

— Li'l Ze (@LilZe_7) May 11, 2023
12th May 1991, Celtic beat Ireland 3:2 in Packie Bonner's testimonial. @PackieBonner1

Gerry Creaney hattrick.

Slaven and Kelly for Ireland. @bernieslaven pic.twitter.com/1l09hHWYNv

— Li'l Ze (@LilZe_7) May 11, 2023
12th May 2002, Aberdeen 0:1 Celtic.

Great freekick from Maloney as Celtic finish the season on 103 points. pic.twitter.com/mXNDHr3Buf

— Li'l Ze (@LilZe_7) May 11, 2023
12th May 2004, Motherwell 1:1 Celtic.

Beattie. pic.twitter.com/E0Ewm7dEiM

— Li'l Ze (@LilZe_7) May 11, 2023
12th May 2007, Celtic 2:1 Aberdeen.

Vennegoor of Hesselink double. @JanVofH pic.twitter.com/cID9PdxiUf

— Li'l Ze (@LilZe_7) May 11, 2023
12th May 2009, Celtic 2:1 Dundee Utd.

Loovens and Samaras. pic.twitter.com/7Gz4DrODpw

— Li'l Ze (@LilZe_7) May 11, 2023
12th May 2017, Aberdeen 1:3 Celtic.

Boyata, Armstrong and Griffiths. pic.twitter.com/Gte04Ic5dZ

— Li'l Ze (@LilZe_7) May 11, 2023
12th May 2021, Celtic beat St Johnstone 4:0 as Broony plays his final game at Celtic Park. @ScottBrown8

Turnbull, Edouard, Ajer and Dembele. pic.twitter.com/VvEcOyWYBA

— Li'l Ze (@LilZe_7) May 11, 2023
𝗢𝗻 𝘁𝗵𝗶𝘀 𝗱𝗮𝘆: 𝗦𝗰𝗼𝘁𝘁 𝗕𝗿𝗼𝘄𝗻 𝗮𝗽𝗽𝗼𝗶𝗻𝘁𝗲𝗱 𝗙𝗹𝗲𝗲𝘁𝘄𝗼𝗼𝗱 𝗧𝗼𝘄𝗻 𝗵𝗲𝗮𝗱 𝗰𝗼𝗮𝗰𝗵 🔙

1⃣2⃣ months ago, @ScottBrown8 walked through the doors at Highbury – we want to know what your favourite moment has been this season 🤷

#OnwardTogether pic.twitter.com/m6ODAEfiNU

— Fleetwood Town FC (@ftfc) May 12, 2023