Celtic Historian David Potter each morning on The Celtic Star looks back at key Celtic events and matches on this day starting on 13th December 1913. David's latest bestseller The Celtic Rising ~ 1965: The Year Jock Stein Changed Everything SOLD OUT on Celtic Star Books but the good news is that it is now back in stock! You can place an order here and we'll post same day via first class post. The Celtic Rising is also now available on Amazon Kindle, link below.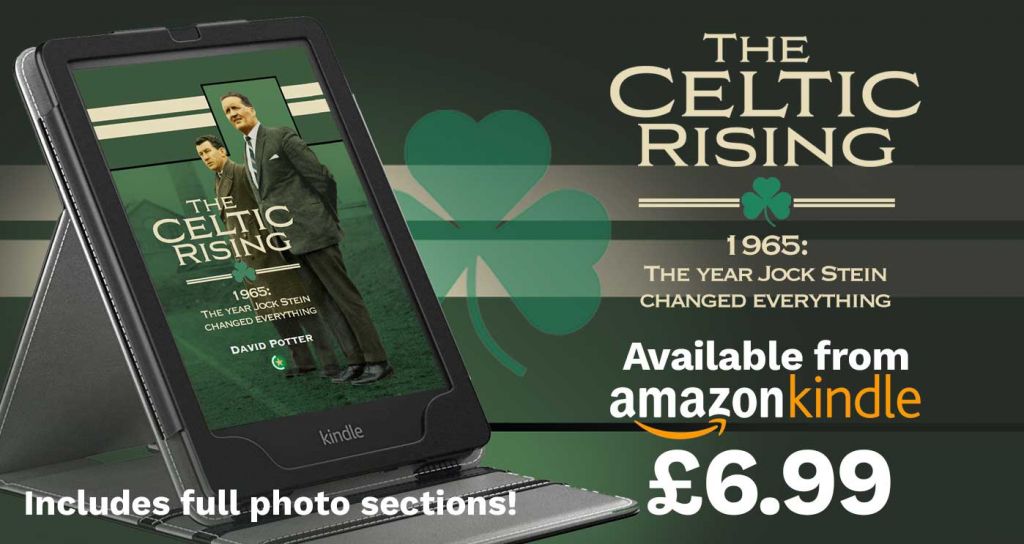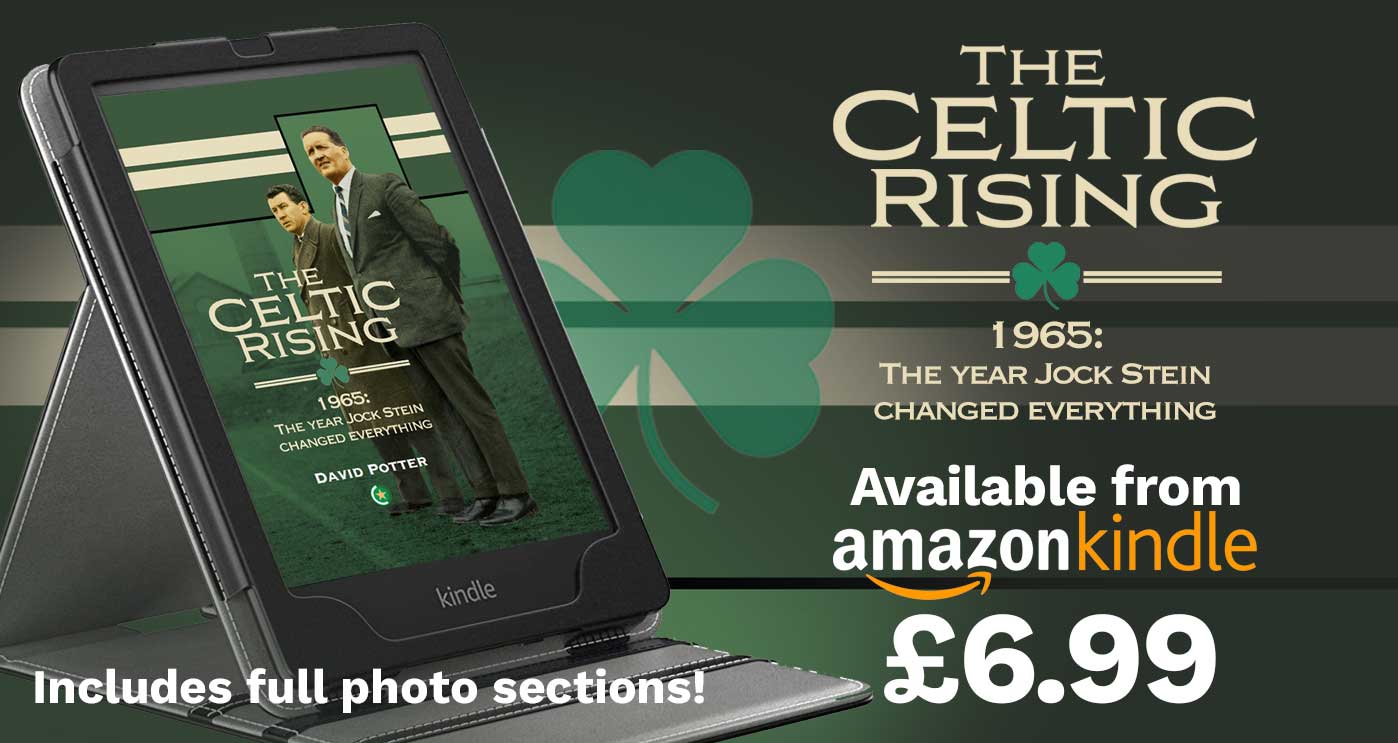 SATURDAY 13 DECEMBER 1913 – It is a field day for triskaidekaphobes (those who do not like the number 13) as Celtic make their way to Kirkcaldy to play Raith Rovers. It is now thirteen League games since Celtic lost a goal, the date is the 13th and the year is 1913. Celtic do concede a goal today (getting one past Shaw, McNair and Dodds is not easy!) but they still win the game 2-1 thanks to goals from Ebenezer Owers and Johnny Browning. Raith's goal (the only one conceded by Celtic between 7 October and 18 February) was scored by Jimmy Scott, a man who would not return from the Great War.
SATURDAY 13 DECEMBER 1930 – Celtic continue their recent good form with a 4-0 win over Leith Athletic at Celtic Park. Jimmy McGrory scores (of course!) as does Chick Geatons, but the man of the match is two-goal Charlie Napier, now called "Happy Feet" by the crowd.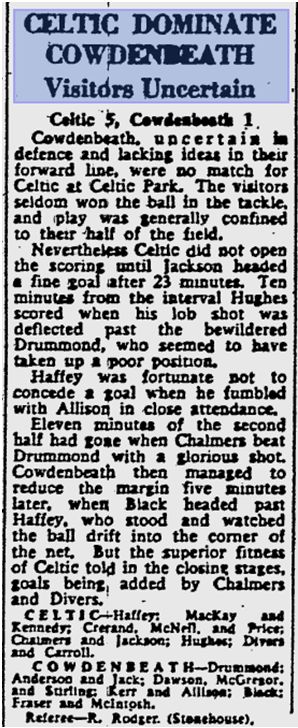 WEDNESDAY 13 DECEMBER 1961 – It is an early start for the Scottish Cup (the game should have been played on Saturday the 9th but it was postponed because of frost) but Celtic take care of Cowdenbeath before 19,000 fans at Parkhead. Steve Chalmers scores two and Mike Jackson, John Divers and John Hughes in a 5-1 victory.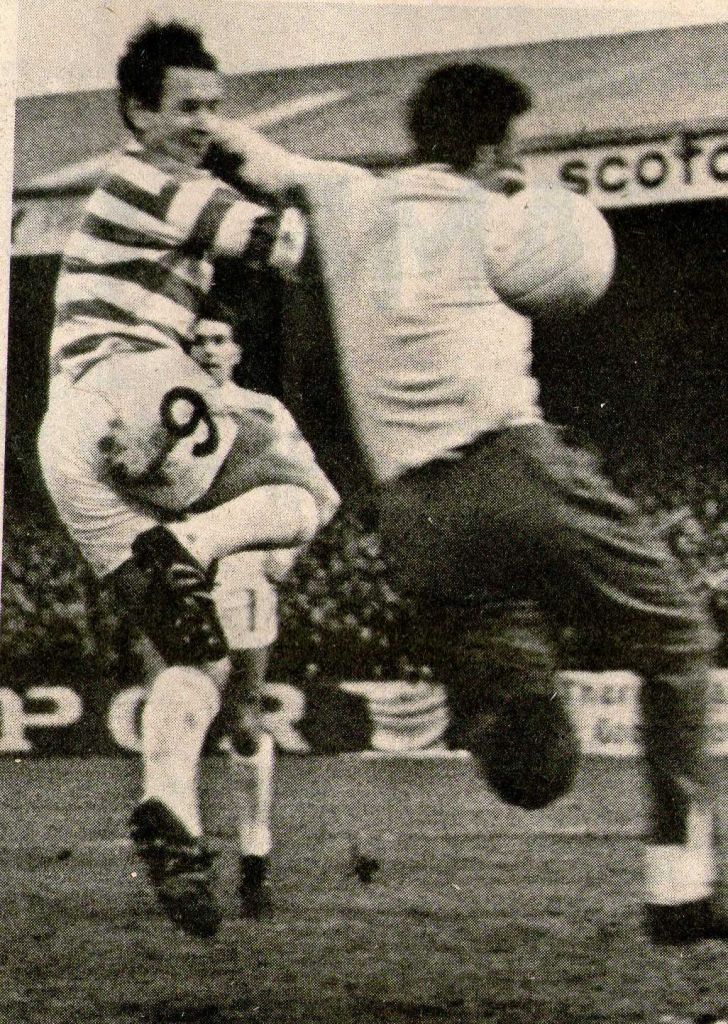 SATURDAY 13 DECEMBER 1969 – It is a cold day at Perth but Celtic continue their winning ways with a 4-1 defeat of the talented St Johnstone side. Willie Wallace scores twice and Tommy Gemmell and Harry Hood score the others. 15,500 brave the bracing cold and are duly entertained.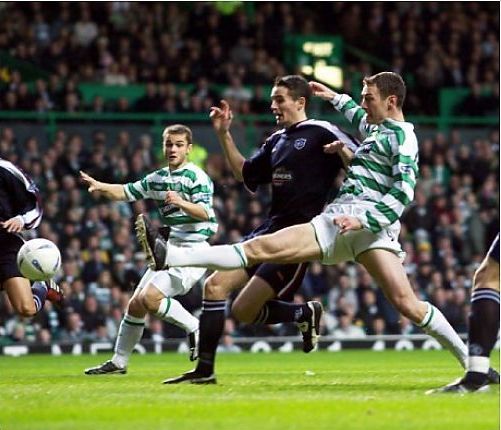 SATURDAY 13 DECEMBER 2003 – Celtic's failure to qualify for the Champions' League knock out stage in midweek is compensated for by a 3-2 win over Dundee at Celtic Park today before 57,573 fans with the goals coming from Henrik Larsson, John Kennedy and Bobo Balde. This makes it 15 straight wins for Celtic, and the 3-2 score line is slightly misleading for Dundee's second goal came in injury time.
25 years ago today, Celtic 1:0 Hearts.

Burley with a vital winner on the way to the title. @craigburley pic.twitter.com/PRU1j17F9W

— Li'l Ze (@LilZe_7) December 13, 2022
13th December 2003, Celtic 3:2 Dundee.

Larsson, Bobo and Kennedy.

Lovely dummy by @chris_sutton73 and great strike by Fotheringham. pic.twitter.com/2AI0KIf7yv

— Li'l Ze (@LilZe_7) December 13, 2022
David Potter
Happy Birthday Mika Lustig! 💚 pic.twitter.com/rKX3pQkQUu

— Li'l Ze (@LilZe_7) December 13, 2022
13th December 1986, Motherwell 1:1 Celtic.

McClair. @BrianMcClair13 pic.twitter.com/gBGlifzP6R

— Li'l Ze (@LilZe_7) December 13, 2022
25 years ago today, Celtic 1:0 Hearts.

Burley with a vital winner on the way to the title. @craigburley pic.twitter.com/PRU1j17F9W

— Li'l Ze (@LilZe_7) December 13, 2022
13th December 2008, Celtic 1:1 Hearts.

Late McManus equaliser. @StephenMc446 pic.twitter.com/YEDwDqnJ7x

— Li'l Ze (@LilZe_7) December 13, 2022
13th December 2009, Ki Sung-yueng signs for Celtic. pic.twitter.com/YODUE6IWxg

— Li'l Ze (@LilZe_7) December 13, 2022
13th December 2015, St Johnstone 0:3 Celtic.

Çiftçi(2) and Boyata. pic.twitter.com/qVRYtLbOTs

— Li'l Ze (@LilZe_7) December 13, 2022
13th December 2016, Celtic 1:0 Hamilton.

Griffiths. pic.twitter.com/VzVUlhkeZk

— Li'l Ze (@LilZe_7) December 13, 2022
5 years ago today, Celtic 3:1 Hamilton.

Ntcham, Forrest and Sinclair. @OlivierNtcham @Scotty_Sinclair pic.twitter.com/EoZVgy1VO5

— Li'l Ze (@LilZe_7) December 13, 2022
13th December 2018, Celtic lose to Salzburg but qualify from the Europa group stages thanks to a late Rosenborg winner in Leipzig.

That 2nd goal.🙈 pic.twitter.com/xHrsyAwMEu

— Li'l Ze (@LilZe_7) December 13, 2022