Celtic Historian David Potter each morning on The Celtic Star looks back at key Celtic events and matches on this day starting on 14th April 1900. David's latest bestseller The Celtic Rising ~ 1965: The Year Jock Stein Changed Everything is available now in print on Celtic Star Books, and also on Amazon kindle, links below…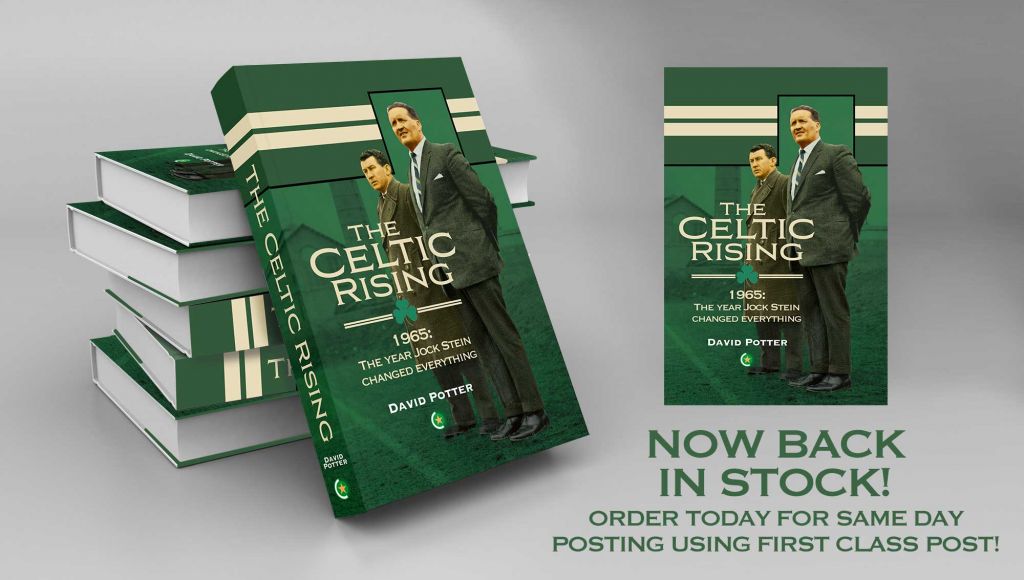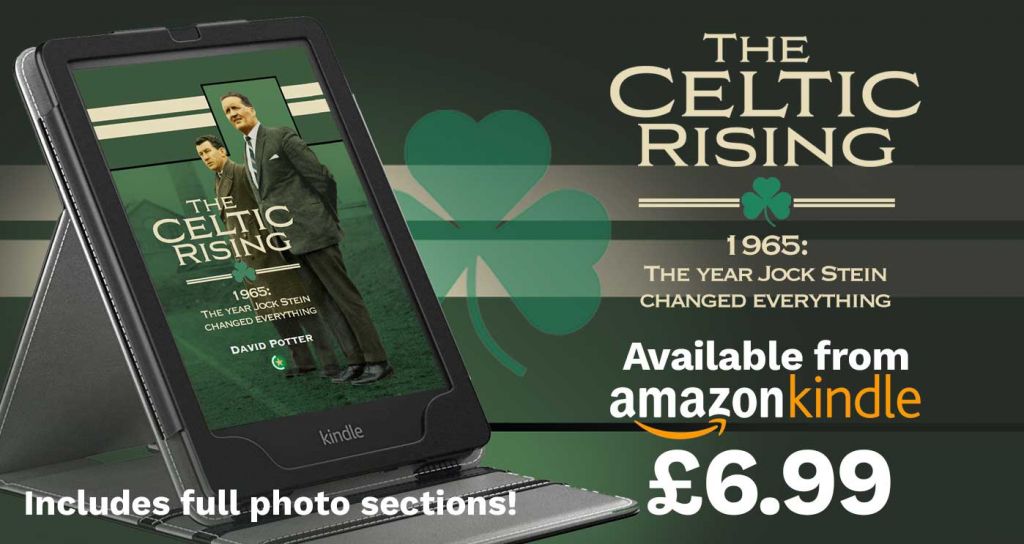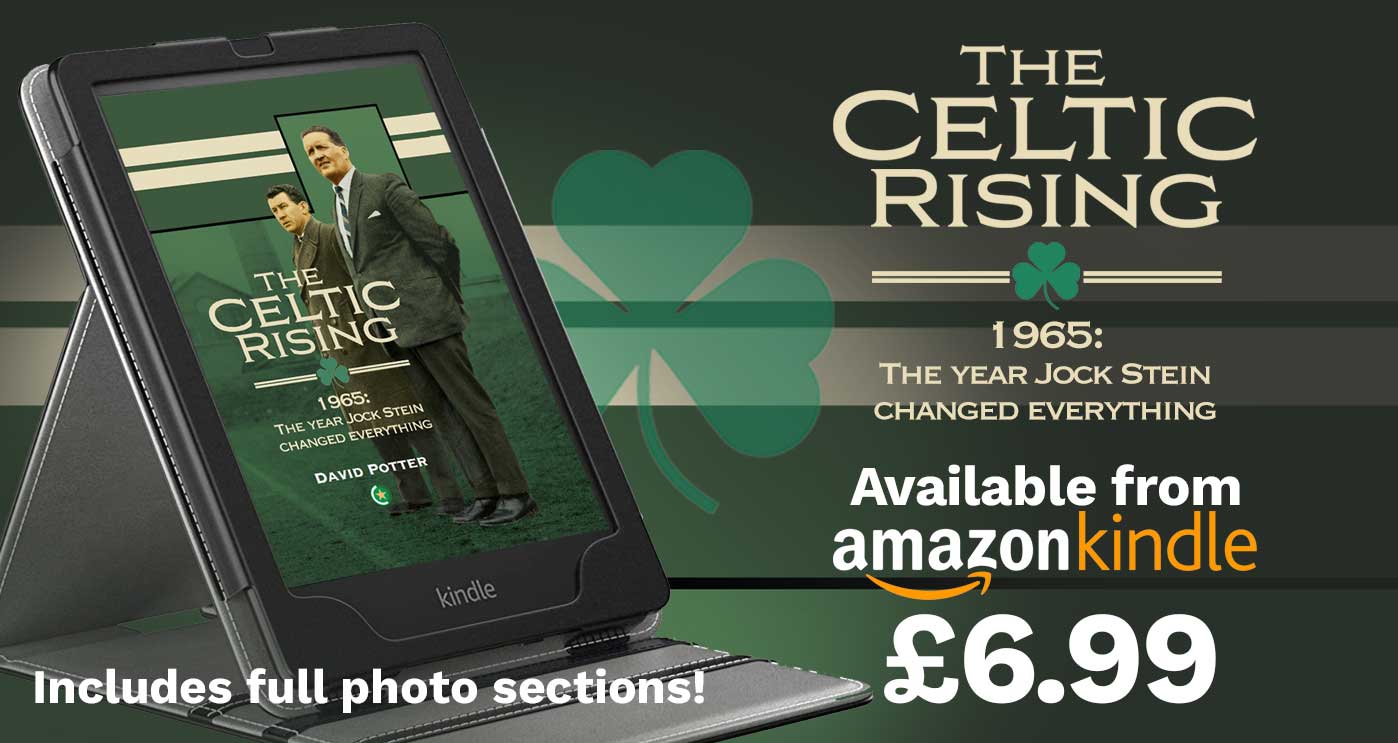 SATURDAY 14th APRIL 1900 – Celtic win their third Scottish Cup in an astonishing final at Ibrox against Queen's Park. The game is totally dominated by the westerly wind, so much so that the game becomes known as "the hurricane final". Celtic play with the wind in the first half and turn round 3-1 up with goals from John Divers, Sandy McMahon and Jack Bell, then crucially John Divers scores again, this time against the wind, in the early stages of the second half. Then Queen's Park mount a barrage on Dan McArthur in the Celtic goal and score twice, but Celtic hold on to win the trophy. Some Celtic supporters travel to this game at Ibrox in the new Underground railway for the first time – a noisy and frightening experience!
SATURDAY 14th APRIL 1928 – It is an iconic Cup final, but Celtic are on the wrong side this time as Rangers win 4-0 to collect the trophy for the first time for 25 years. Rangers deserve to win, but the lack of fight in the Celtic side after Meiklejohn scores his penalty kick is disturbing to supporters with most criticism falling on the wayward and quixotic genius of Tommy McInally who was expected to lead a fightback. McGrory too was out of touch. McInally will be on his way to Sunderland soon.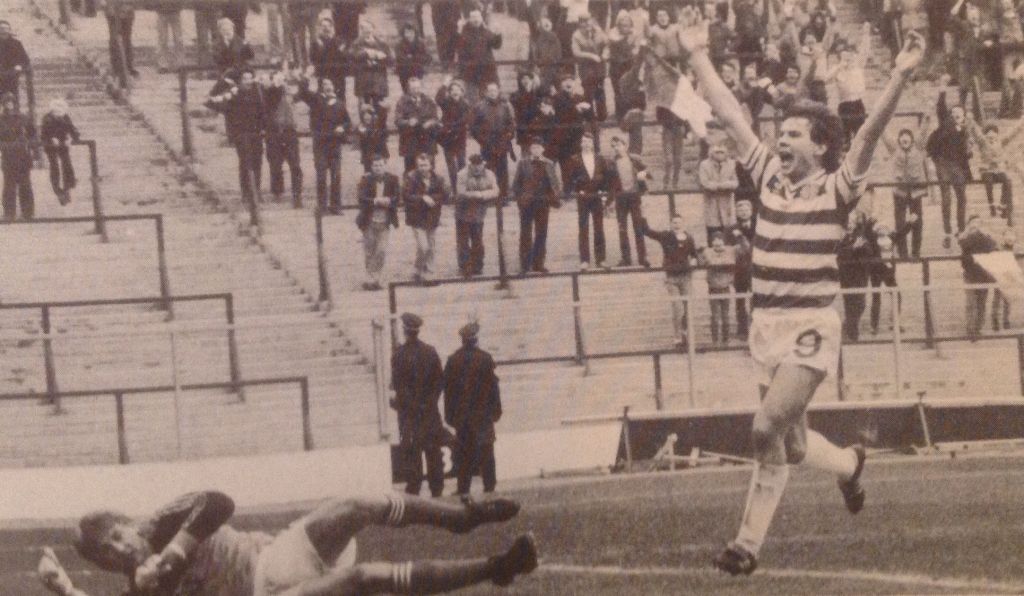 SATURDAY 14th APRIL 1984 – Celtic's chance of winning the Scottish League has long since gone, but today they reach the final of the Scottish Cup with a 2-1 win over St Mirren at Hampden with goals from Paul McStay and Brian McClair. It is a windy, rainy sort of day and the low crowd of 24,690 reflects this, but there is also a certain amount of disaffection after Davie Hay's first season as Manager which has really been rather poor.
14th April 1984, Celtic beat St Mirren 2:1 in the Scottish Cup semi-final.

McClair and McStay. @BrianMcClair13 pic.twitter.com/PuFkbzwanM

— Li'l Ze (@LilZe_7) April 13, 2023
SATURDAY 14th APRIL 1990 – 34,768 are at Hampden today to see Clydebank's one and only Scottish Cup semi-final appearance, but they are defeated 0-2 by Celtic for whom Andy Walker scores twice. It is generally agreed that this has been one of Celtic's worst ever seasons, not helped by the loss of Roy Aitken for reasons never satisfactorily explained, but there have been some good performance in the Scottish Cup, and there is always some sort of hope that they might yet land a trophy.
14th April 1990, Celtic beat Clydebank 2:0 in the Scottish Cup semi-final.

Walker double. pic.twitter.com/XEpixvYSSv

— Li'l Ze (@LilZe_7) April 13, 2023
WEDNESDAY 14th APRIL 2004 – Celtic crash out of Europe losing 0-2 to Villarreal, but the pill is sweetened ever so slightly by the news that Rangers could only draw 1-1 with Livingston, which means that Celtic can clinch the League title on Sunday if they win at Kilmarnock.
David Potter
14th April 1966, Celtic beat Liverpool 1:0 in the first leg of the European Cup Winners Cup semi-final.

Bobby Lennox with the only goal on the night. pic.twitter.com/QODBwkimbZ

— Li'l Ze (@LilZe_7) April 13, 2023
50 years ago today, St Johnstone 1:3 Celtic.

Dalglish double and Jinky. @kennethdalglish pic.twitter.com/bWBlmAJ6rw

— Li'l Ze (@LilZe_7) April 13, 2023
14th April 1979, St Mirren 0:1 Celtic.

Great goal from George McCluskey. pic.twitter.com/2zbEiD3CB4

— Li'l Ze (@LilZe_7) April 13, 2023
14th April 1996, Hibs 1:2 Celtic.

Pierre with both goals. @pierrevh17

Some strike from Pat McGinlay. pic.twitter.com/RydOLPO0RA

— Li'l Ze (@LilZe_7) April 13, 2023
14th April 1999. Hearts 2:4 Celtic.

Riseth, Blinker and Viduka(2). @RegiBlinker pic.twitter.com/72YzzDNaJW

— Li'l Ze (@LilZe_7) April 13, 2023
14th April 2007, Celtic beat St Johnstone 2:1 in the Scottish Cup semi.

Jan Vennegoor of Hesselink double. @JanVofH pic.twitter.com/1kJHJtAVLU

— Li'l Ze (@LilZe_7) April 13, 2023
10 years ago today, Celtic beat Dundee Utd 4:3 after extra-time in the Scottish Cup semi-final.

Commons(2), Wanyama and Stokes. @VictorWanyama pic.twitter.com/oLa70mqNHs

— Li'l Ze (@LilZe_7) April 13, 2023
14th April 2019, Celtic beat Aberdeen 3:0 in the Scottish Cup semi-final.

Forrest, Edouard and Rogic. @Oedouard22 @Tom_Rogic pic.twitter.com/gffMe1sXSQ

— Li'l Ze (@LilZe_7) April 13, 2023